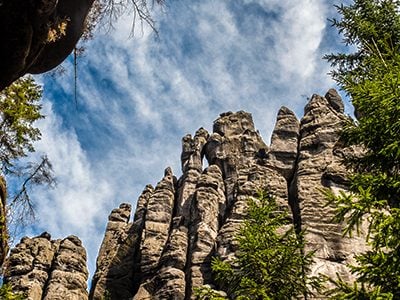 There's an undiscovered world awaiting you with some outstanding Czech Republic tours. Hiking, rock climbing, and city touring are some of the main attractions in the Czech Republic. Yet, many vacationers favor larger, older countries for their holiday adventures. This leaves the beautiful, artistic city of Prague, the Bohemian countryside, and the mountain trails all to you.
Local guides will make sure you have the Czech Republic holiday that will leave you wanting to return. These tours are an amazing blend of culture, friendly people, outstanding scenery, and memorable adventure.
Read More
Guided Tours in Czech Republic
Dedicated locals are more than eager to give you the best possible guided tours in the Czech Republic. These friendly guides are the experts and will show you all of the many things that make the Czech Republic such a beautiful country. You'll see and learn things that you wouldn't be able to without a local guide and make new friends along the way.
One of the main advantages of doing a guided tour in the Czech Republic is that the guides will take care of most of the transportation, lodging, and food for you. These are often the biggest hassles about traveling in a foreign country with a different language, and you won't have to worry about any of it. Relax and enjoy your vacation while your guide takes care of this for you, knowing that their local knowledge puts them in a position to make sure you only get the best. Whether it's a driving tour through Prague or climbing in Labske Udoli, your guides will make your Czech Republic experience one you'll treasure forever.
Czech Republic Hiking Tours
One of the most spectacular areas to book a Czech Republic hiking tour is in the Bohemia region, where there are large expanses of protected natural areas. Many of these areas are within an hour of Prague, making them ideal day trips with an experienced guide.
Everyone visiting the Czech Republic needs to sign up for a hiking tour of Hruboskalsko. This preserve about an hour northeast of Prague is set in scenic rolling hills covered in pines, farms, and iconic castles. What makes this hiking tour so unique is the sandstone rock formations you'll encounter. These giant towers jump out of the ground, nearly as tall as the trees surrounding them, and can be climbed for endless views.
Another one of the more unique hiking tours in the Czech Republic will take you to the Czech Karst nature reserve. This beautiful area has been reclaimed from limestone mining and set aside for recreation. Today the quarries are a popular area for hiking, diving, and exploring. A vast network of natural caves is near these quarries, where you can go on an underground hike in caves as tall as 70 meters.
The Czech Republic's newest national park is a beautiful day destination with a local guide. Bohemian Switzerland is home to several trails through old-growth forest, sandstone arches, volcanic features, and cool rivers set in deep gorges.
There are more than just day hike tours available in the Czech Republic. An immensely popular walking holiday route is between Vienna and Prague. This tour takes approximately one week and is best arranged as a private tour. This route is one of the best ways to experience the idyllic Czech countryside and all of the country's gems, with a small portion of the route lying in Austria. You'll pass through several medieval towns with UNESCO World Heritage Site status and also World Biosphere Reserves. Meet charming locals, admire the architecture of old Baroque cathedrals, pass monasteries, and stay at small, cozy hotels along the way.
Czech Republic Climbing Tours
Unique rock formations and easy accessibility make the Czech Republic climbing tours one of the top holiday activities in this young country. Your certified guides are experts in rock climbing and will lead you to the perfect blend of scenery, adrenaline, and skill level.
Ardspach immediately comes to mind for anyone familiar with climbing. The distinctive sandstone towers offer close to 6,000 routes for an uncrowded climbing experience, one that you could spend weeks on. This is also an ideal location to learn the sport of rock climbing. So even if you've never attempted as much as a single pitch before, you'll be skilled and comfortable by the end of an introductory rock climbing tour.
More thrilling sandstone climbing awaits in Bohemian Switzerland, located near the German border. Book either a single day or several days on a climbing tour in this picturesque region with a variety of walls, chimneys, and towers. Stay in local lodges each night and fuel up on regional cuisine between climbs. The scenery here is also like none other, with deep gorges full of rivers and forested rolling hills. The end of each climb will reward you with accomplishment, confidence, and unbelievable views!
Czech Republic Scenery
There's something special about the Czech Republic's scenery. This small landlocked country has four distinct seasons and relatively mild weather, making it an ideal year-round holiday destination. The change in seasons, combined with the cultural and geographic features, make it especially beautiful from January through December. The western part of the Czech Republic, known as Bohemia, is made up of a large river basin surrounded by small mountains. Bands of sandstone cliffs wind their way through the hills, making a perfect perch for old chalets and castles. The eastern region of the Czech Republic is known as Moravia and is also characterized by another river basin surrounded by mountains, sandstone cliffs, and sandstone towers worn by erosion. For as small as the Czech Republic is, it's covered by a surprising amount of old-growth forest and protected natural areas with UNESCO status.
Best Tours in Czech Republic
Read More
Destinations