Ecuador Family Tours
You won't find any shortage of adventures when signing up for Ecuador tours. Within the span of a week, you can kayak through the Amazon rainforest, mountain bike among volcanoes in the Andes, soak up the sun on sandy beaches, and cruise the Galapagos. While all these activities could certainly be done in one week, we don't recommend it! Ecuador is such a beautiful country that you'll want to spend much more time enjoying this amazing adventure destination.
Trips to Ecuador
Showcasing some of the most picturesque landscapes and diverse ecosystems on the planet, trips to Ecuador are an adventure enthusiast's dream. Within this small South American country you will find dramatic mountain terrain filled with imposing active volcanoes, as well as the vibrant plant and animal life of the Galapagos Islands that Charles Darwin brought into the world's view.
As mentioned above, there is so much to do and see in Ecuador that can be packed into a quick holiday if you really wanted to, but that's the thing - you really won't want to! Trips to Ecuador should either be an all encompassing adventure where you spend several weeks exploring all that the country has to offer, or split up into segments where you can enjoy each region in its entirety. Whether you are hoping to bushwhack your way through the Amazon Rainforest, trek high in the sky amongst volcanoes, or unlock your inner naturalist by studying the wide range of species of the Galapagos, your trip to Ecuador will be sure to leave a lasting impression on the rest of your life!
When is the Best Time to Visit Ecuador?
The best time to visit Ecuador is hard to pinpoint, as the country is situated along the equator and experiences generally favorable weather year-round. With that being said, for those who like dry, warm, and sunny weather the best time to visit Ecuador is in the June to September window. In addition to having the best weather conditions, the sky during this period will be more clear, providing exceptional viewing opportunities for Ecuador's impressive array of volcanoes and mountain peaks within the Andes.
Ecuador Map
With land spread across the mountainous mainland and a number of smaller islands like the Galapagos, it can be a bit difficult to understand the landscape of Ecuador. Luckily for you we've put together this Ecuador map to provide an overview of the country with several points of interest that will help you get your bearings!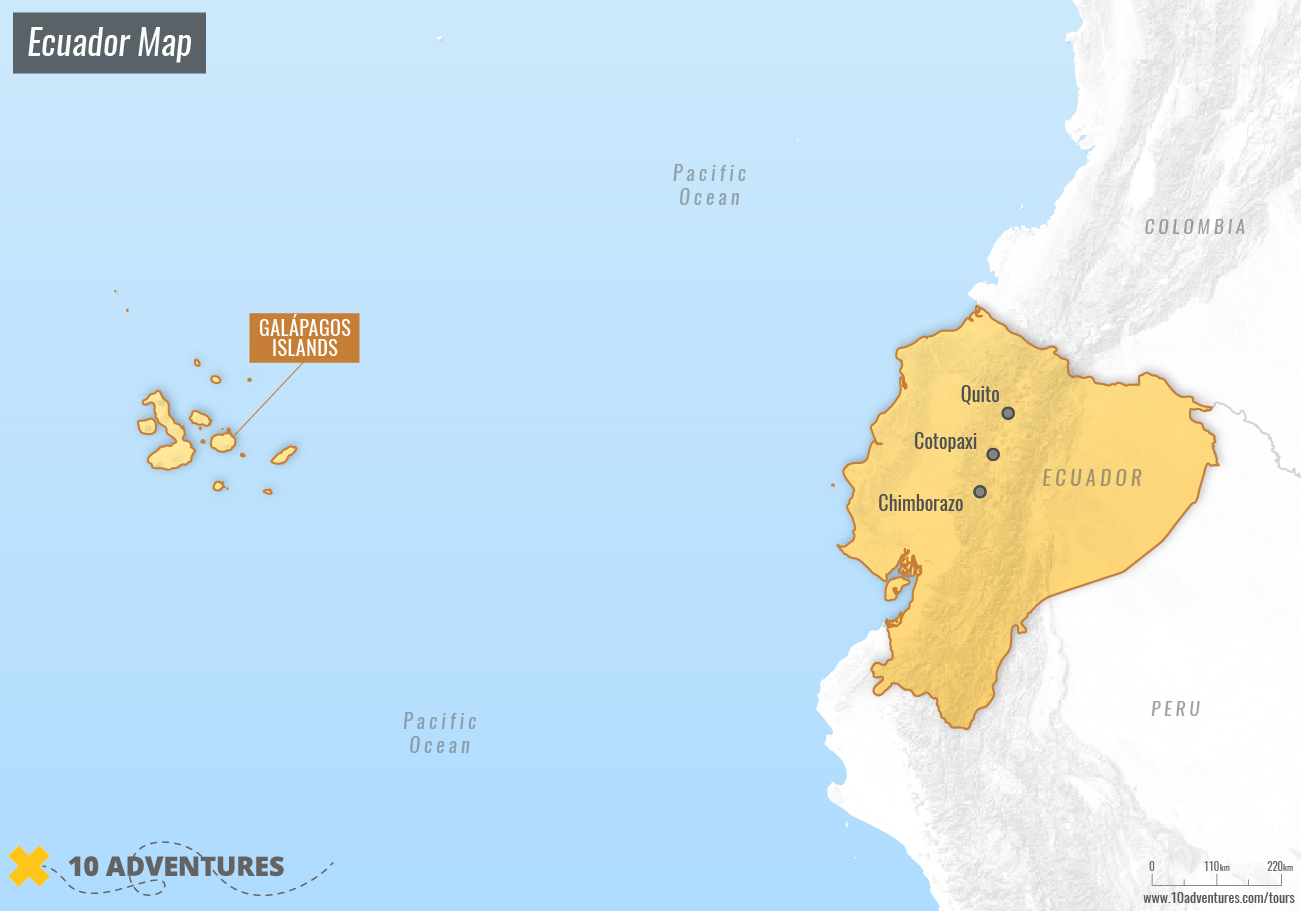 Where to Travel in Ecuador
When deciding where to travel in Ecuador there are a few different regions that you will want to consider, each with their own unique setting and adventures to offer. Check out these amazing destinations for travel in Ecuador:
Tours in the Ecuadorian Andes
For those who want to experience a rugged mountain adventure, tours in the Ecuadorian Andes are a great option to explore. Trek at high elevations and take in the views of impressive peaks, dramatic volcanoes, and frigid glaciers on one of these incredible tours in the Ecuadorian Andes.
Tours in the Ecuadorian Amazon Rainforest
With plenty of options for trekking, biking, paddling, and cultural sightseeing, there is no shortage of amazing tours in the Ecuadorian Amazon Rainforest. Book your tour today to discover the natural beauty of the Amazon.
Tours in the Galapagos Islands
Arguably the main draw for many tourists visiting Ecuador, tours in the Galapagos Islands are an epic adventure filled with stunning views of the ocean and countless animal species that can be found nowhere else on earth. Channel your inner Charles Darwin on one of these amazing Galapagos Islands tours.
Frequently Asked Questions About
Where is Ecuador?
Ecuador is a country in South America that is bordered by Colombia to the northeast, Peru to the south, and the Pacific Ocean to the west.
How to travel in Ecuador?
The best way to travel in Ecuador is by bus, as there are routes between the major cities and towns.
How safe is Ecuador?
When compared to other countries in South America Ecuador is one of the safest, although petty crime is still common in urban areas.
What language is spoken in Ecuador?
The official language of Ecuador is Spanish, although Quechua is spoken by indigenous people in the region as well as a variety of other indigenous languages.
What currency does Ecuador use?
The currency used in Ecuador is the US Dollar (USD), which was adopted in 2000.
Where to fly into Ecuador?
Most people who are looking to visit the Galapagos or the Andes will fly into Ecuador through the capital city of Quito.
Ecuador Tour Highlights
Cotopaxi
Located 50 kilometers south of Quito, Cotopaxi is an active stratovolcano. At a height of 5,897m above sea level, it is the second tallest peak in Ecuador and is one of the highest active volcanoes anywhere on the planet. Cotopaxi has erupted 87 times - most recently in 2015 - and has dramatically reshaped the landscape surrounding it. Adventurers looking to scale the volcano can do so on one of the many Cotopaxi tours on offer.
Chimborazo
An inactive stratovolcano situated in the Ecuadorian Andes, Chimborazo is also the tallest peak in Ecuador at 6263m above sea level. Due to the fact that it is located along the equator, the summit of Chimborazo is the farthest point of the earth's surface from its center - even farther than the summit of Mount Everest! Chimborazo is a popular destination for adventurers looking to scale the imposing peak along one of its many challenging mountaineering routes.
Quito
Formerly known as San Francisco de Quito, Quito is the capital city of Ecuador and is the place where almost all travelers visiting the country will fly into. Quito is a vibrant city of 2.8 million inhabitants and its historic center is one of the best preserved in all the Americas, being declared a UNESCO World Heritage Site in 1978. At an elevation of 2,850m above sea level, Quito is the second highest capital city in the world after La Paz, Bolivia.
Find Other Amazing Adventure Tours in South America
Subscribe to our newsletter
Get a weekly dose of discounts and inspiration for adventure lovers
Showing 1 adventure tour
Open details for Galapagos and Amazon Family Adventure
Galapagos and Amazon Family Adventure
The guided 12-day Galapagos and Amazon Family Adventure is the perfect tour for any bold, nature-loving family! Visiting both the Galapagos Islands and the Amazon Rainforest means you'll have the chance to hike, bike and kayak in two of the planet's most exceptional ecosystems.
View More
Book your next Adventure on 10Adventures
Hassle-free Adventure Travel

Sit back, relax, and enjoy! Let us take care of all the travel planning details, so you don't have to.

Don't Just Take A Trip, Take YOUR Trip

Let us help you get exactly what YOU want with a customizable adventure tour centred around your active interests and passions.

No Hidden Fees

We don't believe in hidden fees like credit card fees, booking fees or more. Even better, most people can pay in their local currency!

Happiness Guarantee

We want your journey to meet your expectations, and we will work with you to solve any issues you've encountered.

Personal Adventure Travel Concierge

Our dedicated adventure travel concierge will curate the perfect itinerary to make your travel dreams a reality.

Vetted Local Guides

Book with confidence, knowing that our team has carefully hand-picked each tour operator and they use local, experienced guides.