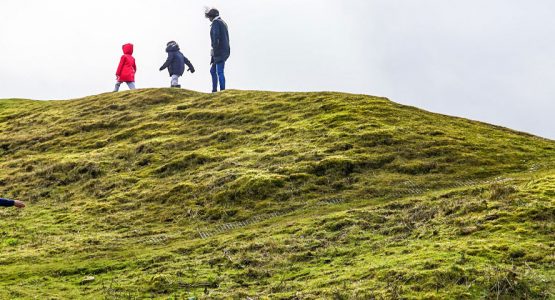 When the kids are included in your holiday, you're going to want to book a fun family tour that's enjoyable for everyone! Family tours are ideal for providing an action-packed vacation catering to all ages. Drives and hikes are shorter and more manageable, accommodations are suitable for children, and even picky eaters will find delicious meals to eat.
So whether you're cycling through the Irish countryside, exploring the mountains of Morocco by jeep, or riding through Corsica on the backs of donkeys, you're going to make memories that you'll cherish forever. Your children will look back on the experiences with a smile on their face for years to come!
Read More
Types of Family Tours
Family tours are generally divided into guided and self-guided tours. In both of these types of family tours, you'll benefit from having your entire adventure planned out for you. Traveling with children can be stressful enough, and adding planning to that might put you over the top!
On these family tours, an experienced tour operator will either build a custom itinerary for you or use a pre-planned itinerary that's been put through the wringer before you get there. Custom tours can take into account the age range in your family, interests, and budget. Lodging, meals, and transportation are all planned out ahead of time using local knowledge and prior experience with tours. You're going to want a pleasant holiday – let the pros plan it all out for you!
Guided Family Tours
An experienced guide will accompany you on guided family tours - someone who will put your children's safety as their top priority but also make your trip the most enjoyable experience it can be.
Guided tours might also be in larger groups or available as private tours for just your family. Group tours are ideal for families who don't mind sharing the experience with others. This is a great way to save money and is also an opportunity for your children to make new friends.
Whether you decide to go in a group or have a private guided family tour, you're going to love having a guide with you. These guides will help interpret for you, teach you and your children all about the history and culture of the area, and take you to the best hidden gems that you won't find in guidebooks.
Your children will love seeing how the Berbers live in Morocco, floating down lazy rivers in Nepal after a day of spotting wildlife like rhinos and sloth bears, or jumping the massive stones along Ireland's Giant's Causeway. These are just a few examples of the activities awaiting your guided family tour!
Self-Guided Family Tours
You can also arrange a self-guided family tour, where you're your own guide. This can be an exciting way to build family bonds while traveling. Your itinerary will still be planned out for you, including lodging, transportation, and activities, but you will have more flexibility throughout the day. Having the option to forego an activity to spend more time on another might be just what you need when traveling with your family. Your tour operator will be available if you need help, but otherwise, you're on your own to explore.
Corsica is one such location where the entire family will enjoy a self-guided tour. This fun tour starts with a lesson in handling donkeys, which will be accompanying you during this self-guided adventure. Trek through this incredible Mediterranean island, learning about farmers, passing through forests, and enjoying the beaches. The donkey trails are full of small lakes, rivers, and scenic waterfalls to round out the incredible scenery. Your donkeys will help with the luggage and tired children, who will come to love their four-legged companions by the end of this exciting journey.
Benefits of Family Tours
You'll find several benefits of family tours, and if you've ever taken the family on an adventure before, you're probably familiar with them. Family tours are a great way to strengthen family bonds, especially in families where both parents might work long hours to support the household. Taking an adventure holiday as a family will give you some much-needed and valuable time together, making the family stronger.
These types of family tours are also great educational experiences for your children. They'll be exposed to food, people, and languages that they can't experience first-hand in their schools at home. These adventures will put them in a classroom unrivaled by anything else. On top of learning about new cultures, history, and nature, they'll also learn about what they're capable of both physically and mentally. Although these family tours aren't exceptionally challenging, there are still some aspects of these tours that will build up their confidence.
Family Tour Requirements
Thankfully there aren't a lot of family tour requirements you'll need to be prepared for. Because your tour operators will do most of the planning for you, all you need to do is show up! If you're building a custom family tour, you'll provide the guides with everything they need to know to plan a trip accommodating the age and skill range in your family.
If you're booking a pre-planned family tour, be sure you're familiar with the activities on that tour. There may be age restrictions for some family tours, while others will have you participating in activities that may not be for everyone. Even then, most tour operators are more than happy to make some alterations to accommodate you!
Your tour operator will be providing gear for activities requiring special equipment such as life jackets and helmets. Be sure to check with them for other considerations when you're packing for your trip.
Read More