France Tours
Experience a diverse range of adventurous activities when you book one of these incredible France tours. This beautiful country is perfect for anyone who appreciates outdoor sports, delightful cuisine, rich culture, fascinating history, and of course, great wine! In fact, many of the tours in France combine all of these things for an unforgettable adventure. Book one of these France tours today and start planning your next big European holiday!
Taking a Trip to France
For many travellers taking a trip to France is the ultimate holiday, particularly for those who want to experience some culture; however, there are also a great number of outdoor activities that you can take part in on France tours! For physical challenges, you can try a self-guided cycling tour through the French Basque country or spend a week mountaineering in the Alps. A private walking tour around Normandy, visiting sites like Mont Saint Michel and Omaha Beach, will satisfy every history buff. For a mix of adventure and relaxation, try trekking along the Côte d'Azur, where you can rock climb, go on challenging and scenic hikes, and sunbathe on the French Riviera. Check out the amazing France tours below for an experience that is curated by trusted local guides for the most authentically French experience!
When is the Best Time to Visit France?
The best time to visit France depends entirely upon what you want to accomplish on your trip and what region of the country you want to visit; however, most travellers would probably agree that the best time to visit France is during the summer months of June to August. Although this corresponds with the peak tourist season, the summer months will generally see warmer, drier weather that is great for sightseeing and outdoor activities such as hiking, biking, trekking, and climbing.
If you would rather avoid the crowds and don't mind cooler weather, then the best time to visit France is during the shoulder seasons of spring and autumn. During these periods the cost of travel (transportation, accommodations, etc) will generally be cheaper and there will be less tourists around at main attractions, making it a pleasant time to explore all that France has to offer.
For those who want to experience the holidays in France or set out into the Alps for a ski holiday, then winter will be the best time to visit France.
France Map
France is a vast country that offers so much in the way of things to do and see that it can be hard to visualize when planning your trip. Luckily for you we've put together this simple France Map to give you an overview of the country. Hopefully it helps!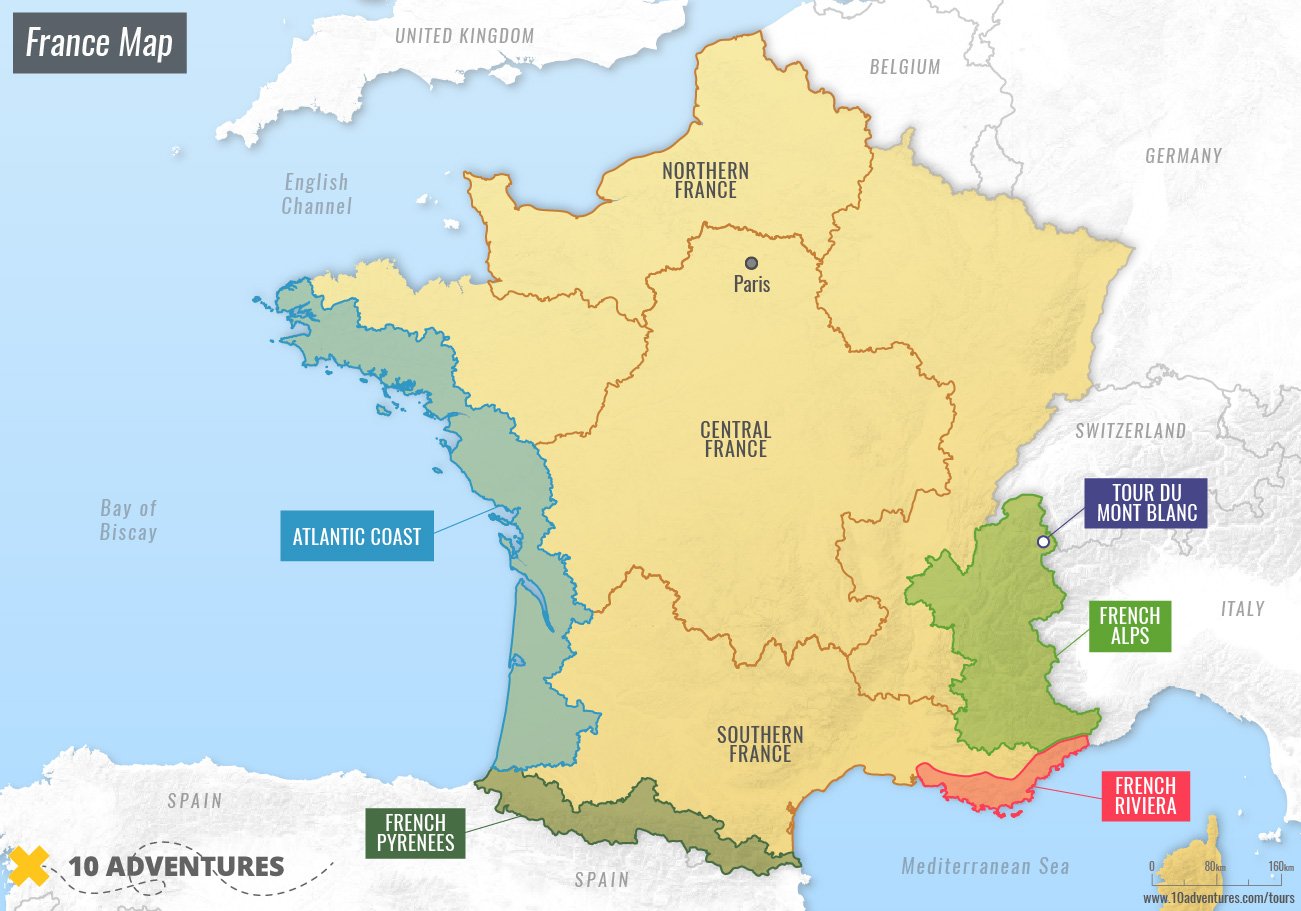 The Best Tours France Has to Offer
If you've been searching for the best tours France has to offer, then look no further! There are plenty of amazing adventures to be had throughout the country; however, the following tours are truly exceptional experiences. Read on to discover the very best tours France has to offer:
Hiking Tours in France
Hiking tours in France are a fantastic way to get out and experience the country, as they enable you to access areas that are tricky to get to by car, or even bike. Whether you want to explore the rugged terrain of the French Alps, set out on a pilgrimage along Le Puy Camino, or complete an adventure in Mercantour National Park, there is no shortage of amazing hiking tours in France to experience.
Bike Tours in France
If traveling by foot isn't your thing, but you still want to spend time outdoors exploring the countryside, then bike tours in France might be the perfect activity for you to try out. For those who dream of cycling through Provence or biking along the Emerald Coast of Brittany, a bike tour in France will be a life changing adventure!
Cultural Tours in France
France is one of the cultural epicenters of Europe, so it makes sense that there are plenty of cultural tours in France on offer! From wine tours in the Loire Valley to sightseeing adventures in cities and villages, there is always an exciting adventure around the corner on cultural tours in France.
Family Tours in France
From the iconic beaches in the South of France to the idyllic rolling hills of the French countryside, there are plenty of amazing places to explore on family tours in France. Book yours today and set out on the family adventure of a lifetime!
Trekking Tours in France
When a simple hiking trip won't suffice, there are a number of amazing trekking tours in France to test your resolve! From the world-famous Tour du Mont Blanc to the challenging GR20 in Corsica, trekking tours in France will make for an unforgettable experience.
Climbing Tours in France
For those adventurers who enjoy rock climbing and mountaineering, there are plenty of options to explore that range from the Alps to the Pyrenees. Discover these incredible climbing tours in France and book your next adventure today!
Where to go in France
Tours in Northern France
With kilometers of dramatic coastline overlooking the ocean and sleepy seaside villages to explore, it is no wonder that Northern France is one of the most popular destinations for tourists visiting the country. With plenty of rich history in the region that ranges from the medieval abbey complex of Mont-Saint-Michel to the various battle sites of the Second World War, tours in Northern France offer a great mixture of culture, history, and natural landscapes to discover.
Tours in Central France
Home to charming small villages, scenic national parks, and the rolling green hills of the French countryside, Central France is the ideal destination for a relaxing rural getaway. Whether you want to hike through the fields or bike along narrow village streets lined with cottages, there is no shortage of fantastic adventures awaiting you on tours in Central France.
Tours in Southern France
From the ancient city streets of Montpellier and Marseille to the gorgeous countryside of Provence, tours in Southern France evoke images of a culture filled holiday. Book your unforgettable adventure tours in the South of France today.
Tours in the French Alps
Arguably one of the most stunning regions of France, the French Alps are the ultimate destination for anyone who loves spending time in the mountains.Whether you plan to hike and climb during the summer months or hit the slopes for a skiing and snowboarding adventure in the winter, you will be sure to find your perfect adventure on these tours in the French Alps.
Tours in Mont Blanc
For anyone looking to complete one of the most iconic long distance treks in the world, tours in Mont Blanc will be an unforgettable experience. Whether you are looking to complete the entire Tour du Mont Blanc or simply want to visit the tallest peak in Western Europe, there you will be sure to find the perfect adventure waiting for you.
Tours in the Pyrenees
Nestled in the south of France along the border with Spain, the Pyrenees Mountains are an incredibly scenic area that offer some wonderful terrain for outdoor activities. From hiking to mountain biking, and everything in between, tours in the Pyrenees will be a spectacular adventure.
Tours in the French Riviera
Featuring the nicest climate and some of the most stunning views in the whole of France, the French Riviera is the perfect getaway for those who enjoy warm weather. Book your tours in the French Riviera and start living the high life along the Côte d'Azur.
Tours on the Atlantic Coast
Stretching south from the English Channel along the Bay of Biscay, France's Atlantic Coast is a fantastic place to spend a holiday. Check out our collection of tours on the Atlantic Coast of France to uncover a variety of magical adventures near the sea.
Frequently Asked Questions About France Tours
How many days do I need in France?
If you are looking to visit multiple areas and see a number of highlights, you should plan on spending at least 10 days in France.
What is the best way to travel around France?
If you plan on hopping from city to city, then trains are the best way to travel around France; however, if you are keen to visit smaller towns and villages, you should consider renting a car.
What is the number one tourist attraction in France?
It should come as no surprise that the number one tourist attraction in France is the Eiffel Tower.
What part of France should I visit?
If you are planning to travel outside of Paris, you should consider visiting some of the most picturesque regions to take in the beauty of the French countryside, such as Provence, Bordeaux, and the Loire Valley.
what part of France has the best weather?
With a warmer and more arid Mediterranean climate, the southern parts of France, such as the French Riviera, will experience the best weather.
What is the cheapest month to go to France?
February is the cheapest month to go to France, as the winter season will bring temperatures that are considerably colder and there will be less tourists than during the peak season.
France Tour Highlights
Mont Blanc
Situated in the rugged terrain of the Alps near the point where the borders of France, Italy, and Switzerland converge, Mont Blanc is the tallest peak in Western Europe at an elevation of 4807.81m (15,773.7ft) above sea level. This imposing peak and the surrounding Mont Blanc Massif is a popular destination for a variety of outdoor activities that include skiing, climbing, snowboarding, and the world famous Mont Blanc trekking tour - also known as the Tour du Mont Blanc. Mont Blanc is the second-most prominent peak on the European continent after Mount Elbrus, and is eleventh most prominent peak in the world.
Mont-Saint-Michel
Located off the coast of Normandy in northwest France, Mont-Saint-Michel is a small island that is home to a medieval abbey and fortifications. Designated as a UNESCO World Heritage Site, Mont-Saint-Michel is one of the most popular tourist destinations in the whole of France. It is only accessible by a causeway that becomes flooded at high tide, which makes rewatching the island a special experience. Once there, travellers can explore the abbey complex, as well as the various shops and restaurants that Mont-Saint-Michel has to offer.
Mercantour National Park
Mercantour National Park is a beautifully scenic area tucked away in the southeast of France that is popular with outdoor enthusiasts. Established in 1979, the park covers about 685 km² of land and is home to a wide variety of plant and animal species. Mercantour National Park's proximity to the Alps means that it is filled with dramatic peaks and serene alpine valleys, making it perfectly suitable for hiking, mountain biking, and rock climbing adventures.
Find Other Amazing Adventure Tours in Europe
Take the first step towards a private travel experience, customized just for you.
Join our newsletter
Get a weekly dose of discounts and inspiration for adventure lovers
Showing 1 to 20 of 69 adventure tours
What travellers say
Why
book

with 10 Adventures?
Your trip. Your way.
Make lifelong memories with the people you care about most. We specialize in custom & private active travel experiences.
Travel made easy.
Spend your time making memories, not planning them. Enjoy a stress-free vacation and leave the trip logistics to us.
You matter to us.
No bots here. A real human is always a click or a call away to ensure you get the adventure of your dreams.
Travel authentically.
Immerse yourself in the destination with highly-vetted, local tour operators who love to showcase where they live.