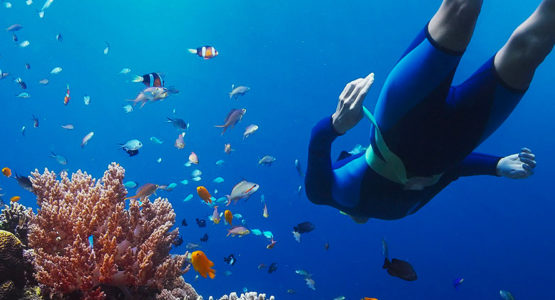 If you have a nasty fear of missing out, then you're definitely going to want to consider signing up for a multisport tour on your next vacation. Dedicated mountain biking, trekking, and climbing tours are fun and rewarding, but why not combine all of those activities and more into one epic adventure?
Multisport tours are the ultimate way to make the best of what's offered in any specific location. They combine the best hikes, wildlife viewing, kayaking, and biking in itineraries that will keep you on your toes and wholly engaged with the diversity of activity.
Mountain biking and trekking through Jordan, hiking, kayaking, and sailing through the Greek islands, and exploring the Galapagos both above and below water are just some of the many activities you can participate in during a multisport tour.
Read More
Types of Multisport Tours
With all of the different activities available in the various types of multisport tours, you're sure to find an adventure matching your style and skill levels.
If you're searching for a more relaxed holiday with some easy hikes, peaceful paddling, and leisurely cycling, you can indeed find it here! Or, if you're looking for something more intense, featuring demanding hikes, thrilling climbs on the rock, and challenging bike rides, you can find that too!
No matter which type of multisport tour you choose to enjoy, you're sure to be with outstanding guides, participate in safe activities, and thoroughly enjoy your entire vacation.
Challenging Multisport Tours
If your idea of a vacation is hard work, exertion, and sweat, then there are some challenging multisport tours sure to give you that thrill. These types of multisport tours can be intense, requiring skill and physical fitness.
A multisport tour of the Kamchatka region of Russia is an excellent example of one such excursion. This incredible region is full of volcanoes, raging rivers, and beautiful wildlife. Usually only reached by helicopter, you'll explore this region on foot and water. Spend your days trekking to the tops of volcanoes and peering into the craters, relaxing afterward in natural hot springs next to steaming fumaroles and cold streams. See even more of the region as you raft down the rivers and marvel at the landscape. This region has a fascinating cultural aspect, too, as you'll spend time with nomadic hunters and learn how they live in such a barren landscape.
On the other side of the world, in Peru, you'll find more exciting multisport tour opportunities. Combine culture, history, and physical activity while you're trekking the Inca Trail to Machu Picchu. You'll paddle Lake Titicaca in kayaks, visiting the unique floating reed islands and see how these populations survive on the largest lake in South America at an altitude of over 12,000 feet. Then pedal through Peru's deserts, playing in the dunes and taking side hiking trips through one of the deepest canyons in the world.
Relaxed Multisport Tours
You don't need to push yourself to your physical limits to enjoy one of these more relaxed multisport tours. In Ireland and Scotland, for example, you can enjoy everything that makes these countries beautiful, in several different activities, without exerting yourself too much. Take a leisurely paddle across Scotland's many scenic lochs, hike through the mountains, and watch for wildlife along the wild coast. In Ireland, on a multisport tour perfect for families, explore the Causeway Coast by kayak and walk along the mysterious stones of Giant's Causeway. Then stroll through the Irish countryside as you explore ancient castles and hike along rocky crags.
An overland tour of the Chitral Valley in Pakistan is another leisurely multisport tour. While a tour like this may not necessarily be too physically demanding, it does take place at high altitudes. A multisport tour of the Chitral Valley will introduce you to the rich culture of the Kalasha people, take you to impressive historic fortresses, and let you explore colorful markets. You'll hike around beautiful high-altitude lakes and camp under the Milky Way on a plateau where you'll feel as if you're on top of the world.
Benefits of Multisport Tours
Signing up for one of these multisport tours has many benefits. The immediate benefit is what you get by participating in an organized tour led by experienced local guides. You won't need to do much planning at all! Just find a tour that suits your interests and abilities and let the guides do the rest. On a pre-planned tour, everything is already arranged. If you'd rather have a custom tour, the guides will put together an itinerary that will be perfect for your budget, skills, and interests.
Once you arrive, the guides will have arranged airport transportation and all of your lodging for you, then they'll accompany you throughout your adventure. Being with a knowledgeable guide will reveal to you remarkable local people, thought-provoking historical facts, and extra activities that you'd never find on your own.
Like many other active tours, a multisport tour can challenge you physically and mentally, even if you're not roped in on the side of a mountain. Just being exposed to cultures and food that you've never experienced before can be an enlightening experience. You'll carry these experiences with you for the rest of your life and be a better person for it!
Multisport Tour Requirements
If you're wondering what you need to do to get started, there aren't a lot of multisport tour requirements that you'll need to take care of ahead of time. Usually, all you need is an appropriate physical skill level and proper clothing. The tour operator will let you know what's involved in the tour and what you should expect as far as physical activity. They'll also help you plan your gear packing, which is mostly just clothing and comfortable shoes! Equipment for specialty multisport tour activities, like kayaking and biking, is provided for you.
Read More
Activities