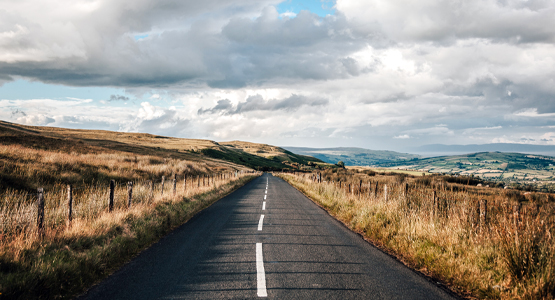 Despite its small size, tours in Northern Ireland are some of the best in Europe. The warm hospitality, long and complex history, and magnificent scenery attract visitors from all over the world. Experience it all for yourself by exploring either a cycling or hiking tour of Northern Ireland!
Stone Age ruins, historic medieval abbeys, and natural wonders like the Giant's Causeway, a UNESCO World Heritage Site, are just some of the many attractions that you can discover exploring this stunning land by foot or bike. Watch for spectacular wildlife while on a road cycling tour of Northern Ireland's rugged coast. Follow in the footsteps of Saint Patrick on a pilgrimage trail through several scenic and historic locations. Visit castles, enjoy the peace of the forest, and kick back in a pub with your new friends. It's all waiting for you on one of these Northern Ireland tours!
Read More
Guided Northern Ireland Tours
Guided Northern Ireland tours are ideal for travelers who don't want to stress about doing many things themselves. Leave it up to the local experts, who will take care of everything for you. When you book a guided tour of Northern Ireland, these skilled guides will arrange everything from airport pickup through your departure to return home. Leave the stress of traveling behind and enjoy this beautiful country!
These guides won't just plan your Northern Ireland tour. They'll also accompany you during your tour and provide you with a complete cultural experience that you can't get traveling on your own. They're full of fascinating local knowledge, can provide insights on natural history, and will translate when needed. Are you searching for a great hole-in-the-wall pub? Your guide will take you to their favorite. You'll be singing at the top of your lungs by the end of the night!
Self-Guided Northern Ireland Tours
Sometimes you don't want to be accompanied by someone during your holiday, and this is when a self-guided Northern Ireland tour would be a better fit. Self-guided tours still have many advantages, since the tour operators will still take care of the planning for you. You'll get the benefit of their experience and knowledge as they build an itinerary, plan lodging and transportation, and give you dining recommendations.
When you're on a self-guided tour of Northern Ireland, the schedule is up to you. No waking up at dawn to meet a guide and the rest of the group in the hotel lobby. No rushing back to the van to get to the next destination when the sunset is just about to get epic at your current location. If you want to skip something on the itinerary, you can. If you want to spend more time somewhere else, that's also a possibility! Your guides, who will have provided very detailed information for you, are just a phone call away if you need assistance.
Northern Ireland Hiking Tours
You'll find amazing Northern Ireland hiking tours in the mountains, countryside, and wild coast. The Ulster Way is Northern Ireland's signature walking tour, a 1,000-km trail that circles the entire country. Many of Northern Ireland's hiking tours follow sections of this spectacular trail. This trail will take you through several "Areas of Outstanding Natural Beauty," which are national treasures in the U.K. for their unique and beautiful nature. Walk the Giant's Causeway, catch views of Scotland's Mull of Kintyre, and explore numerous magical castles. Section-hike tours are available for both short and long itineraries, from easy gentle sections to more difficult mountainous sections. After completing one section on one visit to Northern Ireland, you'll want to come back and do the rest!
Another outstanding walking trail in Northern Ireland is Saint Patrick's Way, a pilgrimage route that follows several historic sites associated with Northern Ireland's patron saint. This memorable route passes through the Mourne Mountains, home of spectacular vistas and some of Northern Ireland's last remaining wilderness. It ends at Saint Patrick's Cathedral, the final resting place of the famous saint.
Northern Ireland Cycling Tours
Green rolling hills and beautiful countryside make the perfect backdrop for Northern Ireland cycling tours. Between both guided tours and self-guided tours, you have a remarkable number of routes to choose from, enjoying some of the best scenery and culture that Northern Ireland has to offer.
Themed tours are often popular options for cycling tours in Northern Ireland. You can either discover the coastline, Northern Ireland's majestic mountains, or historic religious sites. Northern Ireland is also home to several locations that have both inspired and appeared in books and film, making for an especially fun themed cycling tour! These types of tours are best enjoyed as self-guided cycling tours, but if you prefer the full support of a guided tour, you can sign up for one of those also.
Scenery in Northern Ireland
The scenery in Northern Ireland is a perfect mix of rugged wilderness and serene rolling hills. The coastline, home of the famous Giant's Causeway, is a rough landscape of rocky islands, mountains, and sea spray. This coastline is ideal for spotting wildlife such as migratory puffins, orcas, and sea lions. As you move from the coasts and across the mountain ranges, you'll enjoy beautiful green hills that are incredibly fertile, having been cultivated for centuries. These smooth hills bear the marks of the glaciers that formed them long ago, which also formed Lake Neagh, the largest lake in Northern Ireland. Although Lake Neagh is sometimes called a "glacial puddle," it's far from a puddle! Several large rivers traverse the countryside from this lake to the coasts, rounding out the gorgeous scenery that makes Northern Ireland such a magical place.
Best Tours in Northern Ireland
Read More
Destinations