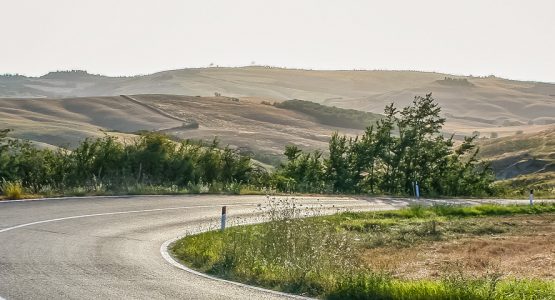 Cyclists will have no problem finding a thrilling road bike tour in countless adventure travel destinations. Road bike tours are ideal for seeing a foreign country. Touring by bike helps you get physically closer to the scenery, the people, and the culture. You'll be moving at the perfect pace to both cover adequate ground and connect with your destination, all with the support of experienced tour operators.
So whether you're cycling through the Canadian Rockies, the Central Highlands of Vietnam, or the Atacama Desert in South America, these road bike tours will both challenge and reward you in ways that other tours won't.
Read More
Types of Road Bike Tours
There are several types of road bike tours, but most of them are multi-day tours. The real fun begins when you're biking from one lodging accommodation to another, anywhere from a few days to a few weeks in length! But if you don't have that kind of time, you can usually find shorter road bike tours to fill a day with a wonderful mini-adventure.
Guided Road Bike Tours
Guided road bike tours are the most popular types of tours. It's all about the support van! Let's face it, sometimes things don't go our way. Flat tires, bad weather, and stomach bugs are all ways to ruin a perfectly good cycling trip. But being accompanied by a support van means that first aid is nearby if you need it, emergency bike repair is right there, and you can catch a ride if you're feeling ill. Additionally, your guide can help you with translation, show you points of interest that you might otherwise miss, and be a tremendous source of local knowledge.
Many guided road bike tours are also organized as group tours. But if you prefer a private guided tour, these can usually be arranged. The downside of guided group tours is that there's not a lot of flexibility for personal itinerary changes. You're at the mercy of the group, but don't worry, these guides already have spectacular itineraries planned for your tour!
Self-Guided Road Bike Tours
Self-guided road bike tours are slightly more difficult for many reasons, but this is part of the appeal to many cyclists! The most significant difference between guided and self-guided road bike tours is the lack of immediate support. Your tour operator will still support you with any assistance you need but from a distance. You're on your own to find shelter or keep pedaling when the rains move in, to navigate on your own, and to make repairs to your derailleur if needed. You'll need to be experienced and self-reliant, and sometimes that's the attraction of a self-guided tour.
Thankfully, you're still taking advantage of having most of the logistics and planning completed by a tour operator. They'll arrange an itinerary that's perfect for you, help with lodging, and provide recommendations for food and points of interest. Most self-guided tours also include luggage transfer every day. All you need to do is be at your prearranged lodging every night; what you do in between is up to you! You can't do that on guided & group tours.
Benefits of Road Bike Tours
The benefit of road bike tours is the amount of support you'll get. Your tour operators will fit you with a bike and most of the gear you'll need to ride. Check with your tour operator for specifics on what's provided. This certainly makes international travel much more manageable!
Carrying gear in panniers is both cumbersome and adds difficulty. It can make an already grueling climb unbearable! Nearly all road bike tours, guided and self-guided, at least include luggage transfer every day. There's no better feeling than arriving at your hotel and having a fresh change of clothes waiting for you!
Then there are the more intangible benefits of road bike tours. These tours can be physically demanding, and if you book a more difficult tour, you're going to feel it at the end of the day. But you're going to have an explosion of endorphins giving you an immediate sense of gratification, as well as the long-term benefits of improved physical fitness. As you push yourself physically to get over that mountain pass, you're also going to be pushing yourself mentally, giving you a greater sense of self-worth and confidence.
Participating in a road bike tour will also help you build lasting connections. Whether it's with your tour partner, strangers in your tour group, or the fantastic locals you'll encounter along the way, you're sure to end your tour with new friendships.
Road Bike Tour Requirements
There aren't a lot of requirements for road bike tours. All of the necessary gear will be provided for you, depending on the operator, so you're only left to worry about packing the right clothes. If you are completing a self-guided tour, you should also be familiar with all of the gear that the operator is providing, since you'll be in charge of operating and maintaining it throughout your tour.
One of the most critical requirements is physical conditioning. You don't need to have a lot of experience on road bikes, especially with a guided tour, but it does help. You will, however, need to check with your tour operator about the physical demands. Many operators will list these requirements on their bike tour pages. Most of them go beyond "easy," "intermediate," and "difficult," and will instead tell you how many kilometers per day you should be able to ride and on what kind of terrain. This information will also help you physically prepare for your tour.
Read More