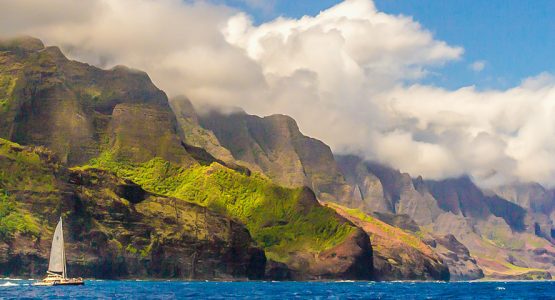 It doesn't get much better than watching the sunset from the deck of a boat while on a sailing tour! Sailing tours are perfect for the ocean lovers, the adventurous spirits who don't mind the possibility of sleeping on a boat rocking through a storm because they know the rewards are worth it.
On a sailing tour, you can explore remote islands in the Aegean Sea, the dramatic coastline along Hawaii's volcanic coast, or picturesque islands in the South Pacific. Enjoying a tour like this will allow you to experience views and harbors that you wouldn't have access to on any other kind of tour, all by harnessing the power of the wind!
Read More
Types of Sailing Tours
There are many different types of sailing tours available around the world, from day tours on multihull boats to overnight trips on monohulls. If you're prone to seasickness at all, be sure to check if the sailboat you'll be embarking on is a monohull or multihull. There are some significant differences between these types of boats, and it may affect your enjoyment.
Monohull boats typically carry fewer passengers, meaning you likely won't be sharing the boat with another group. However, they can be more uncomfortable, especially in rough waters. If you think there's a chance of feeling ill, you'll probably be better off on a multihull sailboat.
Multihulls, often called catamarans, don't roll with the water as much as a monohull boat. They're much more comfortable – and you'll probably sleep better – if you don't have a lot of experience on the water! Because they are bigger they can accommodate more people, so be prepared for the possibility of sharing your tour.
No matter which type of sailboat you'll be touring in, your skipper will take care of you and ensure that you have the most comfortable tour possible.
Multi-Day Sailing Tours
Multi-day sailing tours are fun adventures for anyone, with or without sailing experience. On a multi-day sailing tour, you'll make short day sails from one harbor to the next, exploring shore at each new landing. Shoreside activities can include hiking, cultural tours, historical tours, orbiking. Depending on the sailboat, you might also be equipped with kayaks or other personal watercraft from which you can explore the harbor on the water.
One such example of this is a weeklong sailing tour through the Greek Cyclades islands in the Aegean Sea. You'll wake up each morning after a restful night of sleep in your cozy cabin. Take a dip in the ocean before breakfast and coffee, then head to shore where you can either lounge on scenic beaches or hike through these beautiful islands. Explore the picturesque villages made up of whitewashed buildings, great cafes, wildlife, and friendly people. Cap off each day by laying on the deck of the boat staring at the stars before being gently rocked to sleep.
You'll be comfortable in the hands of an experienced, knowledgeable skipper during your multi-day sailing tour. They'll take care of handling the boat, cooking your meals, and planning shoreside excursions. You'll be best friends by the end of your trip!
Day Sailing Tours
Multi-day sailing tours are understandably not for everyone, but there are still plenty of day sailing tours available in many scenic locations.
Day sailing tours are still packed full of adventure and wildlife viewing. Depart from the harbor and explore the coast, watching for whales, dolphins, and other wildlife. Your captain knows all of the best snorkeling spots and will moor where you can jump off the boat and snorkel along the rocks and reefs, spotting turtles and colorful fish. Enjoy lunch on the boat or the beach before returning to port after an exciting day of sailing!
Benefits of Sailing Tours
The benefits of sailing tours are numerous. Spending time on a sailboat is a perfect way to enjoy aquatic wildlife, where you're likely to be accompanied by pods of dolphins for some portion of your sails, and your skippers will also have a keen eye for whales. Throughout the day, as you stop at each anchorage, you'll also be able to explore the underwater world in places where other tourists won't have access.
Speaking of access, sailing tours also have the benefit of taking you to enchanting locations that are typically inaccessible to most people by other modes of travel. Explore beaches, hidden coves, and mysterious caves that only your skipper knows about. While ashore, walk along untouched archeological sites, through seafood markets, and quaint villages free from massive crowds of tourists.
Sailing Tour Requirements
There aren't a lot of requirements for enjoying a sailing tour! The best part is that you don't need any sailing experience at all. Your boat will come with an experienced skipper who has run these tour routes countless times. They're familiar with weather patterns, tides, and currents, and will plan accordingly so that you can make the best of your time on the water.
It is ideal to have the stomach for spending time on the water on a sailboat. Despite the experience that your skipper has in handling the boat on the ocean, you still need to remember that you're at the mercy of Mother Nature. Storms and surges might come and go and affect your enjoyment if you get nauseous at all. Thankfully there are ways to treat this, and your skipper also has experience in handling these situations.
The only thing you need to bring on a sailing tour is appropriate clothing! Your tour operator will usually provide snorkeling gear and storm slicks. Beware that cotton is very slow to dry when exposed to saltwater, and you will probably get wet at some point! Light synthetics will keep you dry and comfortable.
Read More