Join this guided 11-day tour of some of BC's best ski resorts
Fulfill the dreams of ski lovers all over the world by hitting 4 exceptional ski resorts on BC's famous Powder Highway. You will explore chutes , bowls and even some groomers at Rossland's Red Mountain, Revelstoke, Whitewater in Nelson and Kicking Horse in Golden. Along the way you will enjoy panoramic views of the Rocky Mountains with your expert local guide.
This world-class ski safari is a once in a lifetime opportunity to push your skiing capabilities to their limits. Carving it up beneath the trees by day and relaxing in natural hot springs by night, this 11-Day British Columbia Ski Tour really is a dream come true. Equipment rentals, transport, lessons and accommodation will all be taken care of by your expert guide so you can focus on the long days of adrenaline-packed skiing and leave the boring details in the capable hands of a seasoned local.
Highlights of the 11-Day British Columbia Ski Tour
Explore the countless chutes, open ridges and powder bowls of the spectacular British Columbian ski scene.
Feel right at home as you crack open a cold beer with the friendly locals or hit the buzzing mountain eateries.
Soothe your aching muscles on visits to the natural hot springs as you relax beneath a dazzling starry sky.
Complete the powder highway circuit, skiing at 4 of the best ski spots that North America has to offer.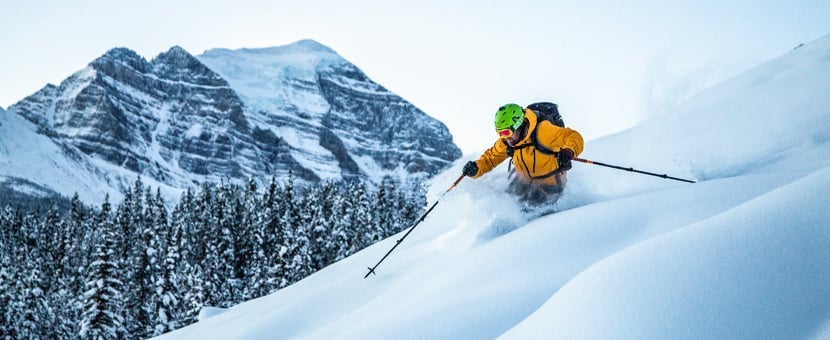 11-Day British Columbia Ski Tour Itinerary
Day 1

Welcome to the mountains

Depending on your arrival plans, you will get picked up by your guide at your hotel, the airport or a bus station in Kelowna. After meeting the rest of your small and friendly group you will be driven North in the van to the traditional mountain town of Revelstoke. The drive will take around 2 hours so you will have plenty of time to get to know your group as you pass by the glowing waters of alpine lakes and beneath the dizzying cliffs of the 3 Valley Gap highway. After checking into your hotel for the evening you can either head to dinner with the group or explore the eateries independently, whatever you prefer.
Overnight Location: Hotel in Revelstoke
Meals: None
Day 2

Skiing Revelstoke & Hot Springs

Get ready for an incredible day on the powder as you set off for your first day of skiing in the high mountains. You can expect world-class skiing today as you explore the chutes, headwalls and pillow lines of the slopes. Carving a route beneath the trees, you can descend the infamous ''Last Spike'' to catch a spectacular view of the Begbie Glacier. After a delightfully exhausting day on the slopes, you will return to town to replenish your energy with a hearty dinner and a visit to the local hot springs. Let your aches and pains melt away as you lay back in the soothing water beneath the starry sky.
Overnight Location: Hotel in Revelstoke
Meals: None
Day 3

Skiing at Revelstoke

Prepare to hit the slopes for another wonderful day of world-class skiing. You will ski on the breathtaking slopes of Revelstoke today, a dream destination for snow worshippers all over the world. If you are prepared for a challenging hike up to Mackenzie Peak, you can push yourself to the limits on adrenaline-packed descent of ''Mania'' and ''Discipline''. After an unforgettable day on the mountain you will savour every bite of your well-earned meal in Revelstoke town.
Overnight Location: Hotel in Revelstoke
Meals: None
Day 4

Skiing at Kicking Horse

You will set off for a new skiing adventure today, as you travel through Roger's pass on your journey to Golden. Enjoy the scenic drive as you gaze at the majestic mountain peaks. On arrival you will take a gondola to the summit of Kicking Horse where you will be delighted by panoramic views of spectacular natural beauty. The Kicking Horse is rich in beginner and expert terrain alike, so there is something for everyone at this unique skiing location. Whether you want to have a peaceful day of gentle runs or attack the nail-biting chutes and tree runs of the mountain, it is sure to be a day to remember.
Overnight Location: Hotel in Golden
Meals: None
Day 5

Another day at Kicking Horse

There is enough awesome skiing at Kicking Horse to keep you busy for a lifetime. With that in mind, you will spend a second day exploring the incredible slopes, enjoying breathtaking views of the Canadian Rockies as you lose all sense of time and live every moment of the snow in high definition. Adrenaline junkies can hike beyond the lift system for an epic backcountry adventure whilst the easy-going traveller can hit the Eagle Eye Lodge to kick back with a cold beer at the summit of the gorgeous mountain.
Overnight Location: Hotel in Golden
Meals: None
Day 6

Hot Springs & Nelson

After a pretty intense introduction to the British Columbia ski scene, your sympathetic guide will treat you to a bit of a lie in today. Prepare to head South, as you take a scenic road trip through the Valley of a Thousand Peaks. You will stop off for a dip in the Lussier Hot Springs, soaking in the healing waters right on the shores of the Whiteswan River. Later, you will head to Kootenay Pass to reach the legendary town of Nelson. This wonderful community is a hotspot for laid back cafes, quirky shops and famous for its chilled-out vibes. You will explore the local gems at your leisure, before hitting the slopes again the following day.
Overnight Location: Hotel in Nelson
Meals: None
Day 7

Skiing at Whitewater & Hot Springs

Nelson may be famous for its eateries and buzzing nightlife, but it is equally well known for its extraordinarily steep tree skiing. After hurtling down the epic slopes of ''Backside'' and ''Sproulers'' you can collapse into a comfy chair and tuck into the exceptional lodge food that Whitewater has to offer, voted some of the best skiing cuisines in the world. After pushing your tired legs to the limit, you will be glad to take a soak at Ainsworth Hot Springs where you can recharge your batteries for all the wonderful skiing that is still to come.
Overnight Location: Hotel in Nelson
Meals: None
Day 8

Another day at Whitewater

Having dipped your toes into the brilliant skiing that Whitewater has to offer, you will be raring to go for another day of carving it up on the stunning mountain slopes. Watch the trees fly past as you hurtle down the rugged slopes, before soaking up a little mountain sun with a glass of wine and perfect view of the fearless locals navigating the steepest moguls with ease. Enjoy a lively dinner in a buzzing local eatery, with plenty of wonderful dining options waiting to be discovered.
Overnight Location: Hotel in Nelson
Meals: None
Day 9

Skiing at Red Mountain

Red Mountain is calling, so it will be an early morning start to one of the best skiing areas in the world. The excellent network of lifts combined with top-class mountain skiing make this an unmissable location for skiers on a trip to North America. You can expect a mixture of open ridges, gnarly chutes, epic cliff lines and tree-covered slopes as well as some easier laid-back slopes for the less confident members of the group. You will enjoy a hearty meal in Rossland where you can unwind over great food and even better company.
Overnight Location: Hotel in Rossland
Meals: None
Day 10

Another day on Red Mountain

Every muscle in your body must be aching now, but you have one last day to immerse yourself in the spectacular skiing of Red Mountain, which has just added a further 1600 acres of new terrain to its resort. The mountain demands your full attention but don't forget to take a couple of pictures to make your friends and family green with envy. Enjoy one last meal with your newfound friends, reminiscing on all the awesome adventures that you have just experienced.
Overnight Location: Hotel in Rossland
Meals: None
Day 11

Return to Kelowna

Your epic skiing adventure has sadly come to an end. Treat yourself to an extra special breakfast before loading up in the van for the 5-hour drive back to Kelowna. After exploring the slopes of 4 unique mountain locations, you are sure to drift off to sleep in the van and the journey will be over in no time. You will be dropped at your hotel, the airport or the bus stop in Kelowna by 2pm, where you will bid your sad farewells to your lovely group and guide before heading out for you onward travel plans.
Overnight Location: None
Meals: None

Book Now
11-Day British Columbia Ski Tour Price and Dates
This guided ski safari tour in British Columbia is always run as a fixed-departure tour where you can join a group. The price depends on whether you choose to book a full tour package, or if you prefer to exclude lift tickets price from your tour package (in case you have your own IKON/ EPIC Pass). In this case, the price below would be deducted by $550 USD.
Prices below are per person, sharing a double or a triple room:
Accommodation on 11-Day British Columbia Ski Tour
Hotels on this trip are 3-star and offer modern conveniences that can make this trip more pleasant. Rooms are double occupancy, and single travelers will pay a supplement.
In some cases, the accommodation listed below may need to be substituted for other, comparable accommodations.
Single Rooms and Solo Travelers
You can pay a supplement of $775 USD to have a private room in a hotel. Contact us and we can try and match single travelers up, where possible.
Hotels on Standard Tour
What's included in the 11-Day British Columbia Ski Tour?
Meals
Meals on this tour are not included.
Accommodations
Accommodation for 10 nights is included.
Transportation during the Tour
Transport for yourself, your luggage and equipment is included in the comfortable support van.
Also Included
Expert guide for the entire trip
Light ski or snowboard coaching if desired
8 lift tickets (with lift ticket package)
3 hot spring excursions depending on tour option
Taxes
Not included
Insurance
Personal expenses
Meals and drinks
Gear rental and lessons
Getting around in each town during free time
Travel expenses before and after the tour
Optional extra activities
Optional Extras
Gear Rental Package - $325 USD per person
Kelowna Arrival or departure package (hotel for 1 night and one-way airport shuttle) - $150 USD per person
Frequently Asked Questions about 11-Day British Columbia Ski Tour
Fresh Adventures is an outdoor tour company that navigates explorations through the rugged, stunning terrain spanning western Canada. With an emphasis on customer care, Fresh Adventures promises to depart on an expedition, with a highly skilled guide, no matter how many people have signed up, while also ensuring tour participants have top-notch equipment.
Learn More
Is this tour for me?
We rate this tour as a 3 / 5. Although the Rocky Mountains are a mecca for expert skiers, there are plenty of more laid-back slopes available for less confident skiers who want to build on their experience.
Ask a Question
Got any questions regarding the tour? Interested in promotions for groups or want to customize this tour to fit your needs? We are here to help you!
Ask a question