Discover BC's outstanding champagne powder on this guided ski trip
Make the most out of your ski holiday on this spectacular ski safari to the world-famous slopes of Revelstoke, Kicking Horse and Whitewater. Explore the world-famous BC Powder at some of the snowiest ski resorts in all of Canada as you explore the epic Champagne powder of British Columbia under the guidance of your expert local guide.
You will side-step overcrowded resorts and ski with friendly local people, gliding down the awesome tree runs and pushing yourself to the limit in the countless chutes, bowls and vertical drops that the Rockies have to offer.
There is something for everyone on this 9-day British Columbia Ski Tour, which caters for both enthusiastic beginner skiers and seasoned pros looking to take things to a whole new level. When you aren't playing in the 40-foot powder on the countless trails of the Rocky Mountains, you will be dining in award winning restaurants, soaking in hot tubs and relaxing in the quirky bars and coffee shops of the friendly mountain towns. Let the adventure begin!
Highlights of the 9-Day British Columbia Ski Tour
Lose yourself in the awesome Canadian ski scene as you hit the trails at Revelstoke, Kicking Horse and Whitewater
Make new friends as you carve up the slopes with friendly locals and eat out with your small and welcoming tour group
Hurtle down ridiculously long runs, weave beneath the trees and fly through gnarly chutes of the Rocky Mountains
Recharge your batteries with long soaks in the local hot springs and award-winning après-ski cuisine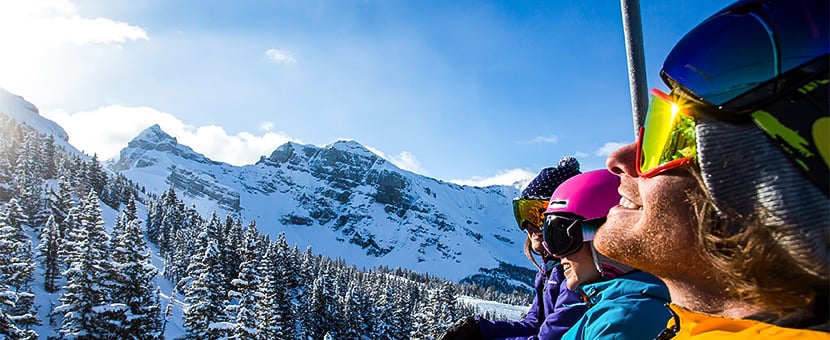 9-Day British Columbia Ski Tour Itinerary
Day 1

Arrival in Kelowna

Get ready for the best skiing on the continent as you meet your expert local guide at your hotel in Kelowna. You will be introduced to the rest of your small and friendly group before being driven a couple of hours North to the lovely mountain town of Revelstoke. Famous for its buzzing social scene and home to the largest vertical drop in North America, you are in for a real treat. The drive will take you through the spectacular cliff lined highway of the 3 Valley Gap and wind past the emerald waters of glacial lakes. After checking in at the hotel you will head out to dinner with your new adventure buddies, cracking open a cold beer and eagerly discussing all the awesome powder coming your way.
Overnight Location: Hotel in Revelstoke
Meals: None
Day 2

Skiing at Revelstoke

After indulging in a hearty breakfast, you will finally get to dive into the alpine playground of Revelstoke. There are enough chutes, slopes and powder bowls to keep you busy for a lifetime, as you fly beneath the tree covered runs and enjoy a panoramic view of Begbie Glacier. After an adrenaline filled day on the slopes you will come back down to earth with a wonderful soak in the local Hot Springs under the open sky and head out for a delicious meal in Revelstoke to prepare you for another day on the snow.
Overnight Location: Hotel in Revelstoke
Meals: None
Day 3

Revelstoke take two

Waking up to the pleasant ache of a good day on the slopes, you will be desperate to get back on the mountain and check out more of the runs. Revelstoke has something for everyone, from the absolute beginner to the seasoned expert, and offers spectacular views of the Canadian Rockies no matter what your experience level. Whether you are flying through the gnarly chutes or gliding down a gentle run, you will be delighted with the natural beauty of this special spot, taking plenty of pictures to capture the skiing vacation of a lifetime.
Overnight Location: Hotel in Revelstoke
Meals: None
Day 4

Heading on to Kicking Horse

Leave Revelstoke behind you as you buckle into the van and drive through Roger's Pass, winding through British Columbia's spectacular Selkirk Mountains. You will spend the day skiing at Kicking Horse mountain, home to over 120 trails which span nearly 3,500 kilometres of skiable terrain. It has plenty of wide-open bowls, gorgeous tree runs and hair-raising vertical slopes to be explored. Soak in the panoramic views of Dogtooth Range as you reluctantly peel off your ski gear and enjoy a hearty evening meal at one of the many excellent eateries.
Overnight Location: Hotel in Golden
Meals: None
Day 5

Skiing at Kicking Horse

Having already scratched the surface of the epic runs of Kicking Horse Mountain, you have another day to immerse yourself in the world class skiing of British Columbia. The downhill runs are ridiculously long at this extraordinary ski resort, so prepare to push yourself to the limit as you ski for longer downhill stretches than you even thought possible. For those wanting to take it easy, there is an excellent system of lifts and gondolas, so you can tailor the experience to your individual needs. Stopping at one of the gorgeous mountain lodges, you can enjoy a panoramic views of the Rocky Mountains with an ice-cold beer – bliss!
Overnight Location: Hotel in Golden
Meals: None
Day 6

Lussier Hot Springs

You will be relieved to take a soak in the lovely Lussier Hot Springs today, a perfect chance to ease your aches and pains ahead of more epic skiing. You will be treated to a lie in first, then travel South through the picture-perfect Valley of a Thousand Peaks to reach the thermal waters on the shores of Whiteswan River. After kicking back in the natural hot springs, you will be driven to the legendary ski town of Nelson, famous for its friendly vibes and tightly knitted community spirit. There are tonnes of independent coffee shops, restaurants and shops for you to explore, as you enjoy some well earned R and R ahead of another long day on the slopes.
Overnight Location: Hotel in Nelson
Meals: None
Day 7

Skiing at Whitewater

You will wake up feeling fresh and energised after your day off (unless you had too much fun in the buzzing local bars of course). Either way, it is time to get back on your skis and dive headfirst into the awesome pistes of Whitewater. This amazing ski resort isn't overcrowded with tourists but has a dependable 40 foot of snow each season and some nail-biting tree runs to keep you on your toes. Their award-winning restaurants offer something for everyone, from gourmet cuisine to comforting classics. After warming up with a good meal and glass of wine, you will visit Ainsworth Hot Springs for another soak in the delightful thermal waters of British Columbia.
Overnight Location: Hotel in Nelson
Meals: None
Day 8

Another day at Whitewater

Today is your final day of skiing in the Rocky Mountains, so make the most out of every minute! Don't forget to take some photos of the panoramic views, with the magnificent peak of Ymir Mountain towering high in the sky above you. You guide will help you choose the runs that are just right for your experience level, making sure you leave no stone of Whitewater uncovered and ensuring you have the perfect day to remember the Rockies by. You will be amazed by the bravery of the local people, who fly through the scariest chutes and moguls of Whitewater like they are navigating a nursery slope. It will be hard to leave this wonderful corner of the world, but you can hit the town one last time to make sure you say goodbye in style.
Overnight Location: Hotel in Nelson
Meals: None
Day 9

Time to say goodbye

After enjoying a much-needed lie in, you will prepare for your onward journey. There are plenty of shuttles from Nelson to Kelowna or Spokane Airport, and your guide will make sure you get safely to the right place. You may want to spend a few more days enjoying the authentic town of Nelson, which is bursting with shops, cafes and eateries. The rest is up to you, as your small and friendly group disperses, and you bid farewell to your lovely guide.
Overnight Location: Unknown
Meals: None

Book Now
9-Day British Columbia Ski Tour Price and Dates
This guided ski safari tour in British Columbia is always run as a fixed-departure tour where you can join a group. Price depends whether you choose to book a full tour package, or if you prefer to exclude lift tickets price from your tour package (in case you have your own IKON/ EPIC Pass). In this case, the price below would be deducted by $395 USD.
Prices below are per person sharing a double or a triple room:
Book Now
Accommodation on 9-Day British Columbia Ski Tour
Hotels on this trip are 3-star and offer modern conveniences that can make this trip more pleasant. Rooms are double occupancy, and single travelers will pay a supplement.
In some cases, accommodation listed below may need to be substituted for other, comparable accommodations.
Single Rooms and Solo Travelers
You can pay a supplement of $625 USD to have a private room in a hotel. Contact us and we can try and match single travelers up, where possible.
Hotels on Standard Tour
Sandman Hotel in Revelstoke
This great hotel with comfortable rooms has all the amenities needed to make your evenings after skiing relaxing.
Prestige Inn Hotel in Golden
Prestige Inn in Golden is a great hotel in a convenient location, that has nice amenities, indoor pool, bar and a hot tub.
Prestige Lakeside Resort in Nelson ★★★
Other than its scenic location on Nelson's waterfront, the Lakeside Resort also offers a spa, pool, hot tub, complimentary Wi-Fi, and a restaurant.
What's included in 9-Day British Columbia Ski Tour?
Meals
Meals on this tour are not included.
Accommodations
Accommodation for 8 nights is included.
Transportation during the Tour
Transport for you, your luggage and equipment is included in comfortable van.
Also Included
Expert guide for the entire trip
Light ski or snowboard coaching if desired
8 lift tickets (with lift ticket package)
3 hot spring excursions depending on tour option
Taxes
Not included
Insurance
Personal expenses
Meals and drinks
Gear rental and lessons
Getting around in each town during free time
Travel expenses before and after the tour
Optional extra activities
Optional Extras
Gear Rental Package - $295 USD per person
Kelowna Arrival package (hotel for 1 night and one-way airport shuttle) - $150 USD
Shuttle from Nelson to Kelowna - $75 USD per person
Frequently Asked Questions about 9-Day British Columbia Ski Tour
Fresh Adventures is an outdoor tour company that navigates explorations through the rugged, stunning terrain spanning western Canada. With an emphasis on customer care, Fresh Adventures promises to depart on an expedition, with a highly skilled guide, no matter how many people have signed up, while also ensuring tour participants have top-notch equipment.
Learn More
Is this tour for me?
We rate this tour as a 3 / 5. This tour is suitable for intermediate and experts alike, with countless different trails to be explored depending on your experience level. However, skiing is a physically demanding sport that requires a reasonable level of fitness.
Ask a Question
Got any questions regarding the tour? Interested in promotions for groups or want to customize this tour to fit your needs? We are here to help you!
Ask a question