Embark on a hiking adventure in the Rocky Mountains of Alberta
The 11-day guided Hike the Wild Side of the Rockies tour is a spectacular exploration of incredible Canadian hikes. This tour combines challenging hikes with incredible views as you travel through Banff, Jasper, and Yoho national parks.
You'll be staying in unique locations, including a secluded mountain lodge surrounded by my majestic mountain wilderness. Enjoy hiking with a convivial group and expert guide as you explore quintessential mountain hikes like the Iceline Trail and quieter trails that are off the beaten track. These visions of summits, glaciers, waterfalls, and the famous brightly coloured lakes will stay with you long after this amazing tour is over.
Highlights of the Hike the Wild Side of the Rockies
Hike Big Beehive, the Iceline trail, and Sentinel Pass, as well as many other trails that offer amazing mountain vistas.
Visit the iconic mountain towns of Banff, Jasper, and Lake Louise to explore the nearby trails.
Experience the spectacular sights of the famous Icefields Parkway, with a stop to see the Saskatchewan Glacier.
Stay at a hike-in wilderness lodge surrounded by beautiful mountains for you to explore.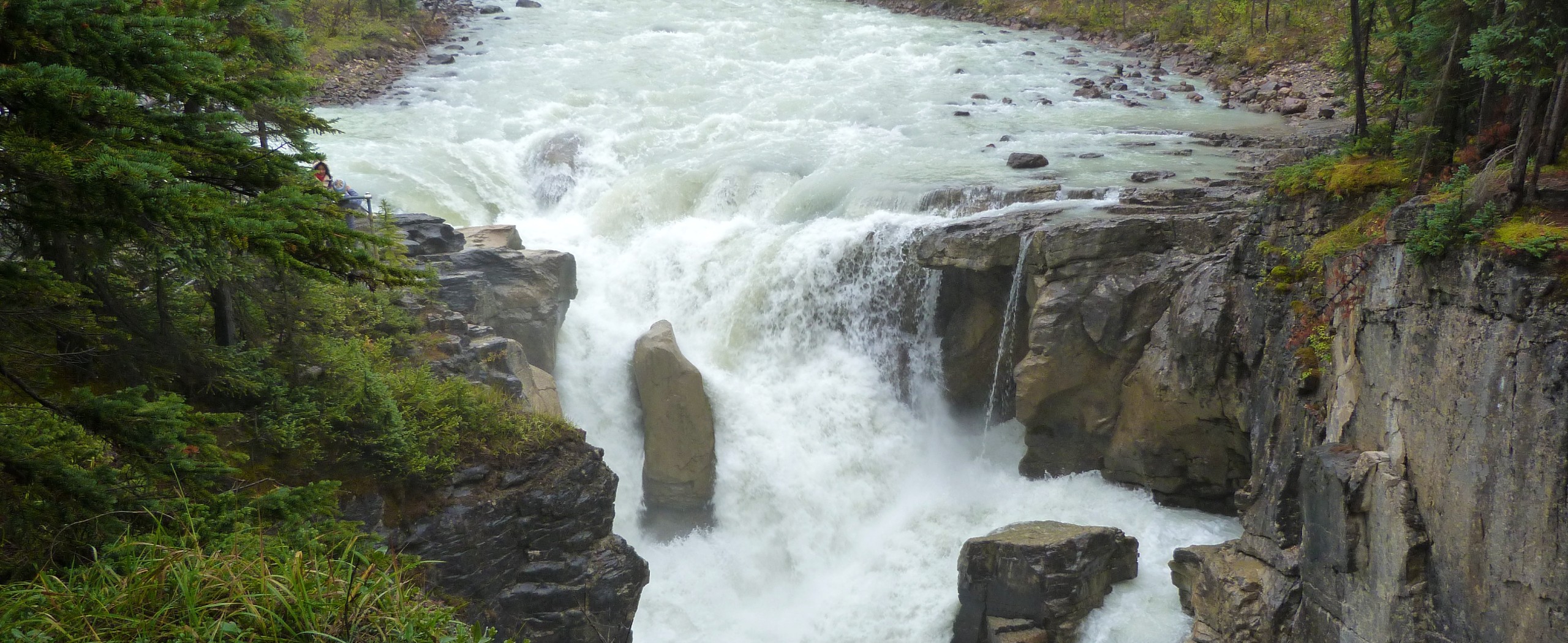 Hike the Wild Side of the Rockies Itinerary
Day 1

Start Your Hike in Banff National Park

Meet your guide and the rest of your group in Calgary, and then start your journey into the mountains! As you drive into the Rockies you'll be treated to amazing views of the Three Sisters, Rundle, and Cascade mountains.

Deep into Banff National Park is where you'll begin your first hike on the Stanley Glacier trail. Tonight, you'll be staying at a hostel just outside of beautiful Lake Louise.
Overnight Location: Hostel near Lake Louise
Distance: 3-4 hours, 11.4km, 568m elevation gain
Meals: Lunch
Day 2

Sentinel Pass and Spectacular Moraine Lake

Start todays' hike from the gorgeous shores of Moraine Lake, nestled in the Valley of the Ten Peaks. Hike through Larch Valley to reach Sentinel Pass, and then descend the opposite into Paradise Valley. You'll have spectacular views along your route and will be ready for some relaxation at the hostel at the end of the day.
Overnight Location: Hostel near Lake Louise
Distance: 3-4 hours, 11.5km to 17km, 800m elevation gain
Meals: Breakfast, lunch, dinner
Day 3

Amazing Lake Louise

An early trip to Lake Louise will ensure you beat the crowds and have some time to take in the spectacular spot in tranquility. After some time and pictures of this iconic Rocky Mountain landmark, you'll start the Plains of Six Glaciers trail. This climb will lead you to a teahouse and some amazing views of Lake Louise.

You can choose to extend your hike to Abbott Pass or the Big Beehive if you really want to get your legs working.
Overnight Location: Hostel near Lake Louise
Distance: 3-4 hours, 15 to 19.4km, 420 to 905m elevation gain
Meals: Breakfast, lunch, dinner
Day 4

Hiking in Yoho National Park

Today you'll head to Yoho National Park and get settled at the lodge near beautiful Emerald Lake. Then you'll head out to explore the park and hike near Hamilton Lake. You'll enjoy scenic alpine views and see Hamilton Falls on an 11km hike. You'll also stop at the natural bridge and the spiral tunnel before heading back to the lodge.
Overnight Location: Lodge in Yoho National Park
Distance: 5-6 hours, 12km, 830m elevation gain
Meals: Breakfast, lunch
Day 5

Hike the Iceline Trail

An iconic Yoho hike is on the itinerary for today! Start the Iceline Trail from stunning Takakkaw Falls, the second tallest waterfall in Canada. On this trail, you'll have magnificent views of waterfalls, Waputik Icefield, and the Daly Glacier.

There are a few options for the return route depending on how much longer you'd like to hike.
Overnight Location: Lodge in Yoho National Park
Distance: 6-8 hours, 12 to 20km, 710m elevation gain (flexible)
Meals: Breakfast, lunch
Day 6

Travel the Incredible Icefields Parkway

Today you'll take as much time and as many stops as you need to fully appreciate the breathtaking views along the famous Icefield Parkway. This incredible highway passes enormous icefields, glaciers, and majestic rocky peaks.

You'll take a short hike on the Parker Ridge trail for a magnificent view of the Saskatchewan Glacier. Finally, you'll continue to your hotel near Sunwapta Falls
Overnight Location: Hotel near Sunwapta Falls
Distance: 2-3 hours, 5.1 km, 269m elevation gain
Meals: Breakfast, lunch, dinner
Day 7

Visit Jasper and Valemount

On the way to your next destination, you'll stop in beautiful Jasper. You'll have some time in the morning to explore the town and prepare for your upcoming journey into the wilderness.

After a scenic drive to Valemount, you'll begin the hike into your remote wilderness lodge. Enjoy the stunning views on the hike to the hut while your luggage and food are being dropped off at the lodge by helicopter.
Overnight Location: Wilderness hut
Distance: 3.5 hours, 7-8km, 350m elevation gain
Meals: Breakfast, lunch, dinner
Day 8-9

Explore the Mountain Wilderness

For the next two days, you'll be completely surrounded by remote mountain splendour. During your stay at the wilderness hut, your guide will tailor your hikes to match the weather and trail conditions. You'll spend your time exploring the majestic mountain passes and alpine meadows that surround you.
Overnight Location: Wilderness hut
Distance: 3.5 hours, 8-12km, 650m elevation gain
Meals: Breakfast, lunch, dinner
Day 10

Travel the Icefields Parkway to Banff

Today you'll have to hike out of your mountain paradise, but you have spectacular views of the Icefields Parkway to look forward to. You'll arrive in Banff in the afternoon, so you'll have time to walk the charming streets or visit the famous hot springs.

In the evening you can go out for a farewell dinner with your group at one of the excellent local restaurants.
Overnight Location: Hotel near Banff
Distance: 3.5 hours, 7-8km, 350m elevation gain
Meals: Breakfast, lunch
Day 11

Return to Calgary

After breakfast, it's time to say goodbye to the mountains and start the drive back to Calgary. Your tour ends when you arrive in Calgary to catch your flight, or to spend some time in this beautiful city.
Overnight Location: None
Distance: None
Meals: Breakfast

Book Now
Hike the Wild Side of the Rockies Price and Dates
Join a group for an amazing hiking tour in Columbia Valley! Important notes:
The departure on August 7th and August 28th are in French, and the tour on August 21st is in English
The group consists of 4-16 participants
Prices below are per person, sharing a double accommodation:
Accommodation on the Hike the Wild Side of the Rockies
This tour is based in hostels, mountain huts, simple hotels, and an incredible remote wilderness lodge. Most of the accommodations are in shared dormitory-style rooms with communal cooking spaces. Each spot was carefully selected to be close to hiking and offer amazing mountain locations.
In some cases, the accommodation listed below may need to be substituted for other comparable accommodations.
Single Rooms and Solo Travellers
Most lodges are of triple-quadruple occupancy. In some cases, you can pay a supplement to have a private room (please inquire for the pricing) but most of the lodges offer dormitory-style rooms, therefore single rooms might not be possible. Solo travellers may be required to pay a supplement.
Hotels on Standard Tour
Stay a short way away from one of Canada's most beautiful lakes. This basic lodge has a cozy communal kitchen and shared dorm rooms.
Mountain Lodge in Yoho National Park
After an incredible day of hiking, you can relax on the terrace of your mountain lodge to enjoy the fresh alpine air and majestic views.
Wilderness Lodge near Valemount
Hike to a secluded hut in the wilderness, where you'll be awed by the stillness that surrounds you. Facilities are rustic and rooms are shared.
Spend the night in the lively mountain town of Banff, where the views are spectacular and the main street is bustling with shops and restaurants.
What's Included in the Hike the Wild Side of the Rockies?
Meals
11 breakfasts, 11 lunches, and 6 dinners are included. All other meals and alcoholic beverages are not included.
Accommodations
Accommodations for 10 nights are included. Accommodations before and after the tour in Calgary are not included but can be added as a supplement.
Transportation during the Tour
Transportation for you and your luggage is included throughout the tour, excluding transfers to and from the airport. During your stay at the wilderness lodge, your luggage will be transported to the accommodations by helicopter, this service is one-way only.
Also Included
Expert ACMG certified English-speaking guide on August 8th departure
Expert ACMG certified French-speaking guide on August 29th departure
Excursions mentioned in the itinerary
National and provincial park entrance fees where applicable
Camping and cooking equipment
First-aid kit and emergency communication device
FICAV contribution
Not included
Meals, drinks, or snacks not previously mentioned
Flights
Sleeping bag, pillow, towel
Visas if required
Gratuities for tour guides or other staff if desired
Travel insurance
Airport transfers
Optional activities
GST (5%)
Optional extras available:
Additional nights before or after the tour
Single occupancy upgrades
Optional activities or excursions
Frequently Asked Questions about Hike the Wild Side of the Rockies
The origins of Windigo date back over four hundred years to the hunt for the Northwest Passage. Sir Martin Frobisher was a principal figure in these early adventures, making several trips to the Arctic. While he didn't find the Passage, he did bestow his name on today's Frobisher Bay, where Iqaluit meets the sea. Little did Martin know that his descendent Charles Frobisher would start an adventure travel company many centuries later!
Since 1996, Windigo has been operating group adventure tours throughout North America. They're proud to show off the very best of this magnificent land, from its highest snow-capped peaks to its longest roaring rivers and everything in between. A team of expert guides bring unrivalled passion to each and every adventure. Traveling with Windigo provides memories for a lifetime!
Learn More
Is this tour for me?
We rate this tour as a 4/5. This tour includes daily hikes that can be challenging, and you should be able to comfortably hike between 4 to 9 hours each day. You will have to carry your gear and sleeping bag during one of the hikes.
Ask a Question
Got any questions regarding the tour? Interested in promotions for groups or want to customize this tour to fit your needs? We are here to help you!
Ask a question