Spend 5 days cycling gorgeous Italian countryside enjoying wine tasting and local dining
Come along on a biking tour of Alba, Italy and enjoy great views, great food, great wine and a wonderful cycling holiday in Italy.
This region is steeped in history and surrounded by gorgeous countryside, you'll enjoy pedaling each day and allowing your senses to take in everything that is wonderful about the region around Alba.
You'll explore Barolo (and taste the famous wine!), cycle through vineyards to visit the castles at Barolo and Grinzane, pause for stunning views of the Matterhorn atop the hills of Treiso, and climb a medieval tower for wine and appetizers at the top!
This is a unique adventure through a part of Italy dotted with amazing architecture, picturesque views, and (of course) fantastic food and wine. Don't miss it!
Highlights Of Alba Biking Tour
Fantasize you're Italian royalty as you sip wine and enjoy appetizers atop an ancient medieval tower overlooking the countryside in Barbaresco.
Discover the stunning views and picturesque countryside of the Langhe hills as you bike through Barolo and La Morra.
Experience the tastes and aromas of the local food and wine as you visit quaint village restaurants and local wineries.
Revel in a challenging ride followed by a boutique wine tasting and food pairing experience.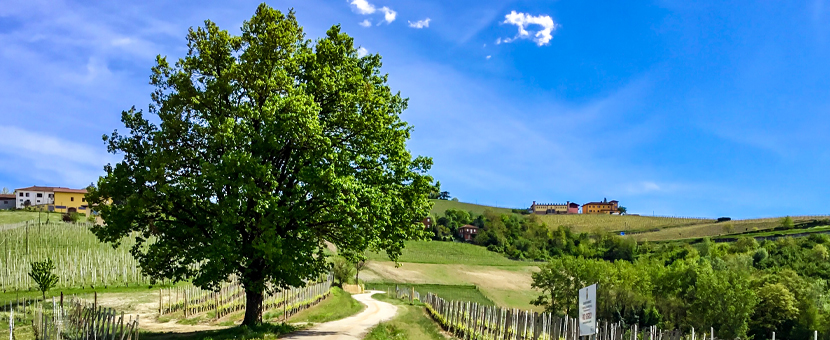 Alba Bike Tour Itinerary
Day 1

Arrival

Welcome! After check-in, you'll have time to explore Alba and enjoy the town. When you're finished, come back to the accommodation for a traditional welcome dinner in a nearby restaurant.
Overnight Location: Hotel in Central Alba
Distance: None
Meals: Dinner
Day 2

Barolo and La Morra

Get ready for classic Italian vineyards on today's leg of this biking tour! You're heading to the home of the famous Barolo wine where you'll see the town of Barolo dwarfed by an ancient medieval castle. Take your time wandering through a few of the many wine shops before you head up La Morra hill for some spectacular views of the Langhe hills. Designated a UNESCO World Heritage site, the climb may be challenging, but the sight is worth it! Afterwards, you'll take lunch in a quaint restaurant before continuing down the hill to find Barolo Chapel nestled amongst the vineyards. When you're finished, cycle on to Grinzane Castle before returning to Alba for the evening.
Overnight Location: Hotel in Central Alba
Distance: 30-40 km
Meals: Breakfast, Lunch
Day 3

Barbaresco and Neive

Today you'll be riding to the villages of Barbaresco, Neive, and Treiso. This region is home to the distinguished Barbaresco wine. Prepare yourself for a workout in the morning as you cycle to the highest point in Treiso. Once you reach the top, make sure to stop and admire the view. If the day is clear you can see from the Matterhorn all the way to the South of France! As you pedal on a downhill to Neive, you'll find the little town steeped in history with medieval palaces cheek to jowl with quaint village architecture. You'll continue along the ridge until you reach Barbaresco. Once you arrive, you'll park below a medieval tower and continue up inside the tower via elevator to the very top where you'll find an aperitif waiting for you along with wine and appetizers. Afterward, you can return to Alba at your convenience.
Overnight Location: Hotel in Central Alba
Distance: 30 km
Meals: Breakfast, Wine tasting
Day 4

Bike and Wine

For your final day on this Italian bike tour, you'll be heading to the "Alta Langa" a region where the hills get higher and the vineyards give way to hazelnut orchards and hardier vegetation. Feel free to stop for lunch at your leisure as you head for the village of Monforte. There you'll get to experience a wine tasting at a boutique winery known for many wines including Chardonnay and Barolo. You'll be treated to a cellar tour and then sit down to try four delightful wines paired with bite-sized appetizers. When you've had a chance to savor the taste of Barolo, you can head back downhill to Alba and drink in the scenery one last time before returning your bikes. Once you're refreshed, there will be a festive farewell dinner in a local restaurant to celebrate the completion of your biking adventure.
Overnight Location: Hotel in Central Alba
Distance: 30-40 km
Meals: Breakfast, Wine tasting, Dinner
Day 5

Arrivederci!

As Caesar himself might paraphrase: you came, you rode, you conquered. Congratulations! After breakfast, you'll check-out of your accommodation and make your way to your next destination.
Overnight Location: None
Distance: None
Meals: Breakfast

Book Now
Alba Biking Tour Price and Dates
This tour to Piemonte is always run as a private tour for your group only, therefore the pricing for this self-guided and guided biking tour to Alba, Italy depends on the size of your group and whether you choose a guided or self-guided option.
The best time to travel to Alba, Italy for this biking tour is from May to October.
Prices of Private Self-guided Alba Biking Tour
Have your own private tour with just your group! Prices below are per person:
Self-guided Groups of 2+: $725 USD per person
Prices of Private Guided Alba Biking Tour
Have your own private tour with just your group! Prices below are per person:
Guided Groups of 8+: $795 USD per person
Book Now
Accommodation on Alba Biking Tour
This tour is based in Hotels. Note that one is picked for the entirety of the trip, not day by day. Hotels on this trip are 3-4-star hotels and offer modern conveniences that can make this trip more pleasant. Rooms are double occupancy, and single travelers will pay a supplement.
In some cases, the accommodation listed below may need to be substituted for other, comparable accommodations.
Single Rooms and Solo Travelers
You can pay a supplement to have a private room in a hotel while traveling with your group. Contact us to find out the price.
Hotels on Standard Tour
Just five minutes from historic downtown Alba, Hotel I Castelli offers a luxurious modern feel complete with a panoramic dining terrace.
What's included in the Alba Biking Tour?
Meals
4 breakfasts, 1 lunch and 2 dinners are included.
Accommodations
Accommodations for 4 nights at the hotel are included during the tour.
Transportation during the Tour
The transportation during the tour is included.
Also Included
Bike Rental
Guide (for guided tours only)
Tour Guide App (self-guided only)
2 wine tastings
GPS itinerary
Not included
Getting to and from starting and ending points of the tour
Insurance
Personal expenses
Anything not stated as 'included'
Optional Extras
Additional night in Alba before or after the tour
Upgrade to e-bike ($50 USD per person)
Frequently Asked Questions about Alba Bike Tour
Meet Piemonte aims to offer offbeat and authentic experiences that a tourist could never seek out on their own. They organize their trips to have as little packing and unpacking as possible, preferring to utilize longer hotel stays so clients don't have to worry about logistics.
Meet Piemonte designs tours with a slower pace, allowing guests to fully immerse themselves into their destination and leave time to indulge last-minute whims.
The guides focus on a thorough exploration of each destination, going over details that might otherwise be dismissed as insignificant to give a complete picture of the cultural and historical significance of the location.
Learn More
Is this tour for me?
We rate this tour 2/5. Being reasonably fit is expected. You should have experience riding similar distances in the past.
Local Guide
Ask a Question
Got any questions regarding the tour? Interested in promotions for groups or want to customize this tour to fit your needs? We are here to help you!
Ask a question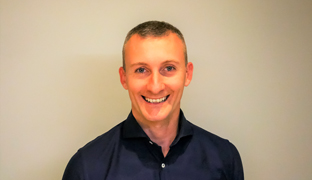 Marco
Nizza Monferrato, Italy
Marco is a tour manager and tour guide with over fourteen years of experience. He has led tours in Italy, Iceland, Switzerland, and some of the most prominent luxury tour operators in the United States. He is excited every day to share the Piedmont region of Italy with guests, as there is still so much to be discovered in the region.
Q & A
Q:

What is one experience anybody visiting Italy should have?

A:

Truffle hunting! The white truffle of Alba is available from the end of September through January, and the rest of the year you can find black truffles.

Q:

What is one local dish or drink that tourists have to try while visiting Italy?

A:

The small ravioli pinched by hand one by one called plin. It's very thin pasta with a lot of work put in to make them.

Q:

What are guests most surprised about when visiting your region of Italy?

A:

The great food and wine, nothing like the rest of Italy.