Explore the best of southern Portugal's natural landscapes, culture and history
Prepare to fall in love with Portugal on the captivating 7-day Algarve Road Cycling Tour, exploring the best of Portugal's diverse and scenic Algarve region by bike.
Pedaling from Tavira to Lagos, the combination of ideal climate, quality of roads, and wealth of history and culture are what make this cycling holiday so exquisite.
From exhilarating downhill stretches through the invigorating scrublands of Santa Rita to challenging uphill rides taking you to heights of over 500m over the Atlantic Ocean and the Serra do Caldeirão mountain range, the breathtaking scenery never ends on this mesmerizing route.
Spend your evenings in Tavira strolling the banks of the Gilão River, taking in the splendor of one of the 37 churches found here, or embarking on a gastronomical adventure. In Lagos, swap out your bike for your walking shoes as you explore the walled old town or the steep wooden steps leading to the sandy cove of Praia do Camilo.
The Algarve Road Cycling Tour will immerse you in the best of the Algarve- prepare for magic.
Highlights of the Algarve Road Cycling Tour
Embrace the thrill, pedaling short steep hills in the uplands of Tavira—the site of the Algarve's traditional springtime races.
Pedal Serra do Caldeirão, reaching the top of this mountain to uncover Cachopo, one of the region's most traditional villages.
Sip the world-famous Medronho brandy produced in Portela do Vale.
Unwind after a day of challenging terrain on the golden sand beaches of Burgau and Luz.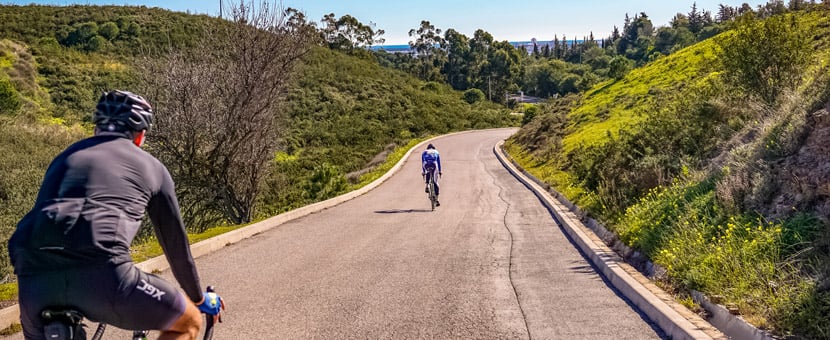 Algarve Road Cycling Tour Itinerary
Day 1

Arrive in Faro

A private transfer will take you from Faro Airport (FAO) to Tavira, the picturesque seaside town that is the starting point of your road cycling journey in the Algarve.

Settle into your accommodations before exploring the old character and endless sights and sounds of Tavira. For dinner tonight, you'll enjoy a delicious local meal before a good night's rest in preparation for your first exciting day of pedaling tomorrow!
Overnight Location: Hotel in Tavira
Distance: None
Meals: Breakfast, dinner
Day 2

Uplands of Tavira

Enjoy breakfast at your hotel and prepare for today's exciting ride! Short, steep hills characterize your first stretch of road as you pedal up and down the uplands of Tavira. Each spring sees a myriad of professional cyclists on these same roads, participating in the traditional springtime races in this region.

Feel the burn as you embark on a long uphill ride to Pereiro and the Balurcos plateau.

The last of today's route first has you navigating a tricky downhill ride to the Odeleite and Beliche dams before a final progressive downhill stretch through invigorating scrubland, known as the Mata Nacional da Conceição, or sometimes simply called Santa Rita. Rest up and unwind before enjoying another delicious dinner in Tavira this evening.
Overnight Location: Hotel in Tavira
Distance: 125 km, 2.500m accumulated climb
Meals: Breakfast, dinner
Day 3

Hamlets and Mountaintop Villages

Following breakfast, you'll set out on a coastal ride to Vila Nova de Cacela, known for its beautiful lagoon and popular beaches, by way of the tranquil hinterlands. Warming up with a few flat kilometers, you build toward a series of uphill and downhill stretches, taking you into the charming municipality of Castro Marim. The challenge continues as the road becomes progressively steeper on the uphill ride to the hamlet of Azinhal, a peaceful small village that breaks up the ride and is a great spot to stop and refresh.

Next on the road is the municipality of Alcoutim, taking you through the pleasant hamlet of Soudes. Some may say the best was saved for last today, as the finale of today's ride will have you climbing the Serra do Caldeirão to reach one of the most traditional villages of the inland Algarve—Cachopo. Located in a beautiful valley, Cachopo produces many of the region's typical products like cork, wool, and honey.

You'll return to Tavira by way of São Brás de Alportel, taking the undulating road right into town. Enjoy your final evening in Tavira with dinner and an ice cold Sagres (local beer) enjoying the cool sea breeze!
Overnight Location: Hotel in Tavira
Distance: 97 km, 1.650m accumulated climb
Meals: Breakfast, dinner
Day 4

Ocean Views and The Serra do Caldeirão Mountains

Get in the saddle for another full day of cycling as you set out from Tavira towards Lagos. This road is beloved by cyclists near and far, known for its excellent road conditions and spectacular views.

An uphill stretch takes you to São Brás de Alportel, with two uphill sections, Marco and Bengado, paving the way. Entering the cork-producing town of São Brás, catch your breath for the steep climb to Cova da Muda.

Sweeping views of the Atlantic Ocean to your south and the scenic Serra do Caldeirão (mountain range) to your north await following your ascent of 500m. Energized by the striking natural beauty that surrounds you, you'll press on riding the next steep slope through Javali to Barranco do Velho.

A transfer will take you back to your accommodations in Lagos. Enjoy your first evening in this vibrant city, partaking in a delicious local dinner and checking out this coastal city's endless list of attractions.
Overnight Location: Hotel in Lagos
Distance: 140 km, 1.550m accumulated climb
Meals: Breakfast, dinner
Day 5

Vicentine Coast and the Monchique Mountains

Today's ride has you fixing your gaze on the Vicentine Coast and the Monchique Mountains, tackling a tough but rewarding ride to take you there.

Bound for the coast, your first challenge today is riding through Bensafrim, as you conquer the Serra de Espinhaço de Cão and embrace a sense of well-deserved accomplishment. A few km along the road, you'll want to make a pit-stop at the historical city of Aljezur—a culture-packed experience that you won't want to miss.

Once in Portela do Vale (home of the world-famous Medronho brandy), you'll prepare to ride into the heart of the uplands, taking weaving roads around Fóia, the highest peak on the Algarve at 902m (2959 ft). An expansive range of rolling mountains makes up the Serra de Monchique, and Monchique itself is a lovely little market town, perfect for taking a break to explore. From Monchique, you'll ride to Alferce all the way up to Picota, preparing for your grand return.

Your final descent will have you riding an exhilarating road all the way down to Casaism and finally on to Lagos. Tonight, perhaps explore the architectural wonders of Old Lagos on foot, strolling the ancient streets and admiring the whitewashed houses. Enjoy dinner and get a good night's rest for your final day of cycling tomorrow.
Overnight Location: Hotel in Lagos
Distance: 125 km, 2.440m accumulated climb
Meals: Breakfast, dinner
Day 6

The Summit of Picota

Your final day of cycling is marked by a tough route from the craggy coast, lined with dramatic sheer cliffs.

Heading in the direction of Odiáxere and making your way towards the Algarve International Motor Racing Circuit, you'll ride alongside the beautiful Arão stream. A lively series of ups and downs on this part of the route will take you to Senhora do Verde, Rasmalho, and Porto de Lagos.

Having already laid eyes on the highest peak of the Algarve (Fóia), it's now time to ride 11 km uphill to the summit of the second highest peak in the region, Picota, rising 774 m (2539 ft) above.

The final part of today's route will allow you to soak up some more of the Algarve's culture and charm. This ride will give you the opportunity to re-visit Monchique and Aljezur and explore some more coastal gems like the towns of Carrapateira and Budens.

Back on the coastal road, stop off and sink your tired feet in the warm golden sand at two pleasant beaches along the way, Burgau and Luz. Tonight, enjoy the final evening of the tour in Lagos, feeling accomplished and truly immersed in the Algarve. Your final dinner will be arranged and enjoyed at your leisure.
Overnight Location: Hotel in Lagos
Distance: 163 km, 3.300 m accumulated climb
Meals: Breakfast, dinner
Day 7

Depart Lagos

The time has come to say "Tchau!" (goodbye), as your road cycling tour in the Algarve comes to an end. Enjoy a final breakfast and some final moments in beautiful Lagos this morning before departing. A private transfer will take you from your accommodations in Lagos to Faro Airport (FAO).
Overnight Location: None
Distance: None
Meals: Breakfast

Book Now
Algarve Road Cycling Tour Price and Dates
This cycling tour in Portugal is run as a custom tour for your group, so the total price depends on the size of your group.
This tour is currently only available in April and May.
Self-guided Algarve Road Cycling Tour
Have your own private tour with just your group! Prices below are per person:
Self-guided Groups of 2-14: $795 USD per person
Book Now
Accommodation on the Algarve Road Cycling Tour
This tour is based in 4-star hotels. The hotels offer comfortable rooms with great locations. Rooms are double occupancy, and single travelers will pay a supplement.
In some cases, the accommodation listed below may need to be substituted for other, comparable accommodations.
Single Rooms and Solo Travellers
You can pay a supplement to have a private room in a hotel while travelling with your group.
Hotels on Standard Tour
Hotels in Tavira and Lagos ★★★★
Stay in comfortable 4-star hotels while exploring Algarve. Enjoy all the amenities necessary to make you stay comfortable and pleasant.
What's included in the Algarve Road Cycling Tour?
Meals
7 breakfasts and 6 dinners are included.
Accommodations
Accommodation for 6 nights is included.
Transportation during the Tour
Personal and luggage transfer to and from the airport is included, as well as necessary transfers during the tour.
Also Included
Personal insurance
GPS maps (GPS available for rental)
24/7 mobile assistance
Not included
Bikes are not included, though you can rent one during the booking process
Flights to and from Faro
Lunches and dinners or drinks and snacks not previously mentioned
Tourist taxes if applicable
Personal equipment (GPS/side bags)
Fees not mentioned as included
Guide
Optional Extras
Activities and excursions
Single room supplements
Solo traveller supplements
Any additional nights before or after tour
Bike rental:

KTM Revelator Ultegra DI2 road bike: $250 USD per person
KTM Revelator Ultegra road bike: $195 USD per person
KTM Revelator 3500 road bike: $150 USD per person

GPS: $95 USD
Frequently Asked Questions about Algarve Road Cycling Tour
Is this tour for me?
We rate this tour a 4 / 5. Your daily mileage averages 100-120 km per day on good quality roads and paths but allows for that number to be increased to 163 km per day or decreased to 70 km per day if desired. You should be fit and comfortable on a bike and used to the mileage described in the tour.
Ask a Question
Got any questions regarding the tour? Interested in promotions for groups or want to customize this tour to fit your needs? We are here to help you!
Ask a question