Portugal Tours
Portugal tours are like a beautiful dream, conjuring up romantic thoughts of sipping wine on cobblestone streets, with the constant lull of a guitar in the background. But Portugal should also be seen as a grand adventure destination, as it contains a large section of the world renowned Camino de Santiago. Planning a trip on this coveted route can be overwhelming, so we have curated guided and self-guided tours to make it easier. Choose from hiking or cycling through Portugal and check this item off your list. The self-guided tours listed below include accommodation each night, but allow you to stop where you please without a fixed daily schedule. With a rough outline of your adventure, you can ride or walk with confidence and stop in authentic villages you wouldn't normally see. Self-guided Portugal tours mean you can follow your heart, but trust that you have support if you get lost.
While you hike or bike your preferred sections of the Camino, feel the warm sun and ocean breeze on your skin. The hiking and cycling tours will be challenging on Portugal's hilly terrain, but you won't mind so much as you discover the country's vibrant atmosphere of colourful houses and friendly folk. You'll instantly feel comfortable adapting to their lifestyle. They indulge in a slow eating culture where everything is fresh, and the olive oil is so fragrant. Enjoy Portuguese hospitality—and, of course, the ever-flowing wine on these incredible Portugal tours!
When is the Best Time to Visit Portugal?
While the climate in this coastal European country is inviting year-round, the best time to visit Portugal is arguably during the shoulder seasons of spring and autumn, as the weather during these periods will be a bit more mild and you will also encounter less in the way of tourist traffic. During spring you will be able to experience the picturesque Portuguese countryside in full bloom, while autumn will still bring warm weather that is perfect for exploring the outdoors on activities like hiking or mountain biking. No matter what time of year you decide is the best time to visit Portugal, there will be endless adventures waiting around every corner.
Portugal Map
There are so many amazing regions in Portugal that are waiting to be explored, so it can really be a challenge when it comes to planning your trip and making sure that you don't miss out on any incredible experiences. That's why we've put together this simple Portugal map to give you an overview of the country that should come in handy during the planning phase of your next Portugal tour.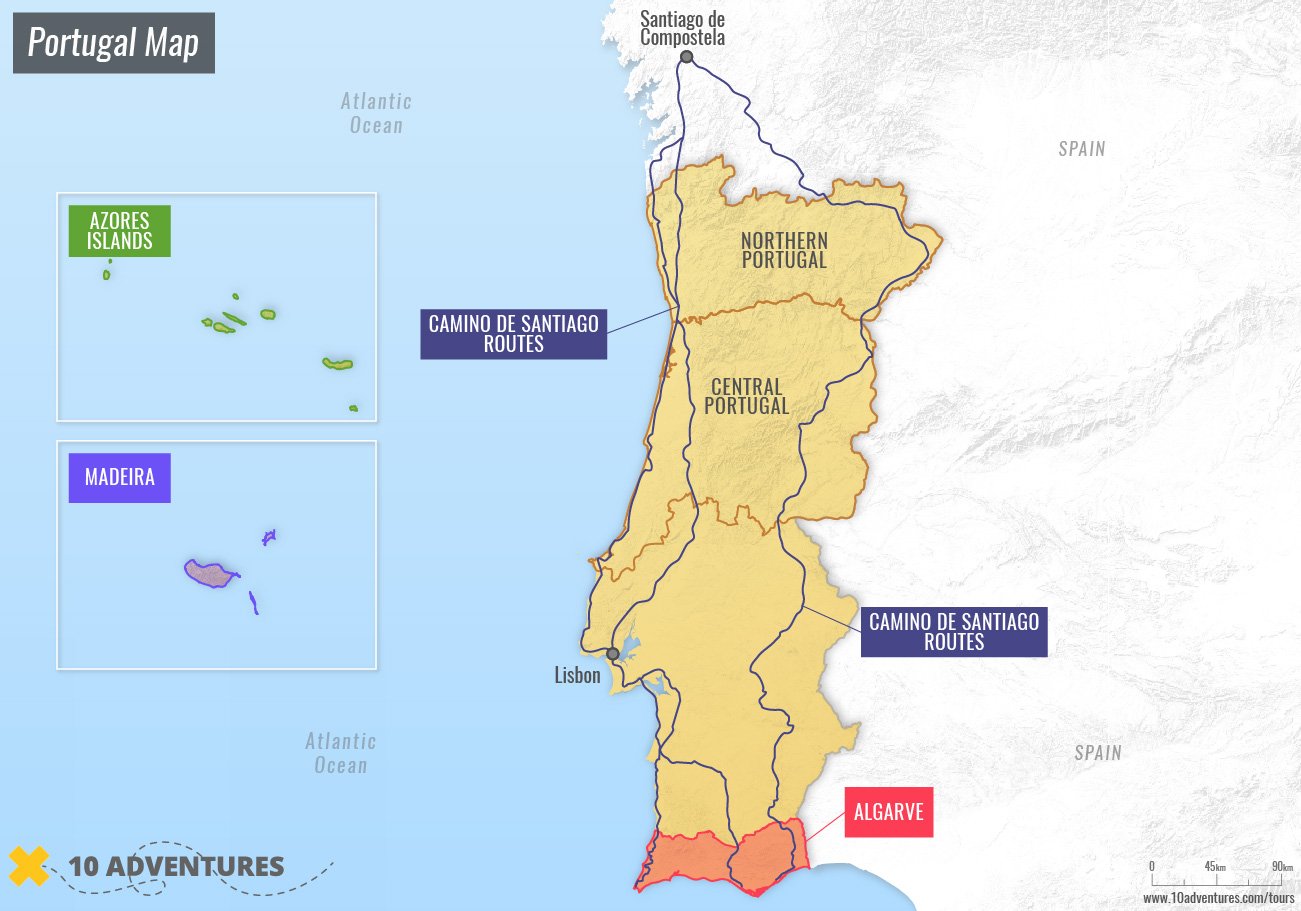 The Best Tours in Portugal
When it comes to the best tours in Portugal, there are countless outdoor activities that one can take part in. From family excursions to religious pilgrimages, check out the best tours in Portugal below:
Walking Tours in Portugal
Portugal is home to some rugged inland areas, breathtaking coastal terrain, and charming villages that make it a great place for exploring on foot. Check out this list of spectacular walking tours in Portugal to learn more!
Family Tours in Portugal
Although the mountains and coastal cliffs of Portugal might not seem like the ideal place for a family trip, there are plenty of options for exploring the outdoors that the entire family will be sure to love. Here are some of our favourite family tours in Portugal that are waiting to be discovered!
Bike Tours in Portugal
In a similar fashion to walking tours, the rugged and incredibly scenic landscapes of Portugal are perfectly suited for a grand biking adventure. Whether you are heading out into the mountains for a rough ride or plan to take a more relaxing approach of cycling through sleepy fishing villages, there is no shortage of fantastic bike tours in Portugal on offer.
Pilgrimage Tours in Portugal
Home to a few different walking routes that lead to the pilgrimage destination of Santiago de Compostela in Spain, Portugal is the perfect place to begin your spiritual journey to the resting place of St James the Great. Walk from village to village and collect stamps for your pilgrim passport on these pilgrimage tours in Portugal.
Cultural Tours in Portugal
In addition to the above-mentioned pilgrimage opportunities, Portugal is a great country to visit if you want to experience some culture. From breathtaking vineyards that produce some of the world's most popular wines to intricate churches and fascinating historical sites, there is so much to do and see on cultural tours in Portugal.
Where to Travel in Portugal
There are so many incredible destinations in this beautiful coastal country that it can be hard choosing where to travel in Portugal. We've put together a list of some of our favourite regions that should help you get an idea of where to travel in Portugal on your next vacation in the area!
Tours in Northern Portugal
Home to the historic city of Porto and the beautiful Douro region, Northern Portugal is an ideal travel destination if you are looking to explore the outdoors or begin a multi-day pilgrimage on the famous Camino de Santiago. Check out these incredible tours in Northern Portugal to begin planning your next trip!
Tours in Central Portugal
A rugged and beautiful region characterized by winding rivers, rocky mountain peaks, and a lovely stretch of coastline, Central Portugal is the perfect place to visit if you love the outdoors. Hike or bike through the stunning Portuguese countryside on these amazing tours in Central Portugal!
Tours in Algarve
The Algarve Coast is well known to be one of the best regions for tourism in Portugal, and it's easy to see why! Breathtaking coastlines, whitewashed fishing villages, and a laid back vibe make this wonderful region the perfect destination for those who want to enjoy a relaxing trip!
Tours in Azores
Located in the mid-Atlantic Ocean, the Azores are a beautiful archipelago that consists of stunning landscapes and charming villages. Take your time exploring the lush and vibrant forests on these incredibly scenic islands with tours in the Azores.
Tours on the Portuguese Camino de Santiago
While this world famous pilgrimage is best known for its routes that pass through Spain, there are actually a few Camino de Santiago routes that will lead you across the Portuguese countryside. Featuring coastal and inland options, you will really be able to connect with religion and your inner self on these tours on the Portuguese Camino de Santiago.
Tours in Madeira
Home to a delicious wine of the same name and a beautiful, yet rugged landscape, Madeira is an amazing destination for outdoor enthusiasts. Whether you are looking to hike, bike, or climb, Madeira tours offer a wealth of opportunities that allow you to explore its breathtaking landscapes.
Frequently Asked Questions About Portugal
How many days do you need to tour Portugal?
It depends on if you are planning to complete one of the longer Camino routes, but any trip to Portugal should be at least 7 days to really get a feel for all that the country has to offer.
Which part of Portugal is best?
Although there are many amazing parts of the country, many travellers agree that the Algarve is the best part of Portugal, thanks largely to its sunny beaches, whitewashed fishing villages, and laid back atmosphere.
What food is Portugal known for?
As a coastal European country, Portugal is well known for its many amazing seafood dishes, such as Bacalhau and Polvo à la lagareiro.
Is Portugal expensive to visit?
Of all the Western European countries, Portugal is considered to be one of the cheapest to visit, with travellers being able to manage comfortably on a budget of 65-110 euro per day.
Do they speak English in Portugal?
While it is not an official language, English is widely spoken in Portugal, particularly by younger generations and in tourist/business centers.
What is the best way to travel around Portugal?
As it is a relatively small country, the best way to travel around Portugal is by bus or train.
Portugal Tour Highlights
Praia da Marinha
Often regarded as one of the most beautiful beaches in Europe, Praia da Marinha is a stunning stretch of coastline in Algarve, Portugal. The small, sandy beach is surrounded by imposing orange limestone cliffs and features strikingly blue waters, which has led it to be used for a number of tourism and advertising campaigns in Portugal and abroad.
Belem Tower
Also known as the Tower of Saint Vincent, Belem Tower can be found in Lisbon, Portugal and was constructed in the 16th Century. The brilliant tower was constructed of lioz limestone and served to both protect the city of Lisbon from attackers and to welcome visitors arriving in the city's port. Designated as a UNESCO World Heritage Site, Belem Tower is often seen as a symbol of the Age of Discovery, when Portugal played an important role in European exploration of the world.
Find Other Amazing Adventure Tours in Europe
Join our newsletter
Get a weekly dose of discounts and inspiration for adventure lovers
Showing 1 to 20 of 31 adventure tours
What travellers say
Why
book

with 10 Adventures?
Your trip. Your way.
Make lifelong memories with the people you care about most. We specialize in custom & private active travel experiences.
Travel made easy.
Spend your time making memories, not planning them. Enjoy a stress-free vacation and leave the trip logistics to us.
You matter to us.
No bots here. A real human is always a click or a call away to ensure you get the adventure of your dreams.
Travel authentically.
Immerse yourself in the destination with highly-vetted, local tour operators who love to showcase where they live.