Camp under the stars in the Peruvian Andes on this 9-day guided trekking adventure
Spend a week experiencing the stunning Cordillera Blanca on this partial circuit around Alpamayo. This guided trek on the famous Alpamayo route takes you to stunning mountain lakes, close-ups to massive peaks and across stunning mountain passes in the Peruvian Andes. The Alpamayo trekking tour will take you through some of the most diverse landscapes in Peru's Cordillera Blanca.
This guided Alpamayo trek is a shortened alternative of the complete Alpamayo circuit, and finishes in the Andean village of Pomabamba. The Alpamayo Trek goes above 4,000m, and is suitable for hikers who are already acclimatized. If you haven't acclimatized, we suggest you spend at least 3 days hiking in Huaraz beforehand. You can book the 3-day acclimatization package during the booking process.
On this guided trekking tour near Huaraz, you'll spend your nights at campsites enjoying a good meal and looking at the gorgeous views. Later on you can gaze up on the stars, snug in your sleeping bag inside your tent.
The Alpamayo trek will reward you with splendid views of the valleys beneath you, as well as offering you the chance to experience the landscape hands on, by visiting Alpamayo base camp and crossing over streams, through valleys and over passes to reach your destination. This guided Alpamayo tour will give you a beautiful and thorough experience of everything the Peruvian Andes have to offer, allowing you to truly experience this gorgeous and diverse natural world.
Highlights of the Alpamayo to Pomabamba Trek
Marvel at the stunning views of Alpamayo, Milhuacocha and Pilanco in Peru's Cordillera Blanca.
Spend a night near Alpamayo base camp and experience crystal clear views of the night sky.
Trek through Peru's Cordillera Blanca on this guided Alpamayo trek.
Explore the local Andean culture, people, and villages of the Peruvian High Andes.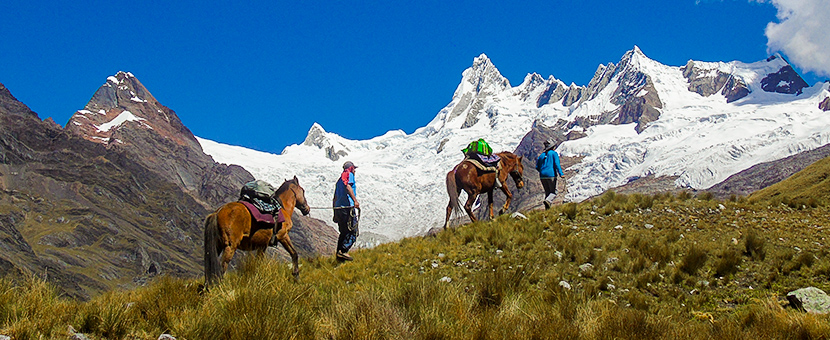 Alpamayo to Pomabamba Trek itinerary
Day 1

Arrive in Huaraz

Arrive in Huaraz and check into your hotel. Enjoy exploring Huaraz on foot as you get used to the altitude. If you are coming from a lower elevation, you should spend 2-3 days acclimatizing to the altitude, and you can book a 3-day hiking tour during the booking process, that is a good way to acclimatize prior to starting this Alpamayo Trek. You can arrange bus travel from Lima to Huaraz in the booking process.
Overnight Location: Guesthouse in Huaraz
Distance: None
Meals: None
Day 2

Transfer to Hualcyan and trek to Amacuna

Your first day on this guided Alpamayo trekking tour begins after breakfast, where you'll be picked up at your hotel before you leave to transfer to Hualcayan (3,150 m / 10,335 ft) via the Callejon de Huaylas. This transfer takes between 4.5 and 5 hours and you'll have lunch included along the way. During your transfer, you'll stop in the towns of Carhuaz, Yungay, Caraz, and more.

Upon reaching Hualcayan you'll meet up with the local guide and his pack animals. The animals will then carry your equipment and food while you trek up a clear path of switchbacks with a panoramic view of the Callejon de Huaylas. After about 5 hours of trekking, you'll arrive at Amacuna (3,400 m / 11,155 ft), which is where you'll camp for the night.
Overnight Location: Camping at Amacuna (3,400m)
Distance: 5 hours
Meals: Breakfast, Lunch, Dinner
Day 3

Trekking to Osoruri

You'll begin today's section of the Alpamayo Trek on a clear trail which will allow you to visit an alternative campsite called Wishcash. This trail will provide constant gorgeous views of the surrounding landscape on your way to Cullicocha Lake. You'll stop at the stunning Cullicocha Lake after about 4 hours of trekking. You'll relax and eat lunch while enjoying the views of Cullicocha Lake surrounded by stunning mountains. You'll then continue soon reaching Llampapashillun Pass at 4,850 m / 15,912 ft. Your day will then end after trekking for another 3 hours to reach Osoruri (4,500 m / 14,764 ft) where you'll eat dinner and camp for the night.
Overnight Location: Camping at Osoruri (4,000m)
Distance: 7 hours
Meals: Breakfast, Lunch, Dinner
Day 4

Trekking to Jancarurish

Your third day on the Alpamayo Trek will take you toward Vientuna Pass (4,750 m / 15,584 ft). You'll reach this destination after roughly 2.5 hours of trekking, and from here, you'll be able to see the Milhuacocha and Pilanco Mountains, as well as sections of the Cedros and Alpamayo Valleys. From here, you'll trek about another 3 hours to Ruinapampa, which is your lunch destination. After lunch, you'll continue your trek through the Alpamayo Valley so that you can reach Jancarurish, which sits at 4,000 m / 13,123 ft. This is your camp for the night.
Overnight Location: Camping at Janacarurish (4,000m)
Distance: 5.5 hours
Meals: Breakfast, Lunch, Dinner
Day 5

Day off or visit Alpamayo viewpoint

Today is a well-deserved short day. You can choose to have a complete rest day, though guests are urged to take a closer look at the Alpamayo Mountain on an optional trek to the Alpamayo viewpoint. You'll start on the route that will take you to the ancient Alpamayo base camp known as Jancarurish. You'll then ascend through some steep, rocky, terrain that will eventually take you to an area where you'll be greeted with views of Alpamayo, which many consider to be the most beautiful mountain in the world. This is a 4 hour excursion. After a chance to take photos and rest, you'll return back to camp and have lunch at the campsite. You'll spend the remainder of the day relaxing and spend the night here again.
Overnight location: Camping at Janacarurish (4,000m)
Distance: 0-4 hours
Meals: Breakfast, Lunch, Dinner
Day 6

Jancarurish – Kara Kara pass – Huillca

Today is another great day on your guided Alpamayo hike. The first goal of the day is the Kara Pass at 4,830 m / 15,846 ft, which you will reach after 4 hours of trekking. The views from Kara Kara Pass are amazing, taking in Alpamayo, Santa Cruz, and Quitaraju Mountains. After a rest you then walk for another 1.5 hours to reach Mesapata Valley: your lunch spot for the day. The tour then continues with a short trek toward Mesapata Pass (4,200 m / 13,780 ft) where you will pitch your campsite and then have dinner.
Overnight location: Camping at Huillca
Distance: 5.5 hours
Meals: Breakfast, Lunch, Dinner
Day 7

Trek to Jankapampa

Todays trek takes you to Jankapampa via the Pucahirka Pass (4,600 m / 15,092 ft). You will hike for three hours up to Pucahirka Pass, where you'll have gorgeous views of Pucahirka Mountain and the Jankapampa Valley. After a short rest at the pass and lunch on the trail, you'll continue for 2 hours to Jankapampa (3,700 m / 12,139 ft), where you'll set up camp.
Overnight location: Camping at Jankapampa (3,700m)
Distance: 5 hours
Meals: Breakfast, Lunch, Dinner
Day 8

Trekking to Pomabamba and transfer to Huaraz

Today is the last day of trekking on your guided Alpamayo trekking tour. Today's objective is to hike down to Pomabamba (2,950 m / 9,679 ft). Pomabamba is a typical Andean village, and the hike to this spot takes about 4 hours. From there, you will get a transfer back to Huaraz. This will be a long car ride, taking approximately 8 hours on a dirt road. You will arrive in Huaraz around 9:00 pm, and will transfer to the hotel.
Overnight location: Guest House in Huaraz
Distance: 4 hours
Meals: Breakfast, Lunch, Dinner
Day 9

Departure

Today you'll depart Huaraz. Many guests take a bus back to Lima, though some stay on to complete another trek in the Huayhuash.
Overnight location: None
Distance: None
Meals: Breakfast

Book Now
Prices for Alpamayo to Pomabamba Trek
This guided trekking tour to Pomabamba is always run as a custom tour for your group only, and the pricing is based on the number of guests on your trip.
The prices below are per person, sharing a double or a triple room:
Guided Solo Traveller: $3,325 USD
Guided Groups of 2: $1,795 USD per person
Guided Groups of 3: $1,575 USD per person
Guided Groups of 4-6: $1,375 USD per person
Guided Groups of 7+: on request
Book Now
Accommodation on the guided Alpamayo to Pomabamba Trek
You will be staying in a hotel in Huarez at the start and end of this tour. In between, you will be pitching camp at various scenic spots along the Ichik Huayhuash trek. These camp sites are owned by the rural communities in the region and provide revenue for these local communities. Camping allows you to enjoy the natural surroundings around you, as well as enjoy staying on the trail itself along the way. In some cases, accommodation listed below may need to be substituted for other, comparable accommodations.
Single Rooms and Solo Travelers
You can pay a single supplement of $135 USD to have a private room in a hotel. Contact us and we can try and match single travelers up, where possible.
Hotels on Standard Tour
This pleasant hotel is located is a popular base pre and post-trekking. Located a 5-10 minute walk to the central plaza, this hotel has wonderful views of the Cordillera Blanca.
Camping in Cordillera Blanca ★
You will be pitching camp at scenic spots along the Alpamayo Trek. Your campsites are owned by the rural communities in the Cordillera Blanca, and your staying there provides valuable revenue.
This pleasant hotel is located is a popular base pre and post-trekking. Located a 5-10 minute walk to the central plaza, this hotel has wonderful views of the Cordillera Blanca.
What's included in Alpamayo to Pomabamba Trek?
Meals
8 breakfasts, 7 lunches, 7 dinners
Accommodations
Accommodations along the seven-day tour are included, as are accommodations in Huaraz before and after the trekking tour.
Transportation during the tour
Transfers from Huaraz to the trailhead at the start of the trekking tour and back to Huaraz at the end of the tour are included.
Also Included
English-speaking guide throughout the trip
Hotel taxes and service charges (for the last night of the trek)
Camp cook
Horseman, pack animals, and emergency horse
Camping equipment for collective use (sleeping tents, kitchen tent, dinning tent, bathroom tent, mattress, table and chairs)
Kitchen Service (all the crockery)
Celebration Meal
Park fee entrances
First Aid Kit
Luggage porterage using donkeys and/or horses
All logistics
Not Included
Anything not listed as included
Flights to Peru
Transit to Huaraz
Personal trekking gear
Any food or beverages not listed
Personal clothing and equipment
Incidental personal expenditures, including any travel insurance, emergency evacuations and medical expenditures
Travel, personal, and medical insurance
Optional Extras
Bus Transfer from Lima:

$25 USD

per Person
Additional night in Huaraz:

$85 USD

per double room
3 day, 2 Night Pre-trip Acclimatization hikes in Huaraz:

$500 USD

per person
Frequently Asked Questions about Alpamayo to Pomabamba Trek
Go2Andes is a family-operated tour operator whose owners were raised in a small Peruvian village called Llamac, located in the iconic Cordillera Huayhuash in the Andes.
Nearly all of Go2Andes' guides are from the villages of the Cordillera Blanca and the Cordillera Huayhuash, and they use this deep familiarity to their advantage.
Go2Andes has led clients from over 30 different countries and they aim to become friends with each client before returning them home.
Learn More
Is this tour for me?
This tour is rated as a 5 out of 5 for difficulty, largely due to the altitude of the days. Note that due to the altitude, it is recommended to acclimatize before stating this tour.
Local Guide
Ask a Question
Got any questions regarding the tour? Interested in promotions for groups or want to customize this tour to fit your needs? We are here to help you!
Ask a question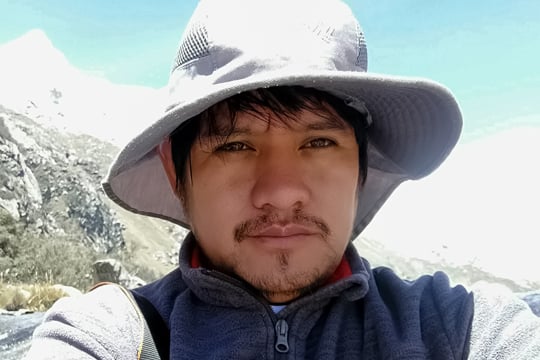 Christian is incredibly familiar with the intricacies of creating an unforgettable adventure tour and never gets tired of leading new groups on their adventures. He's particularly fond of the mountains and loves trekking tours.
Q & A
Q:

What is your favourite trip to do and why?

A:

I consider the Cordillera Huayhuash to be my favourite, because it is the place where I was born. When I accompany groups there I love to show off its beauty, and it is considered by some guides to be among the 10 best hikes in the world.

Q:

What is an experience that anyone visiting Peru should have?

A:

Visit an archeological site (Machu Picchu, Caral, or Chavin de Huantar), take a trekking circuit in the Cordillera Blanca or Huayhuash, and eat traditional dishes (pachamanca, ceviche, or picante de cuy).

Q:

What has been the most challenging adventure you've had?

A:

Climbing a snow-covered peak of 6000m.