Peru Tours
Peru tours are an incredible experience that will enable you to experience all that this beautiful country has to offer and will please you in ways that you couldn't imagine. From the lowlands of the Atacama Desert in southern Peru to the towering Cordillera Blanca range in the northern part of the country, the possibilities for finding your own custom adventures are endless on Peru tours.
Whether you want to kayak the Amazon River, barrel down scenic trails in the Andes on a mountain bike, or climb glaciers over two miles above the sea, this country really does have it all. No matter where you go, you'll also find Inca and Spanish ruins spread throughout the country, making treks to the famous Sacred Valley and Machu Picchu all the more fascinating.
Adventure travelers would be remiss not to consider Peru tours for their holiday. Peru is packed with rich scenery, rare wildlife, Inca relics, and colonial history. There's no better way to get a completely immersive experience that includes culture, history, and natural beauty than on Peru tours.
Peru Travel Tip
A great Peru travel tip for those who have never been there is to book a guide, as they will give you an incredible and memorable experience. These highly-qualified and knowledgeable guides can put together custom, private tours for you, based on your interests, ability levels, budget, and time constraints. They also offer several pre-planned tours that may be just what you're looking for, from guided day tours of Cusco to multiday trekking excursions along the Inca Trail.
When you book a guided tour in Peru, you're both supporting the local economy and learning more about your experience than you ever could if you visited on your own. On top of that, booking a guided tour will make your holiday much less stressful. Your guides will take care of lodging, transportation, administrative paperwork, and meals for you, allowing you to relax and enjoy your holiday to the maximum extent possible.
When is the Best Time to Travel to Peru?
The best time to travel to Peru depends entirely on what your plants are for visiting the country. Peru is a diverse country with a wide range of climates and landscapes, meaning that the best time to travel to Peru depends on the specific regions you plan on visiting. Here are a few things to consider when deciding on the best time to visit Peru:
If you want to explore the Andes Mountains, the dry season (April to October) is the best time to do so. The weather at this time is cool and dry, with clear skies and low humidity, making it a great time for outdoor activities such as hiking, trekking, and biking.
If you want to make your way into the Amazon rainforest, the wet season (November to April) is the best time. The rainforest is more humid, lush, and vibrant during this time, providing more opportunities to see the diverse wildlife that makes the region so special.
If you want to visit the coastal regions of Peru, the dry season (May to October) is the best time to do so. The weather during this period is warm and sunny, with clear skies and low humidity, making it the ideal time to enjoy the coast.
Overall, the best time to travel to Peru depends on your interests, personal preferences, and the specific activities you want to take part in during your trip. Make sure to check the weather forecast prior to your trip and plan your adventures accordingly.

Peru Map
Peru is a geographically complex country that features a variety of regions with different landscapes, which can make it difficult to plan a trip there. We've created this simple Peru map to help give you an overview of the country and a few points of interest that should help you to better understand the landscape.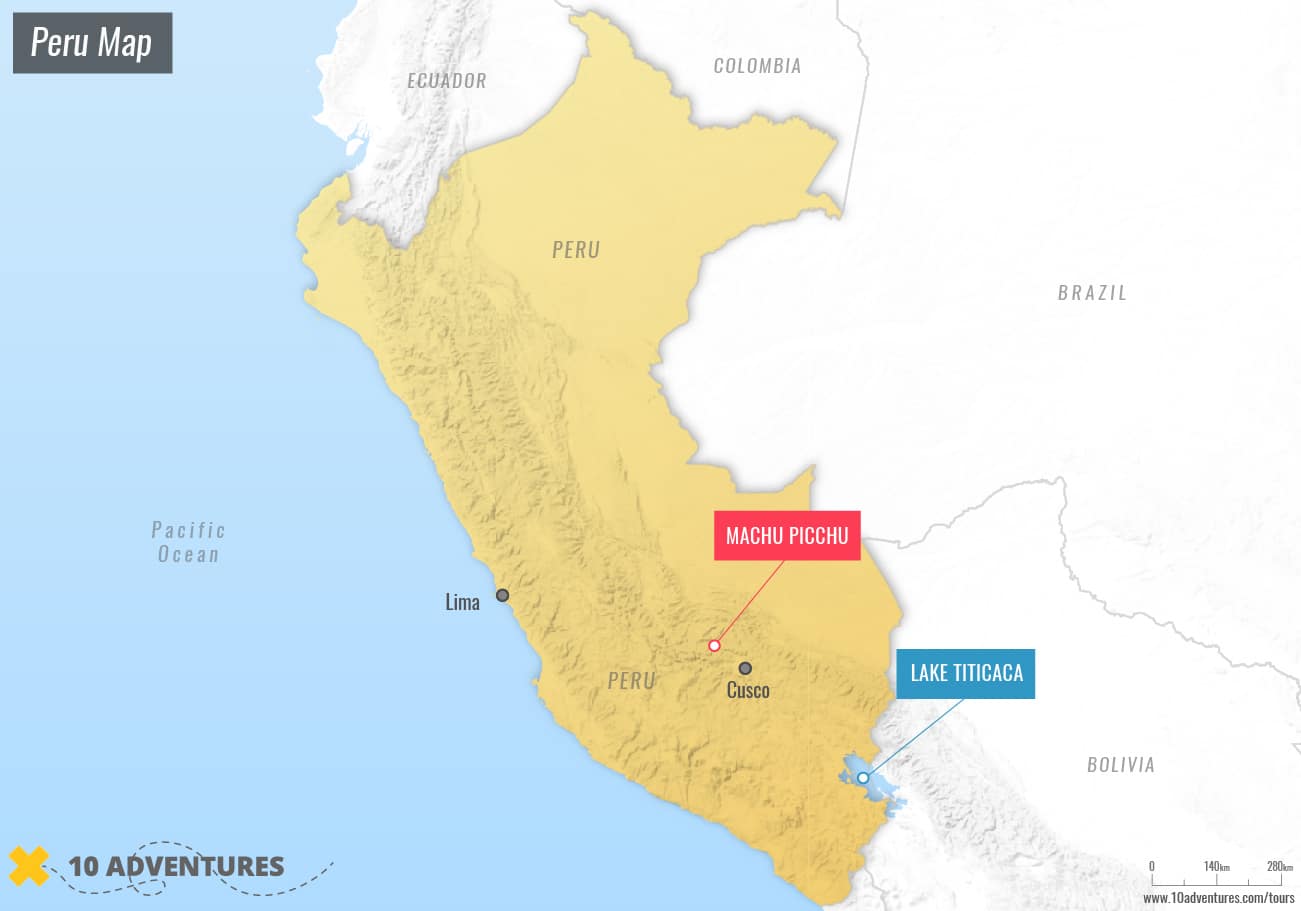 Popular Activities in Peru
From the vibrant streets of Cusco to a remote getaway in the Andes, there are a variety of reasons why travelers choose to visit Peru. Continue reading on if you would like to discover the most popular activities in Peru:
Hiking Tours in Peru
Hiking tours in Peru are far and away the most popular outdoor activity in the country, as the various landscapes are truly breathtaking. Classic treks like the Inca Trail or Salkantay Trek take intrepid adventurers all the way to the world famous site of Machu Picchu, but there are countless other hiking tours in Peru that explore the rugged Andes and the dense heart of the Amazon Rainforest. Book an amazing hiking tour in Peru to set out on a life changing South American adventure!
Cultural Tours in Peru
From the rich history left behind by the ancient Inca peoples to the Spanish and indigenous Quechua influences of modern day, there is so much in the way of culture to experience in Peru. Whether you are looking to connect with the cultures of the past or present, cultural tours in Peru will allow you to experience the traditions and customs of the Peruvian people.
Bike Tours in Peru
With much of the country situated high up in the dramatic landscape of the Andes Mountain Range, it is little wonder that bike tours in Peru are a popular offering. Take in the sights and sounds of this incredibly diverse and scenic country from the saddle on one of these amazing bike tours in Peru.
Multisport Tours in Peru
For those who can't make their mind up and want to experience all of the adrenaline rushes Peru has to offer, there are plenty of multisport tours in Peru that will be sure to get your heartrate up! Book one of these incredible multisport tours in Peru to hike, bike, paddle, and ride through one of the most beautiful parts of South America.
Frequently Asked Questions About Peru
How many days do you need when traveling Peru?
Although it is a relatively small country, it is recommended to spend 10-14 days in Peru to fully experience all that it has to offer.
Is Peru worth visiting?
Peru is one of the most popular destinations in South America, thanks to the natural beauty of the landscape, rich culture, and fascinating historical sites like Machu Picchu.
Is it rude to tip in Peru?
Tipping is a common and respected practice in Peru that is encouraged in hotels, restaurants, and with tour guides. It is always a good idea to have some cash on hand when traveling around Peru.
What is the currency of Peru?
The official currency of Peru is the Sol, although the US dollar is accepted in many stores and restaurants.
What is Peru most famous for?
Peru is most famously known for the Sacred Valley and the ancient Inca site of Machu Picchu.
Peru Tour Highlights
Machu Picchu
Machu Picchu is an ancient Inca citadel located in the Cusco region of Peru, in the Andes mountains. It is one of the most iconic and well-known ancient sites in the world, so much so that it has been recognized as a UNESCO World Heritage Site.
There are several unique aspects of Machu Picchu that contribute to its cultural and historical significance, one of the most prominent being its location and setting. Situated high in the Andes mountains and surrounded by lush, green forests, the site overlooks the Sacred Valley and provides breathtaking views of the surrounding landscape.
Another unique aspect of Machu Picchu is its architectural and engineering feats, which demonstrate the incredible ingenuity and technical skills of the ancient Inca people. The site features a wide variety of structures such as temples, palaces, and residences that would have served the elite members of Inca society. It is also home to a number of terraces and agricultural areas, which were used to cultivate crops and sustain the community that lived there.
Machu Picchu is also unique in terms of its cultural and historical significance. Thought to have been utilized as a retreat for elite members of society, the site would have been an important center of political, economic, and religious power for the Inca Empire, and it played a key role in the spread of Inca culture throughout the region. Today, Machu Picchu is a popular tourist destination and a symbol of Peru's rich cultural heritage.
Lake Titicaca
Located high in the Andes Mountains along the border of Peru and Bolivia, Lake Titicaca is a fascinating natural feature like no other in South America. At an elevation of over 12,000 feet above sea level, it is the highest navigable lake in the world and is also the largest lake in South America, covering an area of over 3,200 square miles. Lake Titicaca is fed by numerous rivers and streams, and it is home to a wide variety of fish and other aquatic species.
As it is situated in a high-altitude region of the Andes, the landscape surrounding Lake Titicaca is characterized by rugged mountains and rolling hills. The lake is also home to a number of small islands that have been inhabited by indigenous communities for thousands of years, many of whom consider it to be sacred.
Find Other Amazing Adventure Tours in South America
Join our newsletter
Get a weekly dose of discounts and inspiration for adventure lovers
Showing 1 to 20 of 39 adventure tours
What travellers say
Why
book

with 10 Adventures?
Your trip. Your way.
Make lifelong memories with the people you care about most. We specialize in custom & private active travel experiences.
Travel made easy.
Spend your time making memories, not planning them. Enjoy a stress-free vacation and leave the trip logistics to us.
You matter to us.
No bots here. A real human is always a click or a call away to ensure you get the adventure of your dreams.
Travel authentically.
Immerse yourself in the destination with highly-vetted, local tour operators who love to showcase where they live.