Discover alpine lake basins in Ansel Adams Wilderness on foot
Escape society and travel deep into remote wonders tucked into Ansel Adams Wilderness on this guided Alpine Lakes Backpacking Adventure. Alongside a trusted guide, you'll travel to pristine scenery, such as granite peaks, meadows cloaked in wildflowers, glittering lakes, and rivers cutting into Southern Yosemite's tremendous landscape.
You'll spend three nights of this 5-day backpacking trip camping at one secluded spot nestled into Ansel Adams Wilderness. Expect to rest your head by a beautiful lake and within the quiet hush of a canopy of trees. During the day, you'll depart your basecamp for some day adventures before returning in the evening.
Please check out this blog to find out more about the COVID-19 precautions during the tour.
Highlights of the Alpine Lakes Backpacking Adventure
Explore the spectacular scenery spanning Ansel Adams Wilderness alongside a trusted guide who will design trails that cater to your groups' hiking desires and abilities.
Spend three nights at an incredible basecamp, in the wild, set beside a shimmering lake, where you can enjoy refreshing evening dips!
Enjoy tasty, fulfilling backcountry meals prepared by your guide—you'll definitely need some sustenance for your adventures.
Summit one of the 10,000-foot peaks jetting high into the sky along the Yosemite National Park border.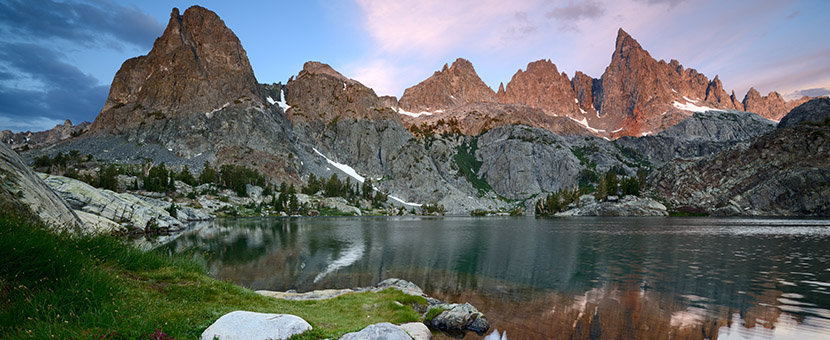 Alpine Lakes Backpacking Adventure Itinerary
Day 1

Begin in Bass Lake, California

Check into your hotel sometime after 4 pm. At 6 pm, you'll meet your guide and the rest of your group for a short orientation. Enjoy dinner on your own at one of the many restaurants in town.
Overnight Location: Hotel in Bass Lake
Distance: None
Meals: None
Day 2

Trek to lakeside camp

Enjoy a delicious breakfast on your own before meeting up with your guide at 8 am. You are responsible for your own transportation to the trailhead, which takes about an hour from where you will greet your guide in the morning. After quickly sorting the gear, you will start hiking. Travel through fir forests before reaching the high sub-alpine lake basin. You will set up camp here.
Overnight Location: Camping in Ansel Adams Wilderness
Distance: 6 mi, 1,706 ft ascent, 1,053 ft descent
Meals: Lunch, Dinner
Day 3

Discover the alpine lakes basin

Consume a delicious breakfast before embarking on adventures around your camp. Your guide will tailor the hiking duration to match the desires of your group. End the day with a refreshing dip in the lake and a fulfilling dinner!
Overnight Location: Camping in Ansel Adams Wilderness
Distance: 1-6 mi, elevation varies
Meals: Breakfast, Lunch, Dinner
Day 4

Ascend a 10,000-foot peak

Get ready to hike one of the surrounding 10,000-foot peaks standing tall along the border of Yosemite National Park today. If you aren't in the mood for an exhilarating summit, the guide will take you along various trails to other alpine lakes!
Overnight Location: Camping in Ansel Adams Wilderness
Distance: 1-6 mi, elevation varies
Meals: Breakfast, Lunch, Dinner
Day 5

Go back to Bass Lake

Bask in nature and enjoy a tasty breakfast before heading back to the trailhead!
Overnight Location: Camping in Ansel Adams Wilderness
Distance: 6 mi, 321 m ascent, 1,706 ft descent
Meals: Breakfast, Lunch

Book Now
Alpine Lakes Backpacking Adventure Price and Dates
This guided tour in the Sierra Nevada is always run as a fixed-departure tour where you would be joining a group, therefore the price is fixed and only depends on the number of people sharing the room or a tent.

The prices below are per person:
Accommodation on Alpine Lakes Backpacking Adventure
This backpacking adventure will have you staying in one cozy hotel. The hotel has modern necessities that will keep you comfy and relaxed. Keep in mind that rooms are double occupancy, but you can always upgrade to single occupancy for an additional fee. Single travellers are also required to pay a supplement. You will spend the remaining 3 nights backcountry camping.
In some cases, the accommodation listed below may be swapped for other similar accommodations.
Single Rooms and Solo Travelers
You can pay a supplement of $240 USD to have a private room in a hotel while traveling with a group. We can match the single travellers up, however, in case there aren't any matches, you'll have to pay a supplement of $120 USD.
Hotels on Standard Tour
Pines Resort in Bass Lake
This charming hotel offers the right amenities to propel the comfort of your stay: a pool, mountain view, restaurant, bar, and a picnic area!
Camping in Ansel Adams Wilderness
Revel in the scenery as you camp at a lakefront spot below a blanket of stars.
What's included in the Alpine Lakes Backpacking Adventure?
Meals
3 breakfasts, 4 lunches, 3 dinners, and trail snacks along the route are included.
Accommodations
Accommodations for 1 night in the hotel in Bass Lake, and for 3 nights of wilderness camping. Accommodations before and after the tour are not included.
Transportation during the Tour
You are responsible for driving yourself or organizing transportation to and from the trailhead.
Also Included
Guide
Personal backpacking gear (per request), such as sleeping bags, backpack, sleeping pads, tents, trekking poles
Group gear, such as stoves, group first aid kit, cooking items, water filters, etc.
Hot coffee and tea in the mornings
Not included
Flights and transportation to get to and from Bass Lake
Personal clothing and shoes
Accommodations before and after the adventure tour
Personal expenses + gratuities (recommended 10-20% for excellent service)
Evacuations
Transportation to and from the trailhead
Insurance
Optional Extras
You can upgrade to a single occupancy in the hotel for an additional fee
Extra nights at Bass Lake before or after the tour
Frequently Asked Questions about Alpine Lakes Backpacking Adventure
SYMG was started in 1991 by three friends offering hiking trips into California's mountains in hopes of more closely meshing lifestyle with work. The combination proved successful and SYMG has become a leader in the active travel and mountain guiding world, providing carefully planned and executed trips in the most spectacular wilderness areas of California and beyond. Now, 30 years later, we've shown thousands of people the beauty of Yosemite and the High Sierra and have been named one of the "Best Outfitters on Earth" by National Geographic Adventure Magazine.
Learn More
Is this tour for me?
This tour is rated as 2 / 5, as it has you hiking moderate routes each day. You also need to be comfortable with camping in the wild for 3 nights.
Ask a Question
Got any questions regarding the tour? Interested in promotions for groups or want to customize this tour to fit your needs? We are here to help you!
Ask a question