Spend 7 spectacular days walking from Salerno to Amalfi
The Amalfi Coast is known as one of the most beautiful coastlines in the world and it is yours to discover on this fabulous 7-day self-guided walking adventure! Walking from Salerno to Amalfi, you'll spend 7 days immersed in the eastern part of the Amalfi Coast, experiencing its breathtaking natural landscapes, ancient sites, and rich culture. 
Walk among terraced lemon groves and feel the history radiate from centuries-old olive trees. Explore robust orchards and vineyards, delighting in the rich landscapes. Enjoy local craftsmanship as you discover the world-famous handmade pottery of Vietri Sul Mare (Amalfi Coast's eastern gate). 
Spend your evenings dining on the freshest seafood pulled straight from the pristine waters of the Tyrrhenian Sea, accompanied by the finest wines of the Campania region. Overnight stays in Salerno, Vietri, Minori, and Amalfi provide the perfect opportunity to soak up the Amalfi Coast's authentic charm and marvel at its magic. 
Get to know the Amalfi Coast in all of its authenticity on this walking tour, introducing you to the best of this world-famous region.
Highlights of the Amalfi Coast Self-Guided Walking Tour
Walk among the beautiful mountains and sweeping green valleys of Italy's Campania region.
Delight in the citrus scent that fills the air as you walk The Path of Lemons between two villages on the Amalfi Coast.
Visit tiny, picturesque villages that dot the Amalfi Coast, including Benincasa, Dragonea, Albori, and more.
Walk the Path of Gods, the most famous path of the Amalfi Coast, leading you to stunning Positano.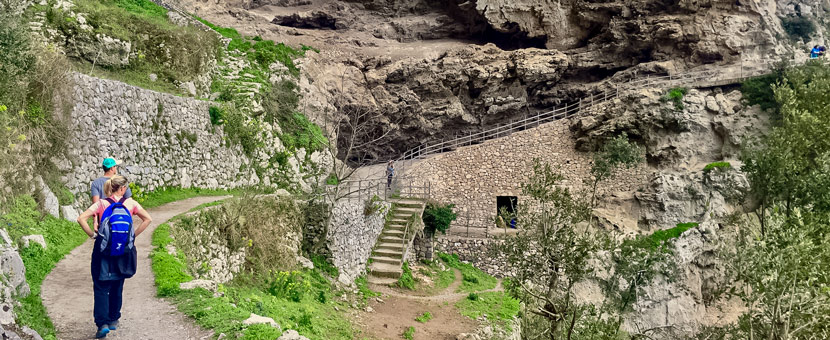 Amalfi Coast Self-Guided Walking Tour Itinerary
Day 1

Arrive

Arrive in Salerno, which in ancient Roman times was known as Salernum!

The modern town contrasts remarkably with the medieval Castle of Arechi that dominates the landscape. If your arrival time today permits, take the opportunity to explore the historic center and scenic promenade.

A visit to the Provincial Art Gallery and the Cathedral of Salerno is the perfect introduction to this spectacular city. For a dose of greenery, you can also visit Minerva's Garden, the first botanical garden in Europe used for medicinal plant cultivation.
Overnight Location: Hotel in Salerno
Distance: None
Meals: None
Day 2

Walk to Vietri sul Mare via Small Coastal Villages

This morning following breakfast, a short private transfer will take you to Vietri sul Mare. Known as the Amalfi Coast's eastern gate, the town is also famous for its production of beautiful handmade pottery.

Walking the picturesque landscapes of Vietri sul Mare, you'll discover its delightful quaint villages like Benincasa and Dragonea.

Following the loop, a short detour to the lovely village of Albori is an option this afternoon. Known for its winding labyrinths of stairs, Albori leads downhill towards the Marina di Vietri where you'll reach Villa Guariglia, a historic building home to the Museum of Ceramics.

Marina di Vietri is home to a long stretch of beautiful beach and is the perfect place to end your first day of walking on the Amalfi Coast. Unwind on the sandy shores for a while before heading back to your accommodations in Vietri sul Mare.
Overnight Location: Hotel in Vietri sul Mare
Distance: 2 hours, 5 km
Meals: Breakfast
Day 3

Walk the Path of Lemons

This morning a short private transfer will take you to the trail's start point.

Beginning with a steep ascent, you'll follow the aqueduct and walk among rich Mediterranean vegetation, leading you to the small coastal town of Maiori. Beautiful terraces draped in lemon trees overlook a stretch of coastal beach paradise. Enjoy a serene moment here before continuing along the Path of Lemons to the town of Minori.

Enchanted by the sea breeze that carries the scent of citrus across the landscape, refresh yourself with a cold limoncello and be sure to indulge in a pastry from the Sal De Riso pastry shop.

Tonight's stay in the quaint town of Minori will be a peaceful and picturesque one.
Overnight Location: Hotel in Minori
Distance: 2.5 hours, 6 km
Meals: Breakfast
Day 4

 Walk from Minori to Amalfi by way of Ravello

Departing Minori, a masterfully crafted staircase will lead you to your next stop in Ravello this morning. Discover this jewel on the coast and its myriad of attractions, like the spectacular Gardens of Villa Cimbrone. The garden boasts rare species of plants, stately statues, and fountains. Follow the garden paths to Belvedere, where you'll discover some of the most spectacular views of the Amalfi Coast.

Continuing towards Scala (the oldest village in this part of the coast), you'll reach the hillside village of Pontone and take the path leading to the Valle dei Mulini Reserve. Following its rich and fragrant trails, keep your eyes peeled for the ancient fern trees dating back to the ice ages.

Reaching Amalfi, check into your accommodations and enjoy your first evening in this beautiful town perched below the coast's towering cliffs.
Overnight Location: Hotel in Amalfi
Distance: 3.5 hours, 10 km
Meals: Breakfast
Day 5

 Walk the Ancient Via Maestra dei Villaggi

After breakfast, a transfer by public bus will take you uphill to San Lazzaro, a small hamlet in Agerola. Here, you'll ignite your senses with a fantastic tasting of local specialties at a charming farmhouse.

A visit to the beautiful Castle Lauritano is up next, where you'll enjoy panoramic views of the surrounding landscapes.

Following the Via Maestra dei Villagi (the path that connected ancient Agerola to Amalfi), you'll pass through the small idyllic villages of Lone and Pastena before arriving back in Amalfi.
Overnight Location: Hotel in Amalfi
Distance: 2 hours, 5 km
Meals: Breakfast, tasting
Day 6

Walk the Path of the Gods

Taking the SITA buses this morning, you'll reach Bomerano where you'll commence a walk on the Amalfi Coast's most famous path, the Path of the Gods.

Marvellous sea views characterize the path that leads up to the jewel of the Amalfi Coast, Positano.

Spend your final hours of the day meandering Positano's charming narrow streets lined with shops and cafes, soaking up the pastel colours of the vertical Mediterranean houses that tower above. For the city's best views, visit the church of Santa Maria Assunta and its majolica dome.

Pleasantly enchanted by the vibrant town of Positano, return by SITA bus to Amalfi for your final overnight stay.
Overnight Location: Hotel in Amalfi
Distance: 5 hours, 14 km
Meals: Breakfast
Day 7

 Depart Amalfi

Enjoying your final breakfast in Amalfi, breathe in the cool sea breeze and savour the warmth of the sun before saying "addio!" to the Amalfi Coast.
Overnight Location: None
Distance: None
Meals: Breakfast

Book Now
Amalfi Coast Self-Guided Walking Tour Price and Dates
This self-guided walking tour of the Amalfi Coast is run as a private tour for your group only and the price depends on the time of the year you visit.

The prices below are per person.

Low Season (January 5th - March 26th and October 26th - December 10th):
Price per person solo traveller: $1,150 USD
Price per person staying in a single room (group of 2+): $975 USD
Self-guided groups of 2+: $695 USD per person
Med Season (March 27th - April 7th, April 18th - June 24th, and September 5st - October 25th):
Price per person solo traveller: $1,275 USD
Price per person staying in a single room (group of 2+): $1,095 USD
Self-guided groups of 2+: $775 USD per person
High Season (April 8th - April 17th and June 25th - July 24th):
Price per person solo traveller: $1,475 USD
Price per person staying in a single room (group of 2+): $1,295 USD
Self-guided groups of 2+: $875 USD per person
Peak Season (July 25th - September 4th):
Price per person solo traveller: $1,550 USD
Price per person staying in a single room (group of 2+): $1,375 USD
Self-guided groups of 2+: $950 USD per person
Book Now
Accommodation on the Amalfi Coast Self-Guided Walking Tour
This tour is based in 3-star hotels and B&Bs. The hotels offer pleasant rooms with ensuite bathrooms and great locations. Rooms are double occupancy and single travellers will pay a supplement.
In some cases, the accommodation listed below may need to be substituted for other, comparable accommodations.
Single Rooms and Solo Travelers
You can pay a supplement of $325 USD - $475 USD (depending on the season) to have a private room in a hotel while travelling with your group.
Hotels on Standard Tour
These hotels and B&B's offer private rooms with ensuite bathrooms, basic amenities, and a comfortable experience in excellent locations.
What's Included in the Amalfi Coast Self-Guided Walking Tour?
Meals
6 breakfasts are included.
Accommodations
Accommodations for 6 nights are included.
Transportation during the Tour
Private transfers on Day 2 are included. Public transport mentioned in the itinerary is not included. Daily luggage transfer from each hotel to the next is included.
Also Included
Travel app (maps and routes)
Phone assistance between 8 am and 9 pm
Tasting on Day 6
Not included
Flights to and from Italy
Local public transport transfers
Visas if required
Travel insurance
Tourist taxes if applicable
Meals or drinks and snacks not previously mentioned
Fees not mentioned as 'included'
Guide
Optional Extras
Single room supplements
Solo traveller supplements
Any additional nights before or after the tour
Airport transfers
Frequently Asked Questions about Amalfi Coast Self-Guided Walking Tour
Slow Active Tours is a tour operator specializing in "slow pace" outdoor activities, which mainly concern cycling, trekking and snorkeling in beautiful Italy. Based in Puglia, the wonderful heel of Italy, Slow Active Tours was born from a long experience in responsible and sustainable tourism, combined with a love for culture and a strong passion for traditions, history and respect for nature.
Dynamic holidays "at a slow pace", because in this way it is possible to savor every moment of a great journey, full of adventure, hearty breakfasts, moments of peaceful well-being, food and wine tastings, fresh dips in the most beautiful seas of Italy, smiles and chat with the locals.
Each trip includes everything you need to make the experience comfortable and to be free to travel safely.
Learn More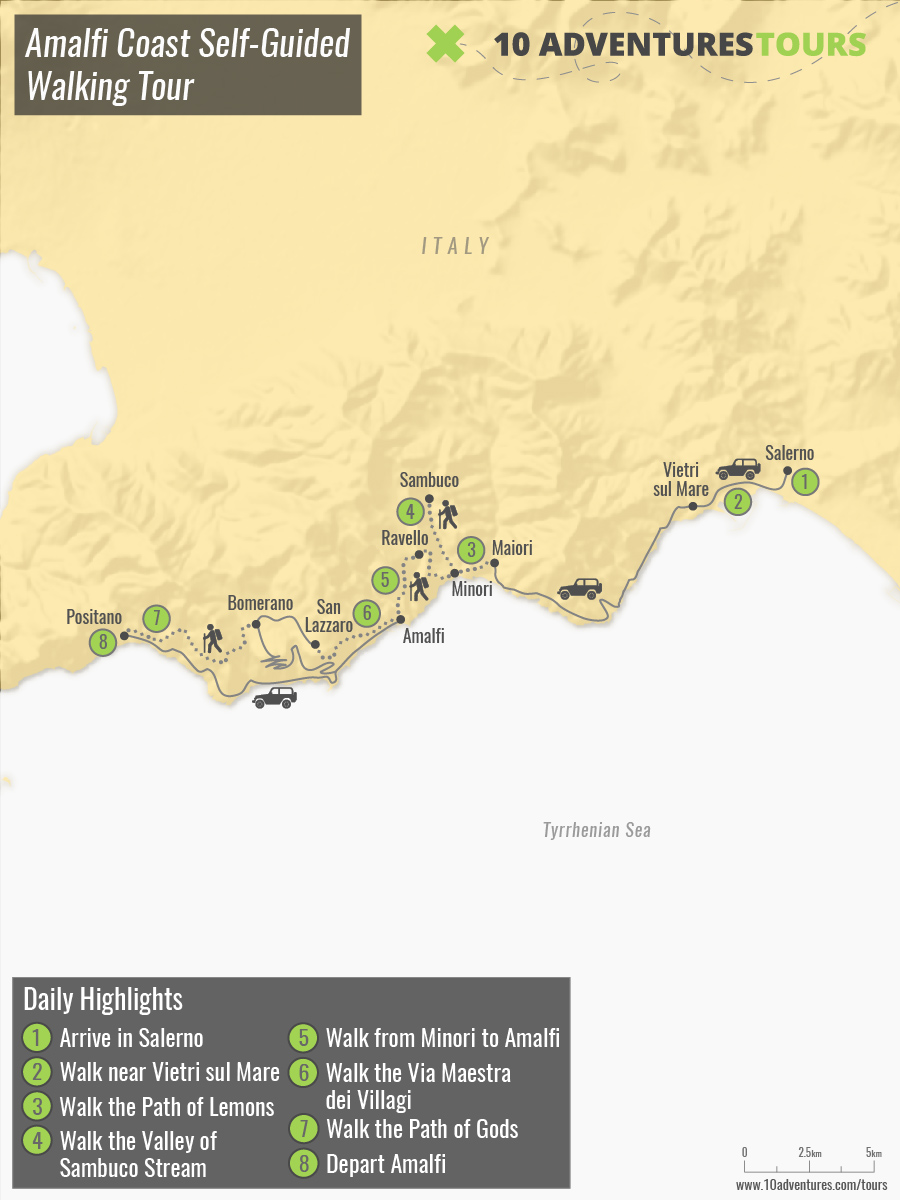 Is this tour for me?
We rate this tour as a 3 / 5. Daily distances range from 5 km to 11 km on dirt paths, country lanes, and occasionally well-trafficked roads.
Ask a Question
Got any questions regarding the tour? Interested in promotions for groups or want to customize this tour to fit your needs? We are here to help you!
Ask a question