Experience the Amalfi Coast and island of Ischia by foot and kayak
The Amalfi Coast and surrounding islands are sublime, and this walking tour is a perfect way to get the most of your visit. From the sea to the mountains, this tour connects you with the landscapes that make this one of the must-see parts of Italy.
This walking tour takes you right atop the shimmering sea, where you'll kayak along the Amalfi Coast off of Sorrento. Admire the pretty town, paddle into deep caves, and pass by ancient Roman ruins and villas on the shoreline. There's no view of Sorrento like the one you get from the water!
Next up is a hike on the Ieranto Bay trail, surrounded by nature and sweeping ocean views. Dip into the welcoming water to cool off, and you may never want to get out.
If that's not perfect enough, you'll hike up the Path of the Gods, picnicking high on the trail with a view that extends all the way to Capri.
Then you'll cruise to Ischia, where a cliff full of swooping peregrine falcons awaits your exploration. From the sea to the sky, this walking tour is simply incredible!
Highlights of the Amalfi & Ischia Walking Tour
Kayak along the picture-perfect coast of Sorrento, exploring Roman ruins and massive caves.
Hike among nature along the Ieranto Bay trail and dip into the crystalline water.
Trek the Path of Gods with expansive views over the ocean all the way to the island of Capri.
Summit a mountain on Ischia and spot peregrine falcons dipping and diving over the water.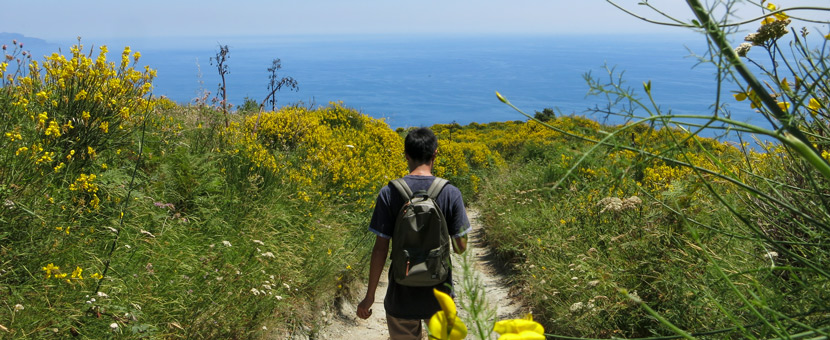 Amalfi & Ischia Walking Tour Itinerary
Day 1

Arrival in Naples/Sorrento

You made it! Once your plane lands, you'll be picked up from the airport in Naples and driven to your hotel in Sorrento. Feel free to spend the evening as you please, whether it's walking the town or finding a nice patio for dinner and wine.
Overnight Location: Hotel in Sorrento
Distance: None
Meals: None
Day 2

Sea Kayaking in Gulf of Naples

Get the first full day of your Gulf of Naples tour started with a drive to Marina Grande in Sorrento. You'll hop into a sea kayak and head over to the ancient Greek walls where the ruins of a Nymphaeum await. Then, paddle your way into a 19-metre artificial cave that used to be used as a fishpond. Next, you'll paddle alongside a Roman villa for a half an hour towards another Nymphaeum ruin, which is actually one of the most important archaeological areas of the coast. Appreciate the sights and then paddle back to Marina Grande with spellbinding views.

Alternatively, if you're not comfortable kayaking you can spend the day enjoying town.
Overnight Location: Hotel in Sorrento
Distance: Flexible
Meals: Breakfast
Day 3

Walking along the Ieranto Bay

Day 3 begins with a walk to Ieranto Bay. You'll walk from Nerano, a picture-perfect village, all the way to the coastline with your guide. It's peaceful, beautiful, and everything the Gulf of Naples is known for. Bring a swimsuit if you'd like to take a dip before heading back to Sorrento for the evening.
Overnight Location: Hotel in Sorrento
Distance: Flexible
Meals: Breakfast
Day 4

Picnic on the Path of the Gods

The Path of the Gods is one of the most well-loved trails in all of Italy. It begins in Bomerano and continues to Nocelle with panoramic views the entire way. You can see all the way to Capri! Along the way, you'll enjoy a picnic lunch with local steals. Now this is a picnic in paradise!
Overnight Location: Hotel in Sorrento
Distance: 3 hours, 5,2 km, 320m of ascent
Meals: Breakfast, Lunch
Day 5

Exploring Ischia

The next leg of your Gulf of Naples tour takes you to Ischia. You'll ride a hydrofoil boat across the ocean to this volcanic beauty, where you'll be transferred to the hotel. Enjoy the evening as you please.
Overnight Location: Hotel in Ischia
Distance: None
Meals: Breakfast
Day 6

Hiking to Piera dell'Acqua

Get your hiking shoes on, because today you'll take on the second-highest peak on the island. Your guide will lead you up to the summit, where you'll enjoy spectacular views across the ocean. The guide will share info on the volcanic development of the island, and you can enjoy lunch at a local restaurant. Then, you'll visit the Pietra dell'Acqua, which is known as the "Cliff of the Peregrine Falcon." Keep an eye out for these impressive birds, which are the fastest animals on earth! Finally, it's time to head down through a chestnut forest and past a unique village composed of houses carved into rocks. What a day!
Overnight Location: Hotel in Ischia
Distance: 2-3 hours, 269m elevation gain
Meals: Breakfast
Day 7

Farewell, Italy

Sadly, your Gulf of Naples tour has come to an end. You'll ride the boat back to Naples where a transfer to the airport awaits.
Overnight Location: None
Distance: None
Meals: Breakfast

Book Now
Amalfi & Ischia Walking Tour Price and Dates
This guided tour of the Gulf of Naples is always run as a private tour for your group only and the price depends on the season.

Prices below are per person, sharing a double room.

Departure on March 21st – April 9th, April 14th – 23rd or November 2nd – December 19th:
Price per person sharing a double room: $1,950 USD
Departure on April 10th – 13th, April 24th – November 1st or December 26th – January 2nd:
Price per person sharing a double room: $2,175 USD
Book Now
Accommodation on the Amalfi & Ischia Walking Tour
This tour is based in 4-star hotels. The hotel offers pleasant rooms with ensuite bathrooms and great locations. Rooms are double occupancy, and single travellers will pay a supplement.
In some cases, accommodation listed below may need to be substituted for other, comparable accommodations.
Single Rooms and Solo Travelers
You can pay a supplement to have a private room in a hotel (please inquire to find out the prices).
Hotels on Standard Tour
Hotel Regina Sorrento in Sorrento ★★★★
New, beautiful hotel in a convenient location has all the amenities, as well as beautiful view over the Gulf of Naples
Hotel Ireos in Ischia ★★★
This beautiful hotel with stunning views of the expansive beaches is a wonderful choice to stay in Ischia Island.
What's Included in the Amalfi & Ischia Walking Tour?
Meals
6 breakfasts and 1 lunch are included.
Accommodations
Accommodation for 6 nights is included.
Transportation during the Tour
This tour includes airport transfers and return hydrofoil tickets to Ischia.
Also Included
Entrance fees to national parks and historical sites
Guided activities during the tour:

Ieranto Bay walk
Path of the Gods walk
Hiking at the cliff of Peregrine Falcon
Not included
Travel insurance
Travel to and from Naples
Lunches and dinners or drinks and snacks not previously mentioned
Tourist taxes
Personal equipment
Optional Extras
Kayak in Sorrento - $150 USD per person (min. 2 persons)
Any additional nights before or after tour
Frequently Asked Questions about Amalfi & Ischia Walking Tour
Platypus Tour is a boutique Italian tour operator, based on the island of Ischia and founded in 1999. Platypus is unique in that many of their guides focus on sharing the historical, scientific, cultural and adventurous side of Southern Italy, both on land and sea. Their motto is to "Learn while traveling", so join them on a tour in the Amalfi Coast, Campania, Puglia, Umbria, Marche, or Tuscany.
Learn More
Is this tour for me?
We rate this tour as a 2 / 5. You will participate in hiking and kayaking, which are best suited to adventurers with some basic fitness.
Ask a Question
Got any questions regarding the tour? Interested in promotions for groups or want to customize this tour to fit your needs? We are here to help you!
Ask a question