Take a guided fishing trip in the undisturbed natural environment of the Amazon Rainforest
Take the fishing trip of a lifetime in the beautiful Peruvian Amazon! The rivers, lakes, and streams of this corner of the Amazon are absolutely ideal for anyone who loves to fish. You'll have unmatched fishing opportunities every day from the remote wilderness lodges where you'll be spending your nights.
The Amazon Rainforest is home to over 2000 different species of fish and has an incredible amount of plants and animals that can't be found anywhere else on earth. You'll have the chance to look for monkeys, caiman, and the Amazon pink dolphin on your adventures. While you'll spend plenty of time at the rod, you can also tailor your excursions to add unique Amazon-only experiences to your trip. Spend the morning fishing in the flooded forest, and then take an afternoon hike to search for poison dart frogs.
The Amazon and all its natural wonders will be yours to explore on this amazing guided fishing adventure. Now, who's going to catch the big one?
Highlights of the Fishing in the Peruvian Amazon Tour
Take private daily fishing trips to secluded spots selected just for you by your specialized guide.
Hike, canoe, and explore the jungle wildlife on your choice of additional included guided activities.
Discover the incredible number of bird species that reside in the islands near the Tahuayo Lodge.
Stay at the Amazon Research Center and experience pristine wilderness where you can fish in untouched locations.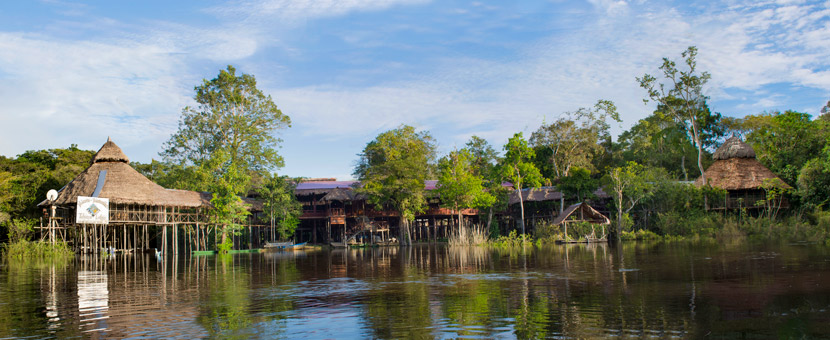 Fishing in the Peruvian Amazon Tour Itinerary
Day 1

Travel the River from Iquitos to the Tahuayo Tributary

To start your tour, you'll be picked up from either the airport in Iquitos or your hotel. This afternoon, you'll take a boat ride up the mighty Amazon towards your lodge.

After getting settled, enjoy an evening excursion and a leisurely dinner.
Overnight Location: Wilderness lodge in Paraiso
Meals: Lunch, dinner
Day 2

Fish and Explore the Tahuayo Area

The wooden lodge where you're staying is built right over the water, on the edge of a "varzea" flood plain forest. There are plenty of ways you can explore this magnificent natural reserve! Be sure to plan your itinerary with your guides early so that you can be sure to fit in everything you'll want to do.

For the next few days, you're free to fish the nearby areas and take excursions as you please with your guides.
Overnight Location: Wilderness lodge in Paraiso
Meals: Breakfast, lunch, dinner
Day 3

Fishing Lake Tapaje and Lake Charo

Your guides will help you select the perfect fishing spots on Lake Tapaje, Lake Charo, and the Tahuayo River.

You'll want to try Quebrada Palmichal, an inlet known for its peacock butterfly bass, and Lake Tabano, a flooded forest and fish breeding ground.
Overnight Location: Wilderness lodge in Paraiso
Meals: Breakfast, lunch, dinner
Day 4

Fishing and Choice of Excursions

The list of what you've caught is likely getting long by now!

When you're ready for a break from fishing, you can choose to go hiking or canoeing to search for wildlife. The Canopy Experience ropes course and a visit to a native village are also unique experiences you can enjoy.
Overnight Location: Wilderness lodge in Paraiso
Meals: Breakfast, lunch, dinner
Day 5

Fish Upriver

Today you'll travel 15 km upriver to the Amazon Research Center. This lodge is so far away from any native village or lodge that you'll have no one competing with you for fish!

You'll spend your time here fishing in surrounding lakes and rivers. You'll also have a full day to explore the islands near the mouth of the Tahuayo, where you can bird watch for sandpipers, herons, skimmers, and plovers.
Overnight Location: Wilderness lodge in Paraiso
Meals: Breakfast, lunch, dinner
Day 6

Trail Hikes and Monkeys

There's so much to do around this lodge, we recommend planning a few new excursions with your guide in between casts.

Try exploring the many surrounding trails and help photograph the saki monkeys for a current conservation project. After dinner, relax for the evening and enjoy the sunset.
Overnight Location: Wilderness lodge in Paraiso
Meals: Breakfast, lunch, dinner
Day 7

Last Day of Fishing in Paraiso

It's your last day in this area, so make sure you plan to fish any last spots or take any last excursions you'd like with your guide.

You won't want to leave the idyllic Amazon tomorrow, so savour every second today. In the evening, you can head out to look for nocturnal species along the riverbanks.
Overnight Location: Wilderness lodge in Paraiso
Meals: Breakfast, lunch, dinner
Day 8

Final Fishing Trip and Return to Iquitos

Before breakfast, enjoy the final fishing trip of your Amazon adventure! You're certainly going to have some catches to brag about back home by now.

You'll return to the main lodge for lunch and then take the boat back to Iquitos. Your transfer will bring you to a hotel of your choice or the airport in Iquitos. Safe travels from here!
Overnight Location: None
Meals: Breakfast, lunch

Book Now
Fishing in the Peruvian Amazon Tour Price and Dates
This guided fishing tour of the Peruvian Amazon is run as a custom tour for your group only and the price per person is fixed.
The best time to travel to the Peruvian Amazon for fishing is July through October when river levels are ideal.
Private Guided Fishing in the Peruvian Amazon Tour
Have your own private tour with just your group! Prices below are per person:
Guided Groups of 1+: $1,995 USD per person
Book Now
Accommodation on the Fishing in the Peruvian Amazon Tour
This tour is based in wilderness lodges. You'll have a private room at all locations. At the research center, the washrooms are shared facilities. Both wilderness lodges are quite rustic but beautiful and are surrounded by the natural environment.
In some cases, the accommodation listed below may need to be substituted for other comparable accommodations.
Single Rooms and Solo Travelers
There is no single supplement for solo travellers and people travelling alone will pay the same price.
Hotels on Standard Tour
The Tahuayo Lodge in Paraiso (wilderness lodge)
Immerse yourself in the jungle surrounding you at this rugged wilderness lodge. It's built on stilts and offers a comfortable refuge during your stay.
Amazon Research Center Peru Lodge (wilderness lodge)
This is a small but cozy lodge. You'll have the chance to see much more wildlife as the nearest hint of civilization is miles away.
What's Included in the Fishing in the Peruvian Amazon Tour?
Meals
7 breakfasts, 8 lunches, and 7 dinners are included.
Accommodations
Accommodations for 7 nights are included.
Transportation during the Tour
Transport for you and your luggage and to and from the airport is included. Personal and luggage transportation is included throughout the tour as required.
Also Included
English speaking guide and private fishing guide
Customized guided excursions
Jungle gear such as boots
Wifi in certain locations
Entrance fees
Conservation fees
Port taxes and the like
Not included
Fishing gear
Travel insurance
Flights to and from Iquitos
Meals, drinks, or snacks not previously mentioned
Soft drinks and alcoholic beverages
Laundry
Tourist taxes if applicable
Visas if required
Personal equipment
Fees not mentioned as 'included'
Gratuities for tour guides, drivers, and servers
Frequently Asked Questions about Fishing in the Peruvian Amazon Tour
For the best in Amazon adventure, look no further than Amazonia Expeditions. Since 1981, the Amazonia team has been providing travelers with lifelong memories of the western Amazon. In Peru's celebrated Tamshiyacu Tahuayo Reserve, they are the only licensed operator, offering exclusive access to one of South America's most biodiverse regions. Boutique lodges along the Tahuayo River are the perfect home from which to explore the mighty rainforest. With a team of expert English-speaking guides leading the way, there is no travel dream they can't realize. Each journey is tailored to your goals and preferences, making Amazonia Expeditions a fantastic choice for your next great adventure.
Learn More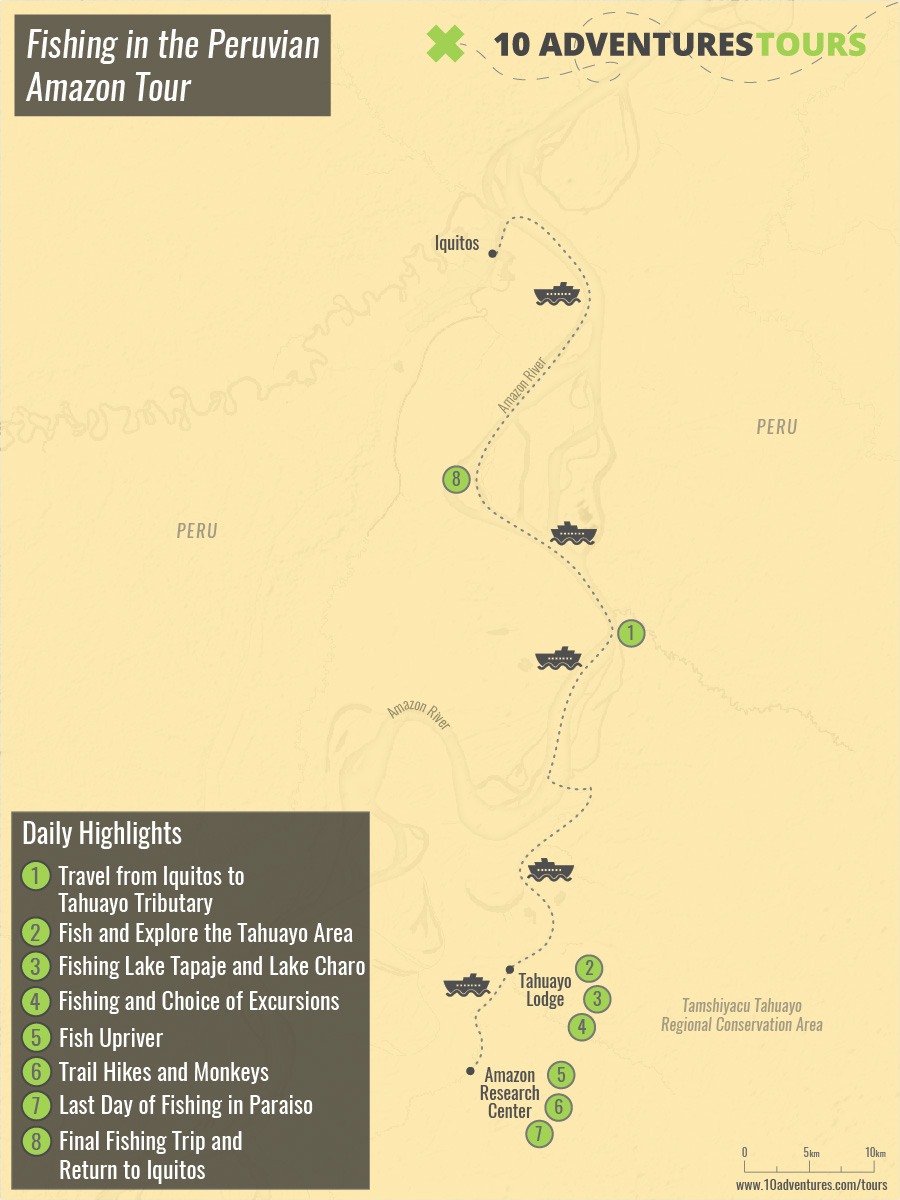 Is this tour for me?
We rate this tour as a 2 / 5. The level of physical exertion required for the excursions varies, but you are free to choose which ones you want to do. Even so, the Amazon is a rugged environment, and the accommodations are rustic. We recommend this trip for adventurous travellers who are comfortable spending time outdoors in a natural environment.
Ask a Question
Got any questions regarding the tour? Interested in promotions for groups or want to customize this tour to fit your needs? We are here to help you!
Ask a question