Explore the Amazon Rainforest in Ecuador on a luxury river cruise
The Amazon River Cruise is a luxury river tour through Ecuador's Amazon Rainforest. Board the only luxury cruise ship in the region for a wonderful way to explore this magical part of Ecuador.
Enjoy all the comforts of a 5-star hotel as you explore the wonders of the rainforest that surrounds the mighty Napo River.
Learn about the diverse plants and animals that call the Amazon home with the help of a certified naturalist guide. Visit a local school where you can interact with children and learn more about the challenges of life in rural rainforest communities.
Your tour takes you to the Yasuni National Park and the Limoncocha Biological Reserve. You'll also climb an observation tour high above the canopy for an unforgettable view of the rainforest from above. The Anakonda River Cruise is an unforgettable tour through the Amazon Rainforest of Ecuador. Don't miss it!
Highlights of the Amazon River Cruise
Cruise through the wild and untamed Amazon Rainforest in the Yasuni National Park.
Interact with local children as you visit a school and learn about education in the remote rainforest.
Climb an observation tower for a unique perspective above the canopy, overlooking the Amazon Basin.
View the variety of birds, monkeys, reptiles, and other wildlife at the Limoncocha Biological Reserve.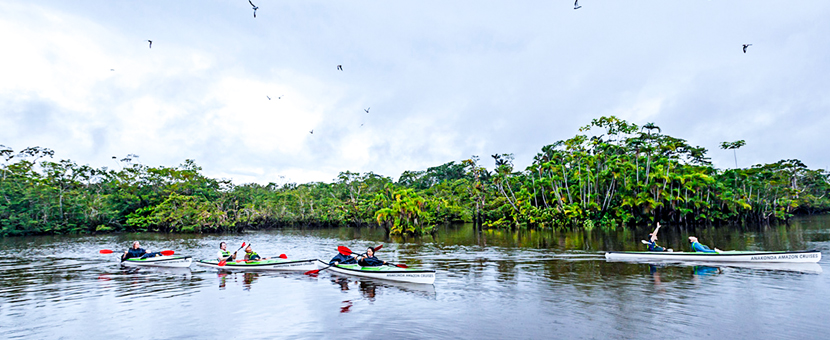 Amazon River Cruise Itinerary
Day 1

Arrive in Quito

Welcome to Quito, the capital of Ecuador! Make your way to your hotel and prepare to start your tour in the morning.
Overnight Location: Hostal Fuente de Piedra, Quito
Distance: N/A
Meals: None
Day 2

Fly to Coca, Transfer to the M/V Anakonda on the Napo River

Leave Quito and fly to the town of Coca, which is also known as Puerto Francisco de Orellana. The short flight only takes about 30 minutes. After landing in Coca, a short transfer takes you to the river, where your rainforest journey begins with a 1-hour motorized canoe ride. This ride ends at the incredible MV Anakonda, where you can settle into your luxury suite. The Anakonda will navigate downstream today, giving you time to explore this delightful ship and admire the beautiful rainforest that surrounds you on the banks of the Napo River. After sunset, take a walk in the forest to experience the sights and sounds of nocturnal creatures.
Overnight Location: M/V Anakonda
Distance: N/A
Meals: Breakfast, Dinner
Day 3

Visit Yasuni National Park

Begin the day with breakfast on the ship, then go ashore to experience the tropical rainforest in the daylight. Your guide is a certified naturalist who will teach you about the interconnected relationships among the plants and animals that call this amazing environment home. See for yourself how this amazing ecosystem flourishes together.

After lunch aboard the ship, the Anakonda travels to a pristine and rarely visited area of Amazonia which is home to pink river dolphins, black caiman alligators, and anacondas. You may also see a variety of monkeys and river turtles. There is also a unique bird called a hoatzin, which the locals refer to as a "stinky turkey". This area can only be explored by canoe and you will be overwhelmed by the beauty of the dense vegetation in this world apart. For those looking for a little more adventure, ask for more information about "glamping" in this environment.
Overnight Location: M/V Anakonda
Distance: N/A
Meals: Breakfast, Lunch, Dinner
Day 4

Visit a remote jungle school & explore an island

After breakfast, go ashore again to visit a local school that's situated beside the Napo River. Here you can interact with the children from this area who attend this school and learn more about the challenges and opportunities of an educational system serving the communities of this remote rainforest region. Return to the ship to eat lunch and relax onboard as the Anakonda takes you back upstream. Pass the time on the ship with a lecture or watching a documentary. Try your hand at some traditional local crafts. Then spend the afternoon exploring one of the Napo River's largest islands.
Overnight Location: M/V Anakonda
Distance: N/A
Meals: Breakfast, Lunch, Dinner
Day 5

Visit Limoncocha Biological Reserve

Today's adventure begins with a visit to an observation tower. Built with the support of a huge kapok tree, this tower rises 100 feet into the air, where you can gain a spectacular new perspective on the rainforest. Here, above the canopy, you'll look down on the expansive Amazon Basin. Later, you'll have the chance to visit the Limoncocha Biological Reserve. There are nearly 500 documented species of birds living in this protected area, as well as several species of monkeys. Continue exploring Limoncocha as darkness falls over the jungle, then use flashlights to spot enormous black caiman alligators. Return to the ship for dinner and one last night aboard the Anakonda.
Overnight Location: M/V Anakonda
Distance: N/A
Meals: Breakfast, Lunch, Dinner
Day 6

Canoe to Coca, Fly to Quito, Departure

Say farewell to the MV Anakonda today as a motorized canoe takes you back to Coca. After this 1-hour canoe ride, fly from Coca to Quito. This concludes your tour. Pleasant travels from Quito on to your final destination.
Overnight Location: N/A
Distance: N/A
Meals: Breakfast

Book Now
Amazon River Cruise Dates and Prices
Pricing for this cruise of the Amazon Rainforest depends on whether you want a standard or deluxe suite.

Prices below are per person:
Shared Standard Suite (double occupancy): $3,295 USD per person
Shared Deluxe Suite (double occupancy): $4,050 USD per person
Book Now
Accommodation on the Amazon River Cruise
Accommodations on this tour are aboard the M/V Anakonda, which is the only luxury ship operating in the Amazon Rainforest in Ecuador. Enjoy all the comforts of a 5-star boutique hotel, including large suites with panoramic windows.
When you arrive in Quito, spend your first night in a centrally located, 3-star hotel.
In some cases, accommodation listed below may need to be substituted for other, comparable accommodations.
Single Rooms and Solo Travelers
Contact us if you are a single traveller. You can be able to pay a supplement for a single room or have the option to match with another single traveler, where possible.
Hotels on Standard Tour
Hostal Fuente de Piedra, Quito ★★★
Enjoy a comfortable stay with all the modern conveniences you would expect, including free Wi-Fi, a restaurant, a cafe, and an outdoor terrace.
MV Anakonda (Cruise Ship)
Delight in 5-star luxury aboard the Anakonda. Large suites, outdoor Jacuzzis, and fine dining await you as you explore the Amazon Rainforest.
What's included in the Amazon River Cruise?
Meals
All meals onboard the M/V Anakonda are included. Enjoy fine dining for 5 breakfasts, 4 lunches, 4 dinners on your tour. Unlimited coffee, tea, and hot water are also included.
Accommodations
Accommodations for 5 nights along the tour are included as described. Spend 4 nights aboard the luxury ship Anakonda.
Transportation during the Tour
Transportation to/from the Coca airport and the MV Anakonda Cruise Ship is included. Note that the transfers in Quito are not included.
Also Included
Certified naturalist guide for all scheduled visits and tours (English-speaking)
Not included
Transportation to and from Ecuador before and after the tour
Flights between Quito and Coca (Round trip. Estimate $200 USD per person)
Entrance fees for communities and parks (Estimate $70 USD per person)
Beverages
Tips (Budget $25 USD per day per guest)
Meals not listed as included
Personal expenses
WiFi / Internet service
Anything else not listed as included
Optional Extras
You can extend this to an 8-day cruise
Frequently Asked Questions about Amazon River Cruise
Andes World Travel is a boutique adventure tour operator, founded by mountaineers, grown out of a love for adventure and first-hand knowledge of the Andes region. They offer a wide range of tours throughout South America, including both adventure tours and cultural tours.
Andes World Travel offers climbing, trekking, and hiking tours with an emphasis on safety and professionalism. They also offer "light trekking" trips for less experienced adventurers.
The company runs tours in Colombia, Ecuador, Argentina, Bolivia, Venezuela, and Peru. They focus on sustainable practices and are more than willing to customize their tours to client's wishes.
Learn More
Is this tour for me?
We rate this tour as a 1 / 5. This incredible tour is active but not strenuous. There is a lot of flexibility in choosing activities that suit your abilities and interests.
Ask a Question
Got any questions regarding the tour? Interested in promotions for groups or want to customize this tour to fit your needs? We are here to help you!
Ask a question