Experience the unrivalled beauty of the Annapurna range by mountain bike
The Annapurna Circuit is not just for trekkers, but experienced mountain bikers will find it the trip of a lifetime on this guided cycling tour on the Annapurna Circuit! Challenge yourself with steep uphill climbs and narrow downhill switchbacks.
What better way to explore the best of Nepal then on your bike on a guided cycling tour. Surround yourself with the breathtaking scenery of the Himalayas, particularly Gangapurna, Lamjung, and the Annapurna peaks. Watch how the landscape around you changes at different elevations and experience the many different faces of Nepal.
You'll also have the opportunity to visit culturally significant landmarks and learn more about the daily life and culture of the native people. Witness the beauty of glaciers, rivers, and waterfalls, and soak in the relaxing waters of natural hot springs. This Annapurna Circuit Cycling Tour is an unforgettable trip of a lifetime, so reserve your place today!
Highlights of Annapurna Circuit Cycling Tour
Follow the Annapurna Circuit route on a mountain biking tour full of challenge and adventure.
Climb to new heights as you cross the Thorong La pass at an altitude of 5,416 m (17,769').
Relax your tired muscles by soaking in a soothing natural hot spring in Tatopani.
Experience native hospitality and culture as you explore a variety of different villages in the Annapurna region.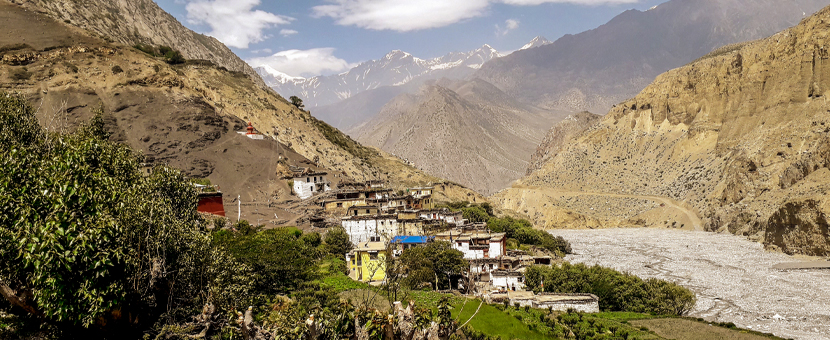 Annapurna Circuit Cycling Tour Itinerary
Day 1

Arrive in Kathmandu

Welcome to Nepal! Upon arrival at the Tribhuwan International Airport in Kathmandu, an airport representative from your tour will meet you and escort you to your hotel. There, your guide will brief you with more details about your tour. Enjoy a traditional Nepali dinner to welcome you on your first evening.
Overnight Location: Mandala Boutique Hotel (1,400 m/4,593'), Kathmandu
Distance: None
Meals: Dinner
Day 2

Explore Kathmandu

After breakfast and a quick, pre-trip meeting, enjoy a guided sightseeing tour of the Kathmandu Valley and experience the wonders of this vibrant city. Visit the well-known Buddhist temple Stupa Swayambunath, which is also called the Monkey Temple. From the temple, which is high on a hill, you'll find an inspiring view of the mountains and the valley surrounding you. Stupa Swayambhunath is the oldest and most mysterious shrine in Kathmandu, attracting tourists and Buddhist visitors from all over the world with its distinctive white dome and sparkling gold spire. Next, visit the Hindu temple of Pashupatinath, the most famous Hindu temple on the Indian subcontinent, and the crematorium beside it. Finally, your tour also takes you to Patan Durbar Square where you can see notable temples and palaces from centuries past, each an intriguing example of traditional Nepalese architecture.
Overnight Location: Mandala Boutique Hotel (1,400 m/4,593'), Kathmandu
Distance: N/A
Meals: Breakfast
Day 3

Transfer to Besishahar

Start the day with an early breakfast, then enjoy an adventurous and scenic drive from Kathmandu to Besishahar. Witness the incredible beauty of the Marsyangdi Valley and fill your lungs with the fresh mountain air. When you arrive in Besishahar (800 m/2,625'), you'll spend the night in a mountain lodge with stunning Himalayan views.
Overnight Location: Lodge in Besisahar (800 m/2,625')
Distance: N/A
Meals: Breakfast
Day 4

Bike to Tal

Begin your cycling tour today after waking up early and enjoying a hot breakfast. The first part of the trail follows the Marshyangdi River through the valley. Then you'll begin to ascend, gaining about 1,000 m in elevation as you pass lovely cascading waterfalls. Today's destination is the picturesque village of Tal, surrounded by local scenery and terraced fields.
Overnight Location: Lodge in Tal (1,700 m/5,577')
Distance: 37.4 km
Meals: Breakfast
Day 5

Bike to Chame

Get ready for a fun and challenging day of biking. Today you will climb up in elevation significantly as you cross rugged terrain between Tal and Chame. When you arrive in Chame, notice the tall maple and oak trees with a stunning Himalaya panorama in the background. After a tough day, get a good night's rest in Chame.
Overnight Location: Lodge in Chame (2,650 m/8,694')
Distance: 22.6 km
Meals: Breakfast
Day 6

Bike to Manang

Get an early start again today after a hearty breakfast. Ride the trail through a lush forest at the bottom of a narrow and steep valley. Along the way, you'll pass a small airstrip and a village with approximately 200 houses. You'll also see the Barge Monastery, the largest monastery in the district. When you come to Manang, stop to spend the night.
Overnight Location: Lodge in Manang (3,519/11,545')
Distance: 29.7 km
Meals: Breakfast
Day 7

Explore Manang

Today is an acclimatization day exploring Manang and the surrounding area. It is important to stay active today, so you may want to ride to a nearby point at 4,000 m (13,123') to help prepare your body for the higher altitude coming in the days ahead. There are many things to see and do in Manang. The local Manangi people enjoy pony racing and archery, and there may be opportunities to watch them practice these ancient sports. You can also explore the nearby lake, chortens, and monastery. Don't forget to stop and appreciate the incredible views here. Notice Mount Gangapurna, Lamjung, and the Annapurnas before you with a glacial lake sparkling below them.
Overnight Location: Lodge in Manang (3,519/11,545')
Distance: N/A
Meals: Breakfast
Day 8

Bike to Thorong Phedi

Ride today through valleys and climb to higher altitudes. You'll leave the Marsyangdi valley and follow the Jarsang Khola valley. You'll have plenty of chances to admire the lovely scenery and experience aspects of the local culture. After you pass through the yak pastures ("Yak Kharka"), cross over the river to come to the village of Thorong Phedi (4,450 m/14,600').
Overnight Location: Lodge in Throng Phedi (4,450 m/14,600')
Distance: 19 km
Meals: Breakfast
Day 9

Over the Throng La Pass to Muktinath

Wake up very early this morning and prepare for a challenging day. The climb today is difficult, and you will probably feel the effects of the altitude. Remember that this the experience of a lifetime, so take it easy and try to enjoy each step. As you cross the Thorong La pass (5,416 m/17,769'), your efforts will be well rewarded with awe-inspiring views. Pause here to enjoy the incredible vistas, then continue your tour down to Muktinath to spend the night.
Overnight Location: Lodge at Muktinath (3.800/12,467')
Distance: 22 km
Meals: Breakfast
Day 10

Bike to Jomsom then Tukuche

Leave Muktinath and ride toward Dhangladanda on a less-used trail where you can enjoy phenomenal views of the surrounding Himalayas. Descend to the river in the Lupra valley over single track switchbacks. Then continue on to Jomsom for a lunch break, after which you'll continue on to Tukuche. Tukuche is an old village where you can experience Thakali culture and sample some apple brandy.
Overnight Location: Lodge in Tukuche (2,600 m/8,530')
Distance: 32 km
Meals: Breakfast
Day 11

Ride to Tatopani

A gentle day of riding today takes you along a flatter section of trail that winds downhill through the pine forests and quaint villages of the valley. As you follow the river, be sure to pause to appreciate the exquisite waterfalls and views of rugged snow-capped peaks. When you arrive in Tatopani (1,190 m/3,904'), you can rest and relax, soaking in a natural hot spring.
Overnight Location: Lodge in Tatopani (1,190 m/3,904')
Distance: 42 km
Meals: Breakfast
Day 12

Cycle to Beni and transfer to Pokhara

Finish your cycling tour today with an easy 18 km ride from Tatopani to Beni. The dirt trail follows the Kaligandaki River and is surrounded by heavy rocks. You'll have some time to explore the town of Beni before driving from here to Pokhara to spend the night.
Overnight Location: White Pearl Hotel (1,400 m/4,593'), Pokhara
Distance: 18 km
Meals: Breakfast
Day 13

Fly to Kathmandu

Take an incredible flight today from Pokhara back to Kathmandu, experiencing the splendor of the mountains from above. Once you arrive in Kathmandu, you will have free time in the city to shop for souvenirs or see more of the sights. You can also choose to rest and relax in one of the city's many cafes or rooftop restaurants.
Overnight Location: Mandala Boutique Hotel (1,400 m/4,593'), Kathmandu
Distance: N/A
Meals: Breakfast
Day 14

Departure Day

Sadly, your Annapurna Circuit cycling tour has reached its end. You are free to explore if you have time before your flight. You may enjoy souvenir shopping or visiting more cultural sites in this special city. Your guide can help you find what you're looking for, then an airport representative will escort you to the airport. Have a pleasant journey!
Overnight Location: N/A
Distance: None
Meals: Breakfast

Book Now
Annapurna Circuit Cycling Tour Price and Dates
Pricing for this guided cycling tour of the Annapurna Circuit is based on the number of guests on your trip. This tour is available year-round. The best time to travel to Nepal for this trek is during the pre-monsoon season from March through early May, or post-monsoon in October and November. Monsoon season typically lasts from late May through September.
Prices for Custom Guided Annapurna Circuit Cycling Tour
Prices below are per person:
Guided Group of 2-5: $2,250 USD per person
Guided Groups of 6+: $1,950 USD per person
Dates and prices to join a fixed-departure Annapurna Circuit Cycling Tour with group
Make new friends and join a guided trekking tour in Nepal. Prices are per person:
Book Now
Accommodation on Annapurna Circuit Cycling Tour
This tour is based in mountain lodges, also called tea houses, along the route. These accommodations are simple, since there is no road access to reach them, but they are also friendly and full of atmosphere. Most lodges have dining areas that are heated, but the bedrooms are typically unheated. Wooden beds with foam mattresses are provided, but you will need a sleeping bag. Washing and toilet facilities are shared, and some have solar showers available for an additional charge.
Before and after the Annapurna Circuit, stay in a 3-star hotel in Kathmandu. Rooms are double occupancy, and single travellers will pay a supplement. In some cases, accommodation listed below may need to be substituted for other, comparable accommodations.
Single Rooms and Solo Travelers
You can pay a supplement of $450 USD to have a private room in a hotel. Contact us and we can try and match single travellers up, where possible. Private rooms are not available in the trekking lodges.
Hotels on Standard Tour
Mandala Boutique Hotel, Kathmandu ★★★★
Located in a quiet corner of the Thamel area of Kathmandu, this hotel has easy access to shopping and other tourist attractions. It is clean and air-conditioned for your comfort.
Mountain lodges along the trail
Stay in cozy mountain lodges along the trail. These lodges are simple and amenities are basic, but they are full of atmosphere.
White Pearl Hotel, Pokhara ★★★★
The White Pearl has a peaceful, soothing atmosphere in the clean, spacious rooms and throughout the hotel. Enjoy a wonderful view from your room, especially on the higher floors.
Mandala Boutique Hotel, Kathmandu ★★★★
Located in a quiet corner of the Thamel area of Kathmandu, this hotel has easy access to shopping and other tourist attractions. It is clean and air-conditioned for your comfort.
What's included in the Annapurna Circuit Cycling Tour?
Meals
13 breakfasts and 1 dinner are included on this tour. This includes special welcome and farewell dinners.
Accommodations
Accommodations for all 13 nights are included. Along the Annapurna Circuit, stay in simple mountain lodges (tea houses). Before and after the Annapurna Circuit, stay in 3.5-star hotels in Kathmandu and Pokhara.
Transportation during the Tour
Domestic flights and land transportation described in the itinerary is included, as well as a guide on the flight and all airport taxes. Airport transfers between the Kathmandu Airport and your hotel are also included.
Also Included
An experienced, insured, and equipped English-speaking guide
Guided sightseeing and entry fees in Kathmandu
TIMS permit
Annapurna Conservation Fee
Porter (Insured and equipped according to IPPG rules)
Acclimatization day to explore Manang
Not included
Bicycles (Available to rent for an additional fee)
Flights to/from Kathmandu
Visa to enter Nepal
Meals not listed as included (lunches and dinners in Kathmandu)
Personal drinks / alcohol
Additional costs due to illness, rescue, force majeure, flight/itinerary changes
Tips for guides and other trekking staff
Personal costs such as charging batteries or hot showers
Optional Extras
Bicycle rental:
Single suspension - $12 USD per day
Dual suspension - $35 USD per day
Frequently Asked Questions about Annapurna Circuit by Bike
Trekking Team Group is a Travelife and FTA certified tour operator creating trips in the Himalayas since 1991. They are consistently highly-rated online and garner impressive word of mouth recommendations.
Trekking team focuses on a sustainable method of operation. They work with highly professional guides and offer clients flexibility and 24/7 service.
The company uses local guides, serves local food, and makes use of local homes and lodges to give back to the community. They support the local environment and in turn see many repeat customers.
Learn More
Is this tour for me?
We rate this tour as a 5 / 5. Sections of the trail are strenuous, and at higher elevations, even easier sections of trail become more challenging. Consult your doctor if you have concerns about mountain biking at high altitudes.
Local Guide
Ask a Question
Got any questions regarding the tour? Interested in promotions for groups or want to customize this tour to fit your needs? We are here to help you!
Ask a question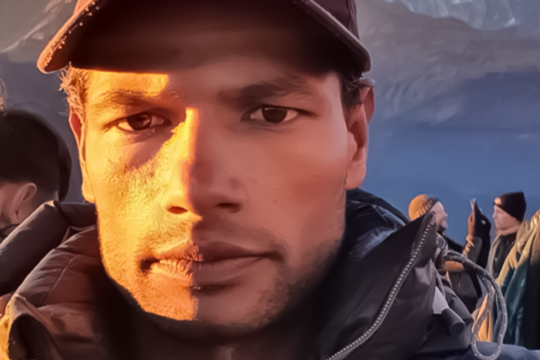 Hari has been guiding since 2009 and never gets tired of meeting new people from all around the world. He is an experienced mountaineer and a great teacher to his guests. He enjoys playing games, laughing, and having as much fun as possible with his groups.
Q & A
Q:

What is your favourite trip to do and why?

A:

Almost all of my trips are the best in different ways. However, the one I think about all the time is my 2017 Annapurna base camp trip with an American family. It was an amazing trip. They were a great family and we had perfect weather from start to end. We spent our entire time like one family with lots of fun, laughing, playing games etc.

Q:

What is one local dish or drink that any tourist has to try while visiting Nepal?

A:

While trekking in the HImalayas, the local dish dal bhat (the national food of Nepal) is a must-try. Also, Momo, a famous dumpling, is a food everyone should try. For drinks, rice wine or Tsongba, made from millet, is a special warm drink for the winter that makes your body warm.

Q:

What has been the most challenging adventure you've had?

A:

The Annapurna Circuit with Tilicho Lake in the wintertime.