Highlights
Hike through two beautiful and less-visited Islands in Greece
Visit Andros island and its beautiful sandy beaches.
Enjoy the walks in Tinos, the isle of dovecotes and small Catholic chapels.
Explore the picturesque villages of Ktikados, Xatzirados and Tarabados.
Taste the finest Greek delicacies.
This Greek hiking tour can be done as a guided or a self-guided tour and is perfect for people that want a trekking tour where they can spend time exploring local villages, learning about Greek history and having time to relax in the famous Greek sunshine.
This trekking tour explores two extremely beautiful Cycladic Islands, which are part of a chain of islands in the Aegean Sea. One of the most ancient European civilizations, the Cycladic Civilization (3,000-1,000BC) was born and prospered here.
You will explore magnificent paths and trails with breathtaking views on this hiking tour in the Greek islands. Discover traditional Greek villages, local craftsmen and the unique Cycladic architecture and history. Along the way stop at pretty sandy beaches and enjoy beautiful sunsets.
While some of the Cycladic Islands are quite popular with international travellers, this trekking tour takes in two islands that are still largely undiscovered: Andros and Tinos! Andros is the 2nd largest and the most northerly island in the Cyclades. Thanks to local springs, Andros is irrigated and thus verdant with a large number of olive trees, pines and fruit trees. One mile from Andros is Tinos, famous for its characteristic dovecotes, and full of picturesque villages and windmills. Twice a year, on March 25th and August 15th, pilgrims inundate the island to visit the famous church of Virgin Mary (in Greek: Panagia).
During this guided or self-guided hiking tour, you will explore magnificent paths and trails with breathtaking views. Along the way discover traditional Greek villages, local craftsmen and the unique Cycladic architecture and history. Don't forget to take time to stop at pretty sandy beaches and enjoy beautiful sunsets.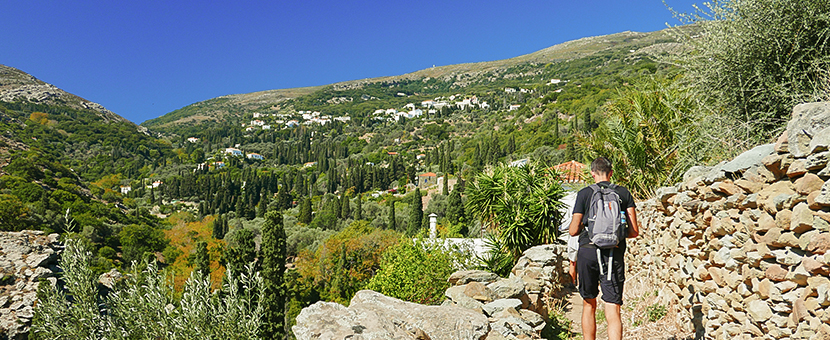 Day 1: Arrive in Andros
Make your way to Andros (it's a 1 hour ferry transfer from Rafina port near Athens) and get a transfer from the port and check-in at the hotel. You will meet the other guests for the first time to get to know each other and have a small talk about the trekking program. You will enjoy Greek hospitality, with welcome drinks and small bites of Greek delicacies (mezes in Greek).
Overnight: Andros Town
Distance: None
Meals: No Meals Included
Day 2: Hike Batsi to Pitrofos
Today is the longest walk of the tour, following the "Ample Way" (Fardia Strata), an old path which connects Andros to the central villages and Chora.
The first part of the hike provides panoramic views of the west coast and the ancient port of Palaiopolis. You'll be walking on a beautiful cobbled path with holy oak, wild olives and seasonal crops. Later on, you will pass by two small waterfalls and the watermills of Melida and the Olive Oil Museum. You'll end up in the charming village of Pitrofos for an authentic gastronomic experience: lunch with special local dishes.
Overnight: Andros Town
Distance: 14km, 5 hours
Meals: Dinner (Guided). No Meal (Self-guided)
Day 3: Hike Chora - Apoikia - Chora
Today you will start from Chora on a beautiful circular route. As you hike past Gialia Beach you can admire the unique natural environment formed by the river. From there, you will be on a good footpath that runs parallel to Pythara ravine as it goes up towards Apikia Village, passing through major settlements of seamanship and rural Andros. After a rest and a light lunch, descend back to Chora via a different path, enjoying a magnificent view of the capital city and the sea. During this hike, you will visit 'the Fabrica', an old pasta factory watermill, a medieval stone bridge, the Bistis-Mouvelas Tower dating from the 17th century and Pythara waterfalls. There will be a light lunch during our hike to a local "mezedopoleo" and then return to Chora. You'll have free time to enjoy a swim, enjoy a rest or walk to the center of the town.
Overnight: Andros Town
Distance: 10 km, 4 hours
Meals: Breakfast, Lunch & Dinner (Guided). Breakfast & Lunch (Self-Guided).
Day 4: Hike Chora - Korthi
Todays route is a great hike all about variety, as you connect central and south Andros. You will follow the old road leading to Korthi, connecting the two old medieval castles of Andros, using the main agricultural and commercial road for south-eastern Andros until 1950. You will cross the pretty Dipotamata ravine, a valley with impressive water mills, an arched bridge, and Kochylou medieval castle.
Overnight: Andros Town
Distance: 12 km, 4.5 hours
Meals: Breakfast, Lunch & Dinner (Guided). Breakfast & Lunch (Self-Guided).
Day 5: Travel to Tinos
After 3 days of walking, today will be a bit of a day off, as you transfer to the port and take a boat to the island of Tinos (2hours). Having settled at your hotel, we have the rest of the day free to explore the town of Tinos.
A highlight of the town is the church of Virgin Mary in Chora. Tradition says that a nun, Pelagia, from the nearby convent of Kechrovouni had visions of Virgin Mary revealed to her the burial place of an icon. After intensive searching, an icon was indeed found, at the spot where the Church stands today. Today the icon is widely believed to be the source of numerous miracles and Tinos has become the center of a yearly pilgrimage that takes place on the 15th of August. Many pilgrims make their way the 800 meters from the ferry wharf to the church on their hands and knees as a sign of devotion.
Overnight: Tinos
Distance: None
Meals: Breakfast, Lunch & Dinner (Guided). Breakfast & Lunch (Self-Guided).
Day 6: Hike Chora Tinou - Ktikados - Kionia - Chora Tinou
Today you explore the picturesque villages and dovecotes of Tinos. You will be trekking on an impressive medieval paved path (kalderimi), and visit the old villages of Ktikados, Xatzirados and Tarabados. These are the heart of traditional dovecote architecture in Tinos. You will end up in Kiona Bay. Along the way you will have a light lunch at a traditional "kafeneion" at Ktikados.
You will return to Chora either by hiking or by taxi. Enjoy a rest or go for a swim in the evening.
Overnight: Tinos
Distance: 13km, 5 hours
Meals: Breakfast, Lunch & Dinner (Guided). Breakfast & Lunch (Self-Guided).
Day 7: Hike Chora - Xobourgo - Koumaros - Volax - Falatados
Today you will hike on an old, paved path up to Xobourgo, the ancient Byzantine fort on Tinos. Enjoy remarkable views of the Aegean Sea. Continue walking down to Volax, an isolated and beautiful white village in the middle of a plateau surrounded by hills of round granite blocks. Then continue on to the village of Falatados, the second biggest settlement on Tinos, with an imposing Cathedral and the famous House of Scetch.
Accommodation: Tinos
Distance: 10km, 4 hours
Meals: Breakfast, Lunch & Dinner (Guided). Breakfast & Lunch (Self-Guided).
Day 8: Departure
Unfortunately, this wonderful Greek trekking tour of Andros and Tinos is complete today. Enjoy a transfer to the port, where you can take a ferry back to Athens. There are also ferries to other nearby Greek Islands if you want to explore more of beautiful Greece.
Accommodation: None, departure day
Distance: None
Meals: Breakfast (Guided and Self-Guided)
Prices for Andros & Tinos Hiking Tour
Pricing for this guided tour is based on the number of people in your group. Andros & Tinos hiking tour is always run as a custom tour for you and your group. The best time to travel to Andros and Tinos islands is May through October. This hiking tour is always run as a custom tour for you and your group. Please contact us with your preferred starting date and group size so we can help you make incredible memories on this private group tour.
Guided Tour Pricing for Andros & Tinos hike
Prices below are on a per-person basis and depend on group size.
• Guided Individual: $3,500 US
• Guided Groups of 2-3: 1,695 US, on sale for $1,625
• Guided Groups of 4+: $1295 US, on sale for $1,225
Self-guided Tour Pricing for Andros & Tinos hike
• Self Guided Individual: $1,775USD
• Self-guided groups of 2+: $895 on sale for $875 US
Book Now
This accommodations on this trekking tour Andros and Tinos is in private rooms for 2 people / room. For groups with an odd number of guests, you can choose a triple room and receive a discount on the tour price.
Single Rooms and Solo Travelers
Single travelers can book private tours, however the cost is typically 2x the per person cost for groups of 2-3.
Centrally situated in Andros Town just a 5-minute walk from Paraporti Beach, Anemomiloi features studios with free Wi-Fi. Units have furnished verandas overlooking the Aegean Sea and the Cycladic countryside. The air-conditioned Anemomiloi Studios have a well-equipped kitchen with a fridge, cooking hobs and kitchenware. Each features an LCD TV and a sofa.
The whitewashed Onar Studios is located 100 m from Tinos Port and 150 m from the nearest beach. Enjoying views to the Old Port, it offers self-catered accommodation and free Wi-Fi in public areas. All air-conditioned units open to a furnished balcony or patio with courtyard or Aegean Sea views. Featuring Cycladic décor, they have iron or built-in beds and a flat-screen TV. Each includes a well-equipped kitchenette with a fridge and cooking hobs. Some also come with a fireplace.
Meals
7 breakfasts, 6 lunches, 7 dinners if booked on guided mode.
7 breakfasts, 6 Lunches, 0 dinners if booked on self-guided mode.
Accommodations
Accommodations for the duration of the tour
Transportation during the Tour
Trip includes return transfers from ports to hotels as well as necessary transfers for the hikes.
Also Included
All ferry tickets

English speaking guide throughout the trip (

if booked on

guided mode)

Welcome briefing, maps & GPS files, emergency telephone support (for self-guided)
Not included
Transfers to/from port of Rafina in Athens

Domestic and/or international air fare
Medical expenses, travel or emergency evacuation insurance
Gratuities for leader/guide or driver
Alcoholic beverages and meals other than outlined in itinerary
Transfer to and from the airport/port
Other items of a personal nature.
Optional Extras
Transfer from Athens to / from port of Rafina for 2 persons - $125 USD
Frequently Asked Questions about Authentic Greek Islands Hiking on Andros & Tinos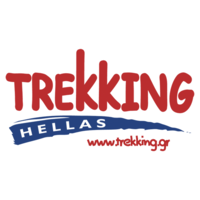 Trekking Hellas Group of Companies was founded in 1986, and is the largest and most distinguished adventure tour operator in Greece. They operate adventure tours all over Greece, and embrace and have implemented socially and environmentally responsible policies for the protection of nature and environmental awareness.
Is this tour for me?
We rate this tour as a 2 / 5. Relatively easy hikes and activities for beginners (3 – 4 hours per day), good start for a first outdoor holiday. The walking is on a mixture of dirt tracks and well – constructed stone mule paths. These trips are designed for active people who enjoy energetic days. Participants should be in reasonable physical condition and able to walk similar distances.
Get In Touch
SALE! Well, not yet.
Let me know when this trip goes on sale.
Notify me