Greece Tours
Greece tours are a truly unforgettable experience that will allow you to take in the natural beauty of the ancient world. Known for its famous history, culture, architecture, food, drink, and friendly locals, Greece is also an incredible place for a trekking holiday – although Greece tours also offer more than just great trekking! You can find great climbing or cycling tours on desolate islands, and cultural tours that will delight photographers, history buffs, and gastronomists.
Greece Travel Guide
Having a Greece travel guide, like this guide on hiking in Greece, can really provide you with a wealth of information that will help turn your next holiday into an unforgettable adventure. Our list of the best Greece tours includes exploring near-undiscovered islands, trekking through ancient Crete, heading to the stunning Pindos Mountains, and the classic trek to the summit of Mt. Olympus. Whether you are looking for a guided tour of Greece, or are more comfortable with a self-guided tour, these tours of Greece will more than fulfill your adventurous spirit!
When is the Best Time to Visit Greece?
Although it depends on the intentions of your trip, the best time to visit Greece is generally considered to be the summer season of May to September, as it is during this period that weather in the region is hot and dry. Naturally this coincides with the busy tourist season in the region, so it might be best to avoid travel during this time if you don't want to be surrounded by crowds of other tourists or pay a premium for travel/accommodations.
If you are looking to avoid the peak tourist season, then the best time to visit Greece is during the shoulder seasons of spring and autumn. During these windows temperatures are generally a bit cooler, which is ideal if you are looking to get outside for activities like hiking and biking.No matter what time of year you plan to travel, a trip to Greece is always an excellent idea, and there will be plenty of things to do and see.
Greece Map
With a rugged mainland and thousands of islands scattered across the Mediterranean Sea, it can be a bit difficult to visualize Greece and its geographic layout. For this reason we've put together a simple greece map that should give you a bit of an overview of the country for the planning phase of your tour in Greece. Hopefully you find it useful!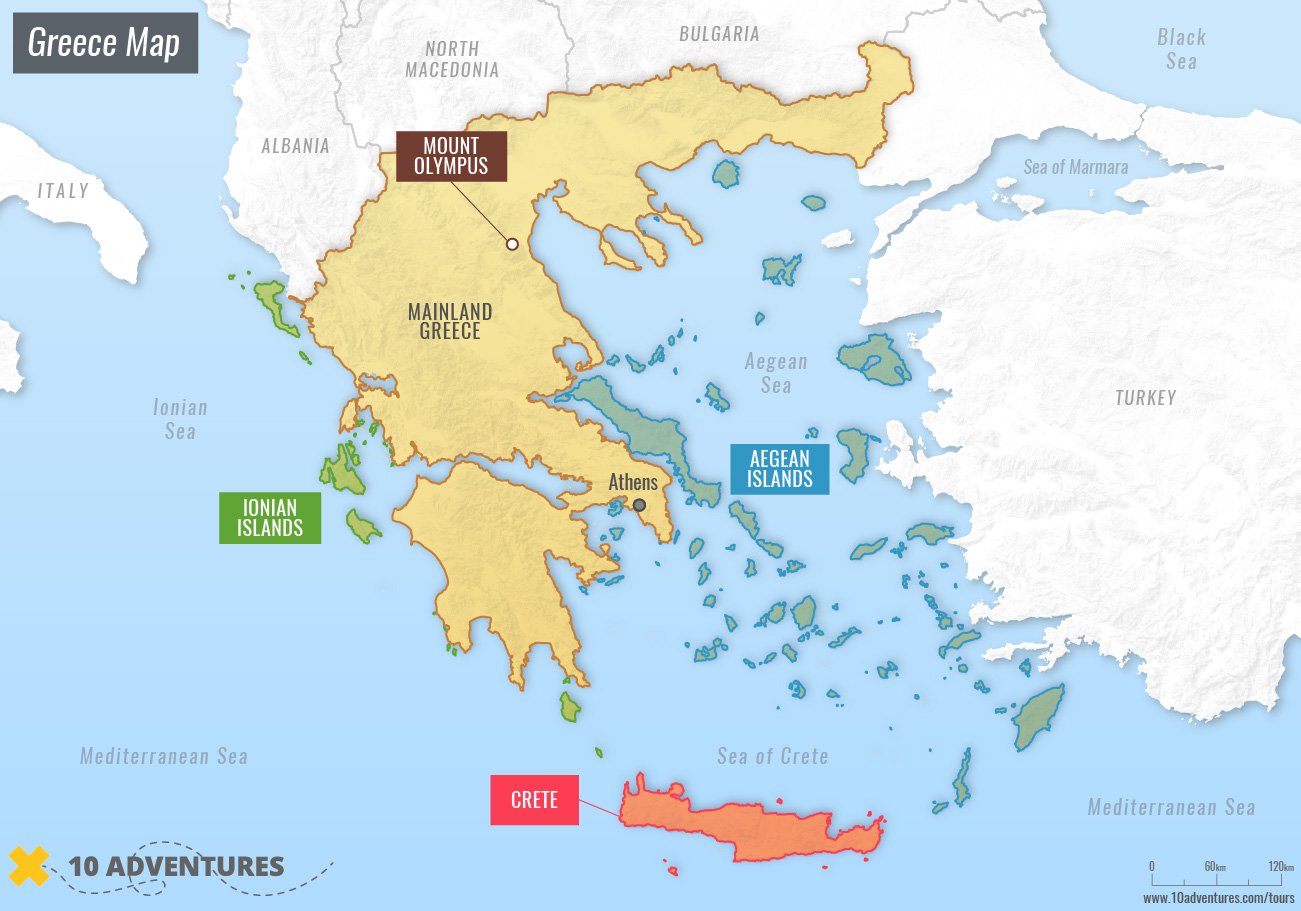 Types of Tours in Greece
While many people think of the historic streets of Athens or lazy islands in the sea when they think of Greece, there are plenty of different types of tours in Greece that will make for an excellent holiday. Check out the different types of tours in Greece below:
Trekking Tours in Greece
Greece is home to some absolutely rugged terrain that is perfectly suited for a trekking adventure, whether it is the Pindus Mountains of the mainland or the windswept islands of the Aegean Sea. Check out these incredible trekking tours in Greece to set out on your own multi-day adventure in the ancient world.
Bike Tours in Greece
If traveling on foot isn't your style, there are a number of amazing bike tours in Greece on offer that will allow you to fully explore the picturesque landscape all the same. Read on to discover some of the most incredible bike tours in Greece - and the world for that matter!
Sailing Tours in Greece
Whether you want to explore the rugged coastline of Crete, the picturesque Ionian Islands, or the well-known Cycladic Islands, there are plenty of ways to experience the Mediterranean Sea on sailing tours in Greece. Be sure to check out these epic sailing tours in Greece to get inspired for your next trip!
Where to Travel in Greece
Tours in Mainland Greece
Whether the aim of your trip is to trek through the Pindus Mountains or explore the ancient streets of Athens, tours in Mainland Greece have so much to offer. Explore these cultural and outdoor tours and discover your next adventure in Mainland Greece today!
Tours in the Greek Islands
Greece is home to a seemingly endless supply of thousands of islands scattered throughout the waters of the Mediterranean Sea, nearly all of which beg to be explored! From the historic shores of Crete to the Ionian and Cycladic island groups, there is no shortage of tours in the Greek Islands waiting for you!
Tours on Mount Olympus
Best known as the home of the ancient Greek gods, Mount Olympus is also the highest peak in Greece and a popular destination for intrepid adventurers the world over. Discover diverse flora and fauna, and take in stunning views from the summit on these incredible tours on Mount Olympus.
Frequently Asked Questions About Greece
How many days is enough to see Greece?
The number of days needed to see Greece depends on if you are traveling in the mainland, the islands, or both, but generally speaking it is best to plan for 10-15 days to see a good portion of GReece.
Is Italy or Greece Cheaper?
Although the cost to travel to and within Italy and Greece is very similar, Greece tends to be slightly less expensive.
What is the best way to tour Greece?
If you are looking to visit a number of different islands, then booking a cruise or sailing tour is a great way to tour Greece. In terms of the mainland, traveling by train is the best option to tour Greece.
What should I not miss in Greece?
Although it is one of the most popular tourist attractions in the country, you should not miss out on visiting the Acropolis in Athens when planning a trip to Greece.
Where to fly into Greece?
Whether you are looking to explore the Greek mainland or the islands, visitors traveling to Greece tshould fly into Athens, as it is the best hub for branching off into other parts of the country.
Greece Tour Highlights
The Acropolis
Certainly the most iconic historical site in Greece - if not the entire ancient world - the Acropolis is an ancient citadel that overlooks the city of Athens and is home to one of the most well known buildings in the world, the Parthenon. Dating back to the 5th Century BCE, the Acropolis has been designated as a UNESCO World Heritage Site and is one of the finest examples of ancient Greek architecture. The Acropolis is an extremely popular attraction in Greece that draws millions of visitors each year.
Santorini
Situated in the azure waters of the Aegean Sea, Santorini is a beautifully scenic island that has become a popular destination for tourists from around the world. Santorini belongs to the Cyclades, a vast group of islands scattered across the sea, and the island itself is home to gorgeous beaches, white painted houses, and stunning vineyards. Millions of tourists visit Santorini each year, and once you have experienced its gorgeous landscapes it is easy to see why!
Find Other Amazing Adventure Tours in Europe
Take the first step towards a private travel experience, customized just for you.
Join our newsletter
Get a weekly dose of discounts and inspiration for adventure lovers
Showing 1 to 20 of 48 adventure tours
What travellers say
Why
book

with 10 Adventures?
Your trip. Your way.
Make lifelong memories with the people you care about most. We specialize in custom & private active travel experiences.
Travel made easy.
Spend your time making memories, not planning them. Enjoy a stress-free vacation and leave the trip logistics to us.
You matter to us.
No bots here. A real human is always a click or a call away to ensure you get the adventure of your dreams.
Travel authentically.
Immerse yourself in the destination with highly-vetted, local tour operators who love to showcase where they live.