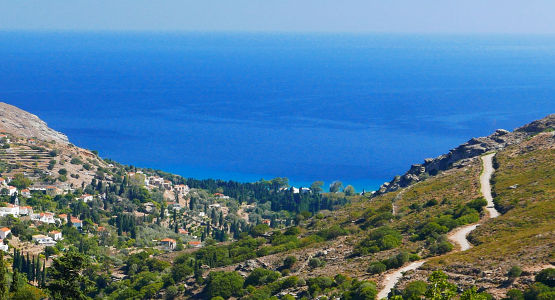 Greece is famous for its history, culture, architecture, food, drink, and friendly locals. It is also an incredible place for a trekking holiday. But Greece tours are more than just great trekking. You can also find great climbing, cycling tours on desolate islands, and cultural tours that will delight photographers, history buffs, and gastronomists.
Our list of the best Greek tours includes exploring undiscovered islands, trekking through ancient Crete, heading to the stunning Pindos Mountains, and the classic trek to the summit of Mt. Olympus. Whether you are looking for a guided tour of Greece, or are more comfortable with a self-guided tour, these tours of Greece will more than fulfill your adventurous spirit.
Read More
Guided Tours in Greece
There's so much to see in this country that guided tours of Greece are often preferred by tourists. Let these knowledgeable guides know what your interests are, and they'll help you make the most of your time in Greece. Your guides are familiar with spectacular sites that aren't in guidebooks, and they offer a wealth of knowledge. In addition to showing you things you'd never discover otherwise, these guides will lead you to the best food, the best lodging, and serve as translators as you pass through authentic Greek countryside.
Self-Guided Tours in Greece
There are many beautiful, romantic locations where tourists seek out self-guided tours in Greece. Honeymooners and couples celebrating their anniversaries or birthdays may not want a guide with them the entire time. But that doesn't mean that you shouldn't seek the assistance of a local tour company!
Booking a self-guided tour in Greece still takes a lot of the stress off of your shoulders. Reliable local tour companies will provide you with a custom or pre-built itinerary, take care of lodging and transportation for you, and you're free to fill in the rest of the time as you see fit. Leave the planning up to the experts and enjoy your special occasion!
Greece Trekking Tours
Follow in the footsteps of ancient legends by booking a Greece trekking tour. Guided and self-guided tours take you through remote islands, the beautiful lush interior, and along dramatic coastlines dotted with charming villages.
While most tourists sign up for trekking tours of the iconic islands in the Aegean Sea, don't forget about the rest of the country. Sign up for week-long private or group tours of northern Greece, which highlight the country's spectacular scenery, picturesque villas, and significant history. All of that walking is going to make you hungry, and you're going to be set up perfectly to experience this country's fantastic cuisine.
Santorini Tours
Santorini tours are a highlight for many people visiting Greece. Even if you can't identify Santorini on a map, you're likely familiar with the vivid blue roofs covering bleached-white buildings overlooking the ocean.
Explore the interior of Santorini with tours that take you to archaeological sites like Akrotiri and Thera, imagining how they lived before the volcano drastically changed the landscape. Many hikes will take you to the caldera, considered the largest volcanic explosion in human history. Other hikes around Santorini will take you to wineries and picturesque towns like Oia and Pyrgos. The ocean is a large part of life here, and you can also sign up for several cruises, jet ski tours, and kayaking tours of the island.
Crete Tours
Many adventure travelers start their vacation with Crete tours. This is the perfect base for exploring the rest of the Aegean Sea, as explorers have done for thousands of years. You can sign up for many specialized tours in Crete, including tours centered around Greek cuisine, wine, history, and other cultural sites. This is also the ideal place to take in a sunset cruise or a day tour to Santorini.
Hikers will love Crete's diverse, beautiful scenery. Crete hiking tour highlights include a day trip exploring Samaria Gorge, walking the Knossos archeological site, and a hike through the lesser-known picturesque Rethymno.
Mt Olympus Tours
Mt. Olympus tours are some of the most popular tours in Greece and often the highlight of the trip for many hikers. Mt. Olympus is the tallest mountain in Greece, with the highest peak reaching 9,570' above the sea. Travelers have numerous options for tours of Mt. Olympus, ranging from one-day hikes to longer expeditions lasting a few days.
Mt. Olympus is rich in plant and animal life, some of which are unique to this region. You'll encounter vistas of beaches and dozens of peaks, deep gorges, and cool waterfalls. When you see the magnificence of Mt. Olympus for yourself, you'll see why the Greek gods called it home.
Greece Scenery
Greece's scenery is typical of the Mediterranean Sea. Mainland Greece is very mountainous, from lush lowland valleys to barren, rocky peaks. As you tour Greece, you'll pass volcanoes, arid deserts, green forests, and golden plains. Aside from gigantic Mount Olympus, Greece is perhaps best known for its islands. These scenic rocky islands, which number in the thousands, seem to be frozen in time. They're covered in ancient settlements, volcanic features, and perfect beaches. Greece is a photographer's paradise, and its scenery is just one of the many reasons why it's such a popular destination for photography tours.
Explore the variety of Greece's tours using trusted local outfitters. You're sure to find a tour that matches what you're looking for, whether it's a group tour, private tour, self-guided tour, or custom guided tour. Eat with Greek families, stay in small lodges, and hike on ancient pathways worn down over thousands of years. It'll be a holiday you won't soon forget.
Best Tours in Greece
Read More
Destinations