Spend 8-Days exploring the glaciers fjords and mountains of Southern Chile
The Aysen Self-Drive Tour is a unique adventure that whisks you away into the Chilean Andes to journey along Chile's largest lake, Lago General Carrera. The stunning coastline that paves the way for the Carretera Austral (Route 7) will be your playground on this wondrous adventure in southern Chile.
Over 8 adventure-filled days, you'll explore the unique natural wonders of Chile's Aysén region including highlights like Lago General Carrera's impressive marble caves and the mighty Baker River. Enjoy incredible hiking in the Cerro Castillo and Patagonia National Parks where you'll stand in awe of imposing glaciers, azure lagoons and snow-capped peaks. Experience lively cities like Coyhaique and get off the beaten path as you visit and stay in the small villages of Puerto Guadal and Chile Chico.
Enjoy the ease of this self-drive tour that includes car rental and a GPS app with trek coordinates. Discover the beauty and excitement of southern Chile for yourself on this unique self-drive adventure!
Highlights of the Aysen Self-Drive Tour
Explore Chile's Aysén province in-depth on a self-drive adventure that winds along the stunning coastline of the Carretera Austral (Route 7).
Witness the majestic peaks of the Cerro Castillo as you hike in this national park and ascend to the Laguna found here.
Visit and stay in charming small villages away from the crowds, like Chile Chico and Puerto Bertrand.
Explore the wonders of the world-famous Patagonia National Park as you hike the Valle Lunar and spot majestic wildlife.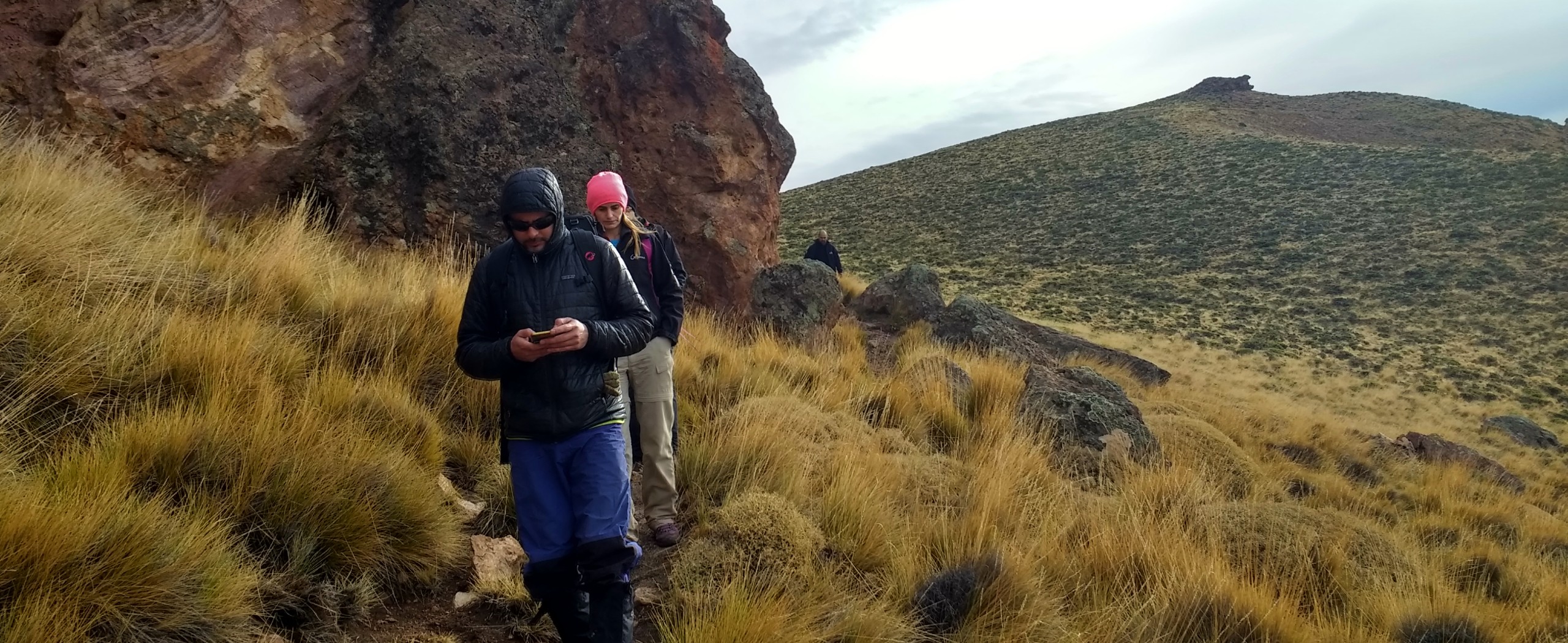 Aysen Self-drive Tour Itinerary
Day 1

Arrival and Drive to Villa Cerro Castillo

The journey begins at Balmaceda Airport in Southern Chile's Aysén province. After picking up your rental car, travel south on the Carretera Austral that traverses Chile's remote south. It doesn't take long before you get to enjoy spectacular views of the Cerro Castillo mountain range on the right-hand side. Tonight you'll spend the night at a comfortable hotel in Villa Cerro Castillo.
Overnight Location: Hotel in Villa Cerro Castillo
Distance: 72km driving
Meals: None
Day 2

Hike Cerro Castillo National Park

Cerro Castillo National Park has become a new attractive hiking destination over the past few years and is beloved by both locals and visitors. There are various options to explore the landscape today!

You can ascend to the "Laguna" of the Cerro Castillo Mountain massif on a well-marked trail where you'll enjoy views of the wide valley, mountains, and the village below. On this 3-4 hour hike that leads past imposing glaciers, you'll reach the lagoon with the majestic peaks of the Cerro Castillo in the background. Take your time to enjoy the incredible surroundings, before descending the same way.
Overnight Location: Hotel in Villa Cerro Castillo
Distance: 7-8h, 15 km, 1,061m of ascent hiking
Meals: Breakfast
Day 3

Drive the Carretera Austral to Puerto Guadal

Today, your trip continues south on the Carretera Austral. Follow the course of the Murta River until it finally flows into Chile's largest lake, Lago General Carrera, whose blue-green glacier water is visible from far away. Near Puerto Rio Tranquilo, stop to visit the Marble Caves, a unique geological formation made mostly of marble on the pristine shores of the lake. The rock formation "Capilla de Mármol" (Marble Chapel) is one of its highlights. Afterwards, the journey continues along the shore until you reach lively Puerto Guadal, a small town found on the south-west edge of Lage General Carrera.
Overnight Location: Hotel in Puerto Guadal
Distance: 180km driving
Meals: Breakfast
Day 4

Drive and Explore the Southern Shoreline of Lago General Carrera to Chile Chico

Before departing Puerto Guadal this morning, check out the "Fossil Mountain" and the impressive waterfall Los Maquis, both well worth a visit.

Later on, continue your journey along the southern shore of Lago General Carrera to the small village of Chile Chico, located near the Argentine border. Its mild microclimate allows for the cultivation of cherries and other fruits, which is why it is also called the Chilean "sun city"!
Overnight Location: Hotel in Chile Chico
Distance: 105km driving
Meals: Breakfast
Day 5

Hiking in Patagonia National Park

Discover Patagonia's breathtaking landscape on a unique hike in the recently opened Patagonia National Park (formerly Reserva Jeinimeni). The 7.4km (4.6 mi) long circular trail of medium difficulty starts about one hour from Chile Chico and takes around 4 to 5 hours to complete.

Marvel at the 40m (130ft) high freestanding rock 'Piedra Clavada' in the middle of the pampa and discover the cave 'Cueva de las Manos' with countless old wall paintings, dating to several thousand years ago and one of the most important cultural legacies of this region. The colorful rock formations of Valle Lunar will remind you of a lunar landscape. On the way, you are likely to encounter wild guanacos and condors, and if you're lucky, even pumas!
Overnight Location: Hotel in Chile Chico
Distance: 4-5h, 7.4km hiking
Meals: Breakfast
Day 6

Lakeshore Drive to Puerto Bertrand

Drive back along the southern shore of the lake to the village of Puerto Bertrand, where you stay amid beautiful scenery near the eponymous lake. It is the source of the Baker, one of Chile's mightiest rivers, which flows together with the Neff about 20km (12 mi) further south. This spectacular confluence is definitely worth a detour!
Overnight Location: Hotel in Puerto Bertrand
Distance: 130km driving
Meals: Breakfast
Day 7

Journey through Carretera Austral to Puerto Bertrand

Today´s journey on the Carretera Austral leads back north to Coyhaique, the largest city in the region. Back in "civilization", there are superb options for restaurants, cultural sightseeing, and shopping!
Overnight Location: Hotel in Coyhaique
Distance: 285km driving
Meals: Breakfast
Day 8

Departure

Drop off your rental car at Balmaceda Airport. From here you can continue your trip to another region of Chile or fly back home via Santiago.
Overnight Location: None
Distance: None
Meals: Breakfast

Book Now
Aysen Self-drive Tour Price and Dates
This self-drive tour in Aysen is always run as a private tour for your group only and the price per person depends on the types of the rooms that your group chooses.
The prices below are per person:

Solo Traveller: $2,375 USD per person
Group of 2+: $1,270 USD per person
Book Now
Accommodation on Aysen Self-drive Tour
This tour is based in midrange hotels that offer modern conveniences that can make this trip more pleasant.
In some cases, the accommodation listed below may need to be substituted for other comparable accommodations.
Single Rooms and Solo Travelers
Standard rooms are of double occupancy and those willing to have single rooms will need to pay a supplement (on request).
Hotels on Standard Tour
What's Included in the Aysen Self-drive Tour?
Meals
7 breakfasts are included.
Accommodations
Accommodations for 7 nights are included.
Transportation during the Tour
This is a self-drive tour where you'll be driving a rental car throughout the tour duration. It starts with picking your vehicle in Balmaceda and dropping it off in the same location on the last day of the tour.
Also Included
Car Rental for 8 days:

F2 category vehicle (Nissan Xtrail or similar)
Collision Damage Waiver with $240 USD deductible
Unlimited mileage
Airport Service Charge
Programmed GPS

GPS app with trek coordinates
Not included
Guide services
Meals not noted as included
Travel insurance
Visa fees
Fuel
Optional Extras
Extra nights before or after the tour
Frequently Asked Questions about Aysen Self-Drive Tour
In Andes Nativa, their name says it all. Their highest priority are authentic travel experiences in Chile, where the mighty Andes Mountains are a steady companion. NATIVA represents the pristine and fragile, worthy of protection.
Learn More
Is this tour for me?
We rate this tour as a 2 / 5. Although most of the hikes on this tour can be swapped for easier alternatives, being reasonably fit will help you to get the most out of this tour.
Ask a Question
Got any questions regarding the tour? Interested in promotions for groups or want to customize this tour to fit your needs? We are here to help you!
Ask a question