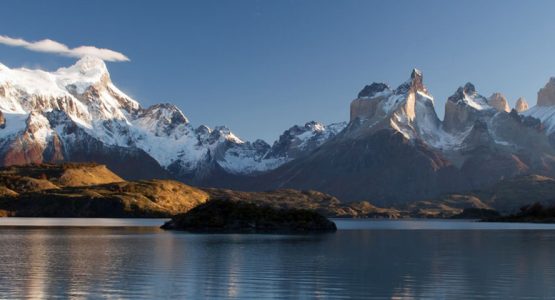 Chile is an adventurer's paradise, and booking any of these Chile tours will satisfy your cravings for adventure. From the Atacama Desert in the north to the Beagle Channel in the south and the Andes in between, Chile is full of opportunities for you to have an adventure holiday you'll never forget.
Ride with the gauchos, trek the famed "W Circuit" in Patagonia, cycle through Chile's wine country, or hike Easter Island. It's all here waiting for you! Continue reading to see how you can have one of the most memorable holidays of your life in Chile.
Read More
Guided Chile Tours
Arranging one of these guided Chile tours is the best way to experience all of the amazing things that Chile has to offer – the scenery, the culture, the food and wine, and the people. When you book a guided tour, a professional local tour operator will arrange lodging and transportation for you and make sure that you get a chance to enjoy all of the activities that you want to do when you visit Chile.
Not only will the guides arrange all of these great things for you, but they'll also serve as your translator and encyclopedia. They'll introduce you to wonderful locals that you may not be able to meet if you were on your own, and they'll provide you with information that you can't find in guidebooks.
Touring Chile with a guide is an ideal way to travel for those who want a completely immersive experience, and also for first-time international travelers.
Self-Guided Chile Tours
If you'd rather not travel with a guide, you can always also book one of several self-guided Chile tours. The same expert guides prepare these self-guided tours, but they'll leave you to adventure on your own. This may be ideal for you if you have extensive international travel experience, or you're looking to have a more intimate experience with your travel partner.
Self-guided tours of Chile can follow pre-planned itineraries or allow you to build your own. No matter which path you decide, the tour operators will tell you how to get around, arrange lodging, and give you amazing recommendations for dining. The provided itineraries often allow extra room for you to make slight detours if you decide you'd like to skip one activity or spend more time doing another. They'll also provide you with insider information that you probably wouldn't be able to find elsewhere.
Chile Hiking Tours
Enjoy the best trails in South America in these Chile hiking tours! Chile's vast and diverse terrain provides ample opportunity for exploring this beautiful landscape on foot. Patagonia immediately comes to mind for many people looking for Chile hiking tours, but there are many other options too.
You'll have ample selections for short day hikes near Santiago, in the Altos de Lircay Reserve and Yerba Loca National Park. These magnificent natural areas take you high up into the Andes, where you can hike alongside cold glacier-fed streams, and see Andean condors, volcanoes, and pristine lakes.
If you desire an even longer trekking tour, head north into the Atacama Desert and the Altiplano Highlands. The Atacama Desert is the world's most arid desert, yet it's not without amazing wonders. A hiking tour in the Atacama Desert will take you through beautiful remote villages, alongside volcanoes and spectacular rock formations, salt flats, and spouting geysers. Additionally, it's one of the best places in the world for stargazing.
Patagonia Tours
Some of the most beautiful Patagonia tours are on the Chilean side of this enormous natural wonder, which it shares with Argentina. Torres del Paine National Park is home to temperate rainforests, iridescent glaciers, and turquoise lakes. Several trekking routes, both guided and self-guided, can accommodate a range of schedules and physical abilities.
The Classic W Trek is considered to be one of the world's best trekking routes, located in Torres Del Paine. This eight-day trek starts in Punta Arenas and follows an awe-inspiring trail past lakes, glaciers, and the impressive granite El Paine towers that give the park its name. Accommodation includes eco-camps, lodges, and rifugios, and this can be completed as a guided or self-guided tour.
If you don't have eight days for the W, shorter hikes are also available in Torres Del Paine. You also have the option of the Dientes Circuit, a six-day trek out of Puerto Williams that affords views of the Beagle Channel, Ushuaia, and Navarino Island.
Chile Cycling Tours
Booking a Chile cycling tour will allow you to see the country in ways that you can't possibly see through other modes of travel. Chile's impressive Andean mountain range, the Atacama Desert, and extensive coastline are perfect for cycling tours.
The Colchagua Valley is home to what might be the best wines in the world, and the rolling hills and rural landscape are ideal for exploration by bike. You can explore this region on guided or self-guided cycling tours of lengths up to two weeks.
You should also consider exploring Chile's stunning Lake District by bicycle. Tours in this region, from one to two weeks in length, take you to waterfalls, lakes, and forests backdropped by volcanoes and the Andes mountains. Despite being in the Andes, these tours are only moderately difficult.
Scenery in Chile
The scenery in Chile is remarkably diverse due to the shape of the country. Chile runs north-south along the Pacific coast of South America. In the far north, you'll find the Atacama Desert, the driest place on Earth, while in the far south, you'll find Cape Horn, the infamous obstacle to seafaring explorers of both yesterday and today. Most of Chile is mountainous, and the Andes range spans the length of the country along the eastern border. In Chile, you'll find the highest lake in the world, the highest active volcano in the world, and Easter Island, the most desolate island in the world. Glaciers, volcanoes, beaches, mountains, and waterfalls are just a few of the many scenic attractions you'll find in this beautiful country!
Best Tours in Chile
Read More
Destinations