Chile Tours
Chile is an adventurer's paradise, and booking any of these Chile tours will satisfy your intense cravings for adventure! From the Atacama Desert in the north to the Beagle Channel in the south and the Andes in between, Chile is full of opportunities for you to have the adventure holiday of your dreams. Whether you come for the food, culture, history, or natural beauty, you can rest assured that the Chile tours on offer will create memories for years to come!
Trips to Chile
Trips to Chile can be daunting to those who have never been there, as the dramatic landscapes in the country seem difficult to navigate. In reality, it has a fairly decent tourist infrastructure that makes trips to Chile a breeze, and opens up a world of possibilities when it comes to adventure travel. Ride with the gauchos, trek the famed "W Circuit" in Patagonia, cycle through Chile's wine country, or hike Easter Island. It's all here waiting for you! Continue reading to see how you can have one of the most memorable holidays of your life in Chile.
When is the Best Time to Visit Chile?
It's hard to pinpoint the absolute best time to visit Chile, as it depends on what you want to do and which regions you would like to explore. Chile is a long, narrow country that stretches from the Atacama Desert in the north to Patagonia in the south, so the climate and weather vary significantly depending on the region. Here are a few things to consider when deciding when to travel to Chile:
-If you would like to visit the Atacama Desert, the dry season (April to November) is the best time to do so. The weather is warm and sunny, and the skies are clear, making it a great time for stargazing and a variety of outdoor activities.
-For those who want to travel to the central region of Chile, including the capital Santiago, the spring (September to November) and fall (March to May) are the best times to go. The weather during these times is mild and pleasant, which is good for exploring.
-Lastly, if you want to traverse the rugged landscape of Patagonia, the shoulder seasons (October to November and March to April) are the best times to do so. The weather at this time is cooler and drier, with fewer crowds and lower prices than you would experience during the high season.
When it comes down to it, the best time to visit Chile depends on your personal preferences and the activities you want to do while you are in the country. As with any international travel, it is always a good idea to check the weather forecast in advance and plan your trip accordingly.

Chile Map
Chile is a breathtaking country filled with dramatic landscapes, which can make it difficult to wrap your head around when planning a trip there. To give you a bit of an overview, we've created this simple Chile map that highlights some points of interest. Hopefully it helps!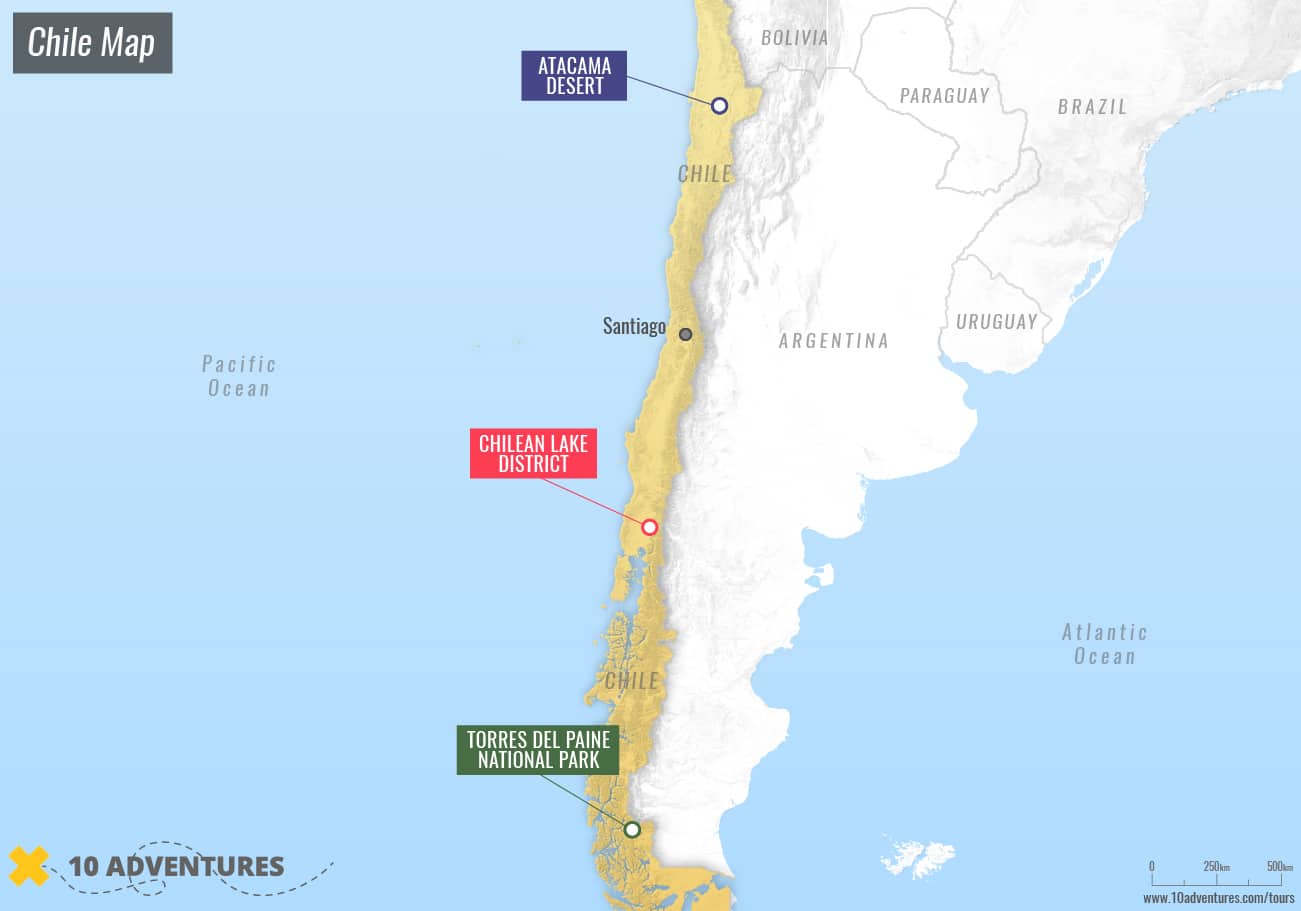 Popular Activities in Chile
Chile is an amazing playground for adventure enthusiasts of all varieties, as it features some truly diverse landscapes that range from arid deserts to rugged mountain ranges. Check out this list of popular activities in Chile if you want to find your perfect adventure tour:
Hiking Tours in Chile
From the dramatic landscape of Torres del Paine National Park to the picturesque Chilean Lake District, there is no shortage of exceptional regions to go hiking in Chile. Book one of these hiking tours in Chile to discover the absolute best that this beautifully scenic South American nation has to offer.
Cultural Tours in Chile
Whether you want to experience the traditions of the indigenous Quechua peoples or travel to Easter Island to connect with Polynesian customs and the mysterious moai statues, there is plenty of culture to be found in Chile. Check out these incredible cultural tours in Chile for a life changing experience.
Self-Drive Tours in Chile
Feel like getting behind the wheel and controlling your own adventure? The amazing self-drive tours in Chile will allow you to blaze new trails and explore all of the different geographic regions that Chile has to offer!
Multisport Tours in Chile
Can't decide on one type of adventure? If you want to combine several adrenaline-pumping activities into one unforgettable trip, be sure to explore these spectacular multisport tours in Chile. From hiking and biking to rafting and kayaking, these multisport tours will be sure to get your heartrate up!
Frequently Asked Questions About Chile
How many days do you need in Chile?
If you are looking to get a good feel for the culture and natural beauty of Chile, 14 days is a good amount of time.
Is Chile a good country to visit?
With friendly people, a rich sense of culture, diverse wildlife, and some of the most picturesque landscapes on the planet, Chile is a great country to visit.
Which part of Chile is the prettiest?
While Chile is a diverse country with many beautiful areas, the Chilean Lake District is thought to be one of the prettiest, as it features serene lakes and the rugged landscape of the Andes mountains.
What is the #1 tourist attraction in CHile?
Torres del Paine National Park, with its dramatic mountain peaks and glacier lakes, is the number 1 tourist destination in Chile.
What language is spoken in Chile?
As is the case with most South American nations, Spanish is the official language of Chile.
Chile Tour Highlights
Torres del Paine
Torres del Paine National Park is a beautifully scenic area located in the Patagonia region of Chile. It is home to a number of unique and interesting natural features, including rugged mountains, crystal-clear lakes, and a diverse array of plant and animal life.
One of the most unique aspects of Torres del Paine National Park is its landscape. The park is home to a number of impressive mountain ranges, including the Cordillera del Paine, which features a number of towering peaks and jagged spires, such as the Torres del Paine that give the park its name. It is also home to several crystal-clear lakes, including the Lago Grey and the Lago Pehoe.
Another unique aspect of Torres del Paine National Park is its diverse plant and animal life. The park is home to a wide variety of species, including many that are found nowhere else in the world. Due to the breathtaking scenery, rugged terrain, and incredible wildlife viewing opportunities on offer, it is no wonder that Torres del Paine National Park is a popular destination for outdoor activities, such as hiking, climbing, and horseback riding. The park has a number of well-marked trails that attract hikers and climbers from around the world.
Easter Island
Easter Island, also known as Rapa Nui, is a small island located in the Pacific Ocean, about 2,300 miles west of Chile. Situated in a remote part of the Pacific Ocean, it is one of the most isolated inhabited islands in the world. This isolation has allowed the island's indigenous culture to develop in a unique way, and it has also contributed to the preservation of the island's many cultural and historical sites, such as the world famous Moai statues.
These massive stone statues, which are carved in the shape of human heads, are believed to have been carved by Easter Island's indigenous people over a period of several centuries. The Moai statues are an important part of Easter Island's cultural heritage and today serve as the island's most popular tourist attraction.
Atacama Desert
The Atacama Desert can be found in South America, along the border of Chile and Peru. It is the driest desert in the world, with some areas receiving less than an inch of rain per year. Due to its dry climate, the Atacama Desert is home to a number of unique plant and animal species that are adapted to living in the harsh and arid conditions, and it is also home to a number of unique geological features, such as salt flats, sand dunes, and towering mountains.
Another unique aspect of the Atacama Desert is its rich cultural history. The desert has been inhabited by indigenous peoples for thousands of years, and it is home to a number of ancient ruins and other cultural sites that are of great historical and cultural significance. These sites serve as popular attractions for tourists, as do the many trails in the region that attract hikers, bikers, and climbers from all over the world.
Find Other Amazing Adventure Tours in South America
Join our newsletter
Get a weekly dose of discounts and inspiration for adventure lovers
Showing 1 to 20 of 39 adventure tours
What travellers say
Why
book

with 10 Adventures?
Your trip. Your way.
Make lifelong memories with the people you care about most. We specialize in custom & private active travel experiences.
Travel made easy.
Spend your time making memories, not planning them. Enjoy a stress-free vacation and leave the trip logistics to us.
You matter to us.
No bots here. A real human is always a click or a call away to ensure you get the adventure of your dreams.
Travel authentically.
Immerse yourself in the destination with highly-vetted, local tour operators who love to showcase where they live.