Retrace the ancient footsteps of settling pioneers in the Canadian Rockies
This wonderful 7-day guided hiking tour is the perfect opportunity to reconnect with nature and leave your worries far behind. You will hike through the extraordinary mountain scenery of Banff and Jasper National Parks, stopping to explore the shores of Lake Louise, Maligne Canyon, and the Athabasca Glacier.
Your expert local guides will ensure you have a safe and exciting immersion into the Canadian wilderness, leading you far away from the overcrowded tourist trails and showing you the hidden corners of the Rockies that only a local could know.
Whether you are a solo traveller, couple or a group of friends, everyone is welcome to come and join the small and friendly groups that explore the Rocky Mountains together. The tour is highly adaptive, allowing sportier people to push themselves to the max whilst accommodating those who like to take it easy and soak up all the natural beauty.
After a long day in the mountains, you will be pleased to return to your comfortable hotels to freshen up for a night on the town or just relax in a bubbling hot tub beneath the open sky.
Highlights of the Banff And Jasper Hiking Tour
Watch out for bears and elk as you immerse yourself in the spectacular wildlife of the Canadian Rocky Mountains.
Hike up a stunning mountain ridge to stand at the spot where David Thompson drew the earliest maps of Canada.
Indulge in a mouth-watering Swiss fondue as you learn about the earliest European settlers that influenced the local cuisine.
Melt away your hiking aches with a long soak in the healing waters of the Sulphur Mountain Hot Springs.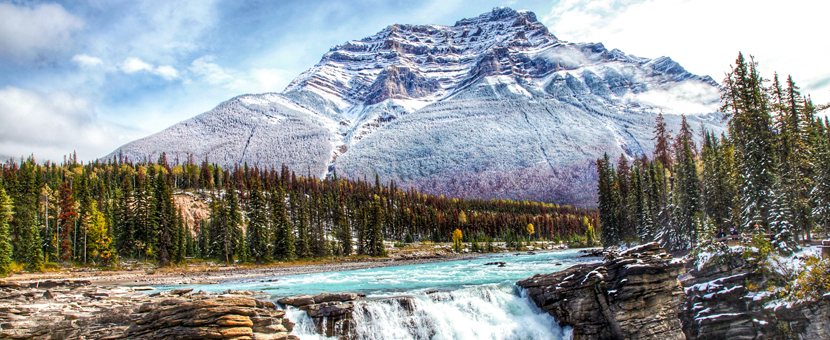 Banff And Jasper Hiking Tour Itinerary
Day 1

Welcome to Banff

You will begin your mountain adventure in style, staying at a lovely hotel in Banff with an onsite Grotto hot tub! First, you will be picked up by your expert local guide from Calgary and get driven west to the Rocky Mountains with the rest of your small and friendly group. The scenic drive is sure to take your breath away, as you wind ever deeper into the spectacular landscape of the mountains. After checking in to your central hotel, you will walk into town to enjoy a delicious dinner in one of the many brilliant bars and eateries that Banff has to offer.
Overnight Location: Hotel in Banff
Distance: None
Meals: None
Day 2

Hiking in Kananaskis Country

Indulge in a hearty breakfast at your hotel as you prepare you for a long day of hiking. You will leave the touristy trails behind and explore the pristine wilderness of the Kananaskis Country, home to hanging valleys and fragrant alpine meadows which burst with wild blooms. Your expert guide can teach you all about the wild plants and animals that you encounter, as well as describing the natural processes that led to such an extraordinary landscape. After a lovely day in the fresh mountain air, you will head back to Banff for a delicious meal and then take a dip in the Sulphur Mountain Hot Springs, originally a winter camp for the local Indigenous People that cherished the waters for their healing properties.
Overnight Location: Hotel in Banff
Distance: 4-16 km
Meals: Breakfast, Lunch
Day 3

Hiking at Lake Louise

Today you explore the glacial lakes of Moraine Lake and Lake Louise, famous for their unearthly glow and outstanding natural beauty. After taking some photos on the shore of Lake Louise, you will leave the other tourists behind and hike up into the trails above. You will hear the distant thunder of glacial ice as it breaks away in the morning sun and hurtles down the mountainside, gazing up at cliffs that rise 2,000 ft above you. After an exhilarating hike, you will visit a local teahouse and enjoy stories of the pioneering travellers over a delicious Swiss fondue, a local delicacy that traces back to those early European settlers. You will check into a new hotel, where you will stay for the next 2 nights for the best access to some awesome hiking trails.
Overnight Location: Hotel along the Icefields Parkway
Distance: 4-16 km
Meals: Lunch
Day 4

Icefields Parkway

Immerse yourself in the fascinating history of the Rocky Mountains as you follow the footsteps of ancient fur traders and map makers alike. You will be driven along the world-famous Icefields Parkway, a scenic road that winds past ancient glaciers and stunning alpine lakes. On arriving at your hiking trail, you will head into unspoilt landscapes, listening to the symphony of wildlife in the deepest valleys and hiking to the top of a magnificent mountain ridge. You will stand at the same stop where David Thompson drew the earliest maps of Canada, with a panoramic view of the gorgeous landscapes.
Overnight Location: Hotel along the Icefields Parkway
Distance: 4-16 km
Meals: Lunch
Day 5

Hiking at Parker Ridge

Get ready for the next adventure as you check out of your Icefields Parkway hotel and take yet another gorgeous guided hike to Parker Ridge. This is one of the best hiking routes in the whole of the Rockies, with extraordinary views of the Saskatchewan Glacier laid out before you. Stopping to soak up the breath-taking scenery, you will enjoy a wonderful picnic of local, high-quality produce. After your lovely hike, you will take the time to visit the Columbia Icefield, a wonderful opportunity to get close and personal with the Athabasca Glacier. Afterwards you will hit the Icefields Parkway again to reach the lovely mountain town of Jasper where you will stay for the next two nights.
Overnight Location: Hotel in Jasper
Distance: 4-16 km
Meals: Lunch
Day 6

Explore Jasper

After enjoying a delicious breakfast at one of Jasper's many coffee shops, you will buckle up in the support van and visit Maligne Canyon. Listen to the thundering falling water that has shaped this spectacular canyon before heading on to Maligne Lake for your next hike. Keep your eyes peeled for bears as you head into the wild, with wonderful views of the lake below and the dizzying heights of mountain peaks risking far above you. After learning about the spectacular geology of Jasper you will head back to town for one final group dinner and catch the Skytram for a once in a lifetime sunset view of the Rocky Mountains, complete with a sparkling glass of wine.
Overnight Location: Hotel in Jasper
Distance: 4-16 km
Meals: Lunch, Dinner
Day 7

Time to say goodbye

It is time to head back to reality. You will take one last scenic drive down the Icefields Parkway as you head back to Calgary for your journey home. Stopping for a delicious picnic of local delicacies on the way back, you will enjoy one last group meal with a view. You will arrive back in Calgary by 2 pm where you will be dropped off at either the airport or a hotel depending on your onward travel plans.
Overnight Location: None
Distance: None
Meals: Lunch

Book Now
Banff And Jasper Hiking Tour Price and Dates
Pricing for this guided hiking tour in the Canadian Rocky Mountains depends on whether you choose to join an existing group on a specific date or if you prefer a custom tour for your group only.
The best time to travel to the Rocky Mountains for this hiking tour is from June to August.
Private Guided Banff And Jasper Hiking Tour
Have your own private tour with just your group! Please contact us with your preferred date and the number of people in your group and we will create the itinerary just for you.
Join a Group Tour on Banff And Jasper Hiking Adventure
Make new friends and join a group tour on the Banff and Jasper Hiking Adventure. Prices below are per person:
Accommodation on Banff And Jasper Hiking Tour
You will stay at 3 different hotels during the Banff and Jasper hiking tour, allowing you to explore a wide range of different hiking trails as well as explore the lovely mountain towns of Banff and Golden. You can expect an onsite grotto hot tub on your first night and good Wi-Fi and onsite restaurants and bars throughout your stay. Rooms are double occupancy, and single travelers will pay a supplement.
In some cases, the accommodation listed below may need to be substituted for other, comparable accommodations.
Single Rooms and Solo Travelers
You can pay a supplement of $975 USD to have a private room in a hotel. Contact us and we can try and match single travelers up, where possible.
Hotels on Standard Tour
Fox Hotel & Suites in Banff
The Fox Hotel is a local gem, right in the heart of the buzzing town of Banff and home to a delightful thermal pool.
The Crossing Resort in Saskatchewan River Crossing ★★
Serving customers for 70 years, the Crossing Resort is a laid-back, seasonal resort providing a comfortable night in the wilderness. Rooms come with Wi-Fi, satellite TV, and mini-fridges, as well as tea and coffee makers; some have mountain views and whirlpools. The patio at the pub is a great place to enjoy the sunset after an epic day riding the Icefields Parkway.
Mount Robson Inn in Jasper
The Mount Robson Inn has lovely outdoor hot tubs for guests to enjoy, as well as cozy fireplaces and a brilliant, central location.
What's included in the Banff And Jasper Hiking Tour?
Meals
1 breakfast, 6 lunches and 1 dinner are included.
Accommodations
Accommodations for 6 nights along the tour are included.
Transportation during the Tour
Transport for you and your luggage are included throughout the tour in a 15-passenger van.
Also Included
Park passes and taxes
Hot spring entry fees
Expert local guides
Daily guided hikes
Not included
Alcoholic drinks and beverages
Optional activities during free time
Getting to and from Calgary before and after the tour
Insurance
Personal expenses
Anything not stated as 'Included'
GST (5%)
Optional Extras
Additional night in Calgary before or after the tour - $175 USD
Frequently Asked Questions about Banff And Jasper Hiking Tour
Fresh Adventures is an outdoor tour company that navigates explorations through the rugged, stunning terrain spanning western Canada. With an emphasis on customer care, Fresh Adventures promises to depart on an expedition, with a highly skilled guide, no matter how many people have signed up, while also ensuring tour participants have top-notch equipment.
Learn More
Is this tour for me?
We rate this tour as a 3 / 5. Your guides are highly adaptable and can provide options for both the super-fit and those who want to take things at a more leisurely pace. You can expect to hike between 4 and 16 km a day, with up to 900 m elevation gain. A moderate level of fitness is required.
Ask a Question
Got any questions regarding the tour? Interested in promotions for groups or want to customize this tour to fit your needs? We are here to help you!
Ask a question
SALE! Well, not yet.
Let me know when this trip goes on sale.
Notify me