Explore the Canadian wilderness whilst staying in comfortable local hotels
The Banff And Yoho hiking tour is the perfect combination for outdoor lovers who prefer the comfort of a hotel over camping.
You will visit the ancient indigenous pictographs at Grotto Canyon and delight in the world-famous sites of Takkakaw Falls and Emerald Lake. You will also have the opportunity to go river rafting, horseback riding and mountain biking in your free time.
By day you will hike through the magnificent mountain landscapes of the Rockies and by night you will unwind at your hotels in the mountain towns of Banff and Golden. Your hotels offer the perfect place to relax, with lovely rooms and access to hot tubs and natural thermal pools.
Your friendly local guides will make you feel right as home as they take you on spectacular guided hikes around Lake Louise, Victoria Glacier and Johnston canyon to name a few.
Highlights of the Banff and Yoho Hiking Tour
Dive into the Canadian wilderness as you explore the glaciers, waterfalls and alpine meadows of Yoho National Park.
Learn about the plants, minerals and wildlife of Banff as you explore the breathtaking scenery with expert local guides.
Make friends for life as you hike through spectacular landscapes with like minded people in your small and friendly group.
Recharge your batteries with delicious local cuisine and long soaks in the soothing Natural Hot Springs of the Rockies.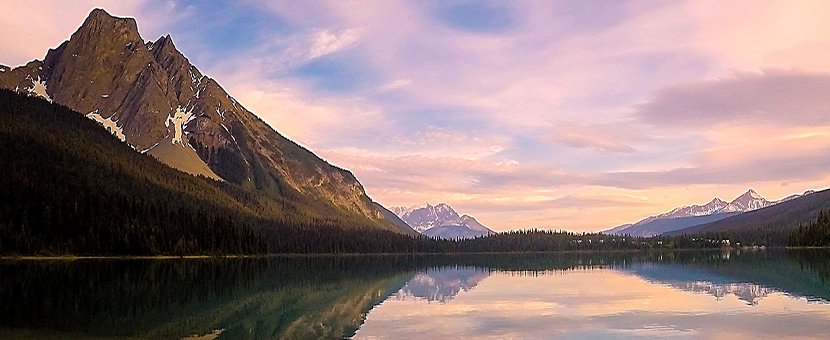 Banff and Yoho Hiking Tour Itinerary
Day 1

The Adventure Begins

You will be picked up from your hotel in Calgary in the afternoon and head West to the Rocky Mountains. The scenic drive will take 1 ½ hours and is the perfect opportunity to start getting to know the rest of your group and expert local guides alike. Watch the scenery transform as you approach the craggy highlands, where you will check into your charming hotel in the world-famous mountain town of Banff. After checking in you can take a long soak in the thermal pool and enjoy a group orientation talk over a delicious evening meal.
Overnight Location: Hotel in Banff
Distance: None
Meals: None
Day 2

Lakes, Glaciers and Hot Springs

After indulging in breakfast at the hotel, you will head to Lake Louise with your small and friendly group. You will explore the stunning site of Victoria Glacier before heading up the trail to Lake Agnes Teahouse. Unlike the other tourists, you will not just stop here. Your local guides will show you a breathtaking spot a little further around the lake, known as Big Beehive. Here you can enjoy panoramic views of Lake Louise and get closer to the magnificent glaciers that cling to the cliff side all around you. Your guides will tell you captivating stories of the local history, before taking you back into town for a delicious meal and visit to the local hot springs. Banff's Sulphur Mountain Hot Springs are an important part of Canada's social history, for their significance to the indigenous peoples as well as their key role in bringing the railroad to the West.
Overnight Location: Hotel in Banff
Distance: 4-16 km
Meals: Breakfast, Lunch
Day 3

Hiking around Banff

Today you will hike through the stunning scenery of Banff. Your guides will adjust the hike depending on the weather and the group's abilities, ensuring a safe but spectacular hiking experience. You will probably hike either Cory of Aylmer Pass, both of which offer exceptional scenery that it sure to take your breath away. After walking amongst the two thousand-foot high cliffs, you will return to Banff town to unwind. Your guides will be delighted to take you for an evening walk to Johnston Canyon where you can enjoy the normally crowded site in complete tranquility. Now all the other tourists have gone back home, you can appreciate the beauty of the canyon and its waterfall without any distractions.
Overnight Location: Hotel in Banff
Distance: 4-16 km
Meals: Lunch
Day 4

Moraine Lake and Wenkchemna Pass

Prepare for an early start as you head to Moraine Lake and the Valley of Ten Peaks. After soaking up the natural beauty of the emerald waters under the morning sun, you will start hiking up to Eiffel Lake or Sentinel Pass. If you chose to hike to Eiffel Lake you will have the chance to explore Wenkchemna pass and travel between the regions of British Colombia and Alberta in a single step. From Sentinel Pass you will enjoy panoramic views of Larch Valley and Paradise Valley, a sight that is sure to steal your heart. After a day of glorious hiking you will head on to Golden, a smaller and less touristy mountain town where you stay for the rest of your trip.
Overnight Location: Hotel in Golden
Distance: 4-16 km
Meals: Breakfast, Lunch
Day 5

Yoho National Park

Yoho National Park truly is a national treasure, with some of the most precious and wildest landscapes left in the world. Your guides will happily teach you about the edible and medicinal plants that abound as you hike to ancient lookouts and pass by glaciers and waterfalls. After your lovely hike you can visit some of the world-famous natural attractions that the park has to offer, like Takkakaw Falls and the exceptionally beautiful waters of Emerald Lake. Relaxing in your gorgeous hotel in Golden, you can pass the evening happily soaking in the onsite hot tubs.
Overnight Location: Hotel in Golden
Distance: 4-16 km
Meals: Breakfast, Lunch
Day 6

Deep in the wilderness

The time will have flown past as you wake up for your penultimate day on your Banff and Yoho Hiking tour. Today you will dive deep into the wilderness of Yoho National Park as you explore some of the most isolated trails, leading deep into the pristine mountain landscapes. Take a moment to breath in the delicate aroma of the wild blooms that thrive in the isolated alpine meadows. Reluctantly returning to Golden Town, you can enjoy a relaxing dip in the hot tub before going out for one final group meal with your newfound friends for life.
Overnight Location: Hotel in Golden
Distance: 4-16 km
Meals: Lunch, Dinner
Day 7

Indigenous art of Grotto Canyon

After checking out of your lovely hotel, you will head to Grotto Canyon for one last adventure. You will take a short hike into the canton where you can see ancient indigenous art, painted on the walls over 1300 years ago. Exploring the caves and rock formations of the canyon, you will lose all sense of time as you follow the footsteps of ancient pioneers and first nations people. Finally, you will say your fond farewells before being dropped off by 2pm in Banff or Calgary, depending on your preferences.
Overnight Location: None
Distance: None
Meals: Lunch

Book Now
Banff and Yoho Hiking Tour Price and Dates
This guided hiking tour in the Canadian Rocky Mountains is run as a fixed-departure tour where you'd be joining a group, however, custom private tours can be organized for those willing to travel with their group only (please contact us with your preferred date and the number of people in your group and we will create the itinerary just for you).
Prices below are per person sharing a double or a triple room:
Accommodation on Banff and Yoho Hiking Tour
You will stay at two different hotels during this tour of Banff and Yoho, allowing you to cover more ground and delve deeper into the Canadian wilderness. Your hotels are nestled in charming mountain towns and offer high quality facilities like a natural hot pool, leisure centre and lovely restaurants.
Prices are based on two travellers sharing a room, but single travellers can upgrade to a single room for a fee or, if desired, it may be possible to match up with another single traveller to share a room.
Single Rooms and Solo Travelers
You can pay a supplement of $25 USD to have a private room in a hotel. Contact us and we can try and match single travelers up, where possible.
Hotels on Standard Tour
Fox Hotel & Suites in Banff
The Fox Hotel is a local gem, right in the heart of the buzzing town of Banff and home to a delightful thermal pool.
Prestige Inn Hotel in Golden
Prestige Inn in Golden is a great hotel in a convenient location, that has nice amenities, indoor pool, bar and a hot tub.
What's included in the Banff and Yoho Hiking Tour?
Meals
3 breakfasts, 6 lunches and 1 dinner are included.
Accommodations
Accommodations for 6 nights along the tour are included.
Transportation during the Tour
Transport for you and your luggage is included in 15-passenger van.
Also Included
Park passes and taxes
Hot spring entry fees
Expert local guides
Daily guided hikes
Not included
Alcoholic drinks and beverages
Optional activities during free time
Getting to and from Calgary before and after the tour
Insurance
Personal expenses
Anything not stated as 'Included'
GST (5%)
Optional Extras
Additional night in Calgary before or after the tour - $175 USD
Frequently Asked Questions about Banff and Yoho Hiking Tour
Fresh Adventures is an outdoor tour company that navigates explorations through the rugged, stunning terrain spanning western Canada. With an emphasis on customer care, Fresh Adventures promises to depart on an expedition, with a highly skilled guide, no matter how many people have signed up, while also ensuring tour participants have top-notch equipment.
Learn More
Is this tour for me?
We rate this tour as a 3 / 5. Guides will do their utmost to adapt hikes to meet the needs of each individual group. It is best if you are moderately fit when joining this tour and able to hike from 4-16 km a day with anything from 200-900-meter elevation gain.
Ask a Question
Got any questions regarding the tour? Interested in promotions for groups or want to customize this tour to fit your needs? We are here to help you!
Ask a question