Spend 15 days discovering the Yukon's remote unspoiled wilderness by canoe with a guide
Is there anything more spectacular than spending time in Canada's far north, away from the stresses over everyday life? This 12-day canoe tour allows you to marvel at this beautiful part of the Yukon.
Escape the hustle and bustle and immerse in the captivating, unruly wilderness decorating the banks and beyond of the Big Salmon River. Travel by canoe, paddling deep into the wild, as you discover a quiet hush with faint echoes of rustling bushes as the animals—bears, beavers, Dall sheep—meander through their natural habitat.
Amid the clear water, a collection of fish—pike, grayling, trout—swim below and beyond your canoe. While glimpses of the gold rush past sprinkle this 15-day adventure, you'll mostly encounter a natural haven, enveloped by unspoiled tranquility.
Highlights of the Big Salmon River Canoe Tour
Get to know the complexities, the unmatched beauty of Canada's sprawling wild as you canoe the ever-so remote Big Salmon River.
Spend 12 nights away from civilization, chatting and sharing meals with your tour mates over a campfire.
Watch out for the wildlife dotting the banks of the Big Salmon River, such as bears, Dall sheep, and beavers.
Stretch your legs and venture on a hike, one that leads to a breathtaking panoramic view, partway through your canoe expedition.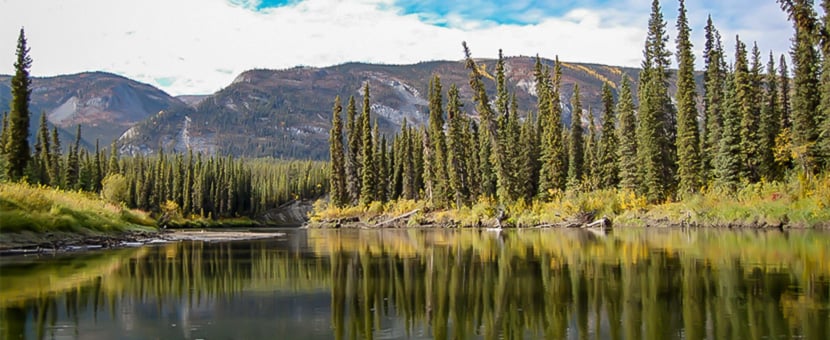 Big Salmon River Canoe Tour
Day 1

Whitehorse

Meet up with your guide in Whitehorse before transferring to your hotel. Discuss the upcoming paddling adventure with your guide in the afternoon. Go out and buy any last-minute items. Spend the night relaxing before your 15-day expedition in a hotel in Whitehorse.
Overnight Location: Hotel in Whitehorse
Distance: None
Meals: None
Day 2

Start your Yukon Canoe Adventure

Get ready for your first day of paddling! Begin with an early departure from Whitehorse and travel along the Alaska Highway to South Canol Road. You may notice remnants of war relics en route. Arrive in Quiet Lake, where you will commence your paddling adventure into the depths of the wild. Here, you'll have the chance to get your body in the canoeing groove before setting up camp at a wilderness campsite (location dependent on time).
Overnight Location: Wilderness campsite
Distance: 6-8 hours of canoeing
Meals: Lunch, Dinner
Days 3 to 14

Big Salmon River

The next 12 days will have you paddling the Big Salmon River, a remote river cradled by forested banks and staggering hills. Ease your body into the trip by paddling through lakes and streams at the beginning. This slow start grants you the chance to perfect your stroke before the class II rapids hit. Your guide will explain how to paddle through this exhilarating, memorable part of your journey. As the trip continues and when the river narrows, watch out for wildlife dotting the banks. At one point, the opportunity may arise to stretch your legs and trek to a viewpoint that unveils a stunning vista of the untouched landscapes sprawling below. Look out for Dall sheep peppering the mountains. Eventually, the Big Salmon River connects with the Yukon River. Enjoy the last stretch along this iconic river before reaching Carmacks, a quaint village. Spend each night on this canoe trip camping out at wilderness campsites.
Overnight Location: Wilderness campsite
Distance: 6-8 hours of canoeing
Meals: Breakfast, Lunch, Dinner
Day 14

Transfer back to Whitehorse

Step out of your canoe, stretch, and travel for two hours to Whitehorse. Enjoy an evening relaxing, taking a hot shower, and exploring Whitehorse. Keep in mind that you may arrive in Carmacks during the evening of Day 13, so be prepared to go with the flow.
Overnight Location: Hotel in Whitehorse
Distance: 6-8 hours of canoeing
Meals: Breakfast
Day 15

Depart Whitehorse

Say goodbye and get dropped off at either the airport or with your additional program.
Overnight Location: None
Distance: None
Meals: None

Book Now
Big Salmon River Canoe Tour Price and Dates
This guided canoeing tour to Yukon wilderness is run as a fixed-departure tour where you'd be joining a group, however, custom private tours can be organized for those willing to travel with their group only (please contact us with your preferred date and the number of people in your group and we will create the itinerary just for you).

Prices below are per person:
Accommodation on Big Salmon River Canoe Tour
This tour will have you staying in a combination of hotels and campsites. Expect to stay in two or three-star hotels, which come equipped with necessary, comfortable amenities. Keep in mind that you are solo traveler, you will stay with another member of the tour in a room at the hotels. Feel free to upgrade to single occupancy for an additional fee.
Throughout your canoe trip, you will spend 12 nights wild camping in a shared tent. You can always upgrade to a single tent for an additional fee.
Please note that the hotels listed below may need to be swapped for other similar accommodations.
Single Rooms and Solo Travelers
You can pay a supplement of $295 USD to have a private room in a hotel and a private tent when travelling with your group. Travelling alone? Don't worry. It's definitely possible to match single travelers up.
Hotels on Standard Tour
This simple, yet comfortable hotel has all the amenities needed to make your stay in Whitehorse relaxing and memorable.
Immerse yourself in the stunning landscapes as you camp out beneath the stars. High-quality equipment and expert guides offer a wonderful camping experience.
This simple, yet comfortable hotel has all the amenities needed to make your stay in Whitehorse relaxing and memorable.
What's included in the Big Salmon River Canoe Tour?
Meals
12 breakfasts, 12 lunches, 12 dinners. Meals in hotels are not included.
Accommodations
Accommodations for 14 nights are included.
Transportation during the Tour
Transport for you and your gear is included from pick-up at the airport in Whitehorse to drop-off at the airport in Whitehorse or at your next tour connection.
Also Included
An expert guide throughout the entire trip
Camping and canoe equipment rental (except of sleeping bag and mat)
Not included
Flights to and from Whitehorse
Meals in hotels
Personal necessities
Optional tour guide gratuity
Fishing license
GST (Goods and Services Tax) - 5%
Optional Extras
Extra night in Whitehorse before or after the tour
Frequently Asked Questions about Big Salmon River Canoe Tour
Ruby Range Adventure has been guiding visitors to the Yukon and Alaska for over 30 years. They are a Yukon-based wilderness tour operator providing an unmatched experience and a genuine love of the North in every trip they lead.
Ruby Range's guides are qualified to lead guests into the deepest wilderness and knowledgeable enough to explain the rich history of the communities that dot the landscape.
They recognize that their livelihood is based on the environment, so they work to protect the balance between man and nature by limiting group size and choosing eco-conscious excursions.
Learn More
Is this tour for me?
This tour is rated as a 3 / 5. This journey is for paddlers with some experience. If you are unsure, please contact us. You should be comfortable in the water, and keep in mind that you will encounter class II rapids on your expedition. Be prepared to camp for 12 nights in the wild.
Local Guide
Ask a Question
Got any questions regarding the tour? Interested in promotions for groups or want to customize this tour to fit your needs? We are here to help you!
Ask a question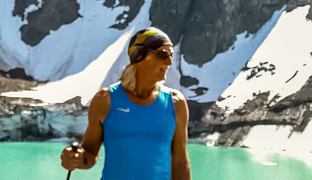 Stephan
Whitehorse, Yukon
Stephan is a trusted adventurer and a longtime guide with Ruby Range Adventure.
His love of the North and nature is what brought him into guiding over 25 years ago.
You can meet him on one of their canoe expeditions, on a sightseeing adventure or on a hiking trip- he does it all!
Q & A
Q:

What is the best part of guiding tourists in your region?

A:

Reconnecting guests with nature so they can recharge for their busy life back home. Making them aware of the environmental sensitivity of the North so they can understand the importance of protecting Yukon's wilderness and wildlife for future generations.

Q:

What are guests most surprised about when visiting your region?

A:

The pristine wilderness of the Yukon, its rich living history, its vibrant culture, stunningly unique geography, epic scenery, and wildlife. Also, the fact that the Yukon is almost twice the size of Germany, but moose still outnumber humans by far.

Q:

What is one local dish or drink that visitors absolutely have to try?

A:

Homemade Pemmican, it's Canada's oldest power bar made from dried meat or fish, dried wild berries, and tallow.

Q:

What do guests say about the tours you lead?

A:

Guests value my experience and vast local knowledge about Yukon and indigenous history and about the wildlife. They appreciate my professionalism and kindness and how I ensure every guest has a memorable trip experience.