Cycle and hike your way through Jordan's famous landmarks on this 8-day guided adventure
A holiday in Jordan should be on your bucket-list.  This incredible country is quickly growing in popularity, with incredible people, stunning sights and happy tourists.  This Jordan Tour allows you to explore Jordan through unforgettable adventure experiences.
You'll witness all of the wonders that draw tourists to Jordan, including Petra, the Red Sea, the Dead Sea, Shobak Castle, and Wadi Rum, but always with a focus on adventure. You'll hike – and swim – through the unique and breathtaking Wadi Hidan Canyon, and also to the summit of Jordan's tallest peak. Follow sections of the Jordan Bike Trail and experience the landscape much differently than you would in a car. You'll also explore the desert on a Jeep tour and also on a more traditional camel ride. Sleep under the stars in a Bedouin camp for a true taste of desert life. After all these adventures, conclude your trip by relaxing in luxury on the shores of the Red Sea and the Dead Sea. If there is such a thing as a perfect vacation, this might be it.
Highlights of the Jordan Adventure Holiday
Hike through the incredible Wadi Hidan Canyon and to the summit of Jabal Umm ad Dami, Jordan's tallest peak.
Cycle along one of the best stages of the Jordan Bike Trail, from Shobak Castle to Little Petra.
Explore incredible historic sites, such as Shobak Castle and the world-renowned Red Rose City of Petra.
Experience the desert in an authentic way as you ride a camel, take a Jeep tour, and sleep in Bedouin camps.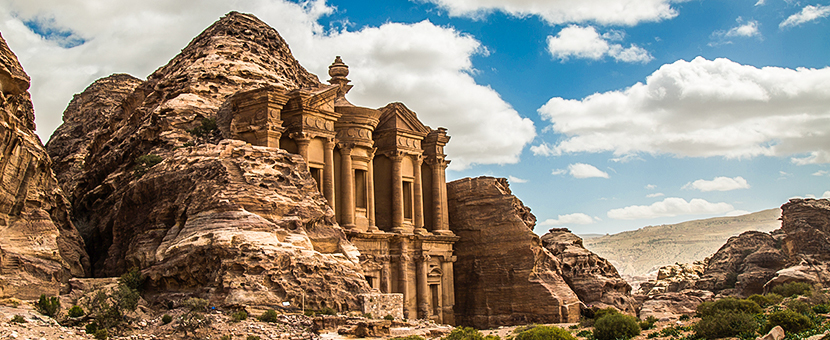 Jordan Adventure Holiday itinerary
Day 1

  Welcome to Amman

Welcome to Jordan! Arrive at the Queen Alia International Airport in Amman and make your way to your hotel. If your flight arrives early enough, enjoy some free time to explore Amman. Amman has been inhabited since the Bronze Age, making it one of the world's oldest cities. As it grows into a more modern city, it has not lost its history and ancient character.
Overnight Location: Larsa Hotel, Amman
Distance: None
Meals: None
Day 2

Wadi Hidan Canyon Hike (and swim) in Dana Nature Reserve

Meet your guide at 8:00 AM and start your incredible adventure tour in Jordan.  You'll transfer to a trailhead near Madaba. The drive takes about 1.5 hours and includes sections of the ancient and scenic King's Highway. Hike today through the impressive Wadi Hidan Canyon, which may surprise you with its wild beauty and abundant water and vegetation. As you hike through this incredible black basaltic canyon, you will walk through narrow gorges, scramble over rock steps, and even swim at times.

Wear clothes and shoes that can get completely wet and pack your personal items in dry bags. If weather prevents this 5 km hike through Wadi Hidan, it will be replaced with a similar hike. After the hike, travel to the Dana Nature Reserve where you will enjoy a relaxing evening with incredible views. If time permits, your guide may take you on a brief tour around the village of Dana at sunset.
Overnight Location: Dana Tower Hotel
Distance: 5 km hike
Meals: Breakfast, Lunch, Dinner
Day 3

Visit Shobak Castle and bike to Little Petra

Start the day by visiting a castle from the time of the Crusades. Shobak Castle was first in a series of castles constructed in Jordan during this time. Built by Baldwin I in the year 1115, Shobak Castle was surrendered to Salahdin in 1189. Begin your off-road cycling tour here, following dirt roads and tracks all the way to Little Petra. It is considered one of the most epic stages of the Jordan Bike Trail as it follows the contours of the mountains of Dana and Petra. Expect amazing views of the Jordan Valley. A local family from Petra will serve lunch boxes along the way. When you arrive in Little Petra, take time to visit the area before cycling on to your camp for the night, a Bedouin camp which is nearly hidden among the rocks. Rest for the night after a day filled with adventure and hospitality.
Overnight Location: Seven Wonders Camp
Distance: Cycling: 46.2 km, 945 m elevation gain, 1,255 m elevation loss;
Meals: Breakfast, Dinner
Day 4

Trek to Petra

Leave from Little Petra after breakfast and head to the "Red Rose City" of Petra. The entrance to the city is through a narrow gorge about 1 km long with walls on either side that are about 80 m tall. Observe the spectacular and colorful rock formations as you wind your way through the gorge. Then comes the unforgettable moment when the gorge opens up to reveal the Treasury – an impressive structure carved directly into the sandstone rock face. Spend the day exploring this massive city which contains amphitheatres, sacrificial altars, temples, and colonnaded streets among the hundreds of tombs that have been cut from the rock cliffs. This World Heritage Site is a wonder to behold. Enjoy lunch at a restaurant inside the city and spend the night in a nearby hotel.
Overnight Location:  La Maison Petra Hotel
Distance: ~5km
Meals: Breakfast, Lunch
Day 5

Cycle to Wadi Rum and Sunset Camel Ride

You're back on the bike today, cycling after breakfast and a short transfer. The transfer takes you the top of a large hill which is near a small town called Rajif. Cycle off-road on a long descent toward Wadi Rum. Along the way, a local Bedouin family will serve us lunch. When you reach Wadi Rum, trade your bicycle for a camel, and enjoy a spectacular camel ride through the desert at sunset. Spend the night under a breathtaking starry sky as you once again enjoy wonderful Bedouin hospitality in their camp. Note that the cycling route for this day can be extended if desired and if time permits.
Overnight Location: Sun City Camp
Distance: Cycling: 48.7 km, 335 m elevation gain, 1,029 m elevation loss. An extended cycling route of an additional 42km is possible.
Meals: Breakfast, Lunch, Dinner
Day 6

Hike the Tallest Peak in Jordan then head to the Red Sea

Hike today to Jordan's tallest peak: Jabal Umm ad Dami (1,854 m / 6,083 ft). It is located about 35 km from Wadi Rum Village, to the southeast along the Saudi Arabian border. The hike is moderately difficult with some rock scrambling and it takes approximately 2-3 hours to reach the top. Pause to enjoy the spectacular views of the desert before returning to the foot of the mountain.

Your adventure then continues with a Jeep safari through Wadi Rum to explore more of this incredible area. After this, you leave the desert and drive for about an hour to spend a luxurious night on the Gulf of Aqaba, overlooking the Red Sea.
Overnight Location: Marina Plaza Tala Bay Hotel, Aqaba
Distance: Hiking: 5 km, 500 m elevation gain, 500 m elevation loss
Meals: Breakfast, Lunch
Day 7

Snorkel in the Red Sea then transfer to the Dead Sea

Enjoy the resort city of Aqaba and the Red Sea with a glass-bottom boat ride. The ride lasts for about 2 hours and includes opportunities for snorkeling and swimming.

After this, drive to the north to wrap up your Jordan adventure at the Dead Sea. Spend your last night in Jordan resting and relaxing, either floating in the incredible salt-waters of the Dead Sea itself, or by the pool. Spa treatments are available at the hotel if you choose to pamper yourself in that way. Whatever you choose, the Dead Sea is the perfect place to recover from your exciting adventures before returning home.
Overnight Location: Dead Sea Spa Hotel
Distance: None
Meals: Breakfast, Lunch, Dinner
Day 8

Transfer to Amman Airport

All good things must come to an end. Make your way to the Amman Airport in time for your return flight. It is recommended that you arrive at the airport approximately 4 hours prior to your departure time.
Overnight Location: N/A
Distance:  None
Meals: Breakfast

Book Now
Dates and prices of Jordan Adventure Holiday tour
This guided group tour in Jordan has a fixed price and dates and you'll be joining a group.

The prices below are per person, sharing a double or a triple room:
Book Now
Accommodation on Jordan Adventure Holiday
This tour is based primarily in hotels with a 3-4 star standard. Two nights are spent in desert camps with beds and full facilities.
Single Rooms and Solo Travelers
You can pay a $200 USD supplement to have private rooms in hotels. Solo travelers not wishing to pay extra will be matched with another solo traveler or added as a third person in another room.
Hotels on Standard Tour
What's Included in Jordan Adventure Holiday
Meals
7 breakfasts, 5 lunches, and 4 dinners are included in this tour, as described in the itinerary.
Accommodations
Accommodations for 7 nights along the tour are included.
Transportation during the Tour
Transportation as described in the itinerary is included, in an air-conditioned vehicle with an English-speaking driver.
Also Included
Entrance fees to all attractions in the itinerary, including canyon hike.
Rental bike (Scott Aspect 740 27,5") and helmet on cycling days.
Support cycling truck for cycling days.
Cycling guide / mechanic who cycles with the group on cycling days
Camel ride in Wadi Rum.
Glass Bottom boat ride in Aqaba.
Government-licensed, English-speaking tour guide from Day 1-7.
Snacks and water on cycling days.
Not included
Visa for entry into Jordan
Tips for service providers (drivers, guides, biking crew, hotel staff). Recommended estimate is $17 (USD) per person per day
Travel Insurance.
Water with meals.
Alcoholic beverages
Personal expenses.
Air travel to and from Amman.
Anything not described as included in the tour.
Optional Extras
Private Room for a single traveler is $200 USD
Additional hotel night in Amman, before or after the tour ($75 USD per night)
Airport arrival assistance and pick up ($65 USD)
Airport transportation for departure ($40 USD)
Frequently Asked Questions about Jordan Adventure Holiday
Experience Jordan Adventures is a leading tour operator in Jordan.  They have won a Gold Medal at the 2018 Travel and Tourism awards as well as being a member of the TripAdvisor Hall of Fame for receiving the Certificate of Excellence for five straight years from 2015 to 2019.
Learn More
Is this tour for me?
We rate this tour as a 2 / 5.  This is a great tour for travelers who are already active, and enjoy spending time outside.
Ask a Question
Got any questions regarding the tour? Interested in promotions for groups or want to customize this tour to fit your needs? We are here to help you!
Ask a question