Explore the beautiful wine region of the Douro Valley by bike
There are few places more fit for an exciting cycling tour than the stunning Douro Valley, an area famous for its gorgeous scenery and fantastic wines. You can spend the day cruising through lush green valleys under the Portuguese sun and evenings tasting incredible wine and food from the comfort of your historic guesthouses.
Tailor your rides to suit your energy level, lingering where the scenery is just right. You'll pass the farms and groves where local olive oil, almonds, and wine are made while you ride. Then, ride through Douro Natural Park, teeming with wildlife. Park your bike for a while to appreciate the UNESCO-recognized wine region from the best vantage points along the route. Wine, food, cycling- what more could the Biking the Douro Valley tour offer?
Highlights of the Biking the Douro Valley
Cycle through tranquil vineyards, stunning river valleys, and nature reserves in lovely northern Portugal.
Sample locally-grown olive oil, almonds, wine, handmade cheese, sausage, and fresh baked goods while you explore the region.
Enjoy the peaceful farm life when you stay at authentic rural guesthouses in between rides.
Cook with a local quinta proprietor to learn about regional cuisine and traditions.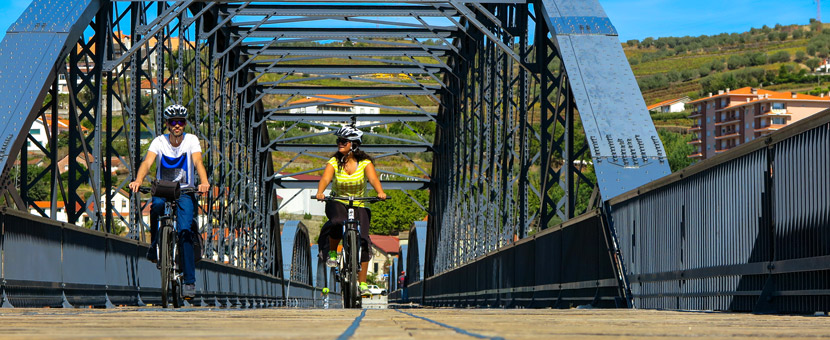 Biking the Douro Valley Itinerary
Day 1

Arrive in Porto

On arrival day, you'll be driven from Porto to Miranda do Douro, where you'll begin your trip. Take in the lovely scenery on the way and then spend the evening taking a stroll through town.
Overnight Location: Hotel in Miranda do Douro
Distance: None
Meals: None
Day 2

Quiet Ride through Douro Nature Reserve

Your first bike ride of the trip will take you across the plateau of the International Douro Nature Reserve. The peace of the wilderness will likely only be disturbed by the occasional wildlife. Residents of the park include wild boar, goats, cattle, over 170 species of birds, and the rare Iberian wolf! In some cases, if there's no availability for accommodation in Mogadouro, you might stay Casa das Quintas or Sendim.
Overnight Location: Guesthouse in Mogadouro
Distance: 3 hours, 47 km, 311m of total ascent
Meals: Breakfast, dinner
Day 3

Cycle to Ancient Torre de Moncorvo

The trail today follows an old railway line through forests and across agricultural fields. Ride through olive groves and almond trees into the medieval town of Torre de Moncorvo.

Once you arrive, grab a coffee and take a walk through this town straight out of a storybook.
Overnight Location: Guesthouse in Torre de Moncorvo
Distance: Medium option: 2.5 hours, 38.1 km, 180m of total ascent
Challenging option: 3 hours, 48 km, 414m of total ascent
Meals: Breakfast
Day 4

Cycle the Douro River

Today you'll be cycling along the magnificent Douro River. You'll enjoy beautiful views and a peaceful ride through the olive groves.

Tonight you'll be staying in a quinta, which is the local term for the home that grows and produces olive oil. You'll be treated to an incredible dinner featuring local cuisine with homemade cheeses, sausages, and of course, their homemade olive oil and wine!
Overnight Location: Guesthouse in Vila Flor
Distance: Medium option: 2 hours, 28.7 km, 271m of total ascent
Challenging option: 2.5 hours, 37.6 km, 401m of total ascent
Meals: Breakfast, dinner
Day 5

Ride through Wine Country and Rabelo Ride to Pinhão

Set out on your bike to explore the Alto Douro wine region. This area is famous for producing port wine and wines from the Touriga grape. Notice the incredible man-made vine-covered terraces and wine estates along your route.

When you reach the river you'll be taking a rabelo boat to Pinhão. These traditional boats have been used for centuries to transport wine down the river. When you disembark, you'll be met by a transfer that will take you to the 17th-century house where you'll spend the night.
Overnight Location: Guesthouse in Sabrosa
Distance: Medium option: 2 hours, 28.7 km, 98m of total ascent
Challenging option: 2 hours, 30.7 km, 212m of total ascent
Meals: Breakfast
Day 6

Ride the River Valley to Peso da Régua

Today will sadly be the last ride of your biking adventure. You'll follow the country roads back into the Douro Valley, enjoying the gorgeous scenery one last time. You'll finish up your ride at another quinta in Peso da Régua.

Tonight, you have the option to share a cooking experience with your host, followed by a celebration glass of wine on the terrace.
Overnight Location: Guesthouse in Cambres
Distance: 2 hours, 30.8 km, 295m of total ascent
Meals: Breakfast
Day 7

Return to Porto

Goodbye, Portugal! This morning you'll meet your transfer for the return trip to Porto Airport.
Overnight Location: None
Distance: None
Meals: Breakfast

Book Now
Biking the Douro Valley Price and Dates
This self-guided cycling tour of the Douro Valley is run as a custom tour for your group only and the price depends on the number of people in your group and the time of year you choose to visit.
The best time to visit the Douro Valley for cycling is early summer (June) and early fall (September) when the weather is pleasant but not too hot.
Private Self-Guided Biking the Douro Valley
Have your own private tour with just your group! The standard departure day is Saturday before 3 pm, but you can pay a supplement of $175 USD per person to depart a different day of the week or at later time on Saturday. This surcharge only applies to groups of 2-3 people. Larger groups can depart any day of the without any additional costs. Prices below are per person:
Self-guided groups of 2-5: $1,325 USD
Self-guided groups of 6-10: $1,095 USD per person
Book Now
Accommodation on Biking the Douro Valley
This tour is based in 3-star hotels and authentic rural guesthouses. The private rooms are based on double occupancy.
In some cases, the accommodation listed below may need to be substituted for other, comparable accommodations. The hotel list will be sent to you with your confirmation but will be reconfirmed 31 days prior to your arrival.
Single Rooms and Solo Travelers
If you prefer to have a private room while travelling with your group you can pay a supplement of $225 USD.
Hotels on Standard Tour
What's Included in Biking the Douro Valley?
Meals
6 breakfasts and 2 dinners are included in this tour. There are optional meal or tasting packages that may be added to your tour.
Accommodations
Accommodations for 6 nights are included.
Transportation during the Tour
This tour includes transfers to and from Porto Airport and your hotels as well as transportation for your luggage throughout the tour.
Also Included
Welcome meeting
Hybrid bicycle, cargo rack, pannier bike bag, bike lock (one per two bicycles), and helmet
Tool kit, first aid kit, puncture repair kit, pump, spare inner tube, and pre-paid mobile phone
Overnight storage of bicycles at the hotel
Emergency support between 8 am and 8 pm
Access to route mobile app
Please note that it is advised that travellers bring their own helmets, however previously used helmets are provided. You may also opt to purchase a new one for €55 EUR. Please request this option at the time of booking.
Not included
Travel insurance
Flights to and from Porto
Meals, drinks, or snacks not previously mentioned
Tourist taxes if applicable
Visas if required
Personal equipment
Fees not mentioned as 'included'
Gratuities for hotel staff, servers, or drivers
Optional Extras
Guide: You can book this itinerary as a guided tour, prices available on request
Wine and Olive Oil experiences: $50 USD per person, includes visit and tasting at an organic olive oil estate in Régua on Day 6 and local wine tasting in Régua on Day 6
Wine & Dine Package with 2 dinners: $150 USD per person, includes traditional 3-course meal and wine at a manor house in Sabrosa on Day 5 and special 3-course meal with wine at a wine estate on Day 6
Cooking Experience: $50 USD per person, available for groups of 6 to 10 people, includes cooking experience at a wine estate on Day 6
Picnic lunch: $125 USD per person, includes 5 light picnic lunches for you to carry on your bike.
E-Bike supplement: $125 USD per bicycle (subject to availability)
Extra transfers between Porto Airport and city center: $75 USD up to 3 people, $125 USD up to 7 people
Frequently Asked Questions about Biking the Douro Valley
Is this tour for me?
We rate this tour as a 3 / 5. The rides on this tour are 2 to 4 hours in length on mostly paved paths. You'll have the choice between medium or challenging routes on most days. The medium difficulty routes are appropriate for riders with some cycling experience who are comfortable with some hills and moderate climbs. The challenging option is for a more experienced rider who is looking for longer rides with steeper inclines.
Ask a Question
Got any questions regarding the tour? Interested in promotions for groups or want to customize this tour to fit your needs? We are here to help you!
Ask a question
SALE! Well, not yet.
Let me know when this trip goes on sale.
Notify me