Explore the beautiful Galapagos Islands on this 7-day bike tour
The Galapagos Islands in Ecuador are a nature lover's paradise! This guided biking tour lets you discover all the wonders of the islands as you explore on your bike. Cruise to beaches filled with ancient tortoises, ride under canopies of birds, and even snorkel and hike to beautiful areas rarely enjoyed by others. The Biking the Galapagos Islands Tour is not one to miss!
During this biking adventure, you'll get to see plenty of the Galapagos' renowned wildlife, including penguins, giant tortoises, sea lions, sharks, iguanas, and the famous blue-footed boobies. You'll have a chance to see them all in their natural environments during excursions to the lava tunnels, the El Chato Reserve, Playa del Amor, and many other spots on Isabella and Santa Cruz islands. When you're not biking, you can explore the towns and enjoy the gorgeous beach that is right outside your hotel. Cycling around the island is the perfect way to discover all that the Galapagos has to offer!
Highlights of the Biking the Galapagos Islands Tour
Ride your bike to the tortoise breeding centre at Playa del Amor to meet the native tortoises and iguanas.
Surround yourself with wildlife as you look for penguins, sea lions, blue-footed boobies, sharks, rays, tortoises, and more!
Snorkel, hike, and explore between each biking adventure.
Watch the sunset or take a stroll along the gorgeous beach just steps from your hotel after days full of riding.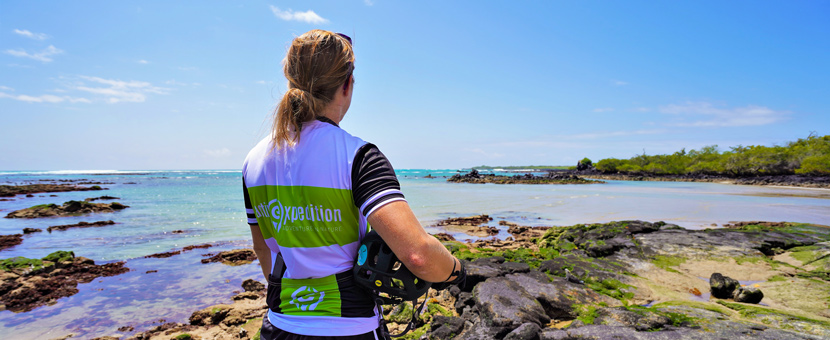 Biking the Galapagos Islands Tour Itinerary
Day 1

Welcome Meeting

Spend today exploring beautiful Quito on your own, then make your way back to the hotel for your 6:00 pm welcome meeting. In the hotel lobby, you'll meet your guide and other group members and hear all about the adventure to come!
Overnight Location: Hotel in Quito
Distance: None
Meals: None
Day 2

Giant Tortoises in Santa Cruz

After an early morning flight to the Galapagos, you'll find yourself on the island of Santa Cruz. After your morning of travel, you'll be happy to jump on a bike and take a ride to the El Chato Reserve. On your ride, you'll be looking for the majestic giant tortoises that live here!

After lunch, you'll take a short hike to see some more tortoises in the nearby lava tunnels, and then you'll continue exploring the island on your bike.
Overnight Location: Hotel in Santa Cruz
Distance: 37km, 400m of ascent, 985m of descent
Meals: Lunch
Day 3

Explore Isabela Island by Bike

You'll have another early morning today, catching the speed boat to Isabela Island. Then you'll grab your bike and start out on today's exploration of the island.

You'll be riding through farms and exotic plants until you arrive at a collapsed volcanic crater. Take a hike around the cone of another volcano to look for more tortoises and the many species of birds that live on the island.

After savouring the views and the wildlife, continue your ride back to the coast and end up at your beachside hotel.
Overnight Location: Hotel on Isabela Island
Distance: 32.9 km, 137m of ascent, 1,002m of descent
Meals: Breakfast and a snack
Day 4

Coastal Cycling

Yesterday you explored the island highlands, and today you'll adventure along the magnificent coast. Along your ride, there will be stops for short walks to lookout points with incredible views. You'll also be taking breaks at the Playa del Amor to visit the largest population of iguanas on the island!

After making some lizard friends, you'll ride to the tortoise breeding centre to learn about the efforts being made to preserve these massive tortoises. You'll ride past the flamingo lagoon on the way back (cameras ready!) and will arrive in time to watch the sunset over the water.
Overnight Location: Hotel on Isabela Island
Distance: 14.9km, 138m of ascent, 138m of descent
Meals: Breakfast and a snack
Day 5

Discover the Wildlife of the Lava Tunnels

Today's excursion will bring you to the lava tunnels. These unique volcanic formations are home to many animal species both above and below the water. You'll arrive by boat but will have time to explore by foot to spot some blue-footed boobies and penguins. Then, grab your snorkel and jump in the water to look for white-tip reef sharks, turtles, fish, and golden or eagle rays!

After all the excitement, it'll be a great night to grab a drink on a patio and watch the sun go down.
Overnight Location: Hotel on Isabela Island
Distance: None
Meals: Breakfast and lunch
Day 6

Return to Quito

This morning you'll be brought back to Baltra for your flight to Quito. Enjoy your last night in the city!
Overnight Location: Hotel in Quito
Distance: None
Meals: Breakfast
Day 7

Departure

Your tour officially ends after breakfast when you check out of your hotel. Either return to the airport to start your journey home or travel to your next destination.
Overnight Location: None
Distance: None
Meals: Breakfast

Book Now
Biking the Galapagos Islands Tour Price and Dates
This guided tour of the Galapagos Islands is run either as a group tour or a private tour. The prices below are per person sharing a double or a triple room:
Private tour: $2,350 USD per person -

Now $1,950 USD per person

Group departures:

Day of Week

Price per Person *

* Single Supplement may apply
Accommodation on the Biking the Galapagos Islands Tour
This tour is based in 3 and 4-star hotels. The hotels offer comfortable rooms with great locations near the water. In some cases, the accommodation listed below may need to be substituted for other comparable accommodations.
Single Rooms and Solo Travellers
You can pay a supplement of $575 USD to have a private room in a hotel where available.
Hotels on Standard Tour
What's Included in the Biking the Galapagos Islands Tour?
Meals
5 breakfasts, 2 lunches, water, and some snacks are included.
Accommodations
Accommodations for 6 nights are included. Accommodations before and after the tour in Quito are not included.
Transportation during the Tour
Transport for you, your luggage, and your bike during the tour is included as outlined in the itinerary. Transportation to and from the airport in Quito before and after the tour is not included, as well as any domestic or international flights. The prices of domestic return flight between Quito and Galapagos Islands might vary anywhere between 400 USD to 650 USD per person depending on the availability.
Also Included
Experienced certified English-speaking guide
Private transportation
Bike rental, including a hybrid bike, certified helmet, and gloves
Snorkelling equipment, including masks and fins
Water bottle
Not included
Travel insurance
Any domestic and international flights
Galapagos transit control card
Galapagos National Park fee
Isabela Island fee
Lunches and dinners or drinks and snacks not previously mentioned
Tourist taxes if applicable
Visas if required
Personal equipment
Fees not mentioned as included
Tour guide, driver, server, or hotel staff gratuities
Optional activities
Frequently Asked Questions about Biking the Galapagos Islands Tour
The creation of Activexpedition is to inspire adventure travelers to explore our world from a different perspective. At Activexpedition they prioritize eco-friendly activities in every destination they go, as well as support local people and traditions through sustainability efforts.
Activexpedition's mission is to deliver educational experiences of a lifetime with stellar service and provide human powered holidays that go beyond typical adventure travel.
Learn More
Biking the Galapagos Islands Map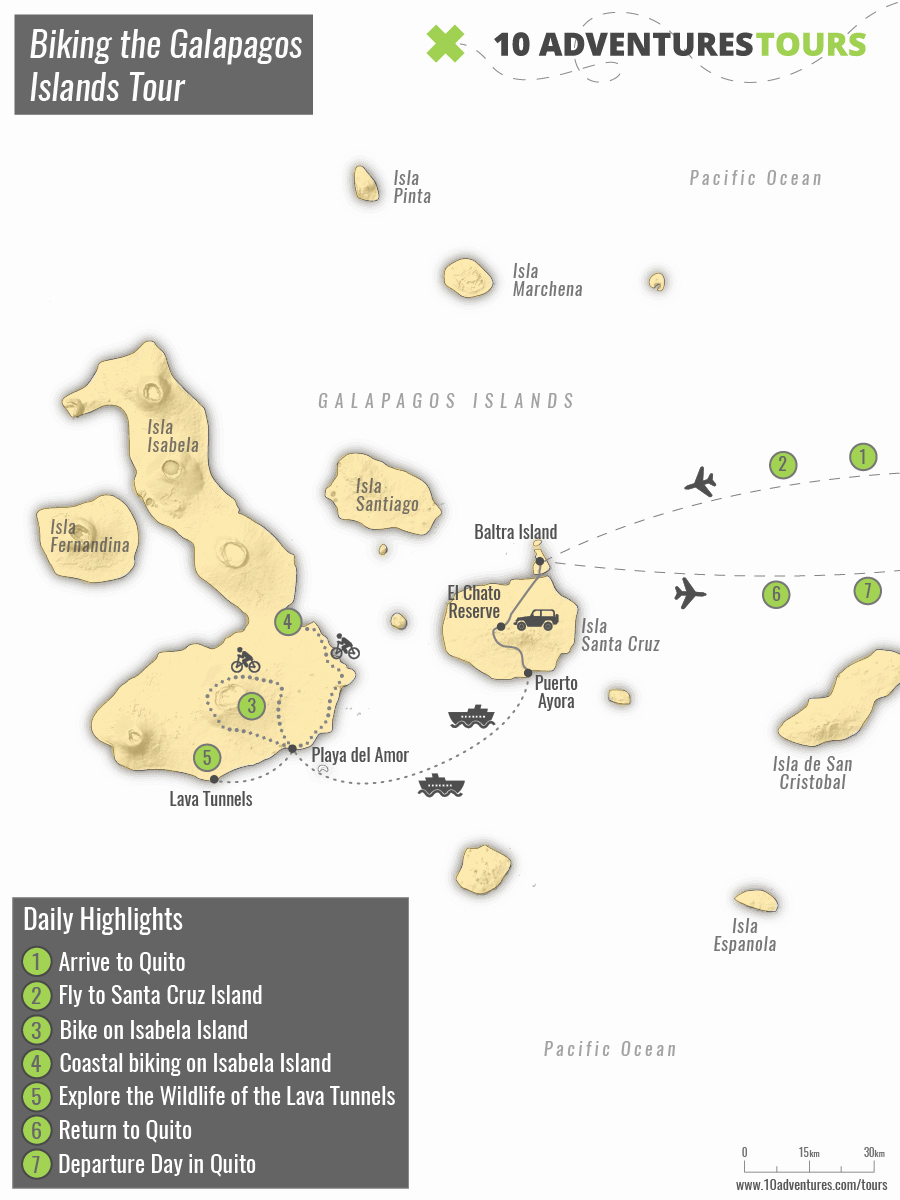 Is this tour for me?
We rate this tour as a 2/5. You don't require a lot of cycling experience for this trip, and most of the trails are on flat, easy paths. There is one section that is on some irregular terrain, so some confidence on a bike would be an asset. There is vehicle support during most of the trip if you need a break.
Local Guide
Ask a Question
Got any questions regarding the tour? Interested in promotions for groups or want to customize this tour to fit your needs? We are here to help you!
Ask a question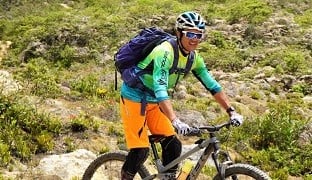 Cesar Romero
Quito, Ecuador
Q&A
Q: What is the best part of guiding tourists in your country?
A: Very difficult question, but Mountain Biking along the Andes is my favourite part of my country.
Q: What are guests most surprised about when visiting Ecuador?
A: The people, how friendly we are, the biodiversity that Ecuador has. Here you can have breakfast on the coast then have lunch in the mountains and finally have dinner in the Amazon basin.
Q: What is one experience anybody visiting your country should do?
Galapagos is the main highlight, but all of the visitors have to do the mainland multisport because this is an active tour where we mix with local gastronomy and the most important thing we share with local people.
Q: What is your most unforgettable moment when guiding?
A: When your guests don't tell you anything, but you can see how excited they are in their faces.
Q: What is one local dish or drink that tourists must try on a visit to your country and why?
A: I love our local food, well the first dish fritada with tortillas that is fried pork with potato patties then empanadas.
Q: Where would you want to go on holiday?
A: Utah to ride the Whole Enchilada!
Q: What is the most challenging adventure you've ever done?
A: When I finished high school, I took my bike and rode it through Ecuador for 1 year, and I climbed almost all of our snowcap mountains along the way.
Q: What do your guests say is best about the trips you lead?
A: The diversity of our country and how the people are. They say also that the activities that we have are the best option to learn about our country.