Find out why the nature and culture of Bohemia are so highly regarded
Bohemia is one of the most charming regions in the Czech Republic, where rolling hills topped by castles and rock formations millions of years old line your road. The Bohemian Nature and Culture Tour takes you right into the heart of Bohemia and allows you to fully appreciate the beauty of this unhurried region.
Begin in Prague, a magnetic city defined by historical monuments and unmatched architecture. You'll be whisked away to Bohemian paradise, driving along to the Prachovské Skály rocks that tower up to the sky, walking up to find the expansive views near Sobotka, and strolling down into the verdant valleys near Hrubá Skála. The castles infuse every view with a dreamy charm, and the villages you rest in are romantic and full of folklore. Stop into garnet jewellers, explore museums and galleries, and effortlessly blend nature and culture in the best way on the Bohemian Nature and Culture Tour.
Highlights of the Bohemian Nature and Culture Tour
Begin and end your tour in Prague, one of the most beautiful cities in Europe and a bastion of Gothic architecture.
Walk alongside rock formations dating back nearly 100 million years, enjoying an exceptionally unique landscape.
Trace river valleys and rolling meadows where castles and chateaus line the horizon.
Sleep in wonderful little villages, fit for a fairytale with their half-timbered houses.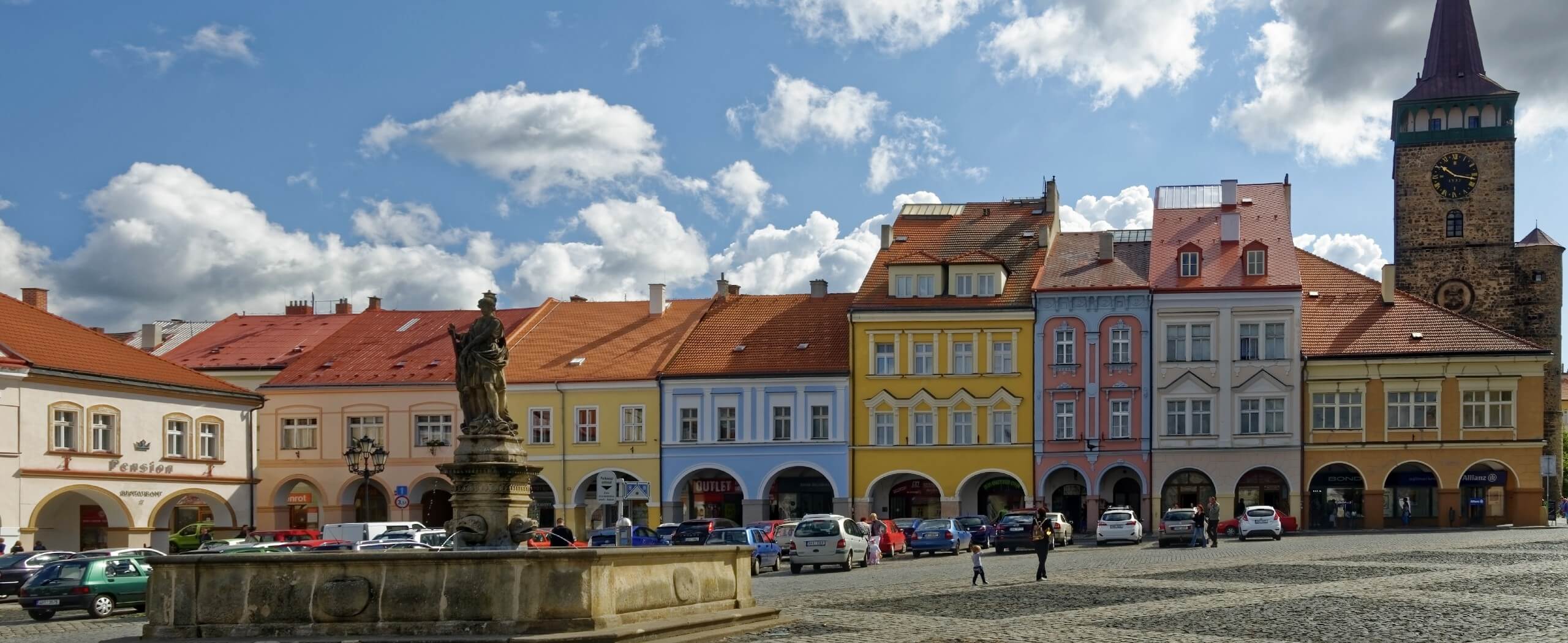 Bohemian Nature and Culture Tour Itinerary
Day 1

Bohemia

After landing in Prague, transfer into Bohemia in the Czech Republic, one of the prettiest regions in the country. Once you arrive, you're free to explore at your leisure, perhaps finding an ice cream or coffee shop (both of which tend to be delicious in the Czech Republic).

Settle in at the hotel and enjoy your first night here.
Overnight Location: Hotel in Jičín
Meals: None
Day 2

Prachovské Skály Rocks

Cross rugged, undulating terrain today, driving towards the interesting rocky Prachovské Skály area. A steep basalt hill leads you up to a collection of tall sandstone rock towers that have been featured in a few movies. Snap some photos in this dramatic area before visiting the Nová Paka museum of precious stones.

End the day by heading to your hotel for the evening.
Overnight Location: Hotel near Prachovské Skály
Meals: Breakfast
Day 3

Walk to Sobotka

Enjoy breakfast before hopping in the car. The views outside the window today will be truly stunning. You'll walk to the rock ruins of Pařez, where the Trosky castle can be seen in the distance. Visit the Dětenice castle, done in Baroque style and truly beautiful.

Continue to the village of Sobotka, where another small castle is waiting to be explored.
Overnight Location: Hotel in Sobotka
Meals: Breakfast
Day 4

Heart of Bohemia to Hrubá Skála

Bright and early, head out by bus along gently rolling terrain, crossing through lovely valleys with great views of the surrounding castles and countryside. Stop into a typical Czech village called Trosky, where you can admire the massive castle ruin up close. Your next stop is the Hrubá Skála rock formation, where an incredible labyrinth of sandstone rocks rises nearly 60 metres high. Get the best view possible from the Mariánská viewpoint, where one of the best views of Bohemia stretches before you.

On the way out, stop in at one of the best preserved Gothic castles in the country, Kost. You can also take a walk in a fabulous rock valley surrounded by pine forest at Plakánek before having dinner and finding your hotel in Vesec, a village with half-timbered houses.
Overnight Location: Hotel in Vesec
Meals: Breakfast
Day 5

Northern Bohemia to Malá Skála

Waking up in your little fairytale village, prepare for a bus tour along the northern edge of Bohemia. See Sychrov, a Baroque castle with a well-kept surrounding park, then visit a garnet jeweller in Turnov. If you're curious about Bohemian history, take a walk through the Bohemian Paradise Museum.

Continue with a stroll through Dolánky, a typical wooden timbered farm with a castle ruin nearby, and then end the day in Malá Skála, where a cool rock formation and art galleries offer a bit of natural and manmade beauty in the same place.
Overnight Location: Hotel in Malá Skála
Meals: Breakfast
Day 6

Return to Prague

After an epic adventure through Bohemia, it's time to head home. If you'd like to spend a few days exploring Prague, you can pre-book an extension. Otherwise, safe travels home!
Overnight Location: None
Meals: Breakfast

Book Now
Bohemian Nature and Culture Tour Price and Dates
This guided tour in Czech Republic is run as a private tour for your group and the price depends on the number of participants.

The prices below are per person sharing a double room:
Guided groups of 2+: $1,025 USD per person
Book Now
Accommodation on the Bohemian Nature and Culture Tour
This tour is based in hotels. The hotels are generally 3-star and offer private restrooms and breakfast.
In some cases, the accommodation listed below may need to be substituted for other comparable accommodations.
Single Rooms and Solo Travelers
Rooms are double occupancy. If you would prefer a single room where available, you can pay a supplement. Solo travellers may be required to pay a supplement.
Hotels on Standard Tour
A 3-star hotel in Jičín will be your first home base on the tour, letting you prepare with plenty of modern amenities.
Hotel near Prachovské Skály
After getting your legs warmed up, you'll be able to unwind in a 3-star hotel near the dramatic Prachovské Skály rocks.
Enjoy this traditional Czech village where pastel buildings are decorated with wide archways and red roofs.
Enjoy a unique stay in Vesec, a lovely village with former chateaus and medieval castles all around.
For your last two nights on the tour, you'll enjoy a hotel in Malá Skála with a nice view of the surrounding valley.
What's Included in the Bohemian Nature and Culture Tour?
Meals
5 breakfasts are included.
Accommodations
Accommodations for 5 nights are included. Accommodations before or after the tour are not included but can be added as a supplement.
Transportation during the Tour
Luggage transfers are included. Transfers on Day 1 and Day 6 between Prague and Bohemia are included. You will be driven throughout the tour in a minibus or car.
Also Included
Driver
Transportation in minibus or car
Guide services
Not included
Flights
Meals, drinks, or snacks not previously mentioned
Gratuities
Travel insurance
Optional excursions
Visas if required
Anything not mentioned as included
Entry to castles or museums
Optional Extras
Optional activities or excursions
Additional nights before or after the tour
Frequently Asked Questions about Bohemian Nature and Culture Tour
Czech Walks is a family-owned small company, based in Czechia. The company's journey began when Lubomír Hoška, the owner, started organising hiking tours for friends in the 80's and travel company was founded in 1991.
Learn More
Is this tour for me?
We rate this tour as a 1/5. You will be driven between destinations and other than standard walking around each destination, this is not an active tour.
Ask a Question
Got any questions regarding the tour? Interested in promotions for groups or want to customize this tour to fit your needs? We are here to help you!
Ask a question