Join this Powder Highway ski safari that takes place in 3 ski resorts in 8 days
Travel deep into the Canadian woods via ski or snowboard on the British Columbia Powder Highway Ski Tour. This eight-day ski tour twists through some of the most breathtaking snow-capped mountains towering over British Columbia. Begin your journey in Kelowna, before traversing from the Okanagan Valley to the Kootenays, where three hidden gems, adorned with fresh powder, await: Red Mountain Resort, Whitewater Ski Resort, and Fernie Alpine Resort.
Expect this guided tour to carry you to pristine locations only explored by locals. But the adventure doesn't stop there. It continues after the brisk, snowy hours spent on the slope. Spend your evenings basking and enjoying Canadian-centric activities, including a steaming, much-needed soak in a cave at the hot springs near Nelson, and replenishing your body with hearty dishes at the best restaurants in town. This winter wonderland escapade comes with terrain and slopes tailor-made for any level of skier or snowboarder. Get ready for a wild, exciting trip introducing you to some of the best views and mountains sprinkled throughout western Canada.
Highlights of the Ultimate 8-day Powder Highway Ski Safari
Revel in the dreamy snowy conditions blanketing the mountains in the Kootenays: Red Mountain Resort, Whitewater Ski Resort, and Fernie Alpine Resort.
Enjoy a crowd-free experience at Whitewater Ski Resort, where few people gather, but plenty of snow covers the slopes.
Discover some of the best powder skiing Canada has to offer at Fernie Alpine Resort, a favoured resort in the Rockies.
Replenish your body and enjoy a relaxing evening at the hot springs near Nelson, where a steamy cave propels the already therapeutic experience.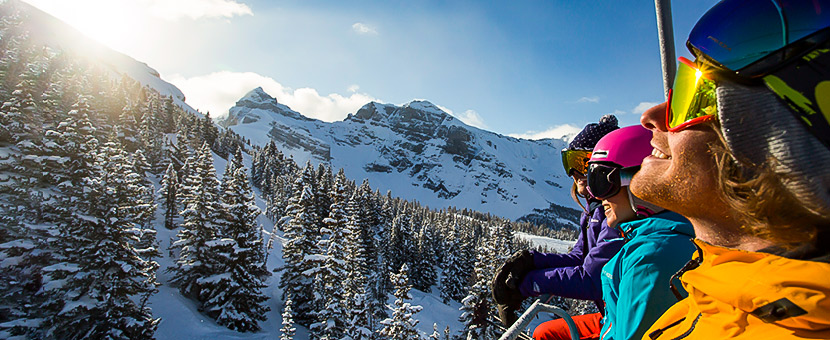 British Columbia Powder Highway Ski Tour Itinerary
Day 1

Kelowna to Rossland

The British Columbia Powder Highway Ski Tour will kick off in Kelowna at 2 pm. You will be picked up from either the airport or any hotel before you head out to the Kootenays. Amid snaking through the mountain passes, you will stop at Deadwood Junction for one of the best cinnamon buns ever created. Check into your hotel in Rossland, a quintessential mountain town nestled in the Monashee Mountains.
Overnight Location: Hotel in Rossland
Meals: None
Day 2

Red Mountain Resort

Propel your energy forth with a fulfilling breakfast and coffee before slipping on your ski or snowboard boots. Travel with your guides to the secret gems peppered through Red Mountain Resort—their expertise includes knowing the best cozy rest spots. Expect to encounter an array of glades, steeps, tree skiing over the vast 4200 acres spanning Red Mountain Resort. After dusting yourself in powder, relish in Rossland's quirky character and enjoy a memorable après ski session at Rafter's Bar. Spend the evening relaxing in the hotel's hot tub, trying out beer at the brewery, and munching on some memorable dishes.
Overnight Location: Hotel in Rossland
Meals: None
Day 3

Red Mountain Resort

Spend a second day exploring the depths of Red Mountain Resort. Either opt for a more chilled-out ride, followed by relaxing at the woodstove at Paradise Lodge or wind deeper into Red Mountain's backyard with your guide for secret back bowls away from the crowds. The evening will take you to one of the best local restaurants in town.
Overnight Location: Hotel in Nelson
Meals: None
Day 4

Whitewater Ski Resort

Head to Whitewater Ski Resort, where few crowds gather and layers of snowfall. The relatively untouched resort emulates a skiers' or snowboarders' dream—small lift lines and a glistening white sheet of snow. Our guide will unveil the most untrodden places on Whitewater Ski Resort.
Overnight Location: Hotel in Nelson
Meals: None
Day 5

Whitewater Ski Resort

Savour another day atop the dreamy, snowy, paradise blanketing Whitewater Ski Resort. Continue today where you left off yesterday: following your guide to hidden, pristine pockets peppered throughout the mountain. The evening hours will have you bathing and recovering in some hot springs near Nelson, where a steamy cave awaits.
Overnight Location: Hotel in Nelson
Meals: None
Day 6

Fernie Alpine Resort

Travel from the ever-so dreamy Whitewater Ski Resort to the favoured Fernie Alpine Resort, where five bowls and one stand-out peak lay coated in snow. Avid snowboarders and skiers can't help but flock here because Fernie experiences one of the largest yearly snowfalls in Canada. Spend the day exploring treasured spots with your guide followed by revelling in an après ski before checking into your hotel. After you're settled, you will venture out for some gourmet dishes.
Overnight Location: Hotel in Fernie
Meals: None
Day 7

Fernie Alpine Resort

Spend the last day on the slopes discovering runs you didn't encounter yesterday. Thankfully, Fernie Alpine Resort spans several acres, so you'll have plenty of new runs to explore. Marvel at the panoramic view of the Lizard Range while you break for lunch. Cap off the final day by celebrating the memorable week you spent zigzagging through epic Canadian scenery.
Overnight Location: Hotel in Fernie
Meals: None
Day 8

Calgary

Soak up the last few hours of mountain scenery as you wind through remote mining towns and valleys on our journey to Calgary. Expect to get dropped off in Calgary by 2 pm. You can be taken to any hotel or airport in the city. If you want to book a flight, aim to book for any time after 4 pm.
Overnight Location: None
Meals: None

Book Now
British Columbia Powder Highway Ski Tour Price and Dates
This guided trekking tour to the Canadian Rocky Mountains is always run as a fixed-departure tour for a mixed group, therefore the pricing is fixed.
Prices below are per person, sharing a double or a triple room:
Book Now
Accommodation on British Columbia Powder Highway Ski Tour
Our careful selection of three-star, clean, comfortable hotels, lodges, and inns tend to include hot tubs—which are much needed after a day spent in the snow. Expect to stay with another tourmate in a room, or you can upgrade to single occupancy if you prefer some privacy and alone time.
In some cases, the accommodation listed below may need to be substituted for other comparable accommodations.
Single Rooms and Solo Travelers
You can pay a supplement of $775 USD to have a private room in a hotel. Contact us and we can try and match single travelers up, where possible.
Hotels on Standard Tour
Prestige Mountain Resort in Rossland
Enjoy the on-site restaurant, sauna, hot tub, complimentary Wi-Fi offered by Prestige Mountain Resort.
Prestige Lakeside Resort in Nelson ★★★
Other than its scenic location on Nelson's waterfront, the Lakeside Resort also offers a spa, pool, hot tub, complimentary Wi-Fi, and a restaurant.
Best Western Mountain Lodge in Fernie
Enjoy spectacular views of the Rocky Mountains from this centrally located hotel, with excellent onsite facilities like a pool, hot tubs, and a friendly bar.
What's included in the British Columbia Powder Highway Ski Tour?
Meals
Meals on this tour are not included.
Accommodations
Accommodations for 7 nights along the tour are included.
Transportation during the Tour
Transport for yourself, your luggage and equipment is included in the comfortable van throughout the tour.
Also Included
Two expert guides
6 lift tickets
Park entry fees
Hot springs entry fees
Not included
Insurance
Personal expenses
Meals and drinks
Gear rental and lessons
Getting around in each town during free time
Travel expenses before and after the tour
Optional extra activities
Optional Extras
Ski/snowboarding gear rental - $325 USD
Optional activities (prices upon request, subject to availability):

XC skiing / snowshoeing
Dog sledding
Heli/cat skiing
Scenic flights
Shopping
Spa visits
Frequently Asked Questions about Ultimate 8-day Powder Highway Ski Safari
Fresh Adventures is an outdoor tour company that navigates explorations through the rugged, stunning terrain spanning western Canada. With an emphasis on customer care, Fresh Adventures promises to depart on an expedition, with a highly skilled guide, no matter how many people have signed up, while also ensuring tour participants have top-notch equipment.
Learn More
Is this tour for me?
We rate this tour as a 3 / 5. This ski tour is suitable for anyone, from beginners to advanced skiers, as every mountain has options for all ski levels. Skiing and snowboarding are physically demanding sports, so it's ideal if you are reasonably fit.
Ask a Question
Got any questions regarding the tour? Interested in promotions for groups or want to customize this tour to fit your needs? We are here to help you!
Ask a question