Experience the winter wonderland blanketing Canada by ski or snowboard
If you want to explore Canada's Powder Highway, and the epic, champagne powder, then this 9-day guided ski trip is for you. Explore the ski resorts of Lake Louise, Sunshine, Kicking Horse and Revelstoke by day, and then enjoy these ski towns at night for some après ski.
Spend nine days skiing and immersing yourself in Canada's backyard on The Powder Highway Ski Tour. Amid gliding through the powdery snow blanketing the Rockies and a handful of mountains dotting British Columbia, you'll experience the quirky, staple intricacies of Canadian culture: hot springs, quaint pubs and restaurants that manage to induce warmth despite the outdoor temperature, and jaw-dropping views of crisp blue lakes cradled by snow-capped mountains. Even the drive along Powder Highway will have you feeling like you're living in the thick of a postcard.
The exploration through the ultimate winter wonderland will take you to some of Canada's most notable ski hills, including Lake Louise Ski Resort, Sunshine Village, Kicking Horse Mountain Resort, and Revelstoke Mountain Resort. Each mountain also offers beginner and intermediate trails, making this tour a viable option for all levels. If you're craving a more in-depth exploration of Canada's backyard, consider joining The Powder Highway Ski Tour Part II, where you'll enjoy more vistas of hot springs, notable mountain towns, and high-class skiing or snowboarding adventures.
Highlights of the 9-Day Powder Highway Ski Safari
Revel in Canada's stunning, vast scenery peppering the Rockies as you explore the land by ski or snowboard at either Lake Louise or Sunshine Village.
Let your snowboard or ski be the first to imprint unspoiled runs during a backcountry exploration, led by your guide, at Kicking Horse Mountain Resort.
Discover the myriad of glades, moguls, tree runs, and open bowls peppering the adventure-inducing Revelstoke Mountain Resort.
Enjoy emerging your sore muscles in a handful of hot springs—including the Sulphur Mountain Hot Springs—on several evenings.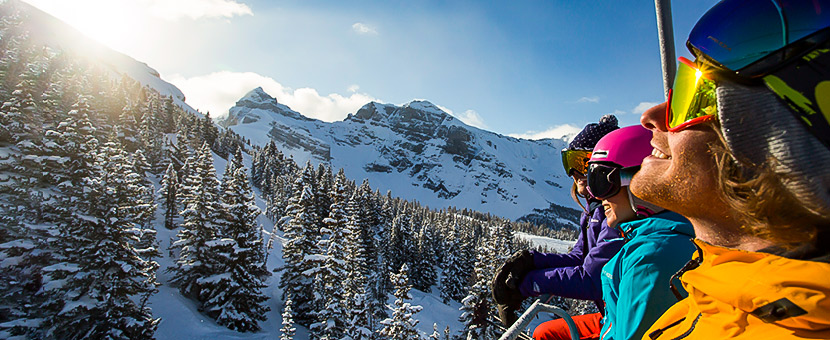 Powder Highway Ski Tour Itinerary
Day 1

Pickup in Calgary and transfer to Banff

Spend some time getting to know the other skiers and snowboarders on this tour after you will be picked up from your hotel located in Calgary's downtown core between 3:30 and 4 pm. Marvel at the Canadian Rockies standing tall, like a painting, in the backdrop as you drive two hours west to Banff. After checking into your hotel, enjoy cheerful chatter, over a hearty meal, discussing the upcoming journey.
Overnight Location: Hotel in Banff
Meals: None
Day 2

Lake Louise Ski Resort

Start the day by filling your body with a satiating breakfast at a cafe before slipping into your ski or snowboard boots! Spend the next several hours gliding through the canopy of white powder spanning Lake Louise Ski Resort. Warm your body up on some green or blue runs before increasing your intensity—and be sure to look out for the ever-so stunning Victoria Glacier. Cap off your day with some refreshing (or warming) beverages and a delicious meal.
Overnight Location: Hotel in Banff
Meals: None
Day 3

Sunshine Village

Feeling a little crazy? Bask in the freeride vibes dotting Sunshine Village! Let your guide lead you to the best rugged, adrenaline-inducing slopes spanning this resort. Those looking for a gentle ride can find a plethora of options at Sunshine Village, too. After enjoying a group meal, you will head to Sulphur Mountain Hot Springs for a relaxing evening—feel free to entertain the group by renting and donning a unitard-style bathing suit!
Overnight Location: Hotel in Banff
Meals: None
Day 4

Lake Louise Ski Resort or Sunshine Village

Another day, another ride! Condition-depending, you will spend the day ripping it up at either Lake Louise or Sunshine Village. If you want to explore somewhere new, there is the option to enjoy some solo laps near Norquay. Replenish your body with a dish at one of the iconic restaurants in Banff before soothing your muscles in the hot tub at your hotel.
Overnight Location: Hotel in Banff
Meals: None
Day 5

Kicking Horse Mountain Resort

Let the mountain ranges and rock faces envelop you on your journey from Banff to Kicking Horse Mountain Resort in Golden. Shake off the short drive by hitting the slopes! Encounter an array of chutes and alpine bowls during your exploration of the mountain. Finish your day with a once-in-a-lifetime mountain top dining experience at the ever-so coveted Eagle's Eye Restaurant.
Overnight Location: Hotel in Golden
Meals: None
Day 6

Kicking Horse Mountain Continued

Enjoy another day zigzagging through the light, fluffy powder on Kicking Horse Mountain. Your guide will search out the best skiing, aiming to score an untouched powder run for the group. Enjoy floating on champagne powder, just like heli-skiing—but with the addition of a steaming, heartwarming meal waiting for you in one of Golden's historic log cabins at the bottom of the slope.
Overnight Location: Hotel in Golden
Meals: None
Day 7

Revelstoke Mountain Resort

Travel deeper into the Columbia Mountains, through Rogers Pass, which has been fighting off avalanches for over a hundred years. After around two hours of driving (traffic dependant), get ready for an adventurous day at Revelstoke Mountain Resort. Behind the quaint, winter wonderland resort town, you'll encounter alpine bowls, moguls, tree skiing, glades, and groomed runs for those craving a more chilled-out experience. Keep in mind that Revelstoke has the highest vertical drop in all of North America. Enjoy a relaxing evening eating one of Revelstoke's best restaurants and bathing in the hot tub at the hotel.
Overnight Location: Hotel in Revelstoke
Meals: None
Day 8

Revelstoke Mountain Resort Continued

Become more acquainted with the moguls, open bowls, and the peaceful off-trail runs through lanes of trees spanning Revelstoke Mountain Resort. Cheers to a victorious ride after snowboarding or skiing down 5400 feet to reach the bar at the end of the day. In the evening, you will travel to some hot springs by ferry for a rewarding, soothing soak. Our day will conclude with a feast at Kingfisher Restaurant.
Overnight Location: Hotel in Revelstoke
Meals: None
Day 9

Kelowna

Celebrate the last nine days with a delicious breakfast at a cafe before journeying to Kelowna. Expect another scenic journey complete with glistening lakes and valley vibes. You can be dropped off at either the airport, bus station, or your hotel of choice in Kelowna around noon. Keep in mind that you should be able to book a flight out of Kelowna by 3 pm if you want to fly out today.
Overnight Location: None
Meals: None

Book Now
Powder Highway Ski Tour Price and Dates
This guided trekking tour to the Canadian Rocky Mountains is always run as a fixed-departure tour for a mixed group, therefore the pricing is fixed.
The prices below are per person sharing a double or a triple room:
Book Now
Accommodation on Powder Highway Ski Tour
Rest in comfortable, clean, three-star lodges, inns, and hotels on your Powder Highway Ski Tour. Operator aims to pick accommodations that include hot tubs, which is essential for a snowy expedition. Expect to share a room with someone on the tour, but feel free to upgrade to single occupancy.
In some cases, accommodation listed below may need to be substituted for other, comparable accommodations.
Single Rooms and Solo Travelers
You can pay a supplement of $775 USD to have a private room in a hotel. Contact us and we can try and match single travelers up, where possible.
Hotels on Standard Tour
Fox Hotel & Suites in Banff
The Fox Hotel is a local gem, right in the heart of the buzzing town of Banff and home to a delightful thermal pool.
Prestige Inn Hotel in Golden
Prestige Inn in Golden is a great hotel in a convenient location, that has nice amenities, indoor pool, bar and a hot tub.
Sandman Hotel in Revelstoke
This great hotel with comfortable rooms has all the amenities needed to make your evenings after skiing relaxing.
What's included in the Powder Highway Ski Tour?
Meals
Meals on this tour are not included.
Accommodations
Accommodations for 8 nights along the tour are included.
Transportation during the Tour
Transport for yourself, your luggage and equipment is included in the comfortable van throughout the tour.
Also Included
Two expert guides
7 lift tickets
Park entry fees
Hot springs entry fees
Not included
Insurance
Personal expenses
Meals and drinks
Gear rental and lessons
Getting around in each town during free time
Travel expenses before and after the tour
Optional extra activities
GST (5%)
Optional Extras
Ski/snowboarding gear rental - $325 USD
Optional activities (prices upon request, subject to availability):

XC skiing / snowshoeing
Dog sledding
Heli/cat skiing
Scenic flights
Shopping
Spa visits
Frequently Asked Questions about 9-Day Powder Highway Ski Safari
Fresh Adventures is an outdoor tour company that navigates explorations through the rugged, stunning terrain spanning western Canada. With an emphasis on customer care, Fresh Adventures promises to depart on an expedition, with a highly skilled guide, no matter how many people have signed up, while also ensuring tour participants have top-notch equipment.
Learn More
Is this tour for me?
We rate this tour as a 3 / 5. This ski tour is suitable for anyone, from beginners to advanced skiers, as every mountain has options for all ski levels. Skiing and snowboarding are physically demanding sports, so it's ideal if you are reasonably fit.
Ask a Question
Got any questions regarding the tour? Interested in promotions for groups or want to customize this tour to fit your needs? We are here to help you!
Ask a question