Explore incredible Cambodia by hiking, biking, and boating for 12 days
The epic 12-day Hike and Bike Cambodia Tour leads you from Phnom Penh to Siem Reap, exploring UNESCO World Heritage Sites and a national park, offering authentic experiences with locals along the way. Spend a few days hiking in the jungle and enjoy a biking excursion, then embark on boat journeys on tranquil, stunning waters.
Each day of the Hike and Bike Cambodia Tour is filled with activities, from walking tours of the iconic cities of Phnom Penh and Siem Reap to travelling to remote lands and hiking into the jungle with expert local guides. A trip through Cambodia is sure to fill your spiritual cup, and you'll note the influences of the ancient Khmer rule and French colonialism. This blend of cultures is evident in the architecture and cuisine, which you'll fully immerse yourself in. For a genuine exploration of Cambodia, the Cambodia Multispot and Cultural Tour is a top choice.
Highlights of the Hike and Bike Cambodia Tour
Trek to a remote village deep in the jungle to have a traditional meal with its residents.
Visit two UNESCO World Heritage sites, Angkor Wat and Preah Vihear Mountain Temple.
Discover the magic of the floating markets all over Tonle Sap Lake over a local lunch.
Spend a night on a tranquil island on the mighty Mekong River.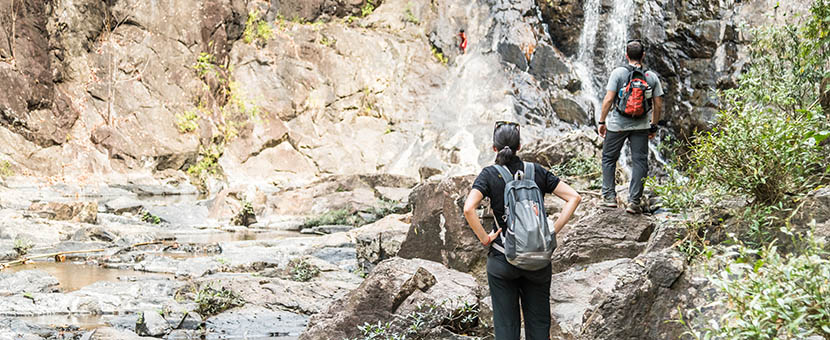 Hike and Bike Cambodia Tour Itinerary
Day 1

Arrival in Phnom Penh

Welcome to Cambodia! Find your way to the hotel to check in. If you arrive with spare time before dinner, have a short stroll of the neighbourhood to get your first sense of Cambodia.
In the evening, meet your guide and group in the lobby and head out to a local restaurant for dinner and a briefing on the trip ahead.
Overnight Location: Hotel in Phnom Penh
Distance: None
Meals: Dinner
Day 2

Phnom Penh Cycling Tour

Once you've finished breakfast, you will depart via ferry to Koh Dach Island for a cycling excursion. Ride along the dirt paths of the island, noting thatch-roofed houses on the shore and small pagodas all around. It's a peaceful respite from the chaotic Phnom Penh. Have lunch at a traditional stilt house, then hop back on a boat to return to the city.
Back in Phnom Penh, get ready for an afternoon of sightseeing on foot. Highlights include the National Museum with ancient Khmer artifacts and the Royal Palace that used to be the home of the King of Cambodia. Stroll through the sensational Phnom Penh Central Market to browse for souvenirs, and when you've shopped till you dropped, return to the hotel for the night.
Overnight Location: Hotel in Phnom Penh
Distance: 12km, 1–2 hours
Meals: Breakfast, Lunch
Day 3

Travel to the Mekong Delta

After breakfast, load into your private transportation for a journey northwest towards the off-the-beaten-path area of Kratie on the mighty Mekong River. Kratie town, on Koh Trong Island, is only accessible by ferry.
Once you reach the river, you'll cross over to find your homestay in this unique spot without cars. Enjoy the peaceful atmosphere and sandy beaches and stroll the natural paradise around with lush vegetation and river views. After you've explored, settle into a homestay for the night.
Overnight Location: Homestay in Kratie
Distance: None
Meals: Breakfast, Lunch, Dinner
Day 4

Stop in Kampi + Travel to Banlung

Gather with your group for a chill breakfast in the lovely Kratie before departing on a ferry to the mainland. Meet your driver and begin the journey to Banlung in northeastern Cambodia. On the way, your driver will stop at Kampi to embark on a quick boat ride searching for rare freshwater dolphins. Hopefully, luck is on your side today and you catch a glimpse of this majestic creature!
After dolphin-spotting, continue to Banlung. A hill sits in the heart of Banlung, a perfect perch for watching the sunset. Return to your hotel before it gets dark and get some rest.
Overnight Location: Hotel in Banlung
Distance: None
Meals: Breakfast, Lunch
Day 5

Hike Around Banlung

Set out right after breakfast and head for the hills to hike to remote villages and meet the communities inhabiting these far-flung locations. A local ferry brings you across a small river, and then a trail leads up into the hills through agricultural plantations. For an extra thrilling addition to today's path, meet a local village chief who will transport you a part of the way on his motorized tractor. Halfway through the hike, you'll come upon a remote village to stop for a traditionally prepared lunch made with native ingredients.
Return the way you came and meet your driver to head back to the hotel in Banlung for the night.
Overnight Location: Hotel in Banlung
Distance: 10km, 3 hours, 300m of ascent, 300m of descent
Meals: Breakfast, Lunch, Dinner
Day 6

Banlung Market + Transfer to Preah Vihear

Rise early to witness the buzzing activity of the Banlung Market, where locals sell their baskets of produce and other items. It's a bit chaotic but well worth the visit!
Begin the next stretch of the journey in the late morning, heading northwest to the less touristic area of Preah Vihear. This town is home to several stunning temples immersed in nature, which you can explore after checking into the hotel in the late afternoon.
Overnight Location: Hotel in Preah Vihear
Distance: None
Meals: Breakfast, Lunch
Day 7

Explore Preah Vihear Mountain Temple

Enjoy breakfast with your group before heading out to explore some of the temples in Preah Vihear. The day's highlight is the UNESCO World Heritage-recognized Preah Vihear Mountain Temple, dedicated to the Hindu god Shiva. Perched on a hill, you'll see sweeping views of the green Cambodian landscapes below you.
Bid farewell to Preah Vihear and set out for Siem Reap, where you'll stay for the remainder of the tour—plenty of sights await!
Overnight Location: Hotel in Siem Reap
Distance: None
Meals: Breakfast, Lunch, Dinner
Day 8

Visit Angkor Wat Archaeological Park

Fuel up on breakfast for a long day of sightseeing ahead- Angkor Wat awaits! Built in the 12th century, Angkor Wat remains the world's largest religious complex. Walk through the grounds and stare in amazement at the grandiose temples, engulfed by nature and possessing an undeniably mystical atmosphere. Stand before the iconic Royal Palace, Elephant Terrace, and Bayon Temple before returning to the hotel. You have time for a siesta before heading out in the evening for a delicious gastronomic tour of Siem Reap's street food.
Indulge in Khmer delicacies of meat and veggies prepared in all kinds of ways, and end your evening by the river with a traditional dessert.
Overnight Location: Hotel in Siem Reap
Distance: 14 km, 3 hours, 150 m of ascent, 120 m of descent
Meals: Breakfast, Lunch, Dinner
Day 9

Hike in Phnom Kulen National Park

Depart early for Phnom Kulen National Park for a delightful jaunt through this lush sanctuary. A local ranger will guide you for the day through the deep jungle and the rocky plateaus, and you'll even encounter some hidden temples. Have a picnic lunch along a beautiful river and dive in for a swim if you feel up for it. Keep your eyes peeled for wildlife in the afternoon, as over 40 species roam the area!
If you were craving another swim, you're in luck—stop at Phnom Kulen Falls before travelling back to Siem Reap for the night.
Note: Two distance options are available for today's hike. The route chosen will depend on your group.
Overnight Location: Hotel in Siem Reap
Distance: Option 1: 15km, 4 hours (excluding site visits), 300m of ascent, 260m of descent
Option 2: 10km, 3 hours (excluding site visits), 250m of ascent, 215m of descent
Meals: Breakfast, Lunch
Day 10

Boat Journey and Floating Villages on Tonle Sap Lake

You can relax your legs today, as you'll spend most of the day on a boat exploring the enormous Tonle Sap Lake. After breakfast, get a transfer to nearby Chong Kneas to embark on a boat that will navigate through the wonderful world of floating villages. The whole village is on the water, from marketplaces to schools and everything in between! A local team will prepare an authentic meal for lunch in one of the floating houses. With a full belly, it's then time to journey back to Siem Reap for the evening.
Note: no operation from mid-April to end of June due to low water level
Overnight Location: Hotel in Siem Reap
Distance: None
Meals: Breakfast, Lunch, 1 drink
Day 11

Free Day in Siem Reap with Optional Excursions

Today is a free day to explore Siem Reap, either to places you haven't seen or places you'd like to see one more time. If you wish, you can partake in one of the following options.

Option 1: Traditional cooking class at an organic farm
In a private transfer, head out for a nearby organic farm to meet the chef. The chef will bring you to the market to pick out ingredients for the day's lesson. Ride to the farm in a tuk tuk and set up at your cooking station, then the chef will show how to prepare a traditional Khmer dish that, of course, you will get to eat! The tour includes a private transfer, an English-speaking guide, a group cooking class, and lunch.

Option 2: Workshop with NGO Eco Soap Bank
You can opt for this offering by NGO Eco Soap Bank for a fun, eco-friendly workshop. Learn about the soap recycling process and how to create your own bar of soap, instructed by local women. By participating in this workshop, you will be supporting the Angkor Children's Hospital, as the NGO donates soap for their use. This option includes a private transfer, an English-speaking guide, and participation in the workshop.

Enjoy your last night in Siem Reap, filling up on your favourite street food.
Overnight Location: Hotel in Siem Reap
Distance: None
Meals: Breakfast
Day 12

Farewell, Cambodia

It's time to say goodbye! After one final breakfast with your group, pack up, and prepare to leave. You'll find your own transportation to the airport or wherever the next part of your journey takes you.
Overnight Location: None
Distance: None
Meals: Breakfast

Book Now
Hike and Bike Cambodia Tour Price and Dates
This guided tour in Cambodia is run as a fixed-departure tour where you'd be joining a group, however, custom private tours can be organized for those willing to travel with their group only (please contact us with your preferred date and the number of people in your group and we will create the itinerary just for you).

Prices below are per person, sharing a double or a triple room and apply to 3-star hotel package. Please note, you can upgrade to 4-star hotels for an additional fee of $305 USD per person.
Accommodation on the Hike and Bike Cambodia Tour
This tour is based in 3- and 4-star hotels and one homestay in the Mekong Delta. The hotels have modern amenities that make this trip comfortable. The homestays are in remote locations and offer basic amenities. Rooms are based on double occupancy, and solo travellers will pay a supplement.
In some cases, the accommodation listed below may need to be substituted for other comparable accommodations.
Single Rooms and Solo Travelers
You can pay a supplement of $290 USD - $418 USD to have a private room in a hotel while travelling with your group. Contact us and we can try and match single travellers up where possible.
Hotels on Standard Tour
Kravan Hotel in Phnom Penh ★★★★
Relax in this stylish, clean, modern hotel in the heart of Phnom Penh. Head up to the top floor for epic views and a dip in the rooftop pool.
Homestay on Koh Trong Island
Stay in a traditional homestay in a remote location with modest amenities. Wake up to the sounds of nature and unparalleled views.
Ratanakiri Boutique Hotel in Banlung ★★★
Overlooking the lake, this charming hotel offers elegant wooden décor in immaculate rooms. Lounge poolside or gaze at the incredible lake views.
Preah Vihear Boutique in Preah Vihear ★★★★
Enter into this traditional-style hotel and feel immediately at peace. The smiling staff and delightful pool are at your disposal for a pleasant stay.
La Niche d'Angkor Boutique Hotel in Siem Reap ★★★
This enchanting hotel welcomes you into its lush jungle of tropical flowers. Access the inviting pool a few steps from your Cambodian-style room.
What's included in the Hike and Bike Cambodia Tour?
Meals
11 breakfasts, 9 lunches, and 5 dinners are included.
Accommodations
Accommodation for 11 nights is included.
Transportation during the Tour
Transport for you and your luggage is included throughout the tour.
A support vehicle will be available on hiking and cycling days in case of an emergency.
Also Included
Entrance fees for special areas as required
Boat rides mentioned in itinerary
Bike + helmet rental
Local guide(s)
Not included
Meals, snacks, and drinks not previously included
International + airport taxes
Visa fees upon arrival in Cambodia
Insurance
Tips + personal expenses
Optional Extras
Airport transfers
Extra nights in Phnom Penh
Extra nights in Siem Reap
Optional cooking class on day 11
Optional visit to NGO Eco Soap Bank
Frequently Asked Questions about Hike and Bike Cambodia Tour
Easia Active is a subsidiary of Easia Travel, a boutique tour operator based in South-East Asia, and dedicated to sharing the best active adventures in Vietnam, Laos, Cambodia, Myanmar and Thailand. Easia Travel was founded in 2000 in Vietnam, with a vision to "Make Asia Easy for You!" by allowing guests to experience the best of Asia. Find great hiking, cycling and other active adventures in SE Asia with Easia Active.
Learn More
Is this tour for me?
We rate this tour as a 2 / 5. You should be comfortable hiking on modest terrain for up to 4 hours and cycling for 2 hours.
Ask a Question
Got any questions regarding the tour? Interested in promotions for groups or want to customize this tour to fit your needs? We are here to help you!
Ask a question