Experience the road less travelled on this 13-day alternative route to Santiago
Do you want to walk the Camino de Santiago without the crowds? Are you looking for something to do during the winter months? Then check out the Winter Way (Camino de Invierno).
The Winter Way (Camino de Invierno) is the route to Santiago that pilgrims traditionally chose in colder months, to avoid the snowy paths of O Ceberiro. You will follow in their footsteps, travelling through vineyards, canyons and historic goldmines on this wonderful Spanish walking holiday. The Camino de Invierno can be taken all year round, offering a spectacular alternative to the conventional walking route.
Starting at Ponferrada, you will explore over 250 km of the Winter Way, discovering gorgeous natural landscapes and vibrant Spanish cities alike. You will meet fellow pilgrims, savor authentic Spanish cuisine and soak up wonderful historic architecture. Your luggage will be transferred between each of your comfortable hotels, so you can focus on enjoying this self-guided walking adventure.
Highlights of the Camino Invierno de Santiago
Savor delicious cuisine as you stop in sleepy villages to sample traditional tapas, Galician stews and world-famous local wine.
Uncover the beauty of the Spanish countryside as you pause to admire the gorgeous mountains, vineyards, rivers, canyons and gold mines.
Unearth the history of the Winter Way as you follow roman roads, cross Romanesque bridges and explore beautiful ancient chapels.
Collect your pilgrims certificate in Santiago, where you can attend the time-honored pilgrims mass and visit ancient relics.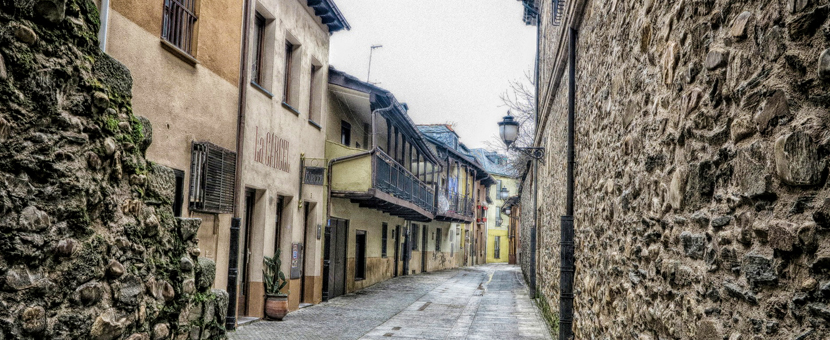 Camino Invierno de Santiago Tour Itinerary
Day 1

Check in day

Having arranged your own transport to Ponferrada, you will check in to your hotel ahead of your walking adventure. Straddling the river Sil and surrounded by mountains, Ponferrada is a beautiful town that overflows with history. After exploring the local area, you should get a good night's rest to help you on the trail tomorrow.
Overnight Location: Hotel in Ponferrada
Distance: None
Meals: None
Day 2

Setting off on the Camino Invierno

After a filling breakfast at your hotel, you will set off for the ancient Roman gold mines of Las Médulas (a UNESCO world heritage site). You will pass through spectacular landscapes, with views over the Bierzo valley and glimpses of an ancient castle. After crossing the Isorga stream, you will soon find yourself in the historic site of Las Médulas where you will enjoy a hearty dinner and spend the night.
Overnight Location: Hotel in Las Médulas
Distance: 27 km
Meals: Breakfast, Dinner
Day 3

An ancient road to O Barco de Valdeorras

Today you will follow an ancient Roman route on the Camino Invierno to O Barco de Valdeorras, famous for its world class wine. Passing into the region of Galicia, you follow the course of the river Sil before you cross a gorgeous Romanesque bridge to reach your destination. In O Barco de Valdeorras you can check out the 14th century fortress of O Castro or take a boat ride across the river.
Overnight Location: Hotel in O Barco de Valdeorras
Distance: 27 km
Meals: Breakfast, Dinner
Day 4

A gentle day to Rua de Valdeorras

The walk to Rua de Valdeorras is considerably shorter than your previous days on the trail. Take your time to savor its landscape and visit some of the beautiful little chapels that are scattered along the way. Passing through lovely vineyards, you have plenty of time to stop and enjoy a local glass of wine before you have your dinner at Rua de Valdeorras, your destination for the evening.
Overnight Location: Hotel in A Rua de Valdeorras
Distance: 14 km
Meals: Breakfast, Dinner
Day 5

Through the gold country to Quiroga

You will continue to chase the river Sil and admire its spacious canyons. Traveling through the heart of gold country, you will enjoy the lovely mountain views and a gorgeous baroque church just waiting to be explored. After passing a local olive mill you will descend to Quiroga for a good meal and rest.
Overnight Location: Hotel in Quiroga
Distance: 26 km
Meals: Breakfast, Dinner
Day 6

A historic trail to Monforte de Lemos

Be sure to eat a hearty breakfast as you set off for your longest day of walking yet. Passing a thousand-year-old chapel and crossing an ancient Roman bridge, your route today is pulsing with history. You will cross over gurgling streams and enjoy the shade of leafy forests, before taking a well-earned rest at your hotel in Monforte de Lemos.
Overnight Location: Hotel in Monforte de Lemos
Distance: 36 km
Meals: Breakfast
Day 7

A rural path to Chantada

Deep in the heart of wine country, you will pass through lovely sleepy villages with their traditional local architecture. You will feel the shade of mighty oaks and the peaceful breeze on your skin as you savor the views of the river Miño and the far stretching vineyards of Galicia. You will spend the night in Chantada, famous for its medieval heritage and hearty stews.
Overnight Location: Hotel in Chantada
Distance: 30 km
Meals: Breakfast, Dinner
Day 8

A steep ascent to Rodeiro

After a peaceful night's sleep at your hotel, you will have a challenging climb on the Camino Invierno to Mount Faro. Having reached the summit, you will be rewarded with a spectacular view of all the major Galician mountains. After catching your breath and admiring the landscape, you will descend the other side of the mountain to reach Rodeiro.
Overnight Location: Hotel in Rodeiro
Distance: 26 km
Meals: Breakfast, Dinner
Day 9

Converging routes on the trail to Lalín

The Winter Way will converge with another route to Santiago today, known as Via de la Plata. You can therefore expect to come across more pilgrims and enjoy sharing stories of the trail so far. You have reached the center of the Galician community and shouldn't leave the region without sampling some of its comforting stew!
Overnight Location: Hotel in Lalín
Distance: 22 km
Meals: Breakfast, Dinner
Day 10

A short walk to Silleda

After a good 8 days on the Camino Invierno, you will be relieved to enjoy a shorter day of walking. Taking narrow paths through peaceful woodland, you will have plenty of time to admire the landscape and enjoy the sound of birds and rivers. You will arrive in Silleda in no time at all, indulging in a delicious meal and unwinding at your lovely hotel.
Overnight Location: Hotel in Silleda
Distance: 15 km
Meals: Breakfast, Dinner
Day 11

A quiet path to Ponte Ulla

The Camino de Santiago will continue through small villages and quiet paths. Today will be mostly easy walking on good terrain but should be prepared for a very sharp descent at the end of the day. Ponte Ulla sits in the bottom of a steep valley and is famous for its dramatic, eye-catching bridges.
Overnight Location: Hotel in Ponte Ulla
Distance: 20 km
Meals: Breakfast, Dinner
Day 12

Arriving at Santiago

Starting with an ascent to the Pico Sacro, you will finally reach the cathedral of Santiago. After an epic journey on the Camino de Invierno you can go the Pilgrim Mass in the Cathedral, collect your certificate from the pilgrim's office and visit the tombs and relics. Santiago is a major city, so you won't be short for something to do this evening.
Overnight Location: Hotel in Santiago de Compostela
Distance: 25 km
Meals: Breakfast
Day 13

Check out

All good things must come to an end! Today, you will check out of your hotel in Santiago and set forth on your onward journey. If you would like some time to relax and unwind in the city, you can pre-book some extra days in the hotel.
Overnight Location: None
Distance: None
Meals: Breakfast

Book Now
Camino Invierno de Santiago Tour Price and Dates
This self-guided walking tour to Santiago de Compostela is always run as a custom tour for your group only. The price always depends on the number of people sharing a room.
The Camino Invierno can be done year-round, though is best done in Spring and Autumn. This route was typically done by pilgrims as a winter route to Santiago de Compostela, though if you do it in winter, expect you may have snow or rain.
Prices of Private Self-guided Camino Invierno de Santiago Tour
Have your own private tour with just your group! Prices below are per person:
Price per person staying in single room: $1,625 USD
Price per person staying in double room: $1,225 USD
Price per person staying in triple room: $1,095 USD
Book Now
Accommodation on Camino Invierno de Santiago Tour
You will stay in a different hotel every night as you make your way along the Winter Way. Hotels on this trip are a mixture of 2 and 3 star rated, offering all the facilities that you need for an enjoyable and comfortable stay.
Prices are based on double occupancy, but a private room can be arranged for a supplement.
Single Rooms and Solo Travelers
You can pay a supplement of $425 USD to have a private room in a hotel. Contact us and we can try and match single travelers up, where possible.
Hotels on Standard Tour
Hotel Aroi Bierzo Plaza in Ponferrada
This friendly hotel has a highly rated onsite restaurant. It is walking distance from several of Ponferrada's popular tapas spots.
Hotel Medulio in Las Médulas
Hotel Medulio is small, welcoming hotel with onsite restaurant. It's in a great location for pilgrims, right by the world-famous gold site of Las Médulas.
Hotel Pensión do Lar in O Barco de Valdeorras
This hotel offers a cozy onsite bar and restaurant and simple, comfortable rooms.
Hotel Pacio do Sil in A Rua de Valdeorras
Hotel Pacio has a lovely outside terrace where you can enjoy the garden, complete with fig trees. Traditional stone walls and dark wooden ceilings create a homely vibe.
Hotel Ferrería Quintá in Quiroga
This hotel is nestled in beautiful countryside. The friendly owner gives a warm welcome and offers delicious, fresh food.
Hotel Ribeira Sacra in Monforte de Lemos
Hotel Ribeira is well positioned in the centre of town. Rooms are simple but stylish and provide good wifi and flat screen televisions.
This family run hotel comes very highly rated. It is right next the historical quarter of Chantada and offers tasteful décor and excellent food.
Hotel Casa Rural Chantada in Rodeiro
This lovely accommodation has amazing views of the Mino valley and gorgeous traditional features. Flag stone bathrooms, stained glass and a lovely terrace all await you.
This small hotel is in walking distance of bars, cafes and shops. It offers air-conditioning and wifi.
Hotel Casa Goris in Silleda
This gorgeous country house offers a friendly welcome, with fireplaces in the dining room and a charming traditional wine press.
Hotel Casa da Botica in Ponte Ulla
Hotel Casa da Botica is a real gem. This refurbished traditional house has gorgeous views, delicious meals and even an onsite swimming pool.
Hospedería San Martín Pinario in Santiago
Perfectly located near Praza do Obradoiro and other notable attractions, as well as a host of restaurants, enjoy your stay in this historic building.
What's included in the Camino Invierno de Santiago Tour?
Meals
12 breakfasts and 9 dinners are included.
Accommodations
The accommodation for 12 nights along the tour is included.
Transportation during the Tour
This tour includes luggage transfers only.
Also Included
24/7 phone assistance
Pilgrim passport
Maps and walking notes
Not included
Flights
Insurance
Anything not stated as 'Included'
Guide services
Personal expenses
Transport
Optional Extras
Extra night at any point of the tour
Private accommodation
Upgrading the accommodation
Frequently Asked Questions about Camino Invierno de Santiago
Galiwonders is a specialist tour operator, focusing on pilgrimages along the Camino de Santiago in Spain and Portugal as well as the Via Francigena in Italy. They offer adaptable tours to suit a variety of client needs and focus on truly taking care of their guests.
The tour guides are local experts, living and working right along the Camino. They have visited each hotel and restaurant they recommend, ensuring each is up to standard.
Galiwonders offers constant contact with their guests, ensuring all concerns or questions are addressed immediately so you can relax and enjoy your trip.
Learn More
Is this tour for me?
We rate this tour as a 4 / 5, and if you choose to do it in winter, we rate this as a 5 / 5, as you will have shorter days and likely have inclement weather. There are quite a few days that are over 25km, and one challenging day that is 36 km. You should have experience doing long distances.
Local Guide
Ask a Question
Got any questions regarding the tour? Interested in promotions for groups or want to customize this tour to fit your needs? We are here to help you!
Ask a question
SALE! Well, not yet.
Let me know when this trip goes on sale.
Notify me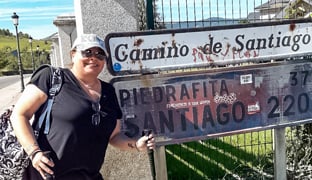 Margot
Santiago de Compostela, Spain
Margot is a new guide with Galiwonders, and loves sharing her pride in her home region of Galicia with visitors. She enjoys sharing the history, stories, legends, and unknown information with tourists to connect them deeply with the region they're in.
Q & A
Q:

What is your favourite trip to lead and why?

A:

Any trip around Galicia. Fortunately, I have had the chance to travel far and wide, I've visited many counties, many cities, all beautiful and with something special, but I guess the saying "the heart is where home is" is applicable to me.

Q:

What are guests most surprised about in visiting your country?

A:

Tourists usually have a preconceived idea of what Spain is like, and when they are here they are surprised to see that how they thought it was had no similarity to that notion. I find this is especially true with Galicia. The most common ide they have is that it's all Flamenco, bulls and polka dot dresses. That is just in Andalucia, and in Madrid, for tourists. Each region has its own unique traditions and folk culture.

Q:

What is one experience anybody visiting your country should do?

A:

El Camino de Santiago. It does not matter what religion you belong to. It is the sentiment, the relaxation, the feeling of wholeness one senses while on the Way. It's the goal of accomplishing a pilgrimage for whatever the reason one may have, reaching the end of the road where all roads meet. Along the way you make friends with people from all over the world, the group gets larger and larger, some speak Spanish, others French, others English, even Chinese. It's a wonderful multiracial group, and once you all reach Plaza do Obradoiro in Santiago de Compostela, you all embrace. Everyone's jumping and laughing with sore, bruised feet and sweaty clothes for having accomplished the challenge, feeling so good and wondering why the rest of the world does not embrace this experience.