Spain Tours
What adventures will you experience on Spain tours? This treasure of a country is filled with culture, amazing food, interesting history, and wonderful hospitality. Whether you choose to stroll along the beautiful beaches of Andalusia or trek in the jagged peaks of the Pyrenees, you will be sure to make unforgettable memories on Spain tours.
Spain tours will take you through a remarkable landscape that is great for cycling tours through rolling hills, trekking through Basque country, and rock climbing in beautiful islands like Mallorca. The most dedicated trekkers, religious or not, come to Spain to check the epic Camino de Santiago pilgrimage off their bucket list - one of the most sought after adventures in the world. This is just a small sample of the fun to be had on Spain tours, but don't just take our word for it! Book your Spain tour today and begin dreaming up your next life changing adventure!
Planning a Trip to Spain
Planning a trip to Spain is an involved process that can be easy or challenging depending on what you are looking to do, so why make it more difficult than it needs to be? Booking any number of the amazing Spain tours that 10Adventures offers is a great way to remove the hassle and focus on the incredible journey ahead.
For those travellers who prefer the feeling of exploring on their own, there is a wide range of self-guided tours in Spain that will allow you to fully connect with local culture, the beautiful outdoors, and the rich history that can be found in the country. And if you would like to try your hand at some exhilarating new activity or simply want an authentic experience with a local guide, then there are countless guided tours in Spain that will be sure to meet your needs. Planning a trip to Spain doesn't have to be difficult, so continue reading on below to discover your perfect Iberian adventure!
When is the Best Time to Visit Spain?
The best time to visit Spain depends entirely upon which regions you plan to visit; however, most travellers will agree that the shoulder seasons of spring and autumn are the best time to visit Spain. During these windows you will experience cooler temperatures than you would encounter during the hot summer months, and you will also be able to avoid the higher volume of tourists that come with the peak summer travel season in Europe, leading to lower prices on accommodations and travel.
Alternatively, the summer can be an enjoyable time to visit Spain, particularly if you plan on exploring coastal areas that have a more temperate maritime climate. The winter offseason is a good time to travel in Spain if you want to fully escape the crowds and enjoy a bit of solitude. Overall, Spain tours can be enjoyed at any time of the year, so choosing the best time to visit Spain is up to you, your interests, and your schedule!
Spain Map
Spain is a fairly large country with tourist destinations spread all over the place, which can make it a bit difficult when it comes to planning your adventure. That's why we've put together this simple Spain map to provide you with an overview that should hopefully help you out during the planning phase of your trip.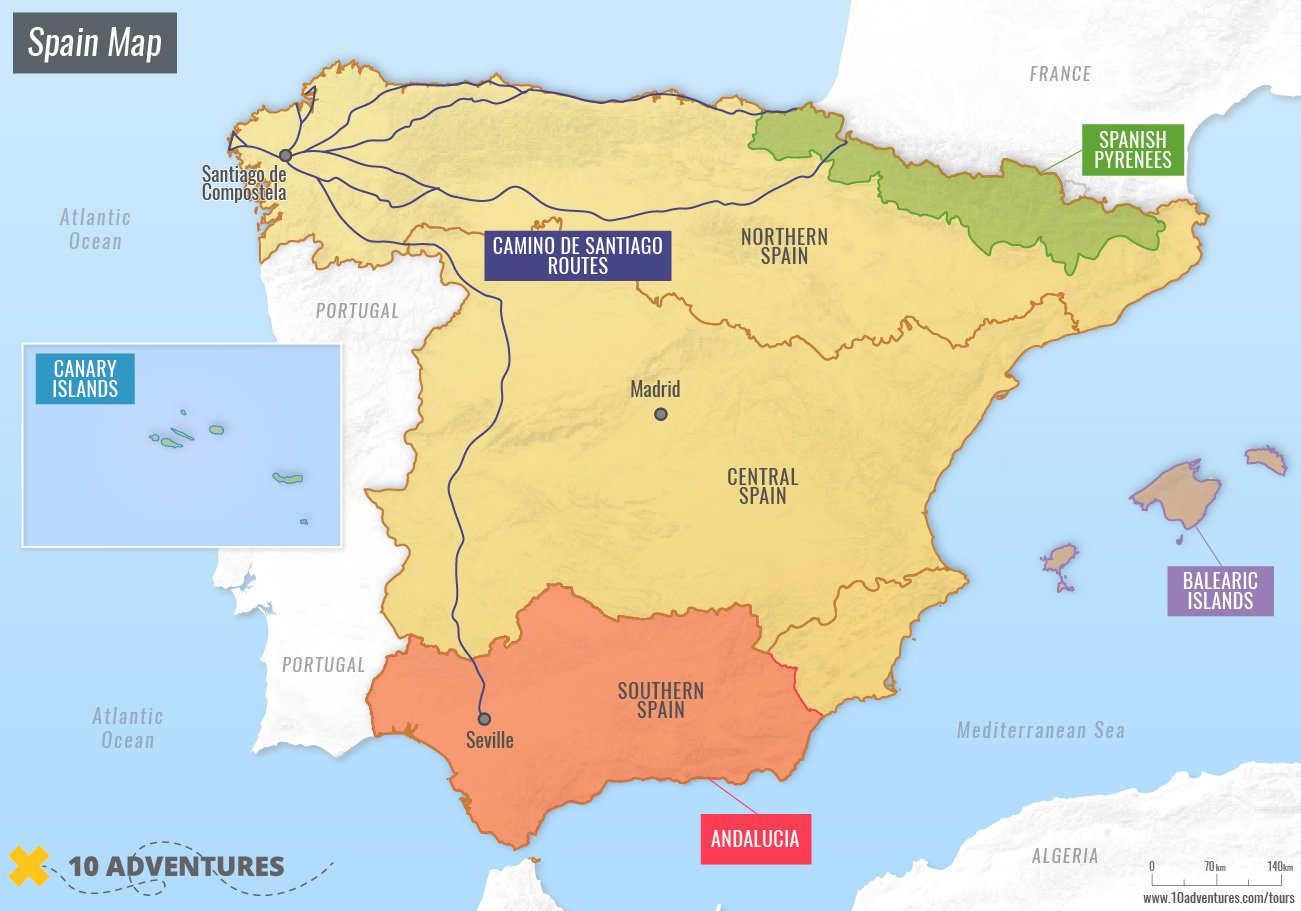 The Best Tours in Spain
There are countless adventures to be had in Spain, all of which will surely create unforgettable memories. From lengthy pilgrimages, to coastal biking, and gastronomic adventures, there is no shortage of incredible Spain tours for you to take part in. If you are looking for the best tours in Spain, be sure to check out the following adventures:
Family Tours in Spain
Whether you are travelling with siblings, grandparents, or children, there are plenty of family tours in Spain that will make for the perfect adventure. Spend time exploring sandy beaches or cycling through village streets on these amazing family tours in Spain.
Pilgrimage Tours in Spain
Spain is home to arguably the most well-known pilgrimage route in the world: the Camino de Santiago. Whether you choose the Camino Frances, the Camino del Norte, or any one of the incredible variants on offer, you will be able to follow in the steps of historical pilgrims and connect with your inner self on pilgrimage tours in Spain.
Walking Tours in Spain
Travelling on foot is one of the best ways to experience any destination, and the Spanish countryside or historic city streets are no different. Take in the stunning natural beauty and fascinating architecture of the Iberian Peninsula on these walking tours in Spain.
Cultural Tours in Spain
When you think of culture - especially European culture - one of the first things that comes to mind is Spain. Whether your plan is to stroll through serene vineyards, taste delicious tapas, or set out with the goal of experiencing as much history as possible, there is no shortage of amazing cultural tours in Spain on offer.
Bike Tours in Spain
From rugged coastal landscapes to the rolling hills of the countryside, bike tours in Spain are one of the very best ways to explore. Take in the beauty of the diverse landscapes and the historic charm of cities and villages of these exceptional bike tours in Spain.
Where to Travel in Spain
When it comes to choosing where to travel in Spain, there are countless options to explore. From the picturesque countryside and historic charm of Andalusia in the south, to the dramatic terrain of the Pyrenees and the rugged coastline of Galicia in the north, there are plenty of amazing places that will create unforgettable memories. If you are struggling with where to travel in SPain, be sure to check out the regions below:
Tours in Northern Spain
Covering a number of renowned regions from Galicia to Basque Country and Catalonia, tours in Northern Spain will provide you with countless opportunities for exploring not only the outdoors, but the rich culture and history that the region has to offer. Check out these amazing tours in Northern Spain to find your perfect adventure.
Tours in Central Spain
From the metropolitan centres of Valencia and Madrid to the rugged mountains and arid plateaus of the interior, tours in Central Spain offer a wide variety of experiences. Take your time exploring the countryside on these amazing tours in Central Spain.
Tours in Southern Spain
Warm weather and beautiful landscapes made up of rugged mountains and stunning coastlines are what characterize Southern Spain. Check out these tours in SOuthern Spain to uncover your next big adventure.
Tours in Andalusia
From the impressive architecture of Alhambra to the beautiful rolling hills of the countryside, tours in Andalusia offer an endless supply of adventures for those who love culture and natural beauty. Book your tours in Andalusia today to discover the beauty of Southern Spain.
Tours in the Canary Islands
Located off the northwestern coast of Africa, the Canary Islands are an amazing destination for anyone who loves sunny skies and epic adventures. Whether you plan to hike, bike, climb, or lounge, tours in the Canary Islands are an incredible experience.
Tours in the Balearic Islands
For those who are after a mixture of relaxation and adventure, tours in the Balearic Islands are the perfect option to explore. Whether you are looking to enjoy time at the beach or rock climb on craggy cliffs, the islands of Menora, Mallorca, Ibiza, and Formentera are the ideal travel destination.
Tours on the Camino de Santiago
While not a region per se, the tours on the Camino de Santiago all end in the same place - Santiago de Compostela - which makes it worth grouping them together. No matter which route you choose, tours on the Camino de Santiago are an incredible pilgrimage adventure that will highlight the beauty of the Spanish countryside and allow you to connect with religion, history, and yourself.
Tours in the Spanish Pyrenees
Tours in the Spanish Pyrenees are an incredible adventure if you enjoy exploring breathtaking mountain landscapes. Covering a roughly 400km stretch of terrain that spans Navarra, Aragon, and Catalonia, the Spanish Pyrenees are a truly magical place to set out on a walking or biking adventure. Book your tours in the Spanish Pyrenees to discover this incredible corner of Spain.
Frequently Asked Questions About Spain
What is the best way to travel around Spain?
The best way to travel around Spain is by public transport, as trains and busses are the cheapest and most efficient means of getting around the country for Spain tours.
How many days in Spain is enough?
If you are looking to explore some metropolitan and rural parts of the country, it is recommended to spend at least 7 days in Spain; however, if you are planning on completing a tour in Spain and would also like to explore on your own, you should plan for 14 days.
What are the cheapest months to travel to Spain?
Generally speaking, the winter months of December to March are the cheapest to travel to Spain, as colder temperatures and a reduced tourist infrastructure leads to less tourists in the country and lower prices.
What part of Spain is the most beautiful?
Spain is home to many incredibly beautiful regions including Andalusia, which is regarded by many travellers to be the most beautiful part of the country.
What is the number one tourist attraction in Spain?
The Basílica de la Sagrada Familia in Barcelona is the most popular tourist attraction in Spain, as it sees over 5 million visitors per year to the site and a further 20 million visitors who travel to the area to catch a glimpse of the church.
Spain Tour Highlights
La Sagrada Familia
The Basilica i Temple Expiatori de la Sagrada Familia, also referred to as La Sagrada Familia, is a church in Barcelona that began construction in 1882 and is yet to be completed. Declared a UNESCO World Heritage Site, the church is visited by roughly 5 million people each year, with another 20 million tourists travelling to it to catch a glimpse of the impressive architecture. Progress on the construction of La Sagrada Familia has been slowed down on several occasions - such as the Spanish Civil War - and it is estimated to be completed after 2026.
Santiago de Compostela Cathedral
The Santiago de Compostela Cathedral can be found in the Galicia region of northwest Spain and is said to be the final resting place of Saint James the Great. Due to this religious significance, the Santiago de Compostela Cathedral has, over the centuries, become one of the world's most renowned pilgrimage destinations. Each year thousands of pilgrims travel along Spain's many Camino de Santiago routes to reach the cathedral and collect a certificate for their efforts. The Santiago de Compostela Cathedral is of Romanesque design with Gothic and Baroque elements, and welcomes over 2.5 million visitors every year.
Find Other Amazing Adventure Tours in Europe
Take the first step towards a private travel experience, customized just for you.
Join our newsletter
Get a weekly dose of discounts and inspiration for adventure lovers
Showing 1 to 20 of 75 adventure tours
What travellers say
Why
book

with 10 Adventures?
Your trip. Your way.
Make lifelong memories with the people you care about most. We specialize in custom & private active travel experiences.
Travel made easy.
Spend your time making memories, not planning them. Enjoy a stress-free vacation and leave the trip logistics to us.
You matter to us.
No bots here. A real human is always a click or a call away to ensure you get the adventure of your dreams.
Travel authentically.
Immerse yourself in the destination with highly-vetted, local tour operators who love to showcase where they live.