Enjoy an 8-day self-guided pilgrimage on the Portuguese Way in style
The Camino Portugues Luxury Pilgrimage offers all the adventure of the Camino de Santiago, with extra special accommodation. Starting in Tui, you will walk 100km of trails through Spain to reach the cathedral of Santiago. This incredible journey has been made by pilgrims for nearly 1,000 years!
You will immerse yourself in beautiful Galician countryside, delicious local cuisine, and gorgeous historic architecture on this self-guided Spanish walking tour. Staying at the best hotels the route has to offer, you will unwind in luxury after a long day on the trail.
Highlights of the Camino Portugues in Luxury
Savor upgraded accommodation, staying in gorgeous historic buildings, from 16th century fortresses to refurbished country mansions.
Discover the Spanish countryside as you explore the Galician coastline and immerse yourself in its peaceful rural landscapes.
Meet fellow travelers as you follow the ancient Camino Portugues pilgrim route to Santiago de Compostela.
Collect your well-earned pilgrims' certificate in Santiago, a vibrant city just waiting to be explored.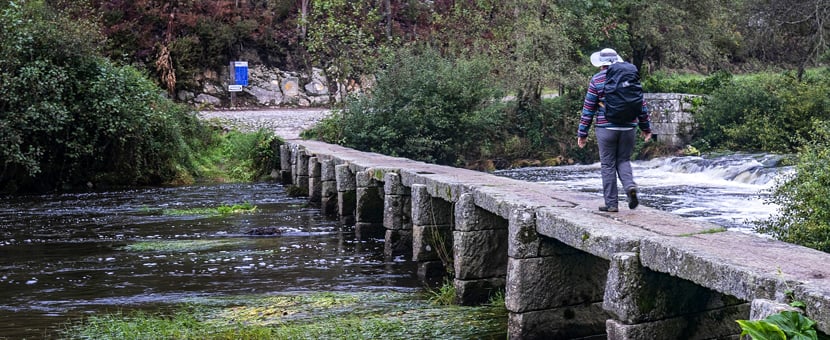 Camino Portugues in Luxury Tour Itinerary
Day 1

Starting in Tui

Make your way to Tui, a lovely Spanish town near the Portuguese border. Nestled on the banks of the river Miño, this town marks the start of the final 100km of the Portuguese Way to Santiago. After exploring the local area, you will settle into your hotel for a good night's sleep ahead of your Spanish walking adventure.
Overnight Location: Hotel in Tui
Distance: None
Meals: None
Day 2

Start the Camino Portugues

Leaving the buzzing streets and gorgeous architecture of Tui behind you, it's time to set off for your first day on the Camion Portugues. Today you will walk through lovely Galician countryside and enjoy the shade of peaceful woodland as you make your way to O Porrño. You can take a dip in the gorgeous hotel pool or relax on a terrace overlooking the river before enjoying a hearty meal and peaceful night of rest.
Overnight Location: Hotel in O Porriño
Distance: 16 km
Meals: Breakfast, Dinner
Day 3

A hilly trail to Arcade

After a delicious breakfast at your hotel, you will begin your camino to Arcade. The terrain will be steeper today, but you will be rewarded by views of the ocean and the refreshing shade of Pine and Eucalyptus. Following the coast from Redondela, you will arrive in Arcade with plenty of time to check out the lovely promenade before you settle down for the night.
Overnight Location: Hotel in Arcade
Distance: 22 km
Meals: Breakfast, Dinner
Day 4

A short walk to Pontevedra

As the week goes on, you will notice the number of fellow pilgrims begin to rise. Enjoy swapping stories from the trail as you pass through historic villages and ascend the trail to A Canicouva. Today's walk is short, so you'll have the opportunity to explore the beach at Pontesampio before arriving in the vibrant streets of Pontevedra.
Overnight Location: Hotel in Pontevedra
Distance: 11 km
Meals: Breakfast, Dinner
Day 5

Savor the Galician countryside

Today you will step into the heart of Galician countryside, leaving the lively town of Pontevedra behind you. Passing through woodland, crossing gurgling streams and admiring the waterfalls of the Barosa river, you will immerse yourself in Spanish nature on the route to Caldas de Reis. On arriving at your destination, you can arrange to visit the thermal spring waters to soothe your aching muscles.
Overnight Location: Hotel in Caldas de Rei
Distance: 21 km
Meals: Breakfast, Dinner
Day 6

A peaceful journey to Padrón

On this penultimate day on the trail, you will pass through sleepy villages and traditional farmland. Enjoying a peaceful walk through rural Galicia, you will experience the same landscape that pilgrims have been travelling through for over a thousand years. You will spend the night in Padrón, where you should try their world-famous peppers!
Overnight Location: Hotel in Padrón
Distance: 19 km
Meals: Breakfast, Dinner
Day 7

Arriving in Santiago

After 100km on the Camino Portugues, you will finally arrive in Santiago de Compostela. The scenery transforms from rural to urban landscape as you get ever closer to this major Spanish city. On arriving in Santiago, you can collect your certificate from the pilgrims' office, visit the ancient tombs and relics of the cathedral and check out the gorgeous historic quarter of the city. Celebrate your achievements in your exceptional 5-star hotel, considered the oldest hotel in the world!
Overnight Location: Hotel in Santiago
Distance: 24,5 km
Meals: Breakfast, Dinner
Day 8

Check Out

After an incredible week on the Camino Portugues, reflect on the amazing memories you've made on your Camino to Santiago. For those who want to explore Santiago, it's possible to pre-book some extra nights at your hotel. Otherwise, enjoy one final Spanish breakfast before heading on your onward journey.
Overnight Location: None
Distance: None
Meals: Breakfast

Book Now
Camino Portugues in Luxury Tour Price and Dates
This self-guided walking tour to Santiago de Compostela is always run as a custom tour for your group only. The price always depends on the number of people sharing a room.
The best time to travel to Northern Spain and Portugal for this walking adventure is spring and autumn, though the tour can be completed year-round. Summer is the most popular time, but it can be quite warm.
Prices of Private Self-guided Camino Portugues in Luxury Tour
Have your own private tour with just your group! Prices below are per person:
Price per person staying in single room: $1,425 USD
Price per person staying in double room: $1,125 USD
Price per person staying in triple room: $995 USD
Book Now
Accommodation on Camino Portugues in Luxury Tour
You will stay in a different hotel every night as you make your way along the Camino de Santiago. Your accommodation for this tour is extremely special. You will stay in gorgeous historical buildings with top quality facilities.
Rates are based on double occupancy, but single travelers can arrange private rooms for a supplement.
Single Rooms and Solo Travelers
You can pay a supplement of $325 USD to have a private room in a hotel. Contact us and we can try and match single travelers up, where possible.
Hotels on Standard Tour
What's included in the Portugue Camino Portugues in Luxury Tour?
Meals
7 breakfasts and 5 dinners are included.
Accommodations
The accommodation for 7 nights along the tour is included.
Transportation during the Tour
This tour includes luggage transfers only.
Also Included
24/7 phone assistance
Pilgrim passport
Maps and walking notes
Pilgrim Massage in Santiago de Compostela
Not included
Flights
Insurance
Anything not stated as 'Included'
Guide services
Transport
Optional Extras
Extra night at any point of the tour
Private accommodation
Upgrading the accommodation
Frequently Asked Questions about Camino Portugues in Luxury
Galiwonders is a specialist tour operator, focusing on pilgrimages along the Camino de Santiago in Spain and Portugal as well as the Via Francigena in Italy. They offer adaptable tours to suit a variety of client needs and focus on truly taking care of their guests.
The tour guides are local experts, living and working right along the Camino. They have visited each hotel and restaurant they recommend, ensuring each is up to standard.
Galiwonders offers constant contact with their guests, ensuring all concerns or questions are addressed immediately so you can relax and enjoy your trip.
Learn More
Is this tour for me?
We rate this tour as a 3 / 5. You should have previous experience walking up to 20km's, and you will have a day where you walk over 24.5 km. In summer months, the heat can make the distances more difficult.
Local Guide
Ask a Question
Got any questions regarding the tour? Interested in promotions for groups or want to customize this tour to fit your needs? We are here to help you!
Ask a question
SALE! Well, not yet.
Let me know when this trip goes on sale.
Notify me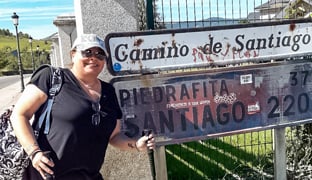 Margot
Santiago de Compostela, Spain
Margot is a new guide with Galiwonders, and loves sharing her pride in her home region of Galicia with visitors. She enjoys sharing the history, stories, legends, and unknown information with tourists to connect them deeply with the region they're in.
Q & A
Q:

What is your favourite trip to lead and why?

A:

Any trip around Galicia. Fortunately, I have had the chance to travel far and wide, I've visited many counties, many cities, all beautiful and with something special, but I guess the saying "the heart is where home is" is applicable to me.

Q:

What are guests most surprised about in visiting your country?

A:

Tourists usually have a preconceived idea of what Spain is like, and when they are here they are surprised to see that how they thought it was had no similarity to that notion. I find this is especially true with Galicia. The most common ide they have is that it's all Flamenco, bulls and polka dot dresses. That is just in Andalucia, and in Madrid, for tourists. Each region has its own unique traditions and folk culture.

Q:

What is one experience anybody visiting your country should do?

A:

El Camino de Santiago. It does not matter what religion you belong to. It is the sentiment, the relaxation, the feeling of wholeness one senses while on the Way. It's the goal of accomplishing a pilgrimage for whatever the reason one may have, reaching the end of the road where all roads meet. Along the way you make friends with people from all over the world, the group gets larger and larger, some speak Spanish, others French, others English, even Chinese. It's a wonderful multiracial group, and once you all reach Plaza do Obradoiro in Santiago de Compostela, you all embrace. Everyone's jumping and laughing with sore, bruised feet and sweaty clothes for having accomplished the challenge, feeling so good and wondering why the rest of the world does not embrace this experience.