Spend 2 weeks following ancient footpaths along the picture-perfect coast
Embark on arguably the most beautiful of all the Camino routes on the 14-Day Camino Portuguese Coastal Way! This incredible self-guided journey has you setting out from the UNESCO World Heritage City of Porto to experience the beauty of northern Portugal before crossing into the peaceful rural landscapes of northwestern Spain.
Following the ancient footpaths of this famous trail, you'll make your way through charming coastal villages in Northern Portugal, such as Povoa de Varzim, Esposende, Viana do Castelo, Vila Praia de Ancora and many more. Continuing through the rolling green landscapes of Galicia, you'll uncover lovely towns like A Guarda, Baiona and Vigo. Each day brings new surprises on the beach-fringed coast with a wealth of fascinating history at your finger tips every step of the way.
Stay in comfortable hotels enjoying modern amenities along the route. Savour the freshest seafood and incredible local wines as you kick back each evening in uniquely charming towns and villages.
The coast is calling! Book your spot on the Camino Portuguese Coastal Way today!
Highlights of the Camino Portuguese Coastal Way
Experience the magic of Porto, a UNESCO World Heritage site city brimming with fascinating ancient history and charm.
Embrace the tranquility of the Spanish and Portuguese countryside as you journey on historic footpaths along the coast.
Fill your lungs with the fresh sea breeze as you make your way from one charming village to the next.
Explore and stay in the iconic cities and towns of Vigo, Redondela, Padrón and of course, Santiago!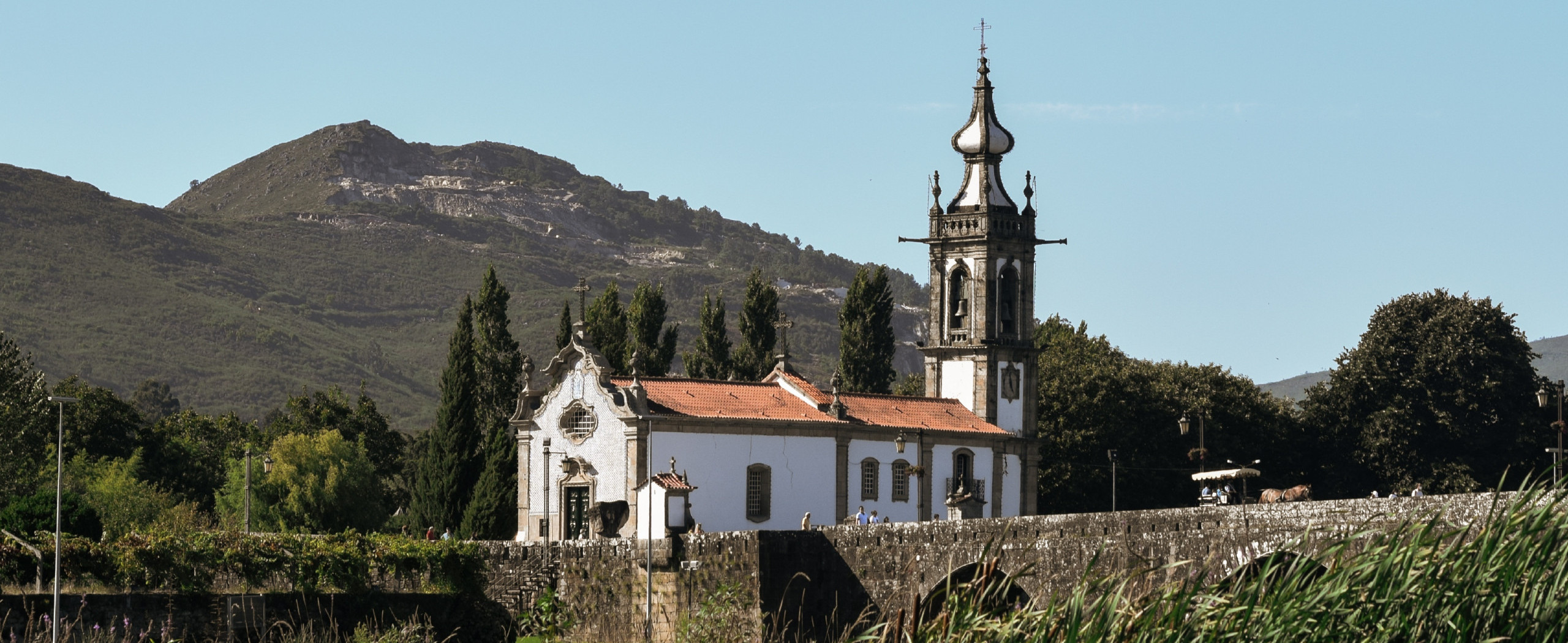 Camino Portuguese Coastal Way Tour Itinerary
Day 1

Arrival in Porto

Arrive in Porto where you journey on the Camino Portuguese Coastal Way begins.

After checking into your hotel, set out to explore this UNESCO World Heritage city. Stroll its historic streets and enjoy the wealth of gastronomy on offer here. Then it's time to enjoy a good night's rest before your first day of walking tomorrow!
Overnight Location: Hotel in Porto
Distance: None
Meals: None
Day 2

First Walk to Povoa de Varzim

Your first day departs from the same place as the standard Portuguese Way, but both routes follow different paths onwards (one is on the coast, and the other one, inland).

After leaving behind the outskirts of Porto, you'll be greeted by the stunning coastline its picture-perfect beaches. Continue on the coast until reaching Povoa de Varzim.
Overnight Location: Hotel in Povoa de Varzim
Distance: 27 km
Meals: Breakfast, dinner
Day 3

Coastal Beaches on the Walk to Esposende

Set out this morning following breakfast to enjoy more of the captivating coast. Today's route will introduce you to several lovely beaches and charming, small coastal villages on the path to Esposende.
Overnight Location: Hotel in Esposende
Distance: 22 km
Meals: Breakfast, dinner
Day 4

Walk through Scenic Countryside to Viana do Castelo

The walking day from Esponsende to Viana do Castelo combines rural tracks and paved roads, making for a peaceful section.

On arrival in Viana do Castelo, cross its bridge, a symbol of the town, you'll arrive in the town center and head to your next accommodations.
Overnight Location: Hotel in Viana do Castelo
Distance: 24 km
Meals: Breakfast, dinner
Day 5

Peaceful Trails to Vila Praia de Áncora

This is a quiet walking day that will allow you to reflect on the natural scenery and the amazing journey thus far. If you have enough time, you can take a quick swim on the beach when you arrive in Vila Praia de Ancora to cool down after a day on the trail!
Overnight Location: Hotel in Vila Praia de Áncora
Distance: 19 km
Meals: Breakfast, dinner
Day 6

Short Walk to A Guarda – Welcome to Galicia, Spain

Today marks your highly anticipated arrival in the beautiful region of Galicia, Spain. With the Portuguese portion of the trail now behind you, its time to embrace the natural beauty and cultural charm of Northern Spain! Continue to your hotel in Guarda for a good night's rest.
Overnight Location: Hotel in A Guarda
Distance: 13 km
Meals: Breakfast, dinner
Day 7

Walk the Galician Countryside from Guarda to Baiona

Today's journey is long, but the spellbinding Galician countryside will reward you endlessly! There is an option to split today's walk in two by adding a stay in Oia.
Overnight Location: Hotel in Baiona
Distance: 33 km
Meals: Breakfast, dinner
Day 8

Beaches and Islands on the Walk to Vigo

Today's brilliant route begins in Baiona, a small town where the first news of the discovery of America was received and the location where the caravel Pinta docked in its port when it came back from discovering the new continent.

The route will take you along the beaches of Nigrán and you will be able to admire the Cíes Islands.

The landscape in the last kilometres, will become more urban, as you get into Vigo, the most populated town in Galicia.
Overnight Location: Hotel in Vigo
Distance: 23 km
Meals: Breakfast
Day 9

Sandy Shores on the Walk to Redondela

Pilgrims will be able to take in the impressive views of the Estuary of Vigo on the left as you depart this morning. Today you'll enjoy a shorter, and less intense section and can enjoy a dip at one of the many beaches along the way!
Overnight Location: Hotel in Redondela
Distance: 15 km
Meals: Breakfast, dinner
Day 10

Walk the Traditional Portuguese Camino to Pontevedra

From this point up to Santiago, the path will be the same as the traditional Portuguese Camino, so you may see more Pilgrims on the way. Pontesampaio is a village which is worth seeing, it is interesting to learn about the historical events which took place here and cross the Roman bridge over the Verdugo river. This stage ends in Pontevedra, a beautiful town which is famous for its historical centre and its squares made of stone.
Overnight Location: Hotel in Pontevedra
Distance: 20 km
Meals: Breakfast, dinner
Day 11

Walk to Caldas de Rei via Barro

Your way out of Pontevedra this morning will lead you back to the rural side of Galicia, where you will be able to enjoy the woods and streams. Many pilgrims stop in Barro to see the Natural Park of the Barosa River with its cascades and mills, well worth the stop,

Finally, you'll arrive in Caldas de Reis, a town which is famous for its thermal spring waters and spa resorts.
Overnight Location: Hotel in Caldas de Rei
Distance: 21 km
Meals: Breakfast, dinner
Day 12

Charming Villages on the Walk to Padrón

Today, the Camino passes peacefully through small villages, with dispersed houses along the route.

Padrón is known as the first place on land spotted by the boat which carried the remains of Saint James the Apostle. Also, it is the birthplace of great authors like Rosalía de Castro and Camilo José Cela.
Overnight Location: Hotel in Padrón
Distance: 19 km
Meals: Breakfast, dinner
Day 13

Final Walk to Santiago

The last stage is the longest of this itinerary, so it is a good idea to get a nice, early start!

Today marks the culmination of your cycling route to Santiago de Compostela. The initial path will take you through rural landscapes as in the previous days, but during the final kilometers, as you approach Santiago, the landscape becomes more urban.

When you get to Santiago do not forget to go to the Pilgrim's Office with your Pilgrim Passport to get your long-awaited "Compostela" (Pilgrim Certificate)! Enjoy some time taking in the world-famous cathedral and the invigorating sights and sounds of this incredible city.
Overnight Location: Hotel in Santiago
Distance: 24,5 km
Meals: Breakfast
Day 14

Check out Santiago

Following breakfast your Camino adventure comes to an end. Enjoy your last moments in the city before making arrangements for your onwards journey.
Overnight Location: None
Distance: None
Meals: Breakfast

Book Now
Camino Portuguese Coastal Way Tour Price and Dates
This self-guided walking tour to Santiago de Compostela is always run as a private tour for your group only. The price always depends on the number of people sharing a room.
Prices below are per person:
Price per person staying in single room: $1,475 USD
Price per person staying in double room: $1,175 USD
Price per person staying in triple room: $1,050 USD
Book Now
Accommodation on Camino Portuguese Coastal Way Tour
This tour is based in hotels and booked in advance for the entirety of the trip (not on a day-by-day basis). The hotels on this tour are 2 and 3-star hotels and offer modern conveniences. Rooms are double occupancy, and single travelers will pay a supplement.
In some cases, accommodation listed below may need to be substituted for other, comparable accommodations. You can also upgrade to more luxurious accommodation options for an extra charge.
Single Rooms and Solo Travelers
Standard rooms are double occupancy. You can pay a supplement to have a private room in a hotel where possible. Solo travellers may be required to pay a supplement.
Standard Hotels
Accommodation along the Camino Portuguese Coastal Way Route
Enjoy a comfortable assortment of hand-picked hotels along the Camino Portuguese Coastal Way.
What's Included in Camino Portuguese Coastal Way Tour?
Meals
13 breakfasts and 10 dinners are included.
Accommodations
Accommodations for 13 nights are included. Accommodations before the tour are not included but can be added as a supplement.
Transportation during the Tour
During this tour, you will be walking from one location to another, and all the luggage transfers are included. However, you will be responsible for any other transportation outside of the tour itinerary.
Also Included
24/7 phone assistance
Pilgrim Passport
Walking notes
Not included
Anything not listed as included
Guide services
Insurance
Personal expenses
Transportation
Optional Extras
Extra nights along the route
Extra night in Santiago de Compostela
Upgraded accommodation
Frequently Asked Questions about Camino Portuguese Coastal Way
Galiwonders is a specialist tour operator, focusing on pilgrimages along the Camino de Santiago in Spain and Portugal as well as the Via Francigena in Italy. They offer adaptable tours to suit a variety of client needs and focus on truly taking care of their guests.
The tour guides are local experts, living and working right along the Camino. They have visited each hotel and restaurant they recommend, ensuring each is up to standard.
Galiwonders offers constant contact with their guests, ensuring all concerns or questions are addressed immediately so you can relax and enjoy your trip.
Learn More
Is this tour for me?
We rate this tour as a 3/5. You will be walking up to 27 km daily. Although the terrain is not difficult and the distances are moderate, you'll be walking daily which makes this tour more difficult. If you do this in the middle of summer the heat can make the days even more challenging.
Local Guide
Ask a Question
Got any questions regarding the tour? Interested in promotions for groups or want to customize this tour to fit your needs? We are here to help you!
Ask a question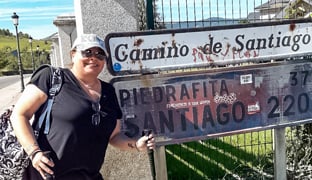 Margot
Santiago de Compostela, Spain
Margot is a new guide with Galiwonders, and loves sharing her pride in her home region of Galicia with visitors. She enjoys sharing the history, stories, legends, and unknown information with tourists to connect them deeply with the region they're in.
Q & A
Q:

What is your favourite trip to lead and why?

A:

Any trip around Galicia. Fortunately, I have had the chance to travel far and wide, I've visited many counties, many cities, all beautiful and with something special, but I guess the saying "the heart is where home is" is applicable to me.

Q:

What are guests most surprised about in visiting your country?

A:

Tourists usually have a preconceived idea of what Spain is like, and when they are here they are surprised to see that how they thought it was had no similarity to that notion. I find this is especially true with Galicia. The most common ide they have is that it's all Flamenco, bulls and polka dot dresses. That is just in Andalucia, and in Madrid, for tourists. Each region has its own unique traditions and folk culture.

Q:

What is one experience anybody visiting your country should do?

A:

El Camino de Santiago. It does not matter what religion you belong to. It is the sentiment, the relaxation, the feeling of wholeness one senses while on the Way. It's the goal of accomplishing a pilgrimage for whatever the reason one may have, reaching the end of the road where all roads meet. Along the way you make friends with people from all over the world, the group gets larger and larger, some speak Spanish, others French, others English, even Chinese. It's a wonderful multiracial group, and once you all reach Plaza do Obradoiro in Santiago de Compostela, you all embrace. Everyone's jumping and laughing with sore, bruised feet and sweaty clothes for having accomplished the challenge, feeling so good and wondering why the rest of the world does not embrace this experience.