Spend 7 days walking the last 100km of the Camino Sanabrés on this self-guided tour
For over 1000 years, pilgrims have been making their way to the cathedral of Santiago de Compostela by way of the Camino de Santiago, a network of over 800km of trails leading to the sacred site where they believe their sins will be forgiven. Walking the Camino Sanabrés, you'll have the opportunity to walk the last 100km from Ourense to Santiago, exploring the remarkable Galician landscapes that pave your way from south to north.
This remarkable walking route steeped in history and tradition unfolds over seven delightful days, allowing you to experience this ancient pilgrimage at your own pace. Whether you're seeking a spiritual encounter, an up-close examination of Spanish history and culture, or simply a scenic walking adventure in a land unknown, the Camino Sanabrés is sure to deliver.
Setting out from the spectacular city of Ourense in northwestern Spain, you'll travel ancient paths, trading routes and Roman trails making your way into Galician territory. With your sights set on the cathedral in Santiago, you'll experience the culture and energy of vibrant cities like Ourense and Santiago and small hamlets and villages like A Gouxa, Silleda, Vedra and more!
Join the ranks of the hundreds of thousands of pilgrims, traders, travellers and adventure-seekers who have embarked on a pilgrimage to Santiago de Compostela. The Camino Sanabrés to Santiago de Compostela tour is not one you'll ever forget!
Highlights of the Camino Sanabrés to Santiago de Compostela
Walk the last 100km of the scenic ancient trade and pilgrimage route of the Camino Sanabrés leading to Santiago de Compostela.
Visit the thermal springs of Ourense, learning about the longstanding medicinal traditions used here.
Hike charming woods and revel in the peace and tranquillity of the Galician countryside, enjoying your pilgrimage at your own pace.
Feel a sense of accomplishment as you reach your final momentous destination at the cathedral of Santiago de Compostela.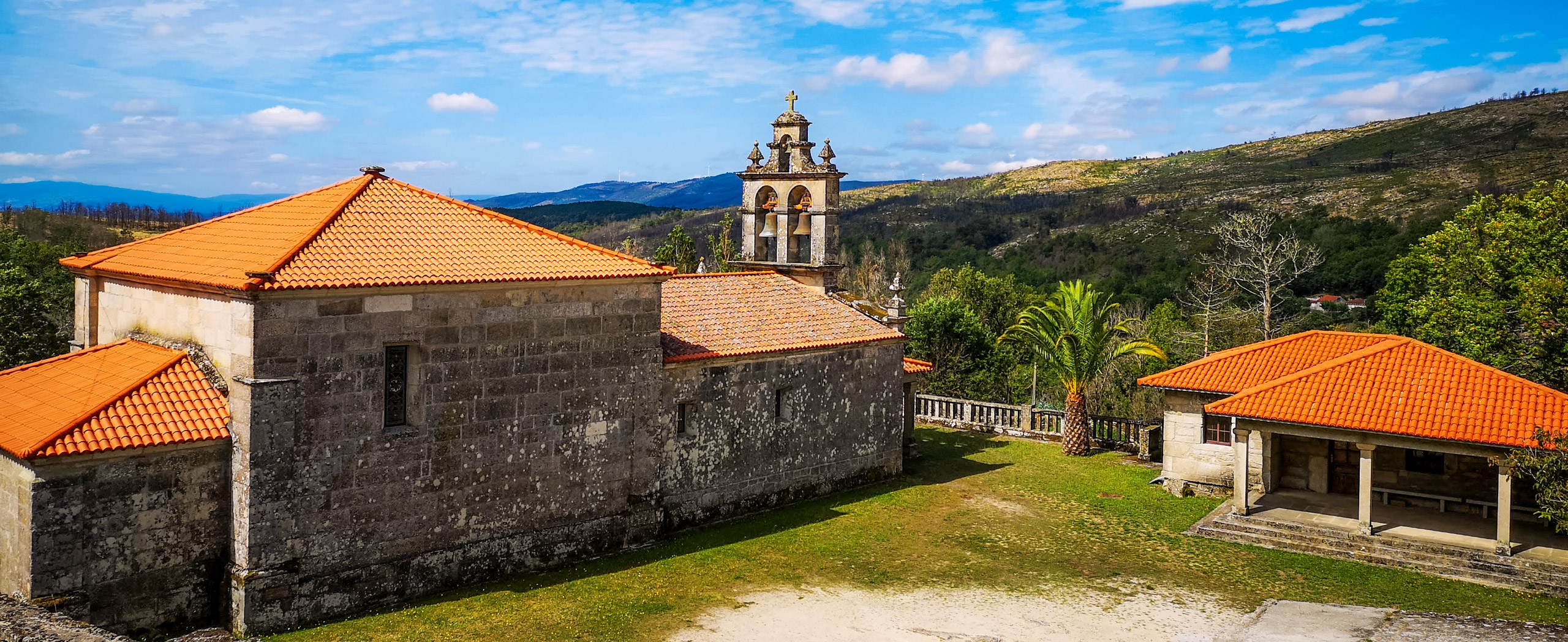 Camino Sanabrés to Santiago de Compostela Itinerary
Day 1

Arrive in Ourense

Your Camino Sanabrés pilgrimage begins in the well kept-secret of Ourense. Despite a beautiful blend of monumental buildings, a charming historic old town, and the beautiful Mino River, the city maintains a sense of cultural authenticity and is not yet a major destination for tourists in Galicia.

If your arrival time permits, set out on a mini-adventure to explore the cobbled streets of the charming old town. The Ourense Thermal Baths are also well worth a visit, known as wellness hot springs possessing therapeutic and medicinal benefits.
Overnight Location: Hotel Ourense
Distance: Flexible
Meals: None
Day 2

Walk the Galician Countryside to Cea

There's nothing that'll wake you up like a steep ascent first thing in the morning! Following breakfast today, you'll set out on the trail to climb 375m into the beautiful Galician countryside. Walking quaint lanes and pebbled roads, you'll make your way through dense woods and picturesque rural hamlets.

Gently rolling hills unfold before one final significant ascent to your pleasant hotel in rural Cea.

Spend the evening unwinding in the charming, tranquil location after your first full day of walking the Camino Sanabrés.
Overnight Location: Hotel in Cea
Distance: 7.5-8 hours, 22. km, 720m of ascent, 350m of descent
Meals: Breakfast, dinner
Day 3

Visit the Cistercian Monastery in Oseira

Making your way through woods and scenic hilly countryside, you'll arrive at the Cistercian monastery located in the town of Oseira. Beyond being a site of historical importance, the 12th-century monastery is now home to several monks. The monks also produce eucaliptine on-site at the monastery, a herbal liqueur.

Following your fascinating exploration of the monastery (and distillery!), a private transfer will pick you up from A Gouxa, taking you to your rural accommodations in Casarelos.
Overnight Location: Hotel in Casarelos
Distance: 6 hours, 16km, 600m of ascent, 370m of descent
Meals: Breakfast, dinner
Day 4

Walk Tranquil Country Lanes to Lalín and the Ponte Taboda Bridge

With two challenging days of ascents behind you, today will be a welcome reprieve of mainly downhill trails along quiet lanes and dirt roads. Halfway along the route, you'll discover a welcoming bar and restaurant near the train station at Lalín, a wonderful place to grab lunch before continuing your walk.

The trail continues towards A Ponte Taboda, a fascinating ancient bridge built in the year 912 and surrounded by stunning rural beauty. From the bridge, you'll take a private transfer to tonight's stay in a classic Galician manor house from the early 18th century.
Overnight Location: Hotel in Silleda
Distance: 6.5-7 hours, 20.5km, 475m of ascent, 750m of descent
Meals: Breakfast, dinner
Day 5

Shop in Silleda and Walk to Vedra

This morning, for those interested, some retail therapy is in store! You'll take a short private transfer from your accommodations to the village center in Silleda, where you can enjoy its quaint shops.

Setting out on today's trail, you'll find a combination of small ascents and descents, culminating in a particularly steep ascent leading you up to Vedra. If you prefer to skip the final climb to Vedra (2.5km), you can order a taxi in Ponte Ulla, taking it to your accommodations in Vedra.
Overnight Location: Hostel in Vedra
Distance: 7-8 hours, 22km, 475m of ascent, 750m of descent
Meals: Breakfast
Day 6

Reach Santiago de Compostela

Your final day of walking will be a special one, as your pilgrimage comes to an end in Santiago de Compostela!

The trail begins with a steep ascent but soon turns into smooth, undulating dirt roads and tarmac through rural landscapes until you reach the outskirts of town. Before entering Santiago, you'll encounter the breathtaking Romanesque Collegiate of Santa Maria La Mayor y Real de Sar in Piñeiro.

Finally, as you witness the landscape morph from rural to urban before your eyes, you'll arrive in Santiago de Compostela. Be sure to visit the ancient tombs and relics of the spectacular cathedral and discover the city's captivating historic old quarter.

Tonight, there will be plenty of reason to celebrate, as you have just completed the last 100km of the Camino Sanabrés to Santiago de Compostela. Soak up your final evening in the magnetic city of Santiago, enjoying your final night of the tour!
Overnight Location: Hostel in Santiago de Compostela
Distance: 6.5-7 hours, 19 km, 580m of ascent, 520m of descent
Meals: Breakfast
Day 7

Departure

Congratulations on completing the last 100km of the Camino Sanabrés! Following breakfast this morning, you'll head to the airport to depart with a week's worth of memories in tow!
Overnight Location: None
Distance: None
Meals: Breakfast

Book Now
Camino Sanabrés to Santiago de Compostela Price and Dates
This self-guided walking tour of the Camino Sanabrés is always run as a private tour for your group and the price per person depends on the number of people staying in one room, as well as the season.

Prices below are per person:
Price per solo traveller: $675 USD
Price per person in single room (group of 2+): $675 USD
Price per person sharing a double room: $475 USD
Price per person sharing a triple room: $425 USD
Book Now
Accommodation on the Camino Sanabrés to Santiago de Compostela Tour
This tour is based in 2-star hotels, hostels and guesthouses. All accommodations on the tour offer comfortable rooms with ensuite bathrooms.
In some cases, the accommodation listed below may need to be substituted for other comparable accommodations.
Single Rooms and Solo Travellers
There is no single room supplement option available on this tour. Rooms are double occupancy and single travellers will pay a supplement.
Hotels on Standard Tour
What's Included in the Camino Sanabrés to Santiago de Compostela Tour?
Meals
6 breakfasts and 3 dinners are included.
Accommodations
Accommodations for 6 nights are included.
Transportation during the Tour
Private transfers on Days 3, 4 and 5 are included on this tour, as well as luggage transfers between accommodations.
Also Included
Detailed route maps and notes
Routes in digital format for GPS and mobile
24-hour phone assistance
Not included
Flights to and from Spain
Any transfers by public transport
Visas if required
Travel Insurance
Tourist taxes if applicable
Meals, drinks, or snacks not previously mentioned
Fees not mentioned as 'included'
Guide
Optional Extras
Activities and excursions unless otherwise mentioned as included
Single room and solo traveller supplements
Airport transfers
Any additional nights before or after the tour
Taxi transfers to shorten routes
Frequently Asked Questions about Camino Sanabrés to Santiago de Compostela
Explore the hidden corners of Europe by bike or on foot with S-Cape. Their self-guided trips have been hand-crafted by local experts to highlight every detail of your destination. S-Cape designs tours that allow you to explore without restrictive timetables and immerse yourself in the diverse culture and natural beauty of Europe at your own pace.
Learn More
Is this tour for me?
We rate this tour as a 4/5. You will walk up to 8 hours each day and some terrain is hilly or mountainous. You should be physically capable of walking 100km in a week and comfortable with steep inclines and declines.
Ask a Question
Got any questions regarding the tour? Interested in promotions for groups or want to customize this tour to fit your needs? We are here to help you!
Ask a question