Walk through the highlights of the Italy's beautiful Campania region
What better way to explore Campania than on foot? Get up close to the landscapes and landmarks that make the Campania region of Italy a must-see on the Campania Walking Journey.
From high peaks to city streets, the Campania Walking Tour immerses you in Naples and the wonderful surrounding region. You'll lose yourself in the lush gardens of La Mortella, smelling flowers and discovering plant species you've never seen before. You'll stroll through the heart of Naples, snacking on local delicacies and snapping photos of the best attractions.
Then, the Campania Walking Tour takes you up to the peak of Monte Solaro on Capri, where a once in a lifetime view of the island and ocean awaits.
Of course, no visit to Naples would be complete without a visit to Mount Vesuvius to learn the history of this explosive landmark.
The Campania Walking Journey is ready to show you the best of Naples, so don't wait!
Highlights of the Campania Walking Tour
Immerse yourself in the lush La Mortella Gardens, where thousands of unique plant species bloom.
Explore Naples on foot, seeing the city's most beautiful sights and tasting local favourites along the way.
Ride a chairlift to the highest summit on Capri, enjoying a panoramic view of the entire island.
Learn about the history of Mount Vesuvius while you explore the legendary volcano and surrounding area.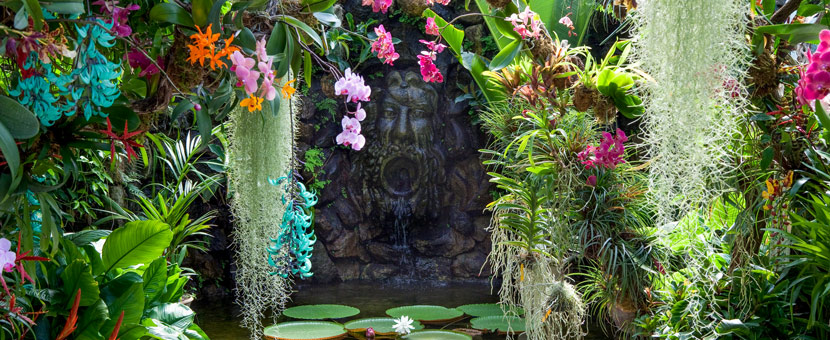 Campania Walking Tour Itinerary
Day 1

Arrival in Naples and Transfer to Ischia

Benvenuto! Once your plane lands in Naples, you'll be taken to the port for a sea crossing to Ischia. You'll then be taken to your B&B, where you're welcome to make yourself at home and spend the evening however you like.
Overnight Location: Hotel in Ischia
Distance: None
Meals: None
Day 2

La Mortella Gardens Tour

The first full day of your tour of Campania begins in one of the most beautiful spots on Ischia, the La Mortella Gardens. Here, you can find over 1700 species of plants, stunning flowers in full bloom, rare birds, and more. It's a tropical oasis right on the island!
Overnight Location: Hotel in Ischia
Distance: Flexible
Meals: Breakfast
Day 3

Walking Tour of Naples

After breakfast, you'll cross the gulf back to Naples. After you settle in at the B&B, your expert guide will lead you through the historic heart of this great city. Sample some tasty local specialties like pizza and sfogliatella on the way while you visit different historical sites and learn about the history of Naples.
Overnight Location: Hotel in Naples
Distance: Flexible
Meals: Breakfast
Day 4

Visit Capri and Valletta di Cetrella

Today, it's back on the boat to head to Capri. This lovely island boasts a chairlift up to the peak of the highest mountain on the island, Monte Solaro. You'll be whisked to the top for a birds-eye view of the entire island- bring a camera! Then, continue on to Valletta di Cetrella, a place that was special to local sailors back in the day. They would go on pilgrimage to the church here before heading out on dangerous expeditions to collect coral. Then, head back to Naples and find yourself a nice restaurant for dinner and a glass (or two) of wine.
Overnight Location: Hotel in Naples
Distance: None
Meals: Breakfast
Day 5

Hike to Mount Vesuvius

Saving the high point of your tour of Campania for last, today you'll explore the legendary Mount Vesuvius, the only active volcano on mainland Europe. It dominates the Gulf of Naples, and historically, an eruption in 79 AD destroyed the city of Pompeii. You'll climb to a nearby viewpoint where you can look over Mount Vesuvius and the Gulf.
Overnight Location: Hotel in Naples
Distance: 3-4 hours
Meals: Breakfast
Day 6

Farewell, Naples

Sadly, it's time to head back home. Enjoy a final breakfast in Naples before you're transferred to the airport.
Overnight Location: None
Distance: None
Meals: Breakfast

Book Now
Campania Walking Journey Price and Dates
This tour of Campania is always run as a custom tour for your group only and the price depends on the season and whether you are staying in a single, double or a triple room.
The best time to travel to Italy for the Campania Walking Journey tour is from April through October.
Prices of Campania Walking Tour
Have your own private tour with just your group! Prices below are per person, staying in a double or a triple room.
Departure on April 18th – July 10th or September 5th – October 10th:
Price per person staying in double room (min 2 travelers): $1,595 USD
Price per person staying in triple room (min 3 travelers): $1,450 USD
Departure on July 11th – September 4th:
Price per person staying in double room (min 2 travelers): $1,675 USD
Price per person staying in triple room (min 3 travelers): $1,525 USD
Book Now
Accommodation on the Campania Walking Tour
This tour is based in bed and breakfasts. The lodges offer pleasant rooms with ensuite bathrooms and great locations. Rooms are double occupancy, and single travellers will pay a supplement.
In some cases, accommodation listed below may need to be substituted for other, comparable accommodations.
Single Rooms and Solo Travelers
You can pay a supplement to have a private room in a hotel (please enquire for the prices).
Hotels on Standard Tour
Hotel Ireos in Ischia ★★★
This beautiful hotel with stunning views of the expansive beaches is a wonderful choice to stay in Ischia Island.
Palazzo Salgar in Naples ★★★★
Only a short walk from the heart of Naples, this boutique hotel has lovely rooms, fitness center and friendly staff.
What's Included in the Campania Walking Tour?
Meals
5 breakfasts are included.
Accommodations
Accommodation for 5 nights is included.
Transportation during the Tour
This tour includes all personal and luggage transfers during the tours, as well as return airport transfers and hydrofoil boat tickets.
Also Included
Guided activities mentioned in program:

La Mortella Garden tour
Guided walking tour with food tasting
Valletta di Cetrella tour
Mount Vesuvius tour

Entrance fees to national parks and historical sites
Chairlift tickets
Not included
Travel insurance
Travel to and from Naples
Lunches and dinners or drinks and snacks not previously mentioned
Tourist taxes
Personal equipment
Optional Extras
Any additional nights before or after tour
Frequently Asked Questions about Campania Walking Tour
Platypus Tour is a boutique Italian tour operator, based on the island of Ischia and founded in 1999. Platypus is unique in that many of their guides focus on sharing the historical, scientific, cultural and adventurous side of Southern Italy, both on land and sea. Their motto is to "Learn while traveling", so join them on a tour in the Amalfi Coast, Campania, Puglia, Umbria, Marche, or Tuscany.
Learn More
Is this tour for me?
We rate this tour as a 2 / 5. There is a fair amount of walking involved in the tour, but most of it is not particularly strenuous.
Ask a Question
Got any questions regarding the tour? Interested in promotions for groups or want to customize this tour to fit your needs? We are here to help you!
Ask a question