Encounter gold rush tales and dramatic scenery on the Chilkoot Trail
Immerse yourself into one of the classic trekking trips in all of North America: The Chilkoot Trail. Follow the route of the gold rush into the Yukon, over the incredible Chilkoot Pass. Along the way marvel at the beauty of Alaska, Northern British Colombia and the Yukon.
Start in the wonderful, coastal town of Skagway, Alaska, and enjoy a hiking expedition on the Chilkoot trail that carries you back in time while also introducing you to the crisp, untouched scenery tucked deep into the Northern Coast Mountains.
Embroidered with glaciers and glimpses of the unforgettable gold rush, this seven-day intrepid expedition not only tosses you remnants of history, but the breathtaking scenery coaxes you into trekking through tiredness and continuing on. Amid the five days of hiking 52 kilometers of the historical route—one that has you stamping new footprints on a path once walked by many gold seekers—you'll have time to bask, relax, and camp out in the thick of the wilderness.
Highlights of the Chilkoot Trail Hike
Let the stories of the gold rush, interwoven with the stunning scenery sweeping the Chilkoot Trail, immerse you as you trek.
Enjoy four nights basking in the sounds of the wild from the comfort of a tent, away from the hustle and bustle.
Allow the quirky remnants of the gold rush, peppering the 52 km trek, shower you with insight on what once was.
Look out for a collection of animals popping out along the route: black and grizzly bears, eagles, and salmon.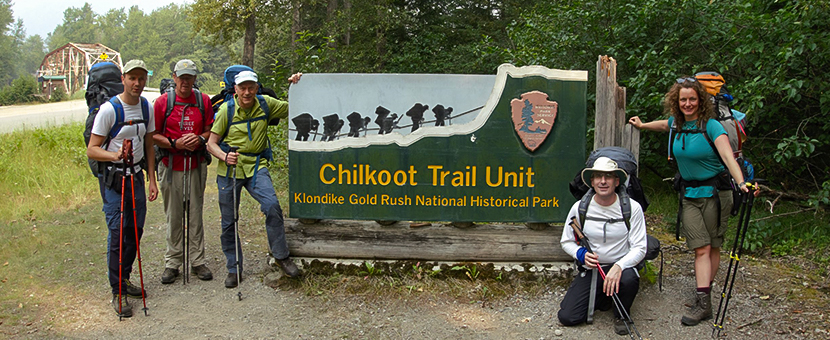 Chilkoot Trail Hike Itinerary
Day 1

Whitehorse

Meet with your guide at the airport and transfer to your hotel. Spend the rest of the day exploring the quirky, informative monuments and historical facts spanning Whitehorse. Check out the longest wooden fish ladder on Earth, learn tidbits about prehistoric times in the Yukon and Alaska, marvel at the sternwheeler on the banks of the Yukon River.
Overnight Location: Hotel in Whitehorse
Distance: None
Meals: None
Day 2

Start the Chilkoot Trail

Take a short transfer by road to Skagway, but don't dismiss this as a regular ride. Look out for the UNESCO International Civil Engineering Landmark: White Pass & Yukon Route Railroad. Admire the quaint buildings constructed during the gold rush in Skagway before beginning your route at the trailhead in Dyea for a short hike on challenging terrain to your campsite at Finnegan's Point. Keep your eye out for salmon swimming in the river, black bears, and eagles amid the lanes of Spruce trees.
Overnight Location: Camping at Finnegan's Point
Distance: 8 km
Meals: Lunch, Dinner
Day 3

Hike to Sheep Camp

Wake up in the bliss of wilderness, consume breakfast, and get ready for a trek along the Taiya River. Expect to encounter a couple of steep but short climbs as you meander along the river and Rock Garden, a charming meadow that grants easy walking. Reach Canyon City, a town once rich with prosperity due to the gold rush, but has since been abandoned. Set up your tent and enjoy a relaxing evening in the fresh air.
Overnight Location: Camping at Sheep Camp
Distance: 12.9 km
Meals: Breakfast, Lunch, Dinner
Day 4

Over Chilkoot Pass

Enjoy an early breakfast before traversing a trail peppered with gold rush tales: discover where gold miners dropped off non-essentials due to the steep terrain and wind past the canopy of trees to where a cacophony of rocks, scattered in all directions, take over the scenery. Here, many gold miners died because of an avalanche in 1898. Scramble up the Golden Stairs before reaching an elevation of 1100 meters above sea level. Say goodbye to Alaska and enter the Yukon. Enjoy a descent over fields of snow, pass lakes and creeks. Expect to reach Happy Camp at some point in the late afternoon.
Overnight Location: Camping at Happy Camp
Distance: 12.1 km
Meals: Breakfast, Lunch, Dinner
Day 5

Hike to Lake Lindemann

Get ready for a day meandering across relatively flat terrain while coming across a collection of enchanting views. Marvel at numerous bodies of water on this part of the journey: Long Lake, Deep Lake, Moose Creek, and Lake Lindemann. The hike may be relatively easy today but be prepared for a climb at Long Lake.
Overnight Location: Camping at Lake Lindemann
Distance: 8.8 km
Meals: Breakfast, Lunch, Dinner
Day 6

Bennett Lake & Float Plane

After breakfast, tie up your laces and begin the final leg of your trek. Today's route beautifully intertwines tales of the gold rush with epic scenery and adventure. As you reach Bennett Lake, which stretches across the Yukon and British Columbia, look out for the old church from the gold rush era and a rail station. Afterwards, hop on a floatplane and travel 45 minutes back to Whitehorse. Feel free to take up the option to book a flight tour that will carry you over the glaciers coating the Coast Mountains. Travel with your team from the airport to a hotel in Whitehorse. Enjoy a well-earned hot shower and spend the evening munching on a hearty dinner with your new friends and guide.
Overnight Location: Hotel in Whitehorse
Distance: 11.3 km
Meals: Breakfast, Lunch
Day 7

Depart Whitehorse

Say your goodbyes and get dropped off at either the airport or connect with your next adventure.
Overnight Location: None
Distance: None
Meals: None

Book Now
Chilkoot Trail Hike Price and Dates
The pricing of this guided trekking tour in Alaska and British Columbia depends on whether you choose to join an existing group on a specific date or if you prefer a custom tour for your group only.
The best time to travel to Yukon for this tour is during the summer months.
Prices of Private Guided Chilkoot Trail Hike
Book Now
Have your own private tour with just your group! Please contact us with your preferred date and the number of people in your group and we will create the itinerary just for you.
Join a Group Tour on Chilkoot Trail Hike
Make new friends and join a group on a Chilkoot Trail Hike. Prices below are per person:
Accommodation on Chilkoot Trail Hike
The Chilkoot Pilgrimage will have you staying in a combination of hotels and campsites. Expect to stay in two or three-star hotels, which come equipped with necessary, comfortable amenities. Keep in mind that you will stay with another member of the tour in a room at the hotels. Feel free to upgrade to single occupancy for an additional fee.
Throughout your trek, you will spend four nights at established campsites in a shared tent.
Please note that the hotels listed below may need to be swapped for other similar accommodations.
Single Rooms and Solo Travelers
You can pay a supplement of $275 USD to have a private room in a hotel. It's definitely possible to match single travelers up.
Hotels on Standard Tour
This simple, yet comfortable hotel has all the amenities needed to make your stay in Whitehorse relaxing and memorable.
Immerse yourself in the stunning landscapes as you camp out beneath the stars. High-quality equipment and expert guides offer a wonderful camping experience.
This simple, yet comfortable hotel has all the amenities needed to make your stay in Whitehorse relaxing and memorable.
What's included in the Chilkoot Trail Hike?
Meals
4 breakfasts, 5 lunches, 4 dinners are included. Meals in hotels are not included.
Accommodations
Accommodations for 6 nights are included.
Transportation during the Tour
Transport for you and your gear is included from pick-up at the airport in Whitehorse to drop-off at the airport in Whitehorse or at your next tour connection.
Also Included
An expert guide throughout the trek
Camping equipment, except for the sleeping bag and mat
Transportation throughout the trek, including a floatplane transfer from Bennett Lake to Whitehorse
Chilkoot Park fees and licenses
Not included
Flights to get to Whitehorse
Meals in hotels
Personal necessities
Insurance
A fishing license
Optional tour guide gratuity
GST (Goods and Services Tax) - 5%
Optional Extras
A plane tour over the glaciers dotting the Coast Mountains on Day 6
Extra night in Whitehorse before or after the tour
Frequently Asked Questions about Chilkoot Trail Hike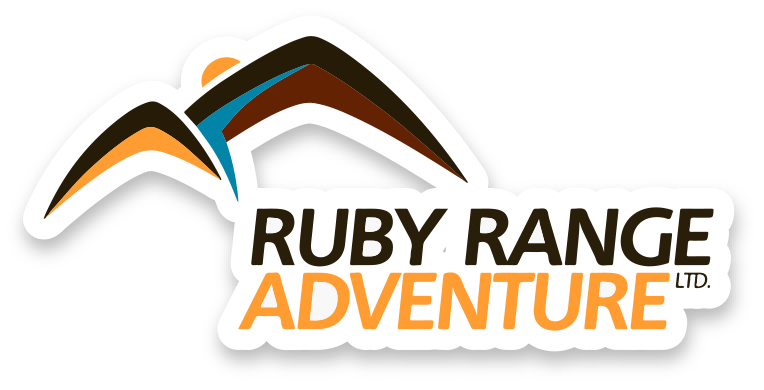 Ruby Range Adventure is a specialist outdoor tour company focusing on taking guests into the wild of the Yukon and Alaska. With a collection of knowledgeable guides, Ruby Range Adventure can share tales of the landscape and monuments dotting the rugged north while safely navigating expeditions across tundra, forested groves, mountain passes, and glaciers.
Is this tour for me?
This tour is rated as a 4 / 5. This trek will have you travelling over a variety of terrain by foot. You will also have to wear a backpack that weighs between 10-25 kg, so a high level of fitness and strength is a necessity.
Ask a Question
Got any questions regarding the tour? Interested in promotions for groups or want to customize this tour to fit your needs? We are here to help you!
Ask a question
SALE! Well, not yet.
Let me know when this trip goes on sale.
Notify me