Discover Cinque Terre's natural beauty on this week-long hiking pilgrimage
Hike beside the Mediterranean through the Cinque Terre National Park and explore charming Italian villages steeped in history. Experience great food and wine at each stop as you travel the ancient winding footpaths connecting the famous five Cinque Terre villages on this seven-day hiking tour from Sestri Levante to Portovenere.
The self-guided nature of the Cinque Terre hiking tour allows you to explore each destination at your preferred pace. Really loving that view of the Ligurian Coast at the sanctuary above Monterosso? Relax there a bit longer before you move on.
At the end of each magical day of your hiking tour, you'll experience the local culture as you stay in family-run hotels, ancient villas, or boutique guesthouses nestled into quaint villages and hamlets across Italy's Cinque Terre National Park and Ligurian Coast. Meet fascinating local hosts and learn about the rich history of each locale you visit on your hiking tour.
You'll sample the unique cuisine prepared by your Italian hosts with a breakfast and authentic dinner included each day especially for you. A life-changing journey awaits you on this 7-day Cinque Terre self-guided hiking tour. Don't miss it!
Highlights of the Cinque Terre Pilgrimage to Portovenere
Trek over ancient footpaths connecting picturesque Italian villages in Cinque Terre National Park.
Explore the local culture and delicious food and wine as you visit the five famous villages of Cinque Terre on the Ligurian coast.
Bask in the breathtaking views as you hike beside the Mediterranean coast through vineyards, beaches, forests, and quaint villages.
Discover the culture and history of Cinque Terre then rest for the night in beautifully appointed boutique hotels.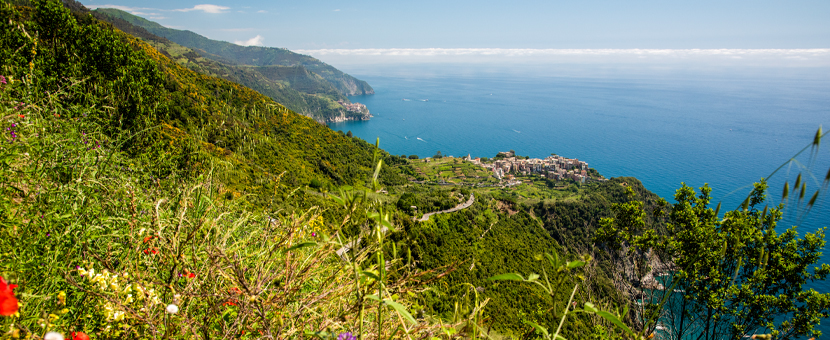 Cinque Terre Pilgrimage
Day 1

Arrive in Riva Trigoso

You'll arrive by train in Riva Trigoso, a town next to Sestri Levante. After you arrive, you'll check-in at your accommodation: Agriturismo La Pergola dei Paggi, the quaint farmhouse in Sestri Levante. Following check-in, you'll receive a roadbook containing all the maps and information you'll need for your self-guided hiking tour through Cinque Terre. After settling in, you'll enjoy the first of many dinners. This one will be rich with authentic Ligurian delicacies and served to you in the charming atmosphere of the hotel restaurant.
Overnight Location: Agriturismo La Pergola dei Paggi , Sestri Levante
Distance: (N/A)
Meals: Dinner
Day 2

Hike to Moneglia

Wake up the next morning and breakfast in style at your hotel before beginning your hike towards the first destination: the charming seaside town of Moneglia. You'll traverse little-used byways that lead to an old lookout point. Along the way you'll pass through miles of delightful Mediterranean vegetation.
Overnight Location: Hotel Villa Argentina, Moneglia
Distance: 3 hours, 6.5 miles, 400 m of elevation gain
Meals: Breakfast, Dinner
Day 3

Journey to Bonassola

Start the next step of your hiking pilgrimage off right with a rich breakfast in your hotel. Eat well, as this will be a longer route than yesterday, and one of the longer days of the entire hiking tour. You'll revel in the panoramic views on winding paths leading to picturesque villages. First, you'll head to Deiva Marina, then on to Framura, and finally to Bonassola for the night. Since there are six hours of hiking, if you become too tired, you may catch a train from one of the other villages to reach Bonassola. When you do reach Bonassola, you'll find simple but comfortable accommodations waiting for you, nestled in the village center.
Overnight Location: Hotel Pensione Moderna, Bonassola
Distance: 6 hours, 21 km, 1300 m of elevation gain
Meals: Breakfast, Dinner
Day 4

Wind your way to Monterosso

You're warming up now! Start off the morning with another lovely breakfast before you begin your self-guided hiking adventure anew. This time you're heading for Levanto, a little town you'll reach either via a footpath littered with panoramic views, or if you prefer, take a shortcut through an ancient tunnel system. Once you reach the town, you can enjoy some lunch from a local cafe, or go for a swim on the nearby beach before resuming your journey. When you're ready, you'll head for Monterosso… hiking straight into the spectacular Cinque Terre National Park!
Overnight Location: Hotel Monterosso Alto, Monterosso
Distance: 5 hours, 20 km, 700 m of elevation gain
Meals: Breakfast, Dinner
Day 5

Hike to Volastra

After your lovely buffet breakfast, it's time to get back to the action on your hiking tour! Today will take you over some difficult but terrifically scenic terrain. Follow the path as you wind your way up to an old sanctuary above Monterosso, and then as you progress, you'll arrive at another ancient sanctuary above Vernazza. From there you'll come down into one of the five famous villages of Cinque Terre, the village of Vernazza itself. After taking a lunch break in the village, your self-guided adventure begins again as you head for another village of Cinque Terre: Corniglia. From there, you'll cross vineyards with stunning views and arrive at the small hamlet of Volastra, where you'll stay at a lovely family-run hotel and dine in a local restaurant.
Overnight Location: Hotel Saraceno, Volastra
Distance: 6 hours, 19 km, 900 m of elevation gain
Meals: Breakfast, Dinner
Day 6

Descend to Portovenere and catch the ferry to La Spezia

Time to hit the road on the final leg of your hiking tour pilgrimage and head for Portovenere. On the way you'll pass through the timeless sanctuary of Montenero where you'll get scenic views sweeping over two more Cinque Terre villages: Manarola and Riomaggiore. The trail continues, crossing through vineyards and oak forests to a village called Campiglia. From Campiglia you can look out and see La Spezia and the large harbor to one side, while the open sea stretches away on the other. As you continue through more stunning vistas you'll arrive at a steep descent which will bring you to your last stop: Portovenere! Enjoy exploring Portovenere and then later in the day you'll ride a short ferry boat to La Spezia. Dinner will be a traditional affair served at a local restaurant in the town center.
Overnight Location: Affittacamere Casa Danè, La Spezia
Distance: 5-6 hours, 20 km, 300 m of elevation gain
Meals: Breakfast, Dinner
Day 7

Finish in La Spezia

Enjoy one last breakfast on the Ligurian coast before you head off your own way. Congratulations! You completed your self-guided hiking pilgrimage! You have had an amazing experience and accomplished quite a feat at the same time. Come back again soon!
Overnight Location: None
Distance: None
Meals: Breakfast

Book Now
Cinque Terre Self-Guided Pilgrimage to Portovenere Dates and Prices
This self-guided hiking tour of Cinque Terre is always run as a private tour for your group only and the price depends on what time of year you choose to visit the Ligurian Coast.

The prices below are per person:
Low Season (November to March, except holidays):
Price per solo traveller: $1,375 USD
Price per person staying in a double room: $850 USD
Price per person staying in a single room (non-solo traveller): $1,175 USD
Med Season (April to June and September to October):
Price per solo traveller: $1,395 USD
Price per person staying in a double room: $925 USD
Price per person staying in a single room (non-solo traveller): $1,375 USD
High Season (July and August):
Price per solo traveller: $1,475 USD
Price per person staying in a double room: $1,025 USD
Price per person staying in a single room (non-solo traveller): $1,450 USD
Book Now
Accommodation on Cinque Terre Pilgrimage
This tour is based in Hotels and boutique guesthouses.
Hotels on this trip are 2 and 3-star hotels and offer modern conveniences that can make this trip more pleasant. Rooms may have fireplaces or access to amenities such as hot tubs, steam rooms, or private decks to lounge on. Rooms are double occupancy, and single travelers will pay a supplement.
In some cases, accommodation listed below may need to be substituted for other, comparable accommodations.
Single Rooms and Solo Travelers
You can pay a supplement to have a private room in a hotel (please check Dates and Prices to find the pricing).
Hotels on Standard Tour
La Pergola dei Paggi (Guesthouse) ★★
This is a small, family-run B&B. Enjoy small but comfortable accommodations and delicious home-cooked meals in a friendly atmosphere. Free Wi-Fi.
Hotel Villa Argentina ★★★
This classic Italian hotel has many amenities including free Wi-Fi, bicycles, soundproof rooms, and air conditioning.
Hotel Pensione Moderna ★★★
This hotel is family-run and full of character. The staff are friendly and the rooms are simple but ample. You're within walking distance of the beach, bars, restaurants, and the train.
Hotel Monterosso Alto ★★★
This cozy hotel is just above the town of Monterosso. Enjoy an authentic dinner in the garden, where you can take in the sights of the peaceful Ligurian countryside all around.
This family run hotel is located in the hamlet of Volastra. Enjoy the mix of comfort and convenience for the whole family.
Affittacamere Casa Danè ★★
A city center B&B close to the railway station. Walk to nearby restaurants and enjoy the vibrancy of La Spezia.
What's included in the Cinque Terre Pilgrimage?
Meals
6 breakfasts, 6 dinners. Dinner will be in the guesthouse/hotel or in a typical restaurant. Usually there are three courses: a starter course, the main course, followed by dessert. Drinks are not included.
Accommodations
Accommodations for 6 nights along the self-guided tour route.
Transportation during the Tour
Transportation for your luggage from one accommodation to the next is included, unless you have booked a tour without luggage transfer. There is a boat ride on the last day that will take you from Portovenere to La Spezia (also included).
Also Included
Entrance fee for the Cinque Terre National Park
Maps, roadbook and descriptions of each hike
Emergency assistance by the phone during the office hours (until 6 pm)
Not included
Lunches
Tips
Entrance fees (other than the Cinque Terre National Park)
Accommodations before the tour begins in Sestri Levante and after the tour ends in Portovenere.
All services not specifically mentioned under "included"
Frequently Asked Questions about Cinque Terre Pilgrimage to Portovenere
Arbaspàa was formed in 2001, and headquartered in Manarola, with a second office in La Spezia. They are committed to providing guests with the best experience exploring the most incredible places in Liguaria.
Learn More
Is this tour for me?
We rate this tour difficulty as a 3 / 5. A minimum of 6.5 miles (10 km) and a maximum of 13 miles (21 km) will need to be covered each day. Most days are at least 12 miles (19 km). Should you get tired there are a couple of days that have shorter/alternate routes or where a train can be taken instead. Check your roadbook for specific details.
Ask a Question
Got any questions regarding the tour? Interested in promotions for groups or want to customize this tour to fit your needs? We are here to help you!
Ask a question