Walk the full Cotswold Way National Trail from north to south on this 12-day walking holiday
Walk the whole Cotswold Way National Trail from north to south on this 12-day self-guided walking tour. Just over 100 miles, the Cotswold Way trail allows you to explore this scenic region on foot, from charming local villages to historical sites and scenic viewpoints.
You'll discover the remains of Iron-Age hill forts and grand medieval and early-modern architecture, including Sudeley Castle and Dyrham Park, There is so much to see and do in the Cotswolds and walking the whole Cotswold Way will allow you to experience all the highlights. Choosing a self-guided tour means you can explore at your own pace, lingering in the places that capture your interest.
Each day, your walk takes you from one charming guesthouse to the next, while your luggage has already been transferred for you. Stay in centuries-old farmhouses and coaching inns that have been renovated for your comfort without losing their original character. You'll enjoy warm local hospitality as your hosts do whatever they can to exceed your expectations and introduce you to this incredible region they call home. You are sure to have an absolutely delightful time on your Cotswold Way 12-day walking tour!
Sudeley Castle
Sudeley Castle is one of the most popular attractions in the Cotswolds, a 1000-year-old fortification boasting a prestigious royal history. Today's castle is a 15th-century construction built on the foundations of a 12th-century fortress, and is located near Winchcombe in Gloucestershire. A visit to the house and castle grounds means that you'll be walking in the footsteps of many former English kings and queens, including Richard III, Elizabeth I and Lady Jane Grey. Henry VIII's last wife, Katherine Parr, lived in the castle and is entombed in a beautiful 15th-century church in the gardens.
The castle itself is packed with precious artifacts and relics of English history. Expect to see Marie Antoinette's bed hangings, Katherine Parr's love letters, and Charles I's personal beer mugs. However, the greatest treasure in Sudeley Castle lies outside the castle itself, in the beautifully designed gardens, featuring a staggering array of English roses. The castle puts on a regular roster of events, including sound and light shows, so make sure to check ahead so you don't miss a thing!
Dyrham Park
Stretching over 274 acres, Dyrham Park is a real highlight on the Cotswold Way. This grand country house sits in an ancient deer park, with superb grounds and gardens, and is a wonderful place for a relaxing stroll. You'll find tranquil, picturesque ponds, stunning borders, and an orchard filled with wildflowers, as well as a beautiful stately home with unique architecture and fascinating artifacts.
The history of Dyrham Park stretches all the way back to the Anglo-Saxon period: indeed, the name Dyrham comes from the Old English word for a deer enclosure. In 1689 the park was acquired by William Blathwayt, an important figure in the court of William III, and he made his stamp on the house and gardens by expanding them in a Dutch style. Today, this beautiful stately home stands as a reminder of England's rich and diverse history.
Crickley Hill Country Park
Crickley Hill Country Park is a quintessential part of the Cotswolds scenery – a beautiful region, rich in biodiversity and with a history that extends back thousands of years. The park covers a region of limestone grassland, teeming with different species of plants, which support yet more species of animals, insects and birds. This is the best place in the Cotswolds to see butterflies, which create a dazzling spectacle as they flit to and from the colorful flowers.
The region around Crickley Hill has been inhabited since the Bronze Age, with evidence for human activity going back to 4000BC. It's no wonder that humans have long been attracted to this stunning place, with magnificent views over the hills, extending all the way to the Brecon Beacons and the Black Mountains in Wales.
Highlights of the Cotswold Way Classic Walking Tour
See historic buildings and archaeological sites from a variety of historical periods, some as old as the Iron Age.
Enjoy fantastic views of the English countryside and small Cotswold villages.
Visit Crickley Hill Country Park, Standish Woods, Dodington Park, and Dyrham Park.
Stay in centuries-old farmhouses and coaching inns, modernized yet retaining their authentic historic character.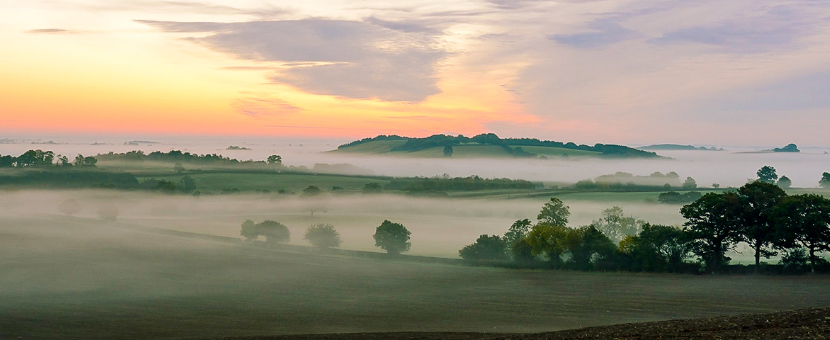 Cotswold Way 12-day Walking Tour Itinerary
Day 1

Arrive in Chipping Campden

Welcome to the delightful market town of Chipping Campden! This historic town boasts well-preserved features that can be dated back to the 14th Century. The town charter was received in 1175 from King Henry II and is a notable early example of town planning. "Chipping" comes from the Old English word that means market. Make your way to your hotel, and enjoy a comfortable night's rest before your tour starts in the morning.
Overnight Location: The Red Lion Inn, Chipping Campden
Distance: N/A
Meals: None
Day 2

Chipping Campden to Stanton

Leave Chipping Campden and begin your journey on the Cotswold Way trail, which first leads out onto the Cotswold escarpment. Along the way today you'll enjoy the magnificent view from Dover's Hill, the site of annual "Olimpick" games dating back to 1612, with events such as wrestling, leap-frog, and shin-kicking. Continue walking across the sprawling fields to reach the Broadway Tower, then pass through Broadway village, which is known for its connection to the Arts and Crafts movement. Follow the trail further to the village of Stanton and spend the night.

Please note that the delightful village of Stanton, which is built entirely out of Cotswold stone, is very small. There are very limited accommodations available, so you may need to extend your walk slightly to nearby Stanway, depending on availability.
Overnight Location: The Old Post House, Stanton
Distance: 10 miles / 16 km
Meals: Breakfast
Day 3

Stanton to Winchcombe

Today's walk starts with a steep but rewarding climb up to the escarpment. Enjoy the captivating view across the Vale of Evesham toward the Malverns. Continue to follow the trail past Beckbury Camp, a hill fort from the Iron Age. Walk through peaceful farmland until you reach Winchcombe, a town that is proud to be certified as "Walkers are Welcome". There is plenty of history to explore here from the Neolithic, Roman, and Medieval time periods. Don't miss the Sudeley Castle and Gardens, which is the UK's only private castle, and also the burial place for Catherine Parr, the last wife of Henry VIII. Enjoy staying overnight in this noteworthy town.
Overnight Location: The White Hart, Winchcombe
Distance: 8 miles / 12.5 km
Meals: Breakfast
Day 4

Winchcombe to Cheltenham

Leave Winchcombe in the morning through the grounds of the Sudeley Estate. Follow the steadily climbing trail to Belas Knap, an ancient long barrow from the Neolithic period, then continue to Cleeve Hill, which is the high point of the Cotswolds. As you journey to Cheltenham, you'll have several opportunities to view the town from above, first from Cleeve Common and then from Charlton Kings Common. Both viewpoints offer wonderful views of Cheltenham and the surrounding area. The trail traces the escarpment to Leckhampton Hill, where you'll come upon Devil's Chimney, a remarkable rock pillar. To reach Cheltenham, you'll have to leave the Cotswold Way and travel down the Gustav Holst Way. The historic town of Cheltenham is known as the UK's most complete Regency Town, where you can see many fine examples of period architecture. Don't miss the excellent culinary options for foodies, or the museums dedicated to famous sons of Cheltenham: composer Gustav Holst, and naturalist Edward Wilson.

Note that today's walk is 12 miles total, since you'll walk 10 miles along the Cotswold Way, plus 2 miles from the trail down into Cheltenham. An optional taxi transfer into Cheltenham is also available. Spend the night in this delightful town.
Overnight Location: Glenfall Farm B&B, Cheltenham
Distance: 10 miles / 16 km + 2-3 miles into Cheltenham
Meals: Breakfast
Day 5

Cheltenham to Birdlip

Enjoy a peaceful day today as the Cotswold Way follows along quiet paths, tracks, and lanes until it comes to the Crickley Hill Country Park. Stop here to enjoy scenic viewpoints and informative archaeological sites, including evidence of settlements from the Neolithic Period, and a hill fort from the Iron Age. Stop at the cafe for refreshments before continuing your walk across the rolling grassland hills of Barrow Wake. From here, the trail heads into a woodland area before emerging at the village of Birdlip, which is your stop for the night.
Overnight Location: The Royal George, Birdlip
Distance: 12 miles / 19 km
Meals: Breakfast
Day 6

Birdlip to Painswick

As you walk from Birdlip today, you'll pass the remains of the Great Witcombe Roman Villa, then continue through a beech forest to reach Cooper's Hill. Each May, Cooper's Hill hosts its famous Cheese Roll event, a crazy race in which a wheel of cheese is rolled down a steep hill and competitors chase it in a race to the bottom. After Cooper's Hill, follow the trail to the ruins of another hill fort from the Iron Age in Painswick Beacon. Soon after this, you will come to Painswick. This picturesque town is the midpoint of the Cotswold Way National Trail. Painswick is known for its Rococo Gardens, which are worth visiting if you have the opportunity, and gained additional notoriety in J. K. Rowling's novel A Casual Vacancy. Depending on your plans, you can travel immediately from Painswick or spend the night here before travelling on in the morning.
Overnight Location: The Falcon Inn, Painswick
Distance: 7 miles / 11 km
Meals: Breakfast
Day 7

Painswick to Stonehouse

Begin the second half of the Cotswold Way by following the trail as it descends and crosses the Wash Brook. After this, climb back up to the Edge Common and continue through a forest. When you reach a clearing in the trees at Haresfield Beacon, stop to take in the beautiful view of the River Severn, the longest river in Great Britain. There is also a hill fort here from the Iron Age. Descend into the lovely Standish Woods, where the ground is carpeted in the spring with wood anemone and bluebell, and with ferns in the summer. Emerge from the forest again into the grassy pastures of the Stroud Valley. You will soon reach historic Stonehouse, where you will spend the night. This village was listed in the Domesday Book (1086), England's earliest records.
Overnight Location: The Stonehouse Court Hotel, Stonehouse
Distance: 9.5 miles / 15 km
Meals: Breakfast
Day 8

Stonehouse to Wotton-under-Edge

Today's route begins with a walk through Dursley, and after this there is a steep climb to the top of Stinchcombe Hill. Soon afterwards, the trail climbs steeply again up to the Tyndale Monument and the Brackenbury Camp Hillfort. This is an excellent place to stop, rest, and enjoy the view of the surrounding area, including the town of Wotton-under-Edge. Follow the trail over the rolling hills, through wooded areas and up to viewpoints before coming to Wotton-under-Edge, where you'll spend the night. This historic town has many listed buildings, independent shops, and restaurants that you're sure to enjoy.
Overnight Location: The Swan Hotel, Wotton-under-Edge
Distance: 13.5 miles / 21.5 km
Meals: Breakfast
Day 9

Wotton Under Edge to Old Sodbury

Start your walk today by passing an old drover's pond and continue south on the Cotswold Way toward Horton, following Bath Lane. You'll come to Horton Court, a National Trust property which is probably England's oldest vicarage. Beyond this, the trail ascends up to Horton Fort, where you'll find panoramic views of the Severn Vale and beyond. Continue respectfully as you cross some farmland, then through Horton village. When you reach the village of Old Sodbury, you will stop for the night.
Overnight Location: Rock Cottage B&B, Old Sodbury
Distance: 12.5 miles / 20 km
Meals: Breakfast
Day 10

Old Sodbury to Cold Ashton

After you leave Old Sodbury, the Cotswold Way takes you through Dodington Park, which is an extraordinary parkland designed by architect Capability Brown in the 18th Century. Cross a few more fields to come to the town of Tormarton. Walk through Tormarton and follow the Marshfield Road south for a time, then continue on the trail as it crosses some arable land then skirts the perimeter of Dyrham Park. Dyrham Park is a 17th Century manor built on an ancient deer park which is now owned by the National Trust and was featured in the BBC adaptation of Poldark. From here, the day's walk concludes with a climb through a wooded area until you reach the village of Cold Ashton, your stop for the night.
Overnight Location: Whiteways B&B, Cold Ashton
Distance: 10 miles / 16 km
Meals: Breakfast
Day 11

Cold Ashton – Bath

What a wonderful finale to your Cotswold Way tour awaits you today! First, descend past Little Down promontory hill fort and the renowned Bath Racecourse into a lovely and secluded valley at Lower Hamswell. Watch for glimpses of the city of Bath in the valley below you and note that the trail slowly becomes more and more urban. You'll pass a number of parks and stunning regency architecture as you approach Bath Abbey. Outside the western doors of the abbey look for the stone disc in the pavement that marks the ending point of the Cotswold Way. You have now completed the entire trail!

There is much to see and do in Bath – enough that you may choose to extend your stay here to have more time to explore this fascinating and historic city. Don't miss the spectacular Roman baths that gave the city its name. Rest well here in Bath, with a sense of accomplishment. Well done!
Overnight Location: The Rising Sun Inn, Bath
Distance: 10 miles / 16 km
Meals: Breakfast
Day 12

Departure Day

Sadly, your Cotswold Way 12-day adventure has reached its end. Bath offers easy transportation options to help you on your way home. Trains are available from Bath Spa to London, or a bus can take you to Bristol Airport.
Overnight Location: N/A
Distance: N/A
Meals: Breakfast

Book Now
Cotswold Way 12-day Walking Tour Price and Dates
Pricing for this self-guided walking tour on the Cotswold Way is based on the number of guests on your trip. The best time to travel to the Cotswolds for this tour is during the warmer months from May to September, but the trip is available year-round.
Prices for Self-guided Cotswold Way 12-day Walking Tour
Prices below are per person:
Self-Guided Group of 1: $2,295 USD per person
Self-Guided Groups of 2-7: $1,350 USD per person in a double room
Self-Guided Groups of 8+: $1,295 USD per person in a double room
Book Now
Accommodation on the Cotswold Way 12-day Walking Tour
This tour is based in 3-4-star hotels and bed and breakfasts. In some cases, accommodation listed below may need to be substituted for other, comparable accommodations.
Single Rooms and Solo Travelers
You can pay a supplement of $795 USD to have a private room in a hotel.
Hotels on Standard Tour
What's included in the Cotswold Way 12-day Walking Tour?
Meals
11 breakfasts included with accommodations. Lunches, dinners and drinks are not included.
Accommodations
Accommodations for 11 nights along the tour. Extra nights may be added for an additional fee.
Also Included
Accommodation as described above
Luggage Transfers
Full Tour Pack
Smartphone App with GPS routes
24-hr emergency helpline
Not included
Lunch, Dinner & Drinks
Entrance to attractions
Buses and/or Ferries unless otherwise stated
Tourist Taxes where applicable
Optional Extras
Add an extra night in Chipping Campden, Cheltenham, or Bath
Frequently Asked Questions about Cotswold Way Classic Walking Tour
Compass Holidays has been helping walkers explore the best walks in the UK since 1990. Their expert team organize great walking holidays so you can sit back, relax and enjoy your time away.
Learn More
Is this tour for me?
We rate this tour as a 3 / 5. The difficulty level is moderate but you should be ready to walk up to 13.5 miles (21.5 km) per day over hilly terrain.
Ask a Question
Got any questions regarding the tour? Interested in promotions for groups or want to customize this tour to fit your needs? We are here to help you!
Ask a question