Walk over 100 miles from Chipping Campden to Bath on this self-guided walking holiday
Walk the entire Cotswold Way National Trail on this 9-day self-guided walking tour. You'll walk just over 100 miles, and following the Cotswold Way allows you to explore this beautiful region on foot, passing through local villages and guiding you to a wide variety of historical sites and scenic overlooks.
From the remains of Iron-Age hill forts to grander structures such as Sudeley Castle and William and Mary's Dyrham Park, and a little bit of everything in between, there is so much to see and do in the Cotswolds. Walking the Cotswold Way shows you all the highlights. This self-guided tour allows you to explore at your own pace. Linger a little longer at the sites that interest you and keep walking past those that don't.
You'll enjoy the charm and character of your accommodations each night. Stay in centuries-old farmhouses and coaching inns that have been renovated for your comfort but retain their original character. Meet hosts and hostesses that go above and beyond to meet your needs and introduce you to this incredible region they call home. You'll love every minute of your Cotswold Way 9-day walking tour!
Highlights of the Complete Cotswold Way in 9 days
Walk through the English countryside and the incredible history of the Cotswolds.
Enjoy fantastic views of the English countryside and small Cotswold villages.
Visit well-known landmarks and parks, including Crickley Hill Country Park, Standish Woods, Dodington Park, and Dyrham Park.
Stay in centuries-old farmhouses and coaching inns, modernized and converted to hotels or bed and breakfasts, but retaining their authentic historic character.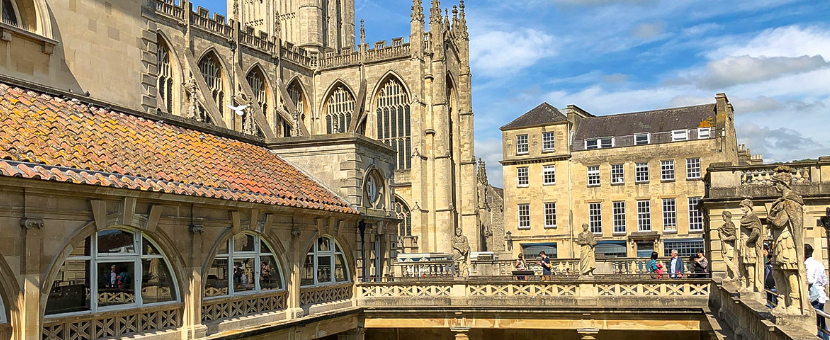 Cotswold Way 9-day Walking Tour Itinerary
Day 1

Arrive in Chipping Campden

Arrive in the charming market town of Chipping Campden, settle in your hotel, and get a good night's rest in preparation for your tour. This historic town has well-preserved historic features that date from as early as the 14th Century. The town received a charter in 1175 from King Henry II and is an early example of town planning. "Chipping" comes from the Old English word for market.
Overnight Location: The Red Lion Inn, Chipping Campden
Distance: N/A
Meals: None
Day 2

Chipping Campden to Wood Stanway

Leave town and begin the Cotswold Way trail which first leads out onto the Cotswold escarpment. Along your walk today you will enjoy the incredible view from Dover's Hill, the site of annual "Olimpick" games dating back to 1612. Continue walking across the lovely fields to the Broadway Tower and pass through Broadway village, which is well-known for its connection to the Arts and Crafts movement. The trail continues to the lovely village of Stanton, which is built entirely out of Cotswold stone. From Stanton, it is but a short and easy stroll to reach Wood Stanway, where you will stop for the night.

Please note that Wood Stanway is a very small place, so if you would like dinner you should book your meal ahead of time.
Overnight Location: Wood Stanway Farmhouse, Wood Stanway
Distance: 12.5 miles / 20 km
Meals: Breakfast
Day 3

Wood Stanway to Cleeve Hill

Today begins with a steep but rewarding climb up to the escarpment. Enjoy the amazing view across the Vale of Evesham toward the Malverns. Continue along the trail and pass Beckbury Camp, a hill fort from the Iron Age. Walk through peaceful farmland until you reach the town of Winchcombe. This town is proud to be certified that "Walkers are Welcome" and offers plenty of history to explore from the Neolithic, Roman, and Medieval time periods.

Don't miss Sudeley Castle and Gardens, the UK's only private castle and burial place for the last wife of Henry VIII, Catherine Parr. Leave Winchcombe via the Sudeley Estate, climbing steadily up to Belas Knap, a long barrow from the Neolithic period. After this, you will soon reach Cleeve Hill, which is the highest point on the Cotswold Way and your home for the night.
Overnight Location: Cleeve Hill Hotel, Cleeve Hill
Distance: 11.5 miles / 18.5 km
Meals: Breakfast
Day 4

Cleeve Hill to Birdlip

Walk from the Cleeve Hill Hotel back to the Cleeve Hill viewpoint to start your day with an inspiring view. Continue across Cleeve Common for more fantastic vistas out to Gloucester and the Malvern Hills in the distance. Follow the trail from there to the Charlton Kings Common for more amazing views, this time over Cheltenham and the Severn Vale. The trail continues along the escarpment and passes the Seven Springs to reach Leckhampton Hill and Devil's Chimney, a very distinctive rock pillar. From Leckhampton Hill the trail leads you into Crickley Hill Country Park, where you will find more overlooks alongside archaeological information and a cafe that is a nice place to stop for rest and refreshments. Cross the rolling grassland hills of Barrow Wake, then follow the path through the woods. You'll emerge from the woods at Birdlip, which is where you will stop for the night.

Note: Many people enjoy turning off of the Cotswold Way trail at Leckhampton Hill to spend an extra day visiting Cheltenham. You can reach Cheltenham by foot via the Gustav Holst Way, or take a taxi into town, and return to the trail the same way later. Cheltenham is a charming town that offers a wonderful foodie scene as well as museums dedicated to Gustav Holst and Edward Wilson, famous sons of Cheltenham. It is the UK's most complete Regency Town and visitors can explore extensive architecture from the period.
Overnight Location: The Royal George, Birdlip
Distance: 16.5 miles / 26.5 km
Meals: Breakfast
Day 5

Birdlip to King's Stanley

As you leave Birdlip, the path takes you past the ruins of the Great Witcombe Roman Villa, then through a wonderful beech forest. Soon you'll come to Cooper's Hill, which is the location for a crazy cheese-rolling event held annually in May in which a wheel of cheese is rolled down a steep hill and competitors "race" it to the bottom. Continue along the trail to the Painswick Beacon common land, where you can clearly see the remaining ramparts of a hill fort from the Iron Age. Proceed from there to Painswick.

Painswick is the midpoint of the Cotswold Way National Trail. Fans of J.K. Rowling might remember it from her novel, "A Casual Vacancy" and it is the location of the Rococo Gardens, which are well-worth visiting if you have time. In the churchyard in Painswick, notice that there are 99 yew trees there which were planted in the 1800s. According to legend, if they planted a 100th tree, the devil would destroy it. To celebrate the millennium, the church defied the legend and planted one more yew tree at the rear of the building, where it remains and thrives.

After Painswick, follow the trail across the Wash Brook then climb up to the Edge Common. Then enjoy a woodland section of the trail that emerges from the trees at Haresfield Beacon. Here you can see more bulwarks from another Iron-Age hill fort, along with a lovely view of the escarpment and the River Severn. Descend gently from here through the Standish Woods, delightfully carpeted with wood anemone and bluebells in the spring and an abundance of ferns in the summer. Emerge from this fairy wonderland into the Stroud Valley and cross grassy pastures to reach King's Stanley, which is where you will stop for the night.
Overnight Location: Orchardene B&B, King's Stanley
Distance: 16.5 miles / 26.5 km
Meals: Breakfast
Day 6

King's Stanley to Wotton-under- Edge

Get ready for a lot of climbing today, rewarded by fantastic views. As you exit King's Stanley, follow the trail to Dursley, then make the steep climb up to Stinchcombe Hill. Continue steeply upward to reach the 111-foot-tall Tyndale Monument, in memory of William Tyndale who was born nearby. You'll also see the Brackenbury Camp Hillfort and a fantastic view of Wotton-under-Edge, which is where you will end your walk today. Follow the trail from here to the village of Alderly, through a lower woodland area, then climb again up to the Somerset Monument. Make your way to the town of Wotton-under-Edge, where you can find many listed buildings, enjoy a number of independent shops and restaurants, and spend the night.
Overnight Location: The Swan Hotel, Wotton-under-Edge
Distance: 13.5 miles / 22 km
Meals: Breakfast
Day 7

Wotton-under- Edge to Tormarton

Today, the Cotswold Way follows Bath Lane past an old drover's pond heading south toward Horton. The Horton Court property is believed to be the oldest vicarage in England and it is a National Trust property. Climb from Horton Court to Horton Fort and pause to take in the extensive view of the magnificent Severn Vale. Continue across the farmlands to the villages of Horton and Old Sodbury. After Old Sodbury, you'll pass through Dodington Park, which is a wonderful parkland designed by architect Capability Brown in the 18th Century. A short walk from here brings you to Tormarton, which is your home for the night.
Overnight Location: Chestnut Farm B&B, Tormarton
Distance: 16 miles / 26 km
Meals: Breakfast
Day 8

Tormarton to Bath

You've come to the final stretch of trail! Leave Tormarton and head south on the trail which follows Marshfield Road. Remain on the trail across arable land, eventually coming to a path that passes around Dyrham Park's perimeter wall. Dyrham Park is a William and Mary mansion built in an ancient deer park. Climb from here up the trail through the forest to reach Cold Ashton, then descend into a lovely and secluded valley near Lower Hamswell. You'll pass Little Down promontory hill fort and the well-known Bath Racecourse. You see more and more glimpses of the city of Bath in the valley below you and you'll notice the trail becoming more urban in its final few miles. You'll pass through a number of parks and see plenty of regency architecture before coming to Bath Abbey. Here, in the pavement outside the ornate western doors, you'll find a carved stone disc that marks the end of the Cotswold Way.

Congratulations, you made it! Enjoy exploring the city of Bath, including the ancient Roman baths that give the city its name. Spend the night here before returning home, or perhaps extend your stay in Bath to have more time to enjoy all that this city has to offer.
Overnight Location: The Rising Sun Inn, Bath
Distance: 17 miles / 27 km
Meals: Breakfast
Day 9

Departure Day

Sadly, your Cotswold Way adventure has come to an end. Trains are easily available from Bath to London, or a bus can take you to Bristol Airport.
Overnight Location: N/A
Distance: N/A
Meals: Breakfast

Book Now
Cotswold Way 9-day Walking Tour Price and Dates
This self-guided hiking tour in England is run as private tour for your group only and the price is based on the number of guests on your trip.

Prices below are per person:
Price per person sharing a double/twin room: $1,175 USD
Price per person staying in a single room: $1,550 USD
Price per solo traveller: $1,825 USD
Book Now
Accommodation on the Cotswold Way 9-day Walking Tour
This tour is based in 3-4-star hotels and bed and breakfasts. In some cases, accommodation listed below may need to be substituted for other, comparable accommodations.
Single Rooms and Solo Travelers
You can pay a supplement of $645 USD to have a private room in a hotel.
Hotels on Standard Tour
What's included in the Cotswold Way 9-day Walking Tour?
Meals
8 breakfasts are included with accommodations. Lunches, dinners, and drinks are not included.
Accommodations
Accommodations for 8 nights along the tour. Extra nights may be added for an additional fee.
Also Included
Accommodation as described above
Luggage Transfers
Full Tour Pack
Smartphone App with GPS routes
24-hr emergency helpline
Not included
Lunch, Dinner & Drinks
Entrance to attractions
Buses and/or Ferries unless otherwise stated
Tourist Taxes where applicable
Optional Extras
Add an extra night in Chipping Campden, Cheltenham, or Bath. You can pay a supplement to have a private room in a hotel. Contact us and we can try and match single travelers up, where possible.
Frequently Asked Questions about Complete Cotswold Way in 9 days
Compass Holidays has been helping walkers explore the best walks in the UK since 1990. Their expert team organize great walking holidays so you can sit back, relax and enjoy your time away.
Learn More
Is this tour for me?
We rate this 9-day Cotswold Way walking tour as a 4 / 5. The difficulty level is moderate, but you should be ready to walk up to 17 miles (27 km) per day. If you'd like a slower pace there are other options that aren't as challenging.
Ask a Question
Got any questions regarding the tour? Interested in promotions for groups or want to customize this tour to fit your needs? We are here to help you!
Ask a question