Discover Corsica's stunning natural beauty on this 8-day self-guided hiking adventure
Trek from the mountains to the sea, on this adapted route of the Mare a Mare route. This self-guided trek goes from Corte to Piana and takes you along the most beautiful and scenic section of the traditional Mare a Mare North trail.
Explore breathtaking gorges, lakes, waterfalls and natural pools during this incredible walking tour in Corsica.This self-guided walking tour allows you to see the highlights of this famous trail in a fantastic, week-long hiking adventure. You'll marvel at the beauty of the Scala Santa Regina gorge and the Spelunca gorge. Enjoy the lovely Calacuccia Lake, the waterfalls at Radule, and the natural pools in Aitone. Explore the picturesque seaside town of Porto, and while you're there take in the bright red rocks at Calanches of Piana, and watch for dolphins at the Scandola Nature Reserve.
The tour is self-guided so walk at your leisure from one hotel to the next. Luggage transfers are included, so carry only what you need for the day. A beautiful adventure in Corsica awaits you so book your Mare a Mare North tour today!
Highlights of the Corte to the Coast Trek
Witness lovely waterfalls and bathe in refreshing natural pools.
Enjoy the shade of the unique Lariccio pine trees as you cross the Col de Verghio Pass.
Discover the stunning natural beauty of the Spelunca gorge and the famous Genoese bridges that cross it.
Explore the red rocks of the Calanches of Piana and watch for dolphins at the Scandola Nature Reserve.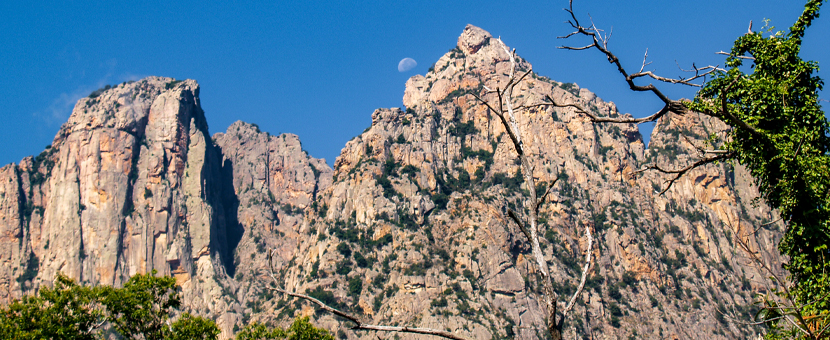 Corte to the Coast Walking Tour
Day 1

Arrival in Corte

Welcome to Corsica! Make your way to Corte to begin your tour. Trains are available from Ajaccio or Bastia.
Overnight Location: Hôtel Duc de Padoue, Corte
Distance: None
Meals: None
Day 2

Explore Scala Santa Regina Gorge and Trek to Calacuccia Lake

A short transfer takes you from Corte to the beautiful Scala Santa Regina Gorge. From the cliffs, enjoy incredible views of the Golo River and the surrounding valley. Follow the old mule path to reach Calacuccia Lake and your hotel for the night.
Overnight Location: Hôtel Acquaviva, Calacuccia
Distance: 5 hours, 12 km, 850 m of ascent, 500 m of descent
Meals: Breakfast
Day 3

Radule Waterfall and Shepherd House, Verghio forest

Enjoy a beautiful day walking through the Verghio forest. Detour from the Mare a Mare route to visit the shepherd house and waterfalls at Radule. Continue your hike on the famous GR20 trail until you reach tonight's hotel. Along the way, take advantage of the numerous opportunities for bathing in the natural pools.
Overnight Location: Hôtel Castel di Verghio, Verghio
Distance: 6-7 hours, 18 km, 900 m of ascent, 554 m of descent
Meals: Breakfast, Dinner
Day 4

Aitone Stream and Natural Pools, Evisa

Cross the Col de Verghio Pass, one of the four great passes of Corsica. Continue your walk through a forest of unique, endemic Lariccio pines to reach Evisa, the chestnut capital of Corsica. Enjoy fantastic views of the natural pools and gently flowing waters of the Aitone Stream. Spend the night in Evisa.
Overnight Location: Hôtel Scopa Rossa, Evisa
Distance: 3.5-4 hours, 11 km, 400 m of ascent, 850 m of descent
Meals: Breakfast, Lunch, Dinner
Day 5

Trek from Evisa to Porto through Ota

Explore the breathtaking natural scenery of the Gorges de Spelunca, as well as the renowned Genoese bridges that give you outstanding views of this amazing area. Continue walking to the village of Ota, where you can stop for a rest before finishing the day with a walk down to the port town of Porto. Spend the night in Porto after an absolutely incredible day.
Overnight Location: Hôtel Costa Rossa, Porto
Distance: 5.5-6 hours, 14.8 km, 650 m of ascent, 1,450 m of descent
Meals: Breakfast
Day 6

Scandola Nature Reserve and Calanches of Piana

Today is a rest day in the incredible town of Porto and the surrounding area. There are many ways to enjoy this day, including a boat ride around the island's coast, renting a bicycle to explore, or simply relaxing on the beach. There's no bad way to explore this area, which includes the bright red rocks of the Calanches of Piana as well as the Scandola Nature Reserve. Watch for dolphins splashing in the surf. This is one of the most wonderful places on the island of Corsica.

If you would prefer to make today another walking day, the follow the coastline as you walk toward Piana. You'll climb inland toward the summit of Capu d'Ortu. From the shady Palani chestnut orchard, you'll find wonderful views of the Calanches of Piana. Continue your walk all the way to the idyllic Piana village. This walk takes about 4 hours, after which you can take a bus back to Porto to spend the night.
Overnight Location: Hôtel Costa Rossa, Porto
Distance: N/A
Meals: Breakfast
Day 7

Porto – Ajaccio

In the morning, catch the bus from Porto to Ajaccio. The ride takes about 2.5 hours and tickets should be purchased directly from the driver (not included). Transfer from the Ajaccio coach station to your hotel is included. Stay overnight in Ajaccio. Note that the bus from Porto to Ajaccio is not available on Sundays or holidays.
Overnight Location: Hôtel Napoleon, Ajaccio
Distance: 2.5 hrs (driving)
Meals: Breakfast
Day 8

Departure Day

Sadly, your Mare a Mare North walking tour in Corsica ends after breakfast. Airport transfers can be arranged for an additional fee. Have a pleasant journey!
Overnight Location: N/A
Distance: N/A
Meals: Breakfast

Book Now
Dates and prices of self-guided Corte to the Coast Walking Tour
This self-guided tour in Corsica is always run as a private tour for your group only and the price depends on the month of your travelling.

The prices below are per person, sharing a double or a triple room:
May, June or September: $975 USD per person
July or August: $1,050 USD per person
Book Now
Accommodation on the Corte to the Coast Walking Tour
This tour is based in hotels. Hotels on this trip are 2- or 3-star hotels. Rooms are double occupancy, and single travelers will pay a supplement.
In some cases, accommodation listed below may need to be substituted for other, comparable accommodations.
Single Rooms and Solo Travelers
You can pay a supplement to have a private room in a hotel. The supplement is $375 USD in May, June and September, and $475 USD in July and August.
Hotels on Standard Tour
What's included in the Corte to the Coast Walking Tour?
Meals
7 breakfasts, 1 picnic lunch, and 2 dinners are included with your tour.
Accommodations
Accommodations for 7 nights along the tour as described. Most hotels are of a 3-star standard.
Transportation during the Tour
This tour includes one transfer from the trail station to Ajaccio. You are in charge of any other transfers.
Also Included
Luggage transfers
Local assistance as needed
Not included
Airport transfers and any other transfers not listed as included
Picnic lunches, evening meals and beverages not listed as included
Admission to tourist attractions
Personal expenses
Travel insurance
Optional Extras
Purchase maps of the walking tour - $50 USD
Private transfers (price per taxi, 2-4 people):

Ajaccio – Ajaccio Airport: $75 USD
Porto – Ajaccio: $325 USD (+ $225 USD on Sundays/holidays)
Frequently Asked Questions about Corte to the Coast Trek
Europe Active Corsican adventure tour company. This family business started in 2005 and is based in a small village south of Bastia, though operating all over Corsica. Europe Active is focused on sharing the best of Corsica's outdoors with an international community of adventure travellers.
Learn More
Is this tour for me?
We rate this tour as a 3 / 5. You should be able to walk for 4-7 hours per day on uneven ground in the mountains. Day 3 is the most difficult day for most guests.
Ask a Question
Got any questions regarding the tour? Interested in promotions for groups or want to customize this tour to fit your needs? We are here to help you!
Ask a question