Experience 7 adventure-packed days on this guided cycling tour of the Ecuadorian Andes
This guided Ecuador bike tour will give you the opportunity to explore volcanoes, lakes, charming villages and the unique wildlife that makes this part of Ecuador so special. Throughout your guided bike tour you'll immerse in the diverse and hospitable culture and traditions of the Ecuadorian people. If you are seeking thrill and adventure, this fantastic guided bike tour is for you!
This bike tour allows you to experience majestic volcanoes like Cotopaxi and Imbabura and see the beauty of their craters and the diversity of environment they create.   For those who love nature, visiting the Cayambe Coca eco-reserve will allow you to try to spot Spectacle Bears! Enter the cloud forest of Pululahua crater and explore the wildlife of this beautiful geo-botanical reserve.  And for those who love history, this guided Ecuador bike tour will let you immerse into the diverse culture and traditions of Ecuador. Walk in the colorful local markets and learn the ways of the indigenous people in Otavalo, or continue the local ritual to relax in the volcanic hot-springs right in the Andes mountains.
Highlights of the Cross Country Cycling in Ecuadorian Andes
Cycle through the countryside, with incredible views of some of the biggest volcanoes in Ecuador.
View wildlife on this bike tour, such as spectacle bears, deer, hummingbirds, tanagers, warblers, flycatchers and even condors.
Discover the traditions of the indigenous people in the Ecuadorian Andes by visiting local villages and markets.
Enjoy the relaxing volcanic hot springs and spa after a wonderful cycling through the Ecuadorian Andes.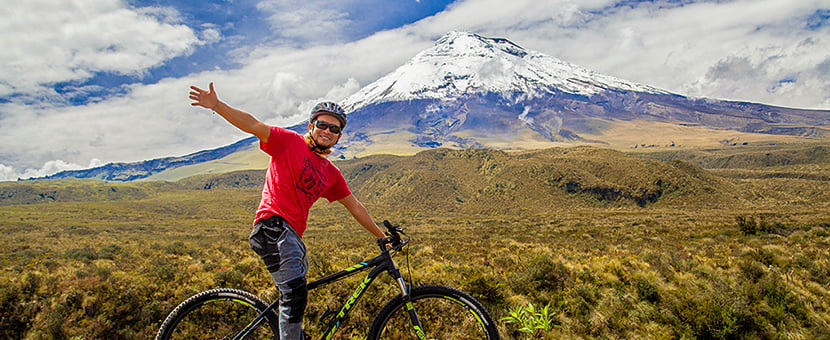 Cross Country Cycling in Ecuadorian Andes Itinerary
Day 1

Arriving at Quito

Your guided cycling tour begins in Quito, the largest and best-maintained colonial city of America. The city is viewed as the Cultural Capital of Latin America and is situated on the equator in a valley at the bottom of the Pichincha Volcano.

Depending on your arrival time, you can either explore the city and the old town of Quito or get a guided day tour. At night, one of our tour guides will meet you at the reception for a briefing at 6 PM. You will be informed about the cycling tour and will be able to ask questions regarding it. This day will also help you to get used to the new environment.
Overnight: Hotel in Quito
Meals: none
Day 2

Biking in Cotopaxi

Today begins with a transfer south along the Avenue of the Volcanoes on the Pan-American highway. During the drive, you can savor the sights of majestic volcanoes such as Antisana, Pichincha, Cayambe, Pasochoa, Illinizas, and Corazon.

After you enter Cotopaxi National Park, your guide will lead you on a cycling trail high on the alpine border where you will learn about the indigenous animals and plants local to the Paramo Ecosystem. This 20-mile ride will take 2-4 hours, and the trail will be a mixture of gravel track and dirt roads, where wild bulls and horses wander through the slopes. Enjoy a thrilling dirt road all the way to the Inca Ruins of Pucara. After lunch, continue to the beautiful Hacienda Santa Ana for the night.
Bike: 2-4 hours, 20-miles
Overnight: Guesthouse near Cotopaxi
Meals: Breakfast, Lunch
Day 3

Papallacta Hot Springs

Today is a day to explore the Andes on foot, bike and in the hot springs! After a hearty breakfast transfer to the western side of the Ecuadorian Andes, with a stop at the Guango Hummingbird Reserve. This location gives you the best opportunity to watch around 20 species of amazing native birds. Next check in to your cabin at the Papallacta resort, which is situated right in front of the restorative volcanic hot springs.

After lunch, go for a hike to a cloud forest and see rare plants like local orchids, bromeliads and some other types of unique vegetation. Keep your eyes open to spot some of the native bird species, such as condors, tanagers, warblers or flycatchers.
During the rest of the day, you will be able to enjoy the relaxing and recuperating volcanic hot springs and Spa therapies right in the Andes.
Hike: 2-3 hours, 3.2km
Overnight: Hotel in Papallacta
Meals: Breakfast
Day 4

Biking in Cayambe Coca

Transfer to the remote Cayambe Coca Ecological Reserve in the high Ecuadorian Andes and get ready for a trail without any other traffic. The great bike ride today will take 2-4 hours and covers 56km. Along the way, keep your eyes open as this is the habitat for the only species of bears in South America - the Spectacle bear. You will be able to see the fields of potato, corn, fava beans and lupin, on which the natives strongly depend on in their daily lives.

We will arrive at our hacienda for the check-in. You will have the chance to do an optional 40 min bike ride to the equator monument and find out more about latitude 0.
Bike: 2 - 4 hours, 56 km
Overnight: Guesthouse in Cayambe
Meals: Breakfast
Day 5

Biking to Otavalo

Start with a 1-hour transfer and then get on your bike for a wonderful ride on a beautiful, paved road. Along the ride, you will see the Imbabura Colvano and the beautiful San Pablo Lake. You will also pass through many indigenous villages and stop to visit a local weaver workshop and discover how they use still use their old traditions to do their tapestries.

After lunch, you will be able to spend in Otavalo's indigenous market, which boasts some of the best local crafts at the best prices. Look out for amazing hand-made souvenirs, including jewelry, blankets, and other products. In the early evening, we will all join for a lovely meal at our hacienda.
Cycling time: 2 - 4 hours, 29 Km
Overnight: Guest House in Otavalo
Meals: Breakfast, Dinner
Day 6

Biking into Pululahua

On the last day of this great cycling tour in Ecuador's highlands, start with a 2-hour transfer on the Pan American highway. Along the way stop in Tabacundo and the famous rose shops. Later, head to the valley of Guayllabamba, where you will have an opportunity to try some of the local fruits. Today's cycling will start in the small village of Yunguilla. From here, ride into the crater of Pululahua into a beautiful cloud forest, which is also a geo-botanical reserve. Riding down into the center of the caldera, you will have a chance to savor some amazing scenery.
Lunch, made by your driver and guide, will be waiting for you right at the center of the caldera. In the afternoon, you will have the option to hike out of the volcano, otherwise, continue back to Quito by bus.
Biking time: 2 - 4 hours, 24 Km
Overnight Location: Hotel in Quito
Meals: Breakfast, Lunch
Day 7

End of Ecuador Cycling Tour

Wake up and enjoy your memories while savoring your breakfast. Many guests choose to stay a few extra days and explore the stunning city of Quito or move on to other parts of Ecuador. If you're going home this day, you can book an airport transfer during the booking process.
Overnight Location: None
Meals: Breakfast

Book Now
Cycling in Ecuador Tour
Pricing for this guided cycling tour depends on the number of guests and whether you want a private tour for your group or to join a group tour.
Prices for Private Guiding Cycling Tour in Ecuador
Enjoy a private tour for just your group, prices below are per person:
Guided group of 2: $1,595 USD per person
Guided groups of 4: $1,395 USD per person
Guided groups of 6+: $1,295 USD per person
Prices to Join a Guided Group Cycling Tour in Ecuador
Make new friends and join a guided trekking tour in Ecuador. Prices are per person:
Book Now
Accommodation on Cross Country Cycling in Ecuadorian Andes
This tour provides 4-star or similar Hotel accommodation which allows the travelers to comfortably rest in-between the adventures. Many guests feel the highlight of this cycling tour are the stunning, colonial Haciendas that welcome them after a day cycling. In some cases, accommodation listed below may need to be substituted for other, comparable accommodations.
Single Rooms and Solo Travelers
You can pay a supplement of $450 USD to have a private room as a solo travelers. In some cases, there may be other solo travelers, and we can match you with participants of the same sex.
Hotels on Standard Tour
What's included on Cross Country Cycling in Ecuadorian Andes
Meals
6 breakfasts, 2 lunches, 1 dinner. Budget of around $120 USD for meals is not included.
Guiding
Fully licensed, certified English-speaking adventure leader and local guides on all days.
Travel
All transport starting from Quito is included.
Bikes
Trek X Caliber, 29 inches wheels, rock shock suspension, hydraulic brakes, Bontrager helmets.
Also Included
Accommodation based on double occupancy: First Class hotel in Quito, 1 night in Papallacta resort, 3 nights in Colonial Haciendas.
Bikes and cycling gear
Activities:

Biking in Cotopaxi NP
Biking in Cayambe Coca ER
Biking to Otavalo
Biking into Pulilahua Crater
Hiking in Papallacta
Soaking in volcanic hot springs
Not Included
International flights to Quito
Airport transfer in Quito
Travel insurance (mandatory)
Required immunizations (mandatory and done in your home country)
Meals not described in the itinerary - estimated budget $120 USD
Tips for guides and drivers - estimated budget $100 USD
Optional Extras
Extra night in Quito - $120 USD per room
Airport Transfer - $65 USD per taxi (max 2 guests, one-way)
Optional day trips from Quito:
Quito City Tour + Equator Line - $85 USD per person
Quito City Biking Tour - $75 USD per person
Frequently Asked Questions about Cross Country Cycling in Ecuadorian Andes
Adventure Journeys is a Quito-based boutique tour operator, creating tailor-made adventure experiences to connect their guests with all that Ecuador offers. They strive to personalize each trip to offer the most incredible experience possible with upscale delivery.
Run by locals with a love for their country, Adventure Journeys aims to highlight the beauty, environmental significance, and cultural diversity of Ecuador. They create each experience with the word "life" in mind, knowing that their adventures have the power to change their client's lives, give them new perspectives, and add purpose to their journeys.
From the Ecuadorian mainland to the Galapagos Islands, Adventure Journeys has client happiness at the core of their mission.

Learn More
Is this tour for me?
We rate this tour as a 2 / 5. While the days aren't particularly long, the elevation makes these days more difficult then they would be at lower elevation.
Local Guide
Ask a Question
Got any questions regarding the tour? Interested in promotions for groups or want to customize this tour to fit your needs? We are here to help you!
Ask a question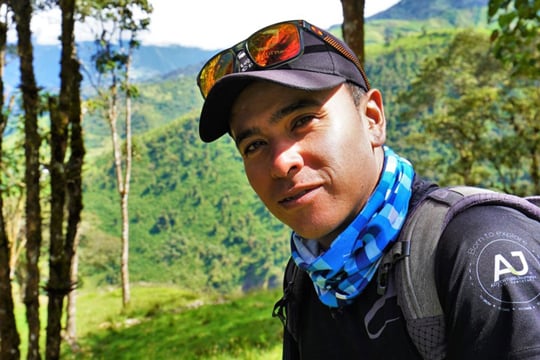 Paul is a certified guide with Adventure Journeys. He coordinates and leads most tours, and with 14 years of experience, he is confident in his ability to show the best of Ecuador. Paul loves having the chance to share his homeland with visitors and encouraging them to try things that they can only do in Ecuador. Paul loves Volcano Avenue more than any other place he guides in and never gets tired of sharing it with new people.
Q & A
Q:

What is one thing that any visitor to Ecuador should do?

A:

Visit Cotopaxi, the highest active volcano in the country. Also, Banos de Agua Santa is a great town with the iconic Swing to the End of the World.

Q:

What has been your most unforgettable moment while guiding?

A:

Once with a group, we were trekking in the mountains when an Andean condor flew right over us. It was amazing. It was so close that we were able to get some incredible photos. I will never forget it.

Q:

What is one local dish or drink that visitors absolutely have to try?

A:

They have to try the potato soup (locro) because it's a traditional dish that comes with a great story. I can't spoil the story, but it's a must.