Immerse in the fascinating scenery and culture of West Sichuan on this 15-day tour
The high altitude area of West Sichuan is home to many sects of Tibetan Buddhism. On this 15-day exploration, you will learn about several tenets of this culture by visiting many monasteries and nunneries and watching their dance festivals to celebrate their cultures.
This tour is especially mystical and spiritual, not just for the cultural performances you'll see but also for the scenery surrounding you. With majestic peaks abounding in West Sichuan, there's no doubt your spiritual cup will be filled after two weeks on this tour.
The Tibetan Buddhist population that inhabit this region of China will surprise you with their unique beliefs ranging across different sects. Get insight into the spectrum of tenets practices by the monks and nuns here.
If you're looking for a relaxing, spiritual, cultural experience of West Sichuan where several monasteries and nunneries are built for daily worship, this tour should be on your list.
Highlights of the Festivals & Cultural Tour in Tibet and Sichuan
Be witness to mystical mask dance festivals among Tibetan Buddhist monasteries.
Stroll ancient village roads that were once a part of the Silk Road.
Explore the largest concentration of monastics in The City of Nuns high in the mountains.
Experience a grand horse racing festival in the highland city of Litang.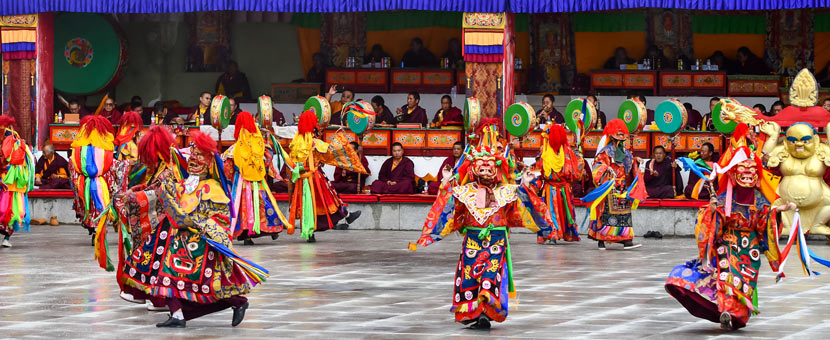 Festivals & Cultural Tour in Tibet and Sichuan Itinerary
Day 1

Arrival in Chengdu

Welcome to China! You will be picked up from the airport or railway station, depending on how you arrive in Chengdu. Head to your hotel to settle in, and if you have time, take a stroll around the area to get acquainted with the city.
Overnight Location: Hotel in Chengdu
Distance: None
Meals: None
Day 2

Wolong Nature Reserve, Mt Siguniang and Danba

This morning, the group will drive to the UNESCO-protected Wolong Nature Reserve, an enormous area that encompasses ancient forests and bamboo groves. It's home to many species including the iconic panda. From there, you will pass through the Balang Shan Tunnel on the way to Maobiliang, where you will stop off at a viewing platform with stunning views of Mount Siguniang. Continuing through the mountains by car, you will make your way to the region of Danba and visit Siguniangshan Town.
Overnight Location: Hotel in Siguniangshan Town (2,100 m / 6,890')
Distance: None
Meals: None
Day 3
Tibetan Village of Zhonglu and Bamei
First thing in the morning, you will walk through the historic village of Zhonglu, which is well known for its countless ancient wooden blockhouses. You will also visit the block towers in the village of Suopo, before driving through the Yak Valley to Bamei and the Panoramic views of Yala Mountain.
Overnight Location: Hotel in Bamei (3,500 m / 11,482')
Distance: None
Meals: Breakfast
Day 4
Mask Dance Festival and Xinduqiao
After breakfast, jump right into today's activity of the Mask Dance in Huiyuan Temple. This monastery, built in the 18th century, has cultural significance being the place where the 11th Dalai Lama was born. Learn about the fascinating traditions here through dance. When the performance ends, you will drive to Yajiang through Xinduqiao, which is often considered a photographer's paradise thanks to the beautiful scenery of the mountain pass.
Overnight Location: Hotel in Xinduqiao (2700 m / 8,858')
Distance: None
Meals: Breakfast
Day 5

Yajiang to Litang and Litang Horse Racing Festival

Day 5 begins with an early morning drive to Litang, a highland city that is situated 4,014m above sea level and was the homeland of the 7th Dalai Lama. Here, you will take part in a grand horse racing festival that occurs over a period of 7 days in July/August. There are a number of activities that are a part of the festival, including horse racing, horsemanship, dancing, singing, costume shows, and trade markets.
Overnight Location: Hotel in Litang (4,014 m / 13,169')
Distance: None
Meals: Breakfast
Day 6

Litang Horse Racing Festival and Renkang Old House

Another day of experiencing the fascinating horse racing festival awaits, followed by the chance to visit the historic Litang Monastery if time permits. This religious building was converted from the control of the Bon to Gelug Sect by the 3rd Dalai Lama in 1580. From here, you will also experience Renkang Old House, which was the residence of the 7th Dalai Lama.
Overnight Location: Hotel in Litang (4,014 m / 13,169')
Distance: None
Meals: Breakfast
Day 7

Tsoka Monastery and Garze Monastery

Today's destinations are the Tsoka Monastery, Tsoka Lake, and later, the Garze Monastery. Located in Mari Village, Tsoka Monastery is a wonderful religious centre with traditions inherited from the Kagyu and Nyingma sects of monks, while nearby Tsoka Lake is a small 3km² body of water that means "the black lake water in rubbles" in Tibetan. The water here is very clear, reflecting the image of the sky and surrounding landscape on its surface. Later, you'll drive to the Garze Monastery, built by the Qosot Mongols in 1662. It sits atop a hill overlooking their castles. You'll see monks who live there and have a unique opportunity to witness their practices. Stay the night in a hotel near the Garze Monastery.
Overnight Location: Hotel near Garze Monastery (3,390 m / 11,122')
Distance: None
Meals: Breakfast
Day 8

Dargye Monastery and Yihun Lhatso Lake

Once you finish breakfast, you'll be heading into higher altitudes to spot some gorgeous scenery and visit the Dargye Monastery. This monastery, founded in 1642 and built on a hillside, will set the tone for a spiritual day of visiting attractions. After the monastery, drive to a breathtaking vivid blue alpine lake, Yihun Lhatso, at the base of Chola Mountain. The lake sits at 4040 m / 13,255 ft, with wild native species of trees dotting its perimeter—keep your eyes peeled for white-lipped deer sauntering by for a drink. Spend a bit of time strolling around the lake, taking pictures, and soaking in the magical scenery before getting back in the car to continue to Dege. Here, you will visit the Dege Printing House, a cultural icon in the area that is home to a traditional engraving and printing technique recognized by UNESCO as an intangible piece of cultural heritage.
Overnight Location: Hotel near Yihun Lhatso Lake (3,270 m / 10,728')
Distance: None
Meals: Breakfast
Day 9

Dzongsar Monastery and Duopu Valley

After breakfast, the group will make the drive to Maisu Town, where you will learn about traditional Tibetan crafting techniques that have been preserved for generations. Here, you will visit Dzongsar Monastery and its surrounding workshops to take part in a variety of crafts such as copper casting, wood carving, and color painting. After experiencing this rich cultural heritage, you will discover the natural beauty of the Duopu Valley at the foot of Chola Mountain.
Overnight Location: Guesthouse in Maisu (3,600 m / 11,811')
Distance: None
Meals: Breakfast
Day 10

Mask Dance Festival at Katok Monastery and Hepo Knife Workshop

With an early start, day 10 of the tour will begin by driving to Katok Monastery to witness the Dance Festival, where the monks dance with traditional Buddhist masks, chanting to expel evil spirits. They will unveil the Thangka, a painting of a deity upon cotton or silk when the sun is at its peak at noon. In the afternoon, you will drive to Pelyul, stopping on the way to visit a Tibetan knife workshop if time permits. Here, in Hepo Town (referred to as the armoury of King Gesar), you will visit a Tibetan family that utilizes a variety of traditional metal forging techniques to construct their knives.
Overnight Location: Hotel in Hepo Town (3,006 m / 9,862')
Distance: None
Meals: Breakfast
Day 11

Pelyul Monastery andYarchen Gar Nunnery

In the morning, you will visit Pelyul Monastery and the famous Nyingma sect, before continuing your journey through the snow-capped peaks of the Tibetan Plateau to stop at Yarchen Gar. This is considered one of the largest concentrations of monastics in the world, with the majority being nuns associated with the Nyingma sect of Tibetan Buddhism. It's also known as "The City of Nuns," earning its name by the sheer size of the complex that houses 10,000 nuns. Explore the complex at your leisure, taking time to see the enormous religious statues, monuments, and temples among the tranquil gardens. Be respectful as you walk past nuns deep in their practices of meditation, reading scriptures, or accomplishing daily duties. After a few hours of wandering through this palpably mystical complex, you will make your way towards Luhuo, stopping briefly to take in some stunning views of Kasa Lake along the way.
Overnight Location: Hotel in Luhuo (3,860 m / 12,664')
Distance: None
Meals: Breakfast
Day 12

Mask Dance Festival at Tagong Monastery and Muya Golden Pagoda

Day 12 of the tour begins with an early morning drive to Tagong, where you will visit the Lhagang Monastery. Here, you will be an audience to another Dance Festival performed by monks of the Sakya sect. Upon completion of the performance, you will make your way to the Muya Golden Pagoda, where you will enjoy panoramic views of Yala Mountain against the sunset, while admiring the sky's colorful spectacle as a backdrop to the gold-roof temples.
Overnight Location: Duwang Hotel (3730 m / 12,237')
Distance: None
Meals: Breakfast
Day 13

Mask Dance Festival in Lhagang Monastery and Gyergo Nunery

Head outside to enjoy the sunrise at Yala Mountain, before experiencing the prayer activities and mask dances at Lhagang Monastery. In the afternoon, you will visit the Gyergo Nunnery and the sacred walls of Hepingfahui around it.
Overnight Location: Duwang Hotel (3730 m / 12,237')
Distance: None
Meals: Breakfast
Day 14

Tagong Horse Racing + Xinduqiao

Wake up with extra enthusiasm because this morning, you will see a traditional horse race. From the Tagong Monastery, the monks chant their scriptures and pray for the horses, then the riders will hit the path in the direction of the holy Yala Mountain. Don't forget to take pictures! Pack up into your transportation and head along the Sichuan–Tibet Highway and stop at Xinduqiao for an uninterrupted panoramic view of Gongga Mountain, known as the "King of the Mountains in Sichuan"—that should give you an idea of its might and majesty. Get back in the car and continue driving through high altitudes, including Zheduo Shan Pass at 4298 m / 14,101 ft, then through the 4.1-km tunnel of Mount Erlang to Ya'an, a city renowned for its rain. Get a great night's sleep after nearly two weeks of spiritual exploration.
Overnight Location: Holiday Inn Express Ya'an City Centre
Distance: None
Meals: Breakfast
Day 15

 Departure

Enjoy your final breakfast with the group and take a short morning tour around the old town of Ya'an, a significant post on the Silk Road. Pack up and receive your transfer to the airport or railway station in Chengdu to bid farewell! Zaijian!
Overnight Location: None
Distance: None
Meals: Breakfast

Book Now
Festivals & Cultural Tour in Tibet and Sichuan Price and Dates
This guided tour in China is always run as a custom tour for your group only and the price always depends on the number of people in your group.
This tour starts on July 11th as it's the optimal date to be able to visit all 4 festivals. Prices below are per person sharing a double or a triple room.
Guided Groups of 2: $2,875 USD per person
Guided Groups of 3: $2,295 USD per person
Guided Groups of 4-5: $1,825 USD per person
Guided Groups of 6: $1,650 USD per person
Guided Groups of 7+: on request
Book Now
Accommodation on Festivals & Cultural Tour in Tibet and Sichuan
This tour is based 3- and 4-star hotels with modern amenities for a comfortable stay. Rooms are double occupancy, and single travelers will pay a supplement.
In some cases, the accommodation listed below may need to be substituted for other comparable accommodations.
Single Rooms and Solo Travelers
You can pay a supplement of $445 USD to have a private room in a hotel while traveling with your group. Contact us and we can try and match single travelers up, where possible.
Hotels on Standard Tour
Xinliang Hotel in Chengdu ★★★★
Enjoy the modern amenities offered at this upscale hotel: WiFi, restaurant, spa, sauna, and breakfast buffet.
Hotels in villages along the route
Stay in one of the cozy hotels along the route. Some of the hotels are more basic, while others offer more convenient amenities.
Holiday Inn Express in Ya'an City Centre
Enjoy sleek, modern décor and fantastic service at the Holiday Inn Express in Ya'an. The cleanliness and comfort will impress you during your stay.
What's included in the Festivals & Cultural Tour in Tibet and Sichuan?
Meals
13 breakfasts are included.
Accommodations
Accommodation for 14 nights is included in the tour.
Transportation during the Tour
Transport for your luggage is included throughout the tour. Airport or railway station transfers are also included.
Also Included
Entrance and sightseeing fees
Local English-speaking guides
Not included
Meals and drinks not mentioned in the itinerary
Flights
Insurance
Visa for China
Anything not mentioned as "Included"
Tips + personal expenses
Optional Extras
Extra nights in Chengdu or Ya'an
Frequently Asked Questions about Festivals & Cultural Tour in Tibet and Sichuan
Based in Chengdu (Sichuan province, China), with an affiliated agency in Lhasa (the capital of Tibet Autonomous Region), Greatway Tour organizes China tours since 1994. They specialize in adventure and trekking tours in Western China, covering Tibet and the eastern Tibetan area Kham - Amdo in provinces Sichuan, Yunnan, Qinghai, and Gansu. Since 1995, Greatway Tour began to organize self-driving tours across China for individuals and agencies abroad, whether they drive their own vehicles/motorcycles/bikes brought from their own country, or if they need help with renting the kind of vehicles they wish to start their China self-driving journey.
Learn More
Is this tour for me?
We rate this tour as a 2 / 5. You should be comfortable for long journeys on poor roads and in high altitudes.
Ask a Question
Got any questions regarding the tour? Interested in promotions for groups or want to customize this tour to fit your needs? We are here to help you!
Ask a question