Explore the wonders of the Golden Triangle and Icefields Parkway on this guided cycling tour
This bike tour takes two of the best routes in the Canadian Rockies and combines them together: The Golden Triangle and the Icefields Parkway from Lake Louise to Jasper!
The Golden Triangle is an incredible route that passes through Banff, Kootenay, and Yoho National Parks. Typically it can be completed in three days, but this guided cycling tour extends it to allow you time to hike and explore these beautiful areas and to include Jasper on the itinerary.
The 8-day guided Cycle the Golden Triangle and Icefields Parkway tour visits Kicking Horse Pass, the Columbia River Valley, Golden, Lake Louise, Radium, Banff, and more! However, that's just the beginning as you'll continue biking to the Icefields and Jasper National Park. Talk about a packed itinerary and the perfect way to hit all the highlights of the Canadian Rockies. You'll have a lot of fun cycling on this tour, but it will be the incredible mountain scenery that will really steal the show!
Highlights of the Cycle the Golden Triangle and Icefields Parkway
Bike Canada's Golden Triangle cycling route through Banff, Kootenay, and Yoho National Parks.
Visit Radium Hot Springs for a relaxing soak in the natural mineral water.
Discover rocky peaks, peaceful valleys, stunning lakes, and sparkling waterfalls on this amazingly scenic cycling route.
Stay in historic lodges surrounded by spectacular mountain scenery.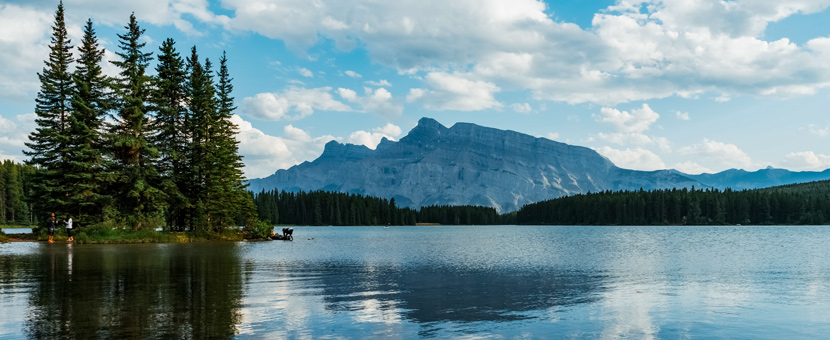 Cycle the Golden Triangle and Icefields Parkway Tour Itinerary
Day 1

Transfer to Banff

A van transfer will bring you from the airport in Calgary to Banff. You'll have time to prep your bike and check your equipment in the afternoon. There will be a welcome dinner with the group where you'll meet with your guide and hear all about the trip to come!
Overnight Location: Hotel in Banff
Distance: None
Meals: Dinner
Day 2

Ride to Kootenay National Park

On the first day of cycling, you don't have to push yourself too hard, and there will be ample time for exploring. You'll start your ride on the Bow River Parkway that follows the river into Johnston Canyon. Feel free to jump off your bike to take a walk in Johnston Canyon and Marble Canyon as your ride by them! Watch for ancient fossils in the canyon walls.

Finish the day as you cross the Continental Divide and cycle into Kootenay National Park.
Overnight Location: Hotel in Kootenay National Park
Distance: 64 km
Meals: Breakfast and dinner
Day 3

Climb Sinclair Pass and Radium Hot Springs

The scenery will be spectacular as you ride through Kootenay National Park, following sparkling rivers as they wind through the Rockies.

The big climb today will be up to Sinclair Pass (take a second to appreciate the stunning summit views up here!) followed by an exhilarating 11 kilometre downhill stretch into Radium. A soak at the hot springs is the perfect way to end your day!
Overnight Location: Hotel in Radium
Distance: 64 km
Meals: Breakfast and dinner
Day 4

Cycle along the Columbia River

Your trail today follows the Columbia River, which runs between the impressive rocky peaks of the Purcell and Selkirk mountain ranges. If you're hot, feel free to dip your hands into the cool water as you marvel at the towering peaks surrounding you.

Your destination is the town of Golden, which gives the Golden Triangle route its name.
Overnight Location: Hotel in Golden
Distance: 96 km
Meals: Breakfast and dinner
Day 5

Ride up Kicking Horse Pass and Arrive in Lake Louise

Your legs will get a workout today as you gain nearly 1500 meters over the course of 80km. You'll follow Kicking Horse River out of Golden and start the climb to Kicking Horse Pass.

After you've crossed the plateau you'll enjoy the gradual descent into the Bow Valley as you arrive at spectacular Lake Louise. You may have seen many photos, but nothing will prepare you for the sight of the stunning blue lake surrounded by snowy mountains and a chateau-style hotel!
Overnight Location: Hotel in Lake Louise
Distance: 80 km
Meals: Breakfast and dinner
Day 6

Cycle up Bow Summit

Today you'll continue riding north along the Icefields Parkway. On your way up to the Bow Summit, you'll have great views of Hector Lake and Crowfoot Glacier.

Take a break to enjoy Peyto Lake at the summit before you begin your descent to Saskatchewan River Crossing.
Overnight Location: Hotel near Saskatchewan River Crossing
Distance: 75 km
Meals: Breakfast and dinner
Day 7

Sunwapta Pass and Parker Ridge

This morning you'll start your day early with the ride up the impressive Sunwapta Pass. There will be time to stop for a hike above the tree line along Parker Ridge (a popular hiking objective) to take in the spectacular views.

You'll pick up your bike again and ride to the Icefields Center at the Athabasca Glacier. From here you'll ride down to Sunwapta Falls where you'll be spending the evening.
Overnight Location: Hotel near Jasper
Distance: 93 km
Meals: Breakfast and dinner
Day 8

Explore Jasper before Returning to Calgary

Your last day will be more leisurely riding as you finish the short distance to Jasper. You'll be able to visit Athabasca Falls and explore Jasper before meeting the shuttle back to Calgary in the afternoon.

Eight days of spectacular mountain scenery later, it's time to head home!
Overnight Location: None
Distance: 51 km
Meals: Breakfast

Book Now
Cycle the Golden Triangle and Icefields Parkway Tour Price and Dates
This guided cycling tour of the Canadian Rockies is run as a private tour for your group only and the price is fixed per person. Please note, that the prices below might vary based on the season, accommodation availability and other factors.

The prices below are per person:
Guided groups of 4+: $4,550 USD per person
Book Now
Accommodation on the Cycle the Golden Triangle and Icefields Parkway Tour
This tour is based in 3 and 4-star hotels and mountain lodges. Some of the lodges are quite rustic, but their fantastic mountain locations can't be beaten.
In some cases, the accommodation listed below may need to be substituted for other comparable accommodations.
Single Rooms and Solo Travellers
You can pay a supplement to have a private room in a hotel. Please contact us if you desire this option.
Hotels on Standard Tour
Storm Mountain Lodge in Banff ★★★★
This historic lodge offers the quintessential mountain log cabin experience. You'll love relaxing by the fire in the gorgeous stone fireplace!
Kootenay Park Lodge in Kootenay National Park ★★★★
Built by the Canadian Pacific Railway, this rustic lodge maintains its historic character. You'll be welcomed by basic but cozy cabins and warm, friendly service.
Hotel in Radium Hot Springs
Not your average highway town, Radium Hot Springs has one of the cutest cafes to have breakfast, the Big Horn Cafe. Enjoy soaking and relaxing in the hot springs facility.
Make sure to walk on the pedestrian bridge hanging over the Kicking Horse River and get some beer and tacos from Whitetooth Brewery and Reposados.
Deer Lodge Hotel in Lake Louise ★★★
Originally built as a tea house, this rustic lodge has been operating as a hotel since 1925. The view from the rooftop hot tub is not to be missed!
The Crossing Resort in Banff ★★★
You'll sleep well in the comfortable, rustic rooms at this hotel, but the real highlight is the breathtaking mountain views that surround you.
Sunwapta Falls Resort in Jasper ★★★★
This cozy wilderness lodge is the perfect spot to relax in front of a crackling fire and enjoy the spectacular mountain views that surround you.
What's Included in Cycle the Golden Triangle and Icefields Parkway Tour?
Meals
7 breakfasts and 7 dinners are included.
Accommodations
Accommodations for 7 nights are included. Accommodations before and after the tour are not included.
Transportation during the Tour
Transport for you, your luggage, and your bike are included as outlined in the itinerary. Transportation to and from the Calgary airport is also included.
Also Included
English-speaking guide
Support van
Tour maps and narratives
Not included
Cycling equipment such as helmets, gloves and shoes
Travel insurance
Flights to and from Calgary
Lunches and dinners or drinks and snacks not previously mentioned
Tourist taxes if applicable
Visas if required
Personal equipment
Fees not mentioned as included
Gratuities for guides, drivers, servers, or hotel staff are not included
Optional Extras
Various bicycle rentals, including touring saddles, odometers, pumps, tire irons, and patch kits (please inquire for the pricing)
Single occupancy upgrades
Any additional nights before or after the tour
Frequently Asked Questions about Cycle the Golden Triangle and Icefields Parkway
Timberline Adventures specializes in fully supported cycling, hiking, and multisport adventure tours in the United States and Canada.
Over the last 38 years, our adventure experts have crafted unique itineraries consisting of only the best routes and trails. We are all about striking the perfect balance of challenge, discovery, and tons of fun! Our epic tours include visits to 35 different national parks, and we take great pride in introducing our guests to some of the wildest and most beautiful areas in North America, like Glacier, Yosemite, Acadia, Big Bend, and so much more!
We share in the joy, exhilaration, and sense of accomplishment that is a part of every single tour, and the quality of your experience is how we measure our growing success.
Learn More
Is this tour for me?
We rate this tour as a 4/5. You will ride approximately 80 kilometers per day for several days in a row, and rides include significant climbs. Fit cyclists will be able to get the most out of this tour.
Ask a Question
Got any questions regarding the tour? Interested in promotions for groups or want to customize this tour to fit your needs? We are here to help you!
Ask a question